Tour de Suisse Results
Submitted by admin on Sat, 06/18/2016 - 21:19

Follow cyclingfans on Twitter and never miss a race. Cyclingfans.com: The #1 destination on the internet for live race coverage.
- This page lists Tour de Suisse results
See also: Tour de Suisse LIVE - Tour de Suisse Videos - Tour de Suisse Photos -
NOTE: If you believe you may not be seeing the latest content on this page, try clearing your browser's cache (or try a different browser).
-

2016: Stage 8 Results
Jon Izaguirre (Movistar) won the Stage 8 Individual Time Trial. Miguel Angel Lopez (Astana) is new overall leader. Provisional results. Full, final results to come...
| | | | | | |
| --- | --- | --- | --- | --- | --- |
| Rank | Name | Nationality | Team | Age | Result |
| 1 | Jon IZAGUIRRE INSAUSTI | ESP | MOV | 27 | 21:31 |
| 2 | Miguel Angel LOPEZ MORENO | COL | AST | 22 | +18 |
| 3 | Fabian CANCELLARA | SUI | TFS | 35 | +19 |
| 4 | Wilco KELDERMAN | NED | TLJ | 25 | +21 |
| 5 | Andrew TALANSKY | USA | CPT | 28 | +23 |
| 6 | Jonathan CASTROVIEJO NICOLAS | ESP | MOV | 29 | +24 |
| 7 | Jarlinson PANTANO GOMEZ | COL | IAM | 28 | +25 |
| 8 | Michael MATTHEWS | AUS | OGE | 26 | +25 |
| 9 | Geraint THOMAS | GBR | SKY | 30 | +33 |
| 10 | Tejay VAN GARDEREN | USA | BMC | 28 | +34 |
| 11 | Felix GROSSSCHARTNER | AUT | CCC | 23 | +34 |
| 12 | Koen BOUWMAN | NED | TLJ | 23 | +42 |
| 13 | Vasil KIRYIENKA | BLR | SKY | 35 | +43 |
| 14 | Maciej BODNAR | POL | TNK | 31 | +47 |
| 15 | Víctor DE LA PARTE | ESP | CCC | 30 | +49 |
| 16 | Leopold KONIG | CZE | SKY | 29 | +51 |
| 17 | Petr VAKOC | CZE | EQS | 24 | +52 |
| 18 | Matthias BRANDLE | AUT | IAM | 27 | +53 |
| 19 | Rui Alberto FARIA DA COSTA | POR | LAM | 30 | +53 |
| 20 | Yves LAMPAERT | BEL | EQS | 25 | +56 |
| 21 | Warren BARGUIL | FRA | TGA | 25 | +57 |
| 22 | Simon SPILAK | SLO | KAT | 30 | +1:03 |
| 23 | Martin ELMIGER | SUI | IAM | 38 | +1:04 |
| 24 | Reto HOLLENSTEIN | SUI | IAM | 31 | +1:07 |
| 25 | Luke DURBRIDGE | AUS | OGE | 25 | +1:07 |
| 26 | Sergei CHERNETSKI | RUS | KAT | 26 | +1:09 |
| 27 | Simon GESCHKE | GER | TGA | 30 | +1:11 |
| 28 | Laurent PICHON | FRA | FDJ | 30 | +1:14 |
| 29 | Jhonatan RESTREPO | COL | KAT | 22 | +1:14 |
| 30 | Pawel CIESLIK | POL | VAT | 30 | +1:16 |
| 31 | Peter SAGAN | SVK | TNK | 26 | +1:17 |
| 32 | Jesse SERGENT | NZL | ALM | 28 | +1:18 |
| 33 | Michael SCHÄR | SUI | BMC | 30 | +1:19 |
| 34 | Riccardo ZOIDL | AUT | TFS | 28 | +1:20 |
| 35 | Jasha SÜTTERLIN | GER | MOV | 24 | +1:22 |
| 36 | Jorge ARCAS PENA | ESP | MOV | 24 | +1:22 |
| 37 | Dylan TEUNS | BEL | BMC | 24 | +1:23 |
| 38 | Marcel WYSS | SUI | IAM | 30 | +1:24 |
| 39 | Gorka IZAGUIRRE INSAUSTI | ESP | MOV | 29 | +1:26 |
| 40 | Michele SCARPONI | ITA | AST | 37 | +1:26 |
G.C. after Stage 8
| | | | | | |
| --- | --- | --- | --- | --- | --- |
| Rank | Name | Nationality | Team | Age | Result |
| 1 | Miguel Angel LOPEZ MORENO | Colombia | AST | 22 | 29:32:03 |
| 2 | Andrew TALANSKY | United States | CPT | 28 | +8 |
| 3 | Jon IZAGUIRRE INSAUSTI | Spain | MOV | 27 | +16 |
| 4 | Warren BARGUIL | France | TGA | 25 | +18 |
| 5 | Jarlinson PANTANO GOMEZ | Colombia | IAM | 28 | +52 |
| 6 | Wilco KELDERMAN | Netherlands | TLJ | 25 | +1:21 |
| 7 | Tejay VAN GARDEREN | United States | BMC | 28 | +1:26 |
| 8 | Geraint THOMAS | Great Britain | SKY | 30 | +1:30 |
| 9 | Simon SPILAK | Slovenia | KAT | 30 | +1:31 |
| 10 | Rui Alberto FARIA DA COSTA | Portugal | LAM | 30 | +2:09 |
| 11 | Sergei CHERNETSKI | Russia | KAT | 26 | +5:14 |
| 12 | Víctor DE LA PARTE | Spain | CCC | 30 | +5:42 |
| 13 | Gorka IZAGUIRRE INSAUSTI | Spain | MOV | 29 | +5:47 |
| 14 | Darwin ATAPUMA HURTADO | Colombia | BMC | 28 | +7:56 |
| 15 | Pawel CIESLIK | Poland | VAT | 30 | +8:26 |
| 16 | Jan POLANC | Slovenia | LAM | 24 | +9:04 |
| 17 | Tiesj BENOOT | Belgium | LTS | 22 | +10:13 |
| 18 | Sander ARMEE | Belgium | LTS | 31 | +10:35 |
| 19 | Vasil KIRYIENKA | Belarus | SKY | 35 | +11:00 |
| 20 | Natnael BERHANE | Eritrea | DDD | 25 | +11:39 |
| 21 | Jordi SIMON CASULLERAS | Spain | VAT | 26 | +14:04 |
| 22 | Frank SCHLECK | Luxembourg | TFS | 36 | +14:47 |
| 23 | Felix GROSSSCHARTNER | Austria | CCC | 23 | +18:17 |
| 24 | Peter STETINA | United States | TFS | 29 | +20:02 |
| 25 | Michele SCARPONI | Italy | AST | 37 | +20:08 |
| 26 | Martin ELMIGER | Switzerland | IAM | 38 | +21:11 |
| 27 | Kenny ELISSONDE | France | FDJ | 25 | +23:07 |
| 28 | Hubert DUPONT | France | ALM | 36 | +23:12 |
| 29 | Michael SCHÄR | Switzerland | BMC | 30 | +25:09 |
| 30 | Simon GESCHKE | Germany | TGA | 30 | +25:13 |
| 31 | Koen BOUWMAN | Netherlands | TLJ | 23 | +28:13 |
| 32 | Joseph Lloyd DOMBROWSKI | United States | CPT | 25 | +28:20 |
| 33 | Ian BOSWELL | United States | SKY | 25 | +28:52 |
| 34 | Matvey MAMYKIN | Russia | KAT | 22 | +28:52 |
| 35 | Petr VAKOC | Czech Republic | EQS | 24 | +29:46 |
| 36 | Danilo WYSS | Switzerland | BMC | 31 | +30:45 |
| 37 | Sergey LAGUTIN | Russia | KAT | 35 | +33:29 |
| 38 | David LOPEZ GARCIA | Spain | SKY | 35 | +34:33 |
| 39 | Sam OOMEN | Netherlands | TGA | 21 | +34:46 |
| 40 | Philippe GILBERT | Belgium | BMC | 34 | +39:13 |
2015 (Overall winner: Simon Spilak)

2014 (Overall winner: Rui Costa)

| | | |
| --- | --- | --- |
| Stage | Stage winner | Overall leader |
| 1. Bellinzona/Bellinzona (9.4 km Individual Time Trial) | Tony Martin | Tony Martin |
| 2. Bellinzona/Sarnen (181.8 km) | Cameron Meyer | Tony Martin |
| 3. Sarnen/Heiden (202.9 km) | Peter Sagan | Tony Martin |
| 4. Heiden/Ossingen (160.4 km) | Mark Cavendish | Tony Martin |
| 5. Ossingen/Buren an der Aare (183.6 km) | Sacha Modolo | Tony Martin |
| 6. Buren an der Aare/Delemont (192.8 km) | Matteo Trentin | Tony Martin |
| 7. Worb/Worb (24.5 km ITT) | Tony Martin | Tony Martin |
| 8. Delemont/Verbier (219.1 km) | Johan Esteban Chaves | Tony Martin |
| 9. Martigny/Saas Fee-Pearl of the Alps (156.7 km) | Rui Costa | Rui Costa |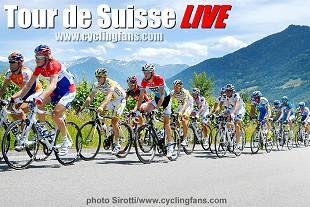 (Tour de Suisse/Tour of Switzerland resultats)