2018 Itzulia Tour of the Basque Country LIVE stream, Preview, Start List, Route Details, Results, Photos, Stage Profiles - Vuelta al Pais Vasco
Submitted by admin on Sat, 04/07/2018 - 07:33

Follow cyclingfans on Twitter and never miss a race. Cyclingfans.com: The #1 destination on the internet for live race coverage.
- 2018 Tour of the Basque Country Live Online Coverage Guide -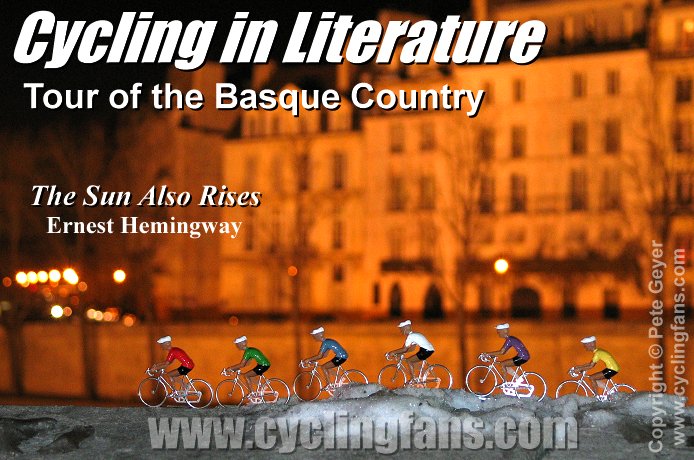 Cycling in Literature: Ernest Hemingway mentioned the Tour of the Basque Country
in his first major novel, "The Sun Also Rises" (1926). In the story, which
takes place in Paris, San Sebastian and Pamplona, Hemingway wrote,
"There was a bicycle-race on, the Tour du Pays Basque,
and the riders were stopping that night in San Sebastian.
In the dining-room, at one side, there was a long table
of bicycle-riders, eating with their trainers and managers.
They were all French and Belgians, and paid close attention
to their meal, but they were having a good time.....
The next morning at five o'clock the race resumed with
the last lap, San Sebastian-Bilbao. The bicycle-riders drank
much wine and were burned and browned by the sun.
They did not take the race seriously except among themselves."
In a subsequent paragraph, the novel's main character and narrator talks about having coffee
with the team manager of one of the big bicycle manufacturers:
"Bicycle road-racing was the only sport in the world, he said.
Had I ever followed the Tour de France? Only in the papers.
The Tour de France was the greatest sporting event in the world.
Following and organizing the road races had made him know France."
Hemingway wrote the first draft of the novel on the terrace of a left bank Paris cafe,
La Closerie des Lilas. The photo above shows the Ile Saint-Louis, a natural island
on the Seine river, seen from the left bank. I waited for a Parisian tourist riverboat
to pass, providing background illumination for the nighttime shot. It was a very cold Paris night; note the snow underneath the plastic cyclists! In the mid 1990s, French officials dedicated
an Ernest Hemingway street in Paris. There is also an Ernest Hemingway High School in Nimes,
in the south of France, which can be seen from trains to and from Montpellier.
For those of you who read "The Sun Also Rises" in high school, how many
of you remember mention of the Tour of the Basque Country or cycling at all?
Copyright © 2010 Pete Geyer/www.cyclingfans.com
2018 Tour of the Basque Country Stage 6 Profile
Notes: (latest notes always appear at the top)

- Videos: Tour of the Basque Country Videos

- News: Landa's bid for overall Pais Vasco victory comes up short. (Cyclingnews) - Spaniard to head to Ardennes in support of Valverde.

- News: Roglic survives final day Pais Vasco test to seal overall victory. (Cyclingnews) - Slovenian survives early crash to claim first WorldTour stage race win.

- News: Roglic wins Vuelta Ciclista al Pais Vasco. (Cyclingnews) - Mas holds off Landa to win on the final climb to Arrate.

- Results: Tour of the Basque Country Results




- Stage route profiles, timetables and more info in table below.

- Enric Mas (Quick-Step Floors) won Stage 6. Primoz Roglic (LottoNL-Jumbo) wins the 2018 Itzulia Tour of the Basque Country.


- 2018 Tour of the Basque Country Stage Previews, Towns, Timetables, Profiles:

Stage details
Stage profiles
Stage 1: Monday, April 2
Zarautz/Zarautz (162.1 km)
Map, timetable, preview and more here.
Stage 2: Tuesday, April 3
Zarautz/Bermeo (166.7 km)
Map, timetable, preview and more here.
Stage 3: Wednesday, April 4
Bermeo/Valdegovía (184.8 km)
Map, timetable, preview and more here.
Stage 4: Thursday, April 5
Lodosa/Lodosa (19.4 km ITT)
Map, timetable, preview and more here.
Stage 5: Friday, April 6
Vitoria-Gasteiz/Eibar (164.7 km)
Map, timetable, preview and more here.
Stage 6: Saturday, April 7
Eibar/Arrate (122.2 km)
Map, timetable, preview and more here.

- News: Fraile takes out intense País Vasco stage to Eibar. (Cyclingnews) - Roglic extends race lead.

- Omar Fraile (Astana Pro Team) won Stage 5. Primoz Roglic (LottoNL-Jumbo) remains overall leader heading into Saturday's final stage.


- Official site ticker LIVE here. (auto-translated)

- Note: I am on the road most of the week and will be doing limited updates here. But there will be videos post-stage here.

- Emanuel Buchmann (Bora-Hansgrohe) following Stage 5, the race's penultimate stage: "Today was a really tough stage, especially the last climb split the race once again. I was able to stay in the chasing group but I felt not really in best shape today. I am satisfied, that I managed to stay in this group and to be still sixth in the GC. Tomorrow will be the last stage, we will see what the outcome will be."

- Primoz Roglic (LottoNL-Jumbo) won the Stage 4 individual time trial and took over the lead on G.C.

- News: Roglic wins time trial in Lodosa. (Cyclingnews) - LottoNL-Jumbo rider takes race lead.

- News: McCarthy wins stage 3. (Cyclingnews) - Alaphilippe continues in race lead.

- Jay McCarthy (Bora-Hansgrohe) won Stage 3. Julian Alaphilippe (Quick-Step Floors) remains overall leader.


- News: Alaphilippe wins again in Bermeo. (Cyclingnews) - Quick-Step rider extends lead over Roglic.

- Race leader Julian Alaphilippe: "The stage was on from the start and the crosswinds made it even more brutal, but fortunately I have a great team around me, who set an incredible pace at the front of the bunch, keeping the attackers on a leash, and a very strong Enric, who played a big role in my victory. Unlike yesterday, I had no idea on the final, but stayed calm and confident in my legs and sprint. Despite taking some more bonus seconds and increasing my advantage in the GC, I'm not changing my goal and will continue to take it day by day."

- Julian Alaphilippe (Quick-Step Floors) following his win on stage 2: "It's crazy! I was already happy with my win on stage 1 and having the yellow jersey on my shoulders, so to take another victory is just incredible. We're on a fantastic run of success, we're winning everywhere and seeing how the team performs only gives us more confidence. Two victories in two days and three jerseys it's a great harvest for our squad, but we don't want to stop here."

- Race leader Julian Alaphilippe (Quick-Step Floors) won Stage 2.


- During the stage, Cyclingnews ticker LIVE here.

- News: Caruso hits parked car in final of Pais Vasco opener. (Cyclingnews) - GC aims disappear for BMC in the Basque Country.

- News: Opening stage win propels Alaphilippe into GC contention. (Cyclingnews) - First European win of 2018 for Frenchman.

- News: Alaphilippe wins opening stage. (Cyclingnews) - Quick-Step rider escapes with Roglic on final climb.

- Julian Alaphilippe (Quick-Step Floors) following his Stage 1 victory: "I am very happy, especially as I got sick after Milano-Sanremo and had to rest before returning to training. I was very motivated after this small setback, so I worked hard to be back at my best. The plan was to take a stage here and even though we did a recon of the final climb yesterday and on paper it suited me, I didn't know how my legs would react following that break."

- Julian Alaphilippe (Quick-Step Floors) won Stage 1 and is first leader in the general classification.


- News: Izagirre brothers to lead Bahrain-Merida at Vuelta al Pais Vasco. (Cyclingnews) - Nibali on domestique duty in the Basque Country.

- News: Richie Porte back in action at Vuelta al Pais Vasco. (Cyclingnews) - Australian backs Caruso after six weeks out.

- News: Uran leads ambitions EF Education First-Drapac into Vuelta al Pais Vasco. (Cyclingnews) - Climber heavy squad aiming for overall victory in the Basque Country.

- News: Youthful Mitchelton-Scott squad for Vuelta al Pais Vasco. (Cyclingnews) - Albasini adds experience in Spanish WorldTour stage race.

- Alejandro Valverde (Movistar) won the 2017 Tour of the Basque Country.


-

-

- The 2018 Tour of the Basque Country is being held April 2-7.

- For the 14th consecutive year, you can follow Tour of the Basque Country live on cyclingfans.com.

NOTE: If you believe you may not be seeing the latest content on this page, try clearing your browser's cache (or try a different browser).

- More info and links to come.

- We will update here with the best and latest live feeds at broadcast time.

Spanish: Vuelta Ciclista al Pais Vasco (Vuelta al País Vasco)
French: Tour du Pays Basque
Dutch: Ronde van het Baskenland
Catalan: Volta al País
Basque: Euskal Herriko Itzulia (Itzulia Basque Country)

- Welcome to our live coverage guide for the 2018 Tour of the Basque Country (Tour du Pays Basque en direct).

2018 Vuelta al Pais Vasco LIVE
(Itzulia Basque Country)
April 2-7, Spain
Official Website
Start List


Stage 6 starts at 2:26pm CET
(8:26am U.S. Eastern)

Finish at around 5:29pm CET
(11:29am U.S. Eastern)

Live video from 3:30pm CET
(9:30am U.S. Eastern)




---

Tour of the Basque Country Live Coverage

Links to come as available


(Eurosport live stream)
(3:30pm CET)
(9:30am U.S. Eastern)
Alternative
Alternative


(TDP livestream)
(--)
(--)
Alternative


(Esport3 live stream)
(-- CET)
(-- U.S. Eastern)
Alternative


(eitb live stream)
(May be geo-restricted)
(-- CET)
(-- U.S. Eastern)
Alternative

- more links to come -

(watch Tour of the Basque Country online)
(Euskal Herriko Itzulia live, directo)

Live audio streaming:

(--)
(Listen online)

Live tickers:


(auto-translated to English)

biciciclismo
(auto-translated)

- More tickers to come -

News and photos:


(cycling news)
Yahoo photo gallery (AP/AFP)

Copyright © 2018 www.cyclingfans.com
2018 Tour of the Basque Country Stage 1 Profile