Tour de San Luis videos
Submitted by admin on Wed, 01/27/2016 - 15:56

Follow cyclingfans on Twitter and never miss a race. Cyclingfans.com: The #1 destination on the internet for live race coverage.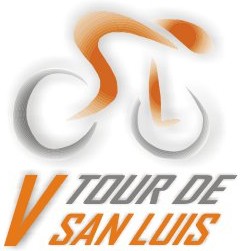 - Tour de San Luis Videos from a variety of sources will be listed on this page throughout the race, as available.
See also: Tour de San Luis LIVE
NOTE: If you believe you may not be seeing the latest content on this page, try clearing your browser's cache (or try a different browser).

| | |
| --- | --- |
| 2016 Tour de San Luis Videos (January 18 - 24) | Source |
| Stage 7 | |
| ESPN Stage 7 Highlights - Tour de San Luis (Spanish, 04:05) | ESPN |
| Stage 7 On Demand - 2016 Tour de San Luis (Spanish, 03:49:47) | Tour de San Luis |
| | |
| Stage 6 | |
| Official Stage 6 Highlights - 2016 Tour de San Luis (Ambient sound, 12:03) | Tour de San Luis |
| ESPN Stage 6 Highlights - Tour de San Luis (Spanish, 03:35) | ESPN |
| Highlights of stage six - Tour de San Luis (Music, 01:42) | Redacción ANSL |
| Stage 6 On Demand - 2016 Tour de San Luis (Spanish, 05:29:27) | Tour de San Luis |
| | |
| Stage 5 | |
| Official Stage 5 Highlights - 2016 Tour de San Luis (Ambient sound, 11:40) | Tour de San Luis |
| ESPN Stage 5 Highlights (Spanish, 04:05) | ESPN |
| Highlights of stage five - Tour de San Luis (Music, 02:59) | Redacción ANSL |
| Stage 5 On Demand - 2016 Tour de San Luis (Spanish, 04:00:00) | Tour de San Luis |
| | |
| Stage 4 | |
| Official Stage 4 Highlights - 2016 Tour de San Luis (Ambient sound, 13:31) | Tour de San Luis |
| Highlights of stage four - Tour de San Luis (Music, 01:53) | Redacción ANSL |
| Stage 4 On Demand - 2016 Tour de San Luis (Spanish, 04:53:18) | Tour de San Luis |
| | |
| Stage 3 | |
| ESPN Stage 3 Highlights (Spanish, 03:42) | ESPN |
| Highlights of stage three - Tour de San Luis (Music, 03:07) | Redacción ANSL |
| Stage 3 On Demand - 2016 Tour de San Luis (Spanish, 03:51:02) | Tour de San Luis |
| | |
| Stage 2 | |
| Official Stage 2 Highlights - 2016 Tour de San Luis (Ambient sound, 11:54) | Tour de San Luis |
| ESPN Stage 2 Highlights (Spanish, 03:15) | ESPN |
| Highlights of stage two - Tour de San Luis (Music, 02:43) | Redacción ANSL |
| Stage 2 Final Sprint - 2016 Tour de San Luis (Spanish, 0:19) | Tour de San Luis |
| On Demand - Stage 2 - 2016 Tour de San Luis (Spanish, 04:00:00) | Tour de San Luis |
| | |
| Stage 1 Team Time Trial | |
| Official Stage 1 Highlights - 2016 Tour de San Luis (Ambient sound, 11:52) | Tour de San Luis |
| ESPN Stage 1 Highlights (Spanish, 02:49) | ESPN |
| Highlights of the stage one Team Time Trial (Music, 01:54) | Redacción ANSL |
| Stage 1 On Demand - 2016 Tour de San Luis (Spanish, 02:46:36) | Tour de San Luis |
| | |
| Pre-race | |
| Route Preview for the 7 Stages of the 2016 Tour de San Luis (Spanish, 03:05) | ESPN |
| Teams Presentation Highlights - Tour de San Luis (Spanish, 02:10) | Redacción ANSL |
| Teams Presentation On Demand - Tour de San Luis (Spanish, 36:01) | Tour de San Luis |
| Tour de San Luis 2016 Race Preview (Spanish, 05:08) | Redacción ANSL |
| | |
| | |
| --- | --- |
| 2016 Tour Femenino de San Luis Videos (January 10 - 15) | Source |
| Stage 6 | |
| Stage 6 On Demand Replay - Tour Femenino de San Luis (Spanish, 03:00:00) | Tour Femenino San Luis |
| Stage 6 Highlights - Tour Femenino de San Luis (Spanish, 06:02) | Tour Femenino San Luis |
| | |
| Stage 5 | |
| Stage 5 On Demand Replay - Tour Femenino de San Luis (Spanish, 03:00:00) | Tour Femenino San Luis |
| Stage 5 Highlights - Tour Femenino de San Luis (Spanish, 06:55) | Tour Femenino San Luis |
| | |
| Stage 4 | |
| Stage 4 On Demand Replay - Tour Femenino de San Luis (Spanish, 02:28:41) | Tour Femenino San Luis |
| Stage 4 Highlights - Tour Femenino de San Luis (Spanish, 06:53) | Tour Femenino San Luis |
| | |
| Stage 3 | |
| Stage 3 On Demand Replay - Tour Femenino de San Luis (Spanish, 02:59:59) | Tour Femenino San Luis |
| Stage 3 Highlights - Tour Femenino de San Luis (Spanish, 06:17) | Tour Femenino San Luis |
| | |
| Stage 2 | |
| Stage 2 On Demand Replay - Tour Femenino de San Luis (Spanish, 02:59:58) | Tour Femenino San Luis |
| Stage 2 Highlights - Tour Femenino de San Luis (Spanish, 03:30) | Tour Femenino San Luis |
| | |
| Stage 1 | |
| Stage 1 On Demand Replay - Tour Femenino de San Luis (Spanish, 02:49:38) | Tour Femenino San Luis |
| Stage 1 Highlights - Tour Femenino de San Luis (Spanish, 02:39) | Tour Femenino San Luis |
| | |
| Grand Prix | |
| Grand Prix Highlights - Tour Femenino de San Luis (Spanish, 05:03) | Tour Femenino San Luis |
| | |
| | |
| --- | --- |
| 2015 Tour de San Luis Videos - January 19-25 | Source |
| Stage 7 | |
| Highlights from all stages (Music, 05:20) | Redacción ANSL |
| Stage 7 Highlights (Spanish, 03:41) | Redacción ANSL |
| Post stage press conference (Spanish, 01:59) | Redacción ANSL |
| Interview with Dani Díaz, winner of the 2015 Tour de San Luis (Spanish, 02:01) | ESPN |
| On Demand Broadcast of Stage 7 (Spanish, 03:34:05) | Tour de San Luis |
| The stage start (Spanish, 01:26) | Redacción ANSL |
| | |
| Stage 6 | |
| Stage 6 Highlights (Spanish, 04:55) | Redacción ANSL |
| Post stage press conference (Spanish, 02:22) | Redacción ANSL |
| Stage 6 Finish (Spanish, 03:33) | ESPN |
| On Demand Broadcast of Stage 6 (Spanish, 02:48:17) | Tour de San Luis |
| | |
| Stage 5 | |
| Stage 5 Highlights (Spanish, 01:47) | Redacción ANSL |
| Post stage press conference (Spanish, 02:44) | Redacción ANSL |
| On Demand Broadcast of Stage 5 (Spanish, 02:51:08) | Tour de San Luis |
| | |
| Stage 4 | |
| Stage 4 Highlights (Spanish, 02:13) | Redacción ANSL |
| Post stage press conference (Spanish, 01:49) | Redacción ANSL |
| On Demand Broadcast of Stage 4 (Spanish, 03:36:36) | Tour de San Luis |
| | |
| Stage 3 | |
| Stage 3 Highlights (Spanish, 03:28) | Redacción ANSL |
| Post stage press conference (Spanish, 02:11) | Redacción ANSL |
| On Demand Broadcast of Stage 3 (Spanish, 04:03:01) | Tour de San Luis |
| | |
| Stage 2 | |
| Post stage press conference (Spanish, 03:51) | Redacción ANSL |
| Stage 2 Highlights (Spanish, 04:59) | Redacción ANSL |
| The stage start (Spanish, 0:26) | Redacción ANSL |
| Etixx - Quick-Step Tour de San Luis Recon stage 2 (English, 02:05) | Etixx_QuickStep |
| | |
| Stage 1 | |
| Stage 1 Highlights (Spanish, 02:31) | Redacción ANS |
| Post stage press conference (Spanish, 01:12) | Redacción ANS |
| The stage start (Spanish, 01:12) | Redacción ANS |
| | |
| Pre-Race | |
| Highlights of the teams presentation (Music, 04:00) | Redacción ANSL |
| Nairo Quintana (Movistar) press conference (Spanish, 15:16) | Redacción ANSL |
| Team Novo Nordisk press conference (English/Spanish, 08:53) | Redacción ANSL |
| Mark Cavendish (Etixx-Quick Step) - Pre-race press conference (English, 03:35) | Redacción ANSL |
| Michal Kwiatkowski (Etixx-Quick Step) - Pre-race press conference (English, 03:54) | Redacción ANSL |
| Nairo Quintana (Movistar) - Pre-race press conference (Spanish, 02:34) | Redacción ANSL |
| Thomas Voeckler (Europcar) - Pre-race press conference (French, 02:11) | Redacción ANSL |
| Carlos Betancur (AG2R La Mondiale) - Pre-race press conference (Spanish, 01:36) | Redacción ANSL |
| The stages of the 2015 Tour de San Luis (Spanish, 06:13) | Redacción ANSL |
| | |
| | |
| --- | --- |
| 2015 Tour Femenino de San Luis Videos - January 11-16 | Source |
| Stage 6 | |
| Alison Tetrick wins the stage as Janildes Fenandes takes the overall win (Muisc, 03:52) | Redacción ANSL |
| Highlights and post race interviews (Spanish, 24:26) | Tour Femenino de San Luis |
| Stage 6 Complete Broadcast (Spanish, 03:00:01) | Tour Femenino de San Luis |
| | |
| Stage 5 | |
| Stage 5 Complete Broadcast (Spanish, 02:35:47) | Tour Femenino de San Luis |
| Katie Hall wins the queens stage while Janildes Fenandes takes over the race lead (Muisc, 05:14) | Redacción ANS |
| | |
| Stage 4 - ITT | |
| American Lauren Stephens wins the stage 4 ITT and takes the overall lead (Muisc, 05:27) | Redacción ANSL |
| Stage 4 Complete Broadcast (Spanish, 02:54:57) | Tour Femenino de San Luis |
| | |
| Stage 3 | |
| Iraida García wins stage 3 - Hannah Barnes remain overall leader (Muisc, 05:52) | Redacción ANSL |
| Stage 3 Post race press conference (Spanish, 09:08) | Tour Femenino de San Luis |
| Stage 3 Extended highlights (Spanish, 37:50) | Tour Femenino de San Luis |
| | |
| Stage 2 | |
| Hannah Barnes (UHC) was unstoppable in the second stage (Muisc, 05:26) | Redacción ANSL |
| Stage 2 Women's Tour de San Luis Complete Broadcast (Spanish, 02:55:53) | Tour Femenino de San Luis |
| | |
| Stage 1 | |
| Hannah Barnes (UHC) wins the initial stage (Muisc, 06:53) | Redacción ANSL |
| Stage 1 Highlights (SanLuisTV, Music, 02:28) | SanLuisTV |
| Stage 1 Women's Tour de San Luis Extended Highlights (Spanish, 36:20) | Tour Femenino de San Luis |
| Stage 1 Women's Tour de San Luis Complete Broadcast (Spanish, 02:07:46) | Tour Femenino de San Luis |
| Stage 1 Women's Tour de San Luis Race Start (Spanish, 19:01) | Tour Femenino de San Luis |
| | |
| Grand Prix | |
| Grand Prix Complete Broadcast (Spanish, 01:10:09) | Tour Femenino de San Luis |
| | |
| Pre-Race | |
| 123 cyclists will participate in the Women's Tour de San Luis (Spanish, 02:04) | SanLuisTV |
| | |
| | |
| --- | --- |
| 2014 Tour de San Luis Videos | Source |
| Cannondale Pro Cycling - The Best of Tour de San Luis (03:16) | cannondaleprocycling |
| Stage 7 | |
| Press conference with Nairo Quintana (Spanish, 02:01) | Redacción ANSL |
| Team Astana's Fredrik Kessiakoff on stage 7 (English, 01:17) | Astana ProTeam |
| Peter Stetina (BMC) on Tour de San Luis and the rest of his season (English, 03:54) | cyclingnewstv |
| Interview of the Day: Manuel Quinziato (English, 0:49) | BMCProTeam |
| Stage 7 Route (Spanish, 0:20) | Redacción ANSL |
| | |
| Stage 6 | |
| Stage 6 Highlights (04:26) | Redacción ANSL |
| Team Astana's Michele Scarponi on stage 6 (English translation, 01:40) | Astana ProTeam |
| Stage finish and podium (Spanish, 02:45) | CyclingTB |
| Stage 6 Route (Spanish, 0:20) | Redacción ANSL |
| | |
| Stage 5 | |
| Stage 5 Highlights (04:22) | Redacción ANSL |
| Highlights and podium (Spanish, 03:33) | CyclingTB |
| Interview of the Day: Taylor Phinney (01:15) | BMCProTeam |
| Taylor Phinney's Warm-Up And Start (0:30) | BMCProTeam |
| Team Astana's Gorazd Stangelj on stage 5 (English, 01:34) | Astana ProTeam |
| Scenes from the starthouse (03:31) | Redacción ANSL |
| Stage 5 Route (Spanish, 0:22) | Redacción ANSL |
| | |
| Stage 4 | |
| Stage 4 Highlights (06:23) | Redacción ANSL |
| Phil Gaimon, on losing 4 minutes to Nairo Quintana (English, 01:20) | velonews |
| Ben King on his move to Garmin-Sharp and season's goals (English, 03:29) | cyclingnewstv |
| Team Astana's Tanel Kangert on stage 4 (English, 01:41) | Astana ProTeam |
| The stage winner Nairo Quintana crosses the line, gives an interview and ascends the podium (Spanish, 02:25) | CyclingTB |
| Stage 4 start (0:32) | Redacción ANSL |
| Nate Brown is learning the ropes in Garmin-Sharp debut (01:24) | cyclingnewstv |
| Stage 4 Route (Spanish, 0:25) | Redacción ANSL |
| | |
| Stage 3 | |
| Stage 3 Highlights (04:58) | Redacción ANSL |
| Cavendish, Boonen talk role reversal in San Luis sprint (English, 03:55) | VeloNews |
| Ben Jacques-Maynes (Jamis-Hagens Berman) weighs in on team's performance (English, 01:26) | cyclingnewstv |
| Podium and interview with stage 3 winner (Italian, 02:29) | CyclingTB |
| Team Astana's Alessandro Vanotti on stage 3 (English translation, 01:10) | Astana ProTeam |
| Giacomo Nizzolo (Trek Factory Racing) talks sprinting pre-stage (English, 01:31) | cyclingnewstv |
| Luke Keough (UnitedHealthcare) talks sprinting and the GC hopes of Marc de Maar (English, 02:38) | cyclingnewstv |
| Stage 3 start (0:42) | Redacción ANSL |
| Stage 3 Route (Spanish, 0:25) | Redacción ANSL |
| | |
| Stage 2 | |
| Stage 2 Highlights (05:22) | Redacción ANSL |
| Team Astana's Michele Scarponi at stage 2 (Spanish/English, 01:34) | Astana ProTeam |
| The finish and podium (01:58) | CyclingTB |
| Scenes from stage 2 start (02:14) | Redacción ANSL |
| Stage 2 Route (Spanish, 0:28) | Redacción ANSL |
| | |
| Stage 1 | |
| Phil Gaimon and Marc de Maar discuss their mishap in stage 1 (English, 02:17) | veloNews |
| Marc de Maar (UnitedHealthcare) crashed out of winning break (English, 02:11) | cyclingnewstv |
| Stage 1 Highlights (06:10) | Redacción ANSL |
| Stage 1 Phillip Gaimon GARMIN-SHARP wins (Spanish, 07:05) | Redacción ANSL |
| Start, finish, podium and an interview with the stage winner (English, 01:58) | CyclingTB |
| Interview with stage 1 winner (English, 0:43) | cyclingnewstv |
| Team Astana's Mikel Landa at stage 1 (Spanish, 01:28) | Astana ProTeam |
| Scenes from stage 1 start (01:28) | Redacción ANSL |
| Stage 1 Route (Spanish, 0:21) | Redacción ANSL |
| | |
| Pre Race | |
| Press Conference - Níbali, Rodriguez, Sagan, Cavendish, Boonen - Part 1 (English/Spanish, 08:58) | Redacción ANSL |
| Press Conference - Níbali, Rodriguez, Sagan, Cavendish, Boonen - Part 2 (English/Spanish, 10:26) | Redacción ANSL |
| Official presentation of the stages (Spanish, 06:36) | Redacción ANSL |
| | |
| | |
| --- | --- |
| 2013 Tour de San Luis Videos | |
| Stage 7 | |
| Coverage - Part 1 of 4 (Spanish, 25:34) | anslTV |
| Coverage - Part 2 of 4 (Spanish, 12:38) | anslTV |
| Coverage - Part 3 of 4 (Spanish, 08:14) | anslTV |
| Coverage - Part 4 of 4 (Spanish, 04:39) | anslTV |
| Stage finish and podium (Spanish, 04:00) | CyclingTB |
| | |
| Stage 6 | |
| Stage finish and podium (Spanish, 02:39) | CyclingTB |
| Coverage - Part 1 of 4 (Spanish, 14:06) | anslTV |
| Coverage - Part 2 of 4 (Spanish, 23:16) | anslTV |
| Coverage - Part 3 of 4 (Spanish, 11:35) | anslTV |
| Coverage - Part 4 of 4 (Spanish, 01:33) | anslTV |
| | |
| Stage 5 | |
| Coverage - Part 1 of 4 (Spanish, 13:12) | anslTV |
| Coverage - Part 2 of 4 (Spanish, 19:15) | anslTV |
| Coverage - Part 3 of 4 (Spanish, 14:18) | anslTV |
| Coverage - Part 4 of 4 (Spanish, 03:19) | anslTV |
| Stage finish and podium (Spanish, 02:32) | CyclingTB |
| | |
| Stage 4 | |
| Coverage - Part 1 of 4 (Spanish, 21:11) | anslTV |
| Coverage - Part 2 of 4 (Spanish, 18:24) | anslTV |
| Coverage - Part 3 of 4 (Spanish, 08:47) | anslTV |
| Coverage - Part 4 of 4 (Spanish, 04:00) | anslTV |
| Stage finish and podium (Spanish, 03:30) | CyclingTB |
| | |
| Stage 3 | |
| Coverage - Part 1 of 4 (Spanish, 16:39) | anslTV |
| Coverage - Part 2 of 4 (Spanish, 16:13) | anslTV |
| Coverage - Part 3 of 4 (Spanish, 12:33) | anslTV |
| Coverage - Part 4 of 4 (Spanish, 02:25) | anslTV |
| Stage finish and podium (Spanish, 03:01) | CyclingTB |
| | |
| Stage 2 | |
| Coverage - Part 1 of 6 (Spanish, 15:47) | anslTV |
| Coverage - Part 2 of 6 (Spanish, 11:45) | anslTV |
| Coverage - Part 3 of 6 (Spanish, 09:11) | anslTV |
| Coverage - Part 4 of 6 (Spanish, 5:21) | anslTV |
| Coverage - Part 5 of 6 (Spanish, 5:25) | anslTV |
| Coverage - Part 6 of 6 (Spanish, 2:42) | anslTV |
| Stage finish and podium (Spanish, 03:02) | CyclingTB |
| | |
| Stage 1 | |
| Stage finish and podium (Spanish, 03:11) | CyclingTB |
| Highlights - Part 1 of 4 (Spanish, 16:44) | anslTV |
| Highlights - Part 2 of 4 (Spanish, 13:99) | anslTV |
| Highlights - Part 3 of 4 (Spanish, 12:00) | anslTV |
| Highlights - Part 4 of 4 (Spanish, 05:57) | anslTV |
| Highlights (Music, 02:53) | diario delarepublica |
| Tour de San Luis Race Promo (Spanish, 0:36) | Ministerio Deportes San Luis |
| | |
| | |
| --- | --- |
| 2012 Tour de San Luis Videos | |
| Stage 7 | |
| Final podium presentations (05:27) | deportepordeportista |
| Highlights of the final stage (05:55) | TuttoBici |
| Behind the scenes (Italian, 05:48) | TuttoBici |
| Final sprint (0:53) | Triamax |
| | |
| Stage 6 | |
| Hills, finish and podium (Italian, 05:02) | TuttoBici |
| | |
| Stage 5 | |
| Alberto Contador and Levi Leipheimer press conference (Spanish/English, 06:48) | TuttoBici |
| Alberto Contador wins the stage (03:58) | TuttoBici |
| | |
| Stage 4 | |
| Highlights and interview with Levi Leipheimer (English, 05:43) | TuttoBici |
| Ben Day's last kilometer of the ITT (0:59) | cyclingnews |
| ITT Highlights (02:15) | El Diario |
| | |
| Stage 3 | |
| Alberto Contador wins the stage (01:49) | El Diario |
| Highlights (03:57) | TuttoBici |
| Post stage press conference with Alberto Contador (Spanish, 04:19) | TuttoBici |
| Alberto Contador interviewed at the finish (Spanish, 00:46) | deportepordeportista |
| | |
| Stage 2 | |
| Levi Leipheimer interview prior to the stage (English, 02:17) | cyclingnews |
| Jake Keough and Jay Thomson discuss stage 2 (English, 03:28) | cyclingnews |
| Stage finish, interviews and podium (Spanish, 02:30) | TuttoBici |
| Camera within the peloton (01:12) | Triamax |
| | |
| Stage 1 | |
| Hail storm, interview with winner and podium (Italian, 03:22) | TuttoBici |
| Francesco Chicci wins Stage 1 in Villa Mercedes (0:48) | Triamax |
| 2012 Tour de San Luis Teams Presentation (04:51) | TuttoBici |
| Tribute to Xavier Tondo (01:24) | PedalierProTV |
| | |