La Course by Le Tour de France: Valentina Scandolara and Orica-AIS
Submitted by mary topping on Wed, 07/09/2014 - 09:52

Follow cyclingfans on Twitter and never miss a race. Cyclingfans.com: The #1 destination on the internet for live race coverage.
- La Course by Le Tour de France: Valentina Scandolara and Orica-AIS.
- See also: Tour de France LIVE
- There are 20 teams entered in the La Course by Le Tour de France, a race for the women that will be held in Paris on the final day of the men's Tour de France. There are 20 stages in the TDF before the final day. So each day of the men's TDF leading up to Paris, we will feature one women's team and rider for La Course.
Valentina Scandolara
ORICA-AIS http://www.greenedgecycling.com/women
Twitter: @ValeScandolara – Italian (proud) cyclist for ORICA-AIS, I live in Verona, study in Padova, I love animals and cycling. And Italy, of course =) I think that's enough ;P
Strengths on the bike: all-rounder, I can sprint in reduced groups
Age: 24
Nickname: Vale, Scando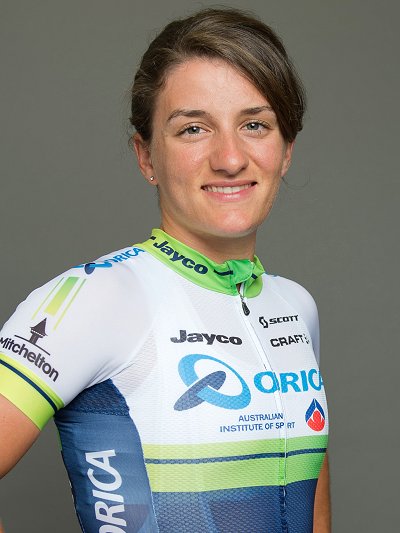 Sizzling dynamite on two wheels. That's Valentina Scandolara, a rider who can turn a field upside down with her aggressive, attacking style. In her first season this year with the Australian ORICA-AIS team, she outpaced a break of five to win the one-day Giro del Trentino Alto Adige in June. Running and soccer held her attention early on and then the cycling medals started piling up – European championships in road and track, Italian road championships, and more podiums in track and cyclocross. Italian through and through, Scandolara is a pasta-lover. She is studying the science of animal breeding at university and her four-legged friends include dogs and horses.
Expect this young woman who's also called "Crazy Horse" to show the world how dynamic women's racing can be. She's looking forward to "everything" about La Course, including the route, people, and cycling history that pervades the grand boulevard leading to the Arc de Triomphe.
"I think it's a great opportunity to show the world that our races are exciting too - hope we won't waste this chance," she says.
In 2013 ORICA-AIS proved best in the world among UCI road teams in just its second year in the ladies peloton. It is the first ever Australian UCI professional women's team, a joint venture between GreenEdge Cycling and the HIGH Performance program of Cycling Australia. The roster of twelve riders includes last year's top female road cyclist and the current Swedish road and time trial champion, Emma Johansson. For the second year Gracie Elvin races for the team as Australian road champion. Gene Bates is the Sport Director. To make the most of the team's style of riding, the squad does not plan to start La Course with a single designated captain.
Self-description in three words: Curious, friendly, coffee lover
Favorite activities off the bike: I study at Uni, I love to hang out with friends but also to spend time alone in nature and with my dog. I love horses. I love to travel.
Gluten-free or pasta lover? Pasta forever
What's on my iPod: A bit of everything
What's on my bucket list: Heaps of things. Anything I did not do yet!!! One of my eldest dreams is to travel the West coast on Canada, down 'till California, with a motorbike.
Cycling career goals: To enjoy what I do, and possibly become the best rider I can. Anything else comes afterwards.
Post pro cycling plans: I'd like to work with anything related with animals (studying for that), travels or sports.

by Mary Topping
(photo courtesy Orica-AIS)