2016 Tour de France LIVE stream, Results, Photos, News, Preview, Start List, Route Details, Stage Profiles, Art
Submitted by admin on Sun, 07/24/2016 - 04:19

Follow cyclingfans on Twitter and never miss a race. Cyclingfans.com: The #1 destination on the internet for live race coverage.
- 2016 Tour de France Live Online Coverage Guide -
2016 Tour de France Map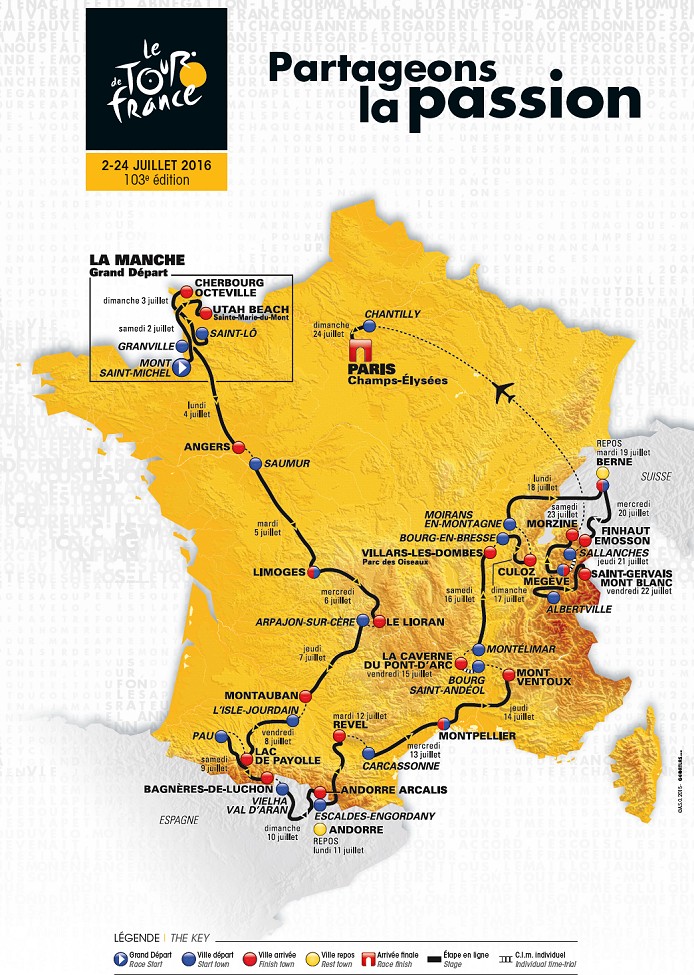 2016 Tour de France Stage 21 Profile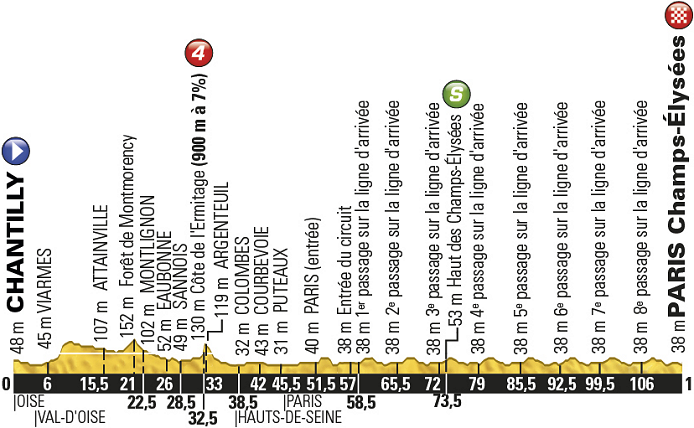 Cyclingfans.com TourTracker w/live profile, gaps, etc.

TourTracker with LIVE GPS Tracking shows you who is in a breakaway, the time gaps, how far into the stage the race is, how far to go, etc. On the climbs, gradients will also be displayed, when available, for breakaway riders, chase groups, peloton, etc.
Notes: (latest notes always appear at the top)

Now completed: Women's Tour de France Ride
(sponsored by cyclingfans.com, a group of women are riding the entire route of the 2016 TDF, day ahead of the men's race - photos and On-Bike live video to come for some stages)
See also: Women's Tour de France LIVE (The Ride. On-bike LIVE video + tracking when available.)

- Official site ticker/tracking LIVE here. Cyclingnews ticker LIVE here.

- Expected LIVE video here. (Sporza, geo-restricted) - LIVE video here. (Rtbf, geo-restricted) - LIVE video here. (France tv, geo-restricted) - Expected LIVE video here. (Rtve, geo-restricted) - LIVE video here. (SBS, geo-restricted)

- LIVE video here. (English, itv4)

- LIVE video here and here. (Italian, Rai Sport)

- LIVE video here and here. (France 2)

- LIVE video here and here and here. (English, Eurosport)

- LIVE video here. (Dutch, NOS)

- LIVE video here. (Spanish, ESPN)

- LIVE video here. (French, Eurosport)

- Videos: Tour de France Videos

- This page will be updated throughout the TDF.




- Results: Tour de France Results

- Photos: Tour de France Photos

- Art: Tour de France Art.

- Stage 21 route, map, profile, schedule + more info in table below.

- Stage 21 start times: Sunday's Tour de France Stage 21 departs Chantilly at 4:05pm CET (10:05am U.S. Eastern) and is expected at the finish at Paris Champs-Élysées at around 7:15pm CET (1:15pm U.S. Eastern). Tour de France live streaming video should get underway at around 4:00pm CET (10:00am U.S. Eastern).

- Jon Izaguirre (Movistar) won Stage 20. Chris Froome (Team Sky) remains overall leader.

- 2016 Tour de France Stage Previews, Towns, Timetables, Profiles:

Stage details
Stage profiles
Stage 1: Saturday, July 2
Mont-Saint-Michel/Utah Beach Sainte-Marie-du-Mont (188 km)
Map, timetable, preview and more here.
Stage 2: Sunday, July 3
Saint-Lô/Cherbourg-en-Cotentin (182 km)
Map, timetable, preview and more here.
Stage 3: Monday, July 4
Granville/Angers (222 km)
Map, timetable, preview and more here.
Stage 4: Tuesday, July 5
Saumur/Limoges (232 km)
Map, timetable, preview and more here.
Stage 5: Wednesday, July 6
Limoges/Le Lioran (216 km)
Map, timetable, preview and more here.
Stage 6: Thursday, July 7
Arpajon-sur-Cère/Montauban (187 km)
Map, timetable, preview and more here.
Stage 7: Friday, July 8
L'Isle-Jourdain/Lac de Payolle (162 km)
Map, timetable, preview and more here.
Stage 8: Saturday, July 9
Pau/Bagnères-de-Luchon (183 km)
Map, timetable, preview and more here.
Stage 9: Sunday, July 10
Vielha Val d'Aran/Andorre Arcalis (184 km)
Map, timetable, preview and more here.
Rest Day: Monday, July 11 - Andorre -

Stage 10: Tuesday, July 12
Escaldes-Engordany/Revel (198 km)
Map, timetable, preview and more here.
Stage 11: Wednesday, July 13
Carcassonne/Montpellier (164 km)
Map, timetable, preview and more here.
Stage 12: Thursday, July 14
Montpellier/Mont Ventoux (185 km)
Map, timetable, preview and more here.
Stage 13: Friday, July 15
Bourg-Saint-Andéol/La Caverne du Pont-d'Arc (37 km ITT)
Map, timetable, preview and more here.
Stage 14: Saturday, July 16
Montélimar/Villars-les-Dombes Parc des Oiseaux (208 km)
Map, timetable, preview and more here.
Stage 15: Sunday, July 17
Bourg-en-Bresse/Culoz (159 km)
Map, timetable, preview and more here.
Stage 16: Monday, July 18
Moirans-en-Montagne/Berne (206 km)
Map, timetable, preview and more here.
Rest Day: Tuesday, July 19 - Berne -

Stage 17: Wednesday, July 20
Berne/Finhaut-Emosson (184 km)
Map, timetable, preview and more here.
Stage 18: Thursday, July 21
Sallanches/Megève (17 km ITT)
Map, timetable, preview and more here.
Stage 19: Friday, July 22
Albertville/Saint-Gervais Mont Blanc (146 km)
Map, timetable, preview and more here.
Stage 20: Saturday, July 23
Megève/Morzine-Avoriaz (146 km)
Map, timetable, preview and more here.
Stage 21: Sunday, July 24
Chantilly/Paris Champs-Élysées (113 km)
Map, timetable, preview and more here.

- Note that the women's race La Course by le Tour de France is scheduled to be broadcast LIVE at around 1:30pm CET (7:30am U.S. Eastern). We'll post links right here.

- Stage 20 start times: Saturday's Tour de France Stage 20 departs Megève at 12:55pm CET (6:55am U.S. Eastern) and is expected at the finish at Morzine-Avoriaz at around 5:01pm CET (11:01am U.S. Eastern). Tour de France live streaming video should get underway at around 12:30pm CET (6:30am U.S. Eastern).

- Romain Bardet (AGR) won Stage 19. Chris Froome (Team Sky) remains leader in the general classification.

- News: Battered Chris Froome faces his final test after crash drama. (The Telegraph) -

- News: Mechanical problem proves costly for Yates. (Cyclingnews) - Briton ready to fight for podium place

- News: Porte: It's going to be hard for me now. (Cyclingnews) - Australian 50 seconds shy of podium after crash

- News: Tom Dumoulin forced to abandon Tour de France after stage 19 crash. (Cyclingnews) - Rio Olympics in question for Dutch time triallist

- News: Bardet wins summit to Saint-Gervais Mont Blanc. (Cyclingnews) - Froome survives crash, finishes on Thomas' bike

- Stage 19 start times: Friday's Tour de France Stage 19 departs Albertville at 12:55pm CET (6:55am U.S. Eastern) and is expected at the finish at Saint-Gervais Mont Blanc/Le Bettex at around 5:23pm CET (11:23am U.S. Eastern). Tour de France live streaming video should get underway at around 12:30pm CET (6:30am U.S. Eastern).

- Race leader Chris Froome (Team Sky) won the Stage 18 Individual TT, increasing his lead on G.C.

- What time does TDF Stage 18 start? Thursday's Tour de France Stage 18, a 17km Individual Time Trial from Sallanches to Megève, gets underway at 10:51am CET (4:51am U.S. Eastern) with the departure of the first rider. Tour de France live streaming video should get underway at around 1:50pm CET (7:50am U.S. Eastern).

- Ilnur Zakarin (Katusha) won Stage 17. Chris Froome (Team Sky) remains leader on G.C.

- News: Porte continues to close in on podium spot. (Cyclingnews) - Australian hoping to 'capitalise' on mountain time trial

- News: Greg LeMond: Miracles in cycling still don't exist. (Cyclingnews) - American talks about Armstrong, mechanical doping and marginal gains in L'Equipe interview

- News: Froome: If I was riding for a small team, it would be very different. (Cyclingnews) - Sky rider continues dominance at Tour de France

- News: Zakarin wins atop Finhaut-Emosson. (Cyclingnews) - Froome extends lead as Mollema and Quintana lose ground

- Stage 17 start times: Wednesday's Tour de France Stage 17 departs Berne at 12:00pm CET (6:00am U.S. Eastern) and is expected at the finish at Finhaut-Emosson at around 5:21pm CET (11:21am U.S. Eastern). Tour de France live streaming video should get underway at around 1:50pm CET (7:50am U.S. Eastern).

- Peter Sagan (Tinkoff) won Stage 16. Chris Froome (Team Sky) remains leader in the general classification.

- News: Now or never for Quintana at Tour de France. (USA Today) -

- News: Chris Froome suggests Tour de France route has 'tired' some rivals. (The Guardian) - Froome has not come under pressure since taking yellow jersey on stage eight

- News: Despair for Kristoff as lack of bike throw sees him lose sprint he 'should have won'. (Cyclingnews) - 'I didn't see the line until it was too late,' says Katusha sprinter

- News: Contador resumes training following Tour de France abandon. (Cyclingnews) - Leg injuries from Tour crashes healing

- News: Degenkolb back in the thick of sprints at Tour de France. (Cyclingnews) - Giant-Alpecin rider regaining confidence after return from pre-season training crash

- News: Sagan wins in Berne. (Cyclingnews) - Kristoff celebrates too early, Froome stays in yellow

- Tuesday is a rest day at the Tour de France. The race resumes Wednesday with Stage 17. Stage 17 details here on Tuesday.

- Stage 16 start times: Monday's Tour de France Stage 16 departs Moirans-en-Montagne at 12:40pm CET (6:40am U.S. Eastern) and is expected at the finish at Berne at around 5:53pm CET (11:53am U.S. Eastern). Tour de France live streaming video should get underway at around 1:50pm CET (7:50am U.S. Eastern).

- Jarlinson Pantano (IAM Cycling) won Stage 15. Chris Froome (Team Sky) remains leader on G.C.

- News: Van Garderen: Last week of Tour de France could be like Russian Roulette. (Cyclingnews) - American loses time to contenders and drops to 8th on general classification

- News: Froome agrees that Sky's strength 'must be demoralising for people'. (Cyclingnews) - Yellow jersey surprised by lack of aggression on stage 15

- News: Mollema passes Jura Mountains test with ease. (Cyclingnews) - Trek-Segafredo rider closes in on career-best result

- News: Chris Froome maintains lead as Jarlinson Pantano wins stage 15. (BBC News) -

- What time does Stage 15 start? Stage 15 start times: Sunday's Tour de France Stage 15 departs Bourg-en-Bresse at 12:55pm CET (6:55am U.S. Eastern) and is expected at the finish at Culoz at around 5:34pm CET (11:34am U.S. Eastern). Tour de France live streaming video should get underway at around 12:30pm CET (6:30am U.S. Eastern).

- Mark Cavendish (Team Dimension Data) won Stage 14. Chris Froome (Team Sky) retained the overall race lead.

- News: Froome: The hardest past of the Tour de France is still to come. (Cyclingnews) - Sky rider backs jury decision after Mont Ventoux stage

- News: Cavendish wins stage 14 in Villars-les-Dombes. (Cyclingnews) - Froome stays in yellow

- News: Tour de France under huge pressure to ease security fears after chaotic week. (The Telegraph) -

- Stage 14 start times: Saturday's Tour de France Stage 14 departs Montélimar at 12:00pm CET (6:00am U.S. Eastern) and is expected at the finish at Villars-les-Dombes Parc des Oiseaux at around 5:07pm CET (11:07am U.S. Eastern). Tour de France live streaming video should get underway at around 1:50pm CET (7:50am U.S. Eastern).

- Tom Dumoulin (Giant-Alpecin) won the Stage 13 Time Trial. Chris Froome (Team Sky) remains leader in the general classification.

- Friday's ITT Start Order and Times are listed in our TourTracker above.

- What time does TDF Stage 13 start? Friday's Tour de France Stage 13, a 37.5km Individual Time Trial from Bourg-Saint-Andéol to La Caverne du Pont-d'Arc, gets underway at 10:05am CET (4:05am U.S. Eastern) with the departure of the first rider. Tour de France live streaming video should get underway at around 1:50pm CET (7:50am U.S. Eastern).

- Thomas De Gendt (Lotto Soudal) won a chaotic Stage 12 to Mont Ventoux/Chalet Reynard. Chris Froome (Team Sky) retained the overall race lead.

- News: Mollema angered by UCI's handling of Ventoux crash. (Cyclingnews) - Trek-Segafredo rider says that there should have been more barriers to protect riders

- News: Froome knocked from bike on Mont Ventoux, keeps yellow. (Cyclingnews) - De Gendt wins stage 12

- Note: Note that due to high winds, Stage 12 will not finish at the summit on Mont Ventoux but rather at Chalet Reynard, 6 kilometers from the top.

- Stage 12 start times: Thursday's Tour de France Stage 12 departs Montpellier at 11:45am CET (5:45am U.S. Eastern) and is expected at the finish at Mont Ventoux Chalet Reynard at around 4:53pm CET (10:53am U.S. Eastern). Tour de France live streaming video should get underway at around 1:50pm CET (7:50am U.S. Eastern).

- Peter Sagan (Tinkoff) won Stage 11. Chris Froome (Team Sky) remains leader in the general classification.

- News: Ventoux stage shortened due to risk of 100km/h winds. (Cyclingnews) - 'Rider safety is more important,' says Prudhomme

- News: Sagan wins stunner of a stage in Montpellier. (Cyclingnews) - Froome goes on the attack on windy 'sprint' stage

- News: Quintana and Movistar blast Tour de France organisers for 'dangerous' stage 11. (Cycling News) - Colombian loses small chunk of time as Froome springs another surprise

- Stage 11 start times: Wednesday's Tour de France Stage 11 departs Carcassonne at 1:35pm CET (7:35am U.S. Eastern) and is expected at the finish at Montpellier at around 5:31pm CET (11:31am U.S. Eastern). Tour de France live streaming video should get underway at around 1:45pm CET (7:45am U.S. Eastern).

- Michael Matthews (Orica-BikeExchange) won Stage 10. Chris Froome (Team Sky) remains overall leader.

- What time does Tour Stage 10 start? Stage 10 start times: Tuesday's Tour de France Stage 10 departs Escaldes-Engordany at 12:30pm CET (6:30am U.S. Eastern) and is expected at the finish at Revel at around 5:13pm CET (11:13am U.S. Eastern). Tour de France live streaming video should get underway at around 1:50pm CET (7:50am U.S. Eastern).

- Tom Dumoulin (Giant-Alpecin) won Stage 9. Chris Froome (Team Sky) retained the lead in the general classification.

- Stage 9 start times: Sunday's Tour de France Stage 9 departs Vielha Val d'Aran at 11:55am CET (5:55am U.S. Eastern) and is expected at the finish at Andorre Arcalis at around 5:41pm CET (11:41am U.S. Eastern). Tour de France live streaming video should get underway at around 11:45am CET (5:45am U.S. Eastern).

- Chris Froome (Team Sky) won Stage 8 and took over the lead on G.C.

- Monday is a rest day at the Tour de France. The race resumes Tuesday with Stage 10. Stage 10 details will be posted here on Monday.

- What time does Tour de France Stage 8 start? Stage 8 start times: Saturday's Tour de France Stage 8 departs Pau at 12:00pm CET (6:00am U.S. Eastern) and is expected at the finish at Bagnères-de-Luchon at around 5:23pm CET (11:23am U.S. Eastern). Tour de France live streaming video should get underway at around 1:50pm CET (7:50am U.S. Eastern).

- Stephen Cummings (Team Dimension Data) won Stage 7. Greg Van Avermaet (BMC Racing) retained the lead in the general classification.

- What time does Tour Stage 7 start? Stage 7 start times: Friday's Tour de France Stage 7 departs L'Isle-Jourdain at 1:10pm CET (7:10am U.S. Eastern) and is expected at the finish at Lac de Payolle at around 5:19pm CET (11:19am U.S. Eastern). Tour de France live streaming video should get underway at around 1:50pm CET (7:50am U.S. Eastern).

- Mark Cavendish (Team Dimension Data) won Stage 6. Greg Van Avermaet (BMC Racing) remains overall leader.

- Stage 6 start times: Thursday's Tour de France Stage 6 departs Arpajon-sur-Cère at 12:45pm CET (6:45am U.S. Eastern) and is expected at the finish at Montauban at around 5:22pm CET (11:22am U.S. Eastern). Tour de France live streaming video should get underway at around 1:50pm CET (7:50am U.S. Eastern).

- Greg Van Avermaet (BMC Racing) broke away for victory on Stage 5 and took the yellow jersey as well.

- What time does Tour de France Stage 5 start? Stage 5 start times: Wednesday's Tour de France Stage 5 departs Limoges at 11:35am CET (5:35am U.S. Eastern) and is expected at the finish at Le Lioran at around 5:13pm CET (11:13am U.S. Eastern). Tour de France live streaming video should get underway at around 1:50pm CET (7:50am U.S. Eastern).

- Marcel Kittel (Etixx-Quickstep) won Stage 4 in Limoges in a photo finish. Peter Sagan (Tinkoff) retained the overall race lead.

- What time does TDF Stage 4 start? Stage 4 start times: Tuesday's Tour de France Stage 4 departs Saumur at 11:10am CET (5:10am U.S. Eastern) and is expected at the finish at Limoges at around 5:17pm CET (11:17am U.S. Eastern). Tour de France live streaming video should get underway at around 1:50pm CET (7:50am U.S. Eastern).

- Mark Cavendish (Team Dimension Data) won Stage 3, his second stage victory of this Tour. Peter Sagan (Tinkoff) retained the yellow jersey.

- Stage 4 update: There was an early breakaway of 7 riders: Maciej Bodnar (Tinkoff), Markel Irizar (Trek-Segafredo), Natnael Berhane (Dimension Data), Andreas Schillinger (Bora-Argon18), Thomas De Gendt (Lotto-Soudal), Julien Vermote (Etixx-Quick Step) and Daryl Impey (Orica-BikeExchange). The Direct Energie and Fortuneo-Vital Concept teams led the peloton in the chase. A 4-man breakaway subsequently formed: Oliver Naesen (IAM Cycling) et Alexis Gougerard (AG2R-La Mondiale) contact with Markel Irizar (Trek-Segafredo) and Andreas Schillinger (Bora-Argon18). The peloton allowed this break to go away. As live television coverage gets underway, this breakaway has a lead of about five minutes.

- What time does TDF Stage 3 start? Stage 3 start times: Monday's Tour de France Stage 3 departs Granville at 11:45am CET (5:45am U.S. Eastern) and is expected at the finish at Angers at around 5:22pm CET (11:22am U.S. Eastern). Tour de France live streaming video should get underway at around 1:50pm CET (7:50am U.S. Eastern).

- World Champion Peter Sagan (Tinkoff) won Stage 2 and took the yellow jersey as new race leader.

- Stage 3 finishes in the town of Angers, not far from Le Mans. Angers is visited every year during the Circuit de la Sarthe race. This is also where former American pro Saul Raisin spent time in hospital following his serious crash during an edition of the Sarthe race. Sadly, that crash ended Saul's promising career.

- What time does Tour de France Stage 2 start? Stage 2 start times: Sunday's Tour de France Stage 2 departs Saint-Lô at 12:40pm CET (6:40am U.S. Eastern) and is expected at the finish at Cherbourg-en-Cotentin at around 5:21pm CET (11:21am U.S. Eastern). Tour de France live streaming video should get underway at around 1:50pm CET (7:50am U.S. Eastern).

- Mark Cavendish (Team Dimension Data) won Stage 1 and is first leader in the general classification.

- What time does Tour de France Stage 1 start? Saturday's Tour de France Stage 1 departs Mont-Saint-Michel at 12:20pm CET (6:20am U.S. Eastern) and is expected at the finish at Utah Beach Sainte-Marie-du-Mont at around 5:18pm CET (11:18am U.S. Eastern). Tour de France live streaming video should get underway at around 12:20pm CET (6:20am U.S. Eastern).

- Where can I watch the Tour de France? TDF broadcasters include Eurosport (UK, International, etc.), France 2/3 Television, Sporza (Belgium), SBS (Australia), RTBF (Belgium), ITV4 (UK), NBC (U.S.A.), NOS (Netherlands), Rai (Italy),...

- FDJ, the French national lottery, is sponsoring La Course by le Tour de France, the women's criterium on the Avenue des Champs-Elysées, on the final day of the TDF. They are also sponsoring our Women's Tour de France project.

- What do Tour de France riders eat for dinner? Business Insider answers the question here.

- Who is winning the Tour de France? After Stage 1, Mark Cavendish of Team Dimension Data is overall race leader.

- Iwan Spekenbrink: "We will need two things to fulfil our targets. First we need to have perfect teamwork. Second the right mindset with sometimes a bit of luck to grab that victory. Finally, if you look at the long-term ambition it is nice to see how we can use this Tour de France in a general classification perspective in function with the years to come."

- What teams are competing in the Tour de France? A full list of 2016 Tour de France teams is here.

- Photos: Pre-race Press Conference Photos.

- LIVE video here and here and here. (French)

- Note: The 2016 Tour de France Teams Presentation will be held Thursday, June 30. This will be broadcast LIVE from around 6:30pm CET (12:30pm U.S. Eastern). Live feeds will be posted here as the teams presentation gets underway.

- Orica-GreenEdge have announced their roster for the Tour de France:

Michael Albasini (SUI, 35)
Luke Durbridge (AUS, WA, 25)
Simon Gerrans (AUS, VIC, 36)
Mathew Hayman (AUS, ACT, 38)
Daryl Impey (RSA, 30)
Chris Juul-Jensen (DEN, 26)
Michael Matthews (AUS, ACT, 25)
Ruben Plaza (ESP, 36)
Adam Yates (GBR, 23)


Nairo Quintana HD action profile
Copyright © 2013 Pete Geyer/www.cyclingfans.com


Chris Froome HD action profile
Copyright © 2013 Pete Geyer/www.cyclingfans.com


Alberto Contador HD action profile
Copyright © 2013 Pete Geyer/www.cyclingfans.com

-


Copyright © Pete Geyer/www.cyclingfans.com

- The official route for the 2016 Tour de France here.

- Art: Tour de France Art

-


NOTE: If you believe you may not be seeing the latest content on this page, try clearing your browser's cache (or try a different browser).

- For the 12th consecutive year, you can follow the Tour de France live on cyclingfans.com.

- More info and links to come.

- We will update here with the best and latest live feeds at broadcast time.

- Welcome to our live coverage guide for the 2016 Tour de France.

2016 Tour de France LIVE
July 2-24
Official Website
Start List

Stage 21 starts at 4:05pm CET
(10:05am U.S. Eastern)

Finish at around 7:15pm CET
(1:15pm U.S. Eastern)

Live video from 4:00pm CET
(10:00am U.S. Eastern)




---

Tour de France Live Coverage


(-- CET)
(-- U.S. Eastern)
Alternative


(Sporza live stream)
(Belgium only)
(-- CET)
(-- U.S. Eastern)


(Tour Tracker)
(Livestream component geo-restricted)


(RTBF livestream, French, geo-restricted)
(-- CET)
(-- U.S. Eastern)
Alternative
Alternative


Alternative
(UK)
Alternative


(France2 live stream)
(France2 en direct)
(geo-restricted)
Alternative


(NBC Sports live stream + mobile options)
(-- CET)
(-- U.S. Eastern)
Alternative


(Netherlands only)
Alternative


(RTL)

- more links to come -

(watch Tour de France online)

Live audio streaming:

Live internet radio:


(French)


(French)


(geo-restricted)
Alternative 1
Alternative 2
(English)

(Listen online)


(--)


(L'Equipe ticker)


(English)
Deutsch - Español
Français - Italiano


(Tour de France Tracking)

- More tickers to come -

News and photos:


(cycling news)
Yahoo photo gallery (AP/AFP)

Copyright © 2016 www.cyclingfans.com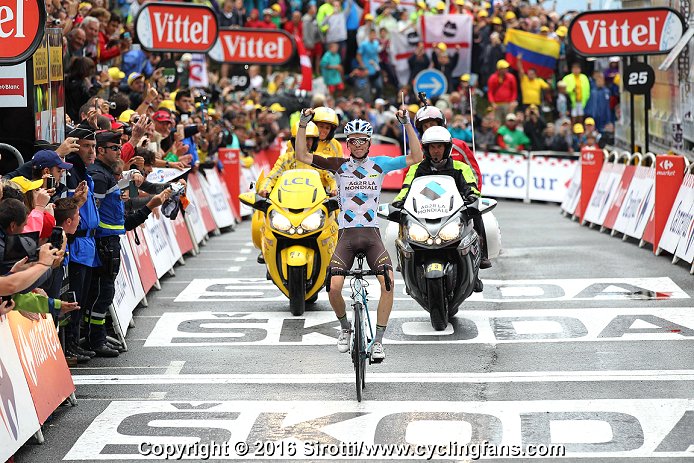 Romain Bardet (AG2R-la-Mondiale) wins Stage 19 at Saint-Gervais Mont Blanc.
- Click for high resolution - more Tour de France Photos -
photo Copyright © 2016 Fotoreporter Sirotti/cyclingfans.com
- WATCH Stage 19 official highlights in English - more Tour de France videos -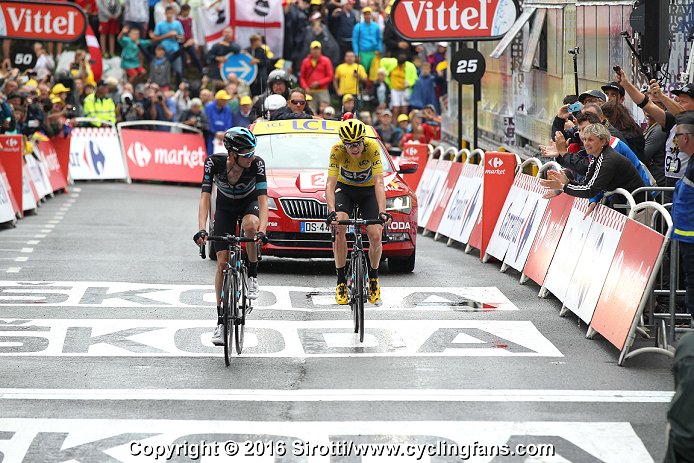 A bloodied Chris Froome arrives at the Stage 19 finish with Sky teammate Wout Poels. Froome crashed during the stage.
- Click for high resolution - more Tour de France Photos -
photo Copyright © 2016 Fotoreporter Sirotti/cyclingfans.com
- WATCH race leader Chris Froome's Stage 19 crash - more Tour de France videos -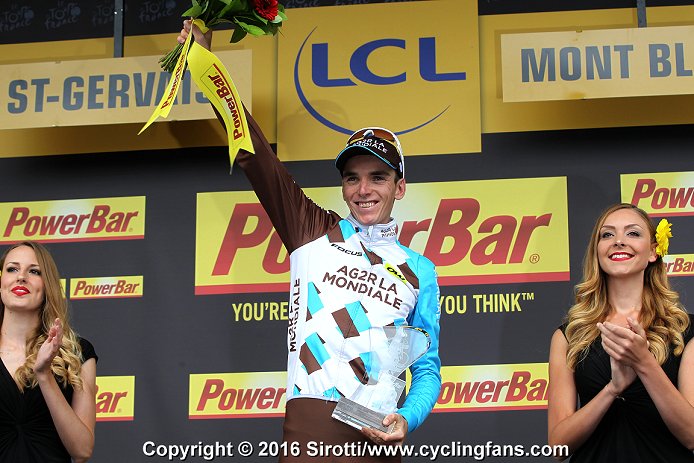 Romain Bardet (AGR) celebrates his Stage 19 victory on the podium. Bardet is now second overall.
- Click for high resolution - more Tour de France Photos -
photo Copyright © 2016 Fotoreporter Sirotti/cyclingfans.com
- WATCH interview with Stage 19 winner Romain Bardet - more Tour de France videos -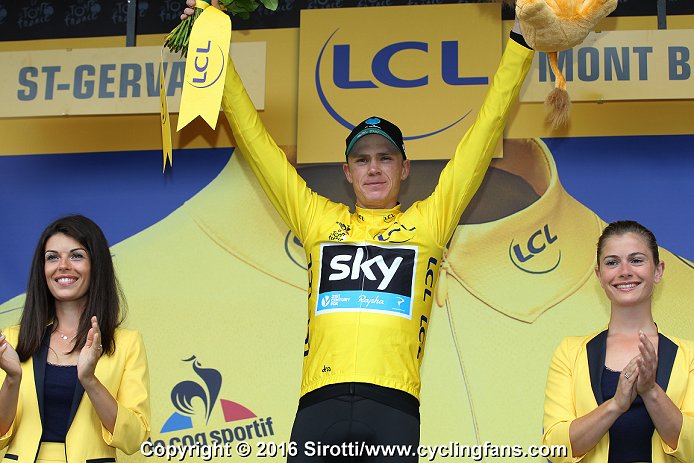 Race leader Chris Froome (Team Sky) can barely manage a smile on the Stage 19 podium; it was a rough stage.
- Click for high resolution - more Tour de France Photos -
photo Copyright © 2016 Fotoreporter Sirotti/cyclingfans.com
- WATCH the Stage 19 yellow jersey minute - more Tour de France videos -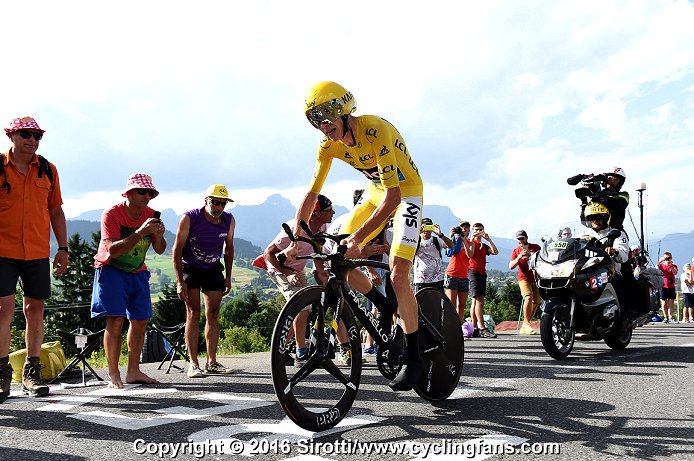 Race leader Chris Froome (Team Sky), on his way to victory in the Stage 18 Individual Time Trial
- Click for high resolution - more Tour de France Photos -
photo Copyright © 2016 Fotoreporter Sirotti/cyclingfans.com
- WATCH Stage 18 highlights in English - more Tour de France videos -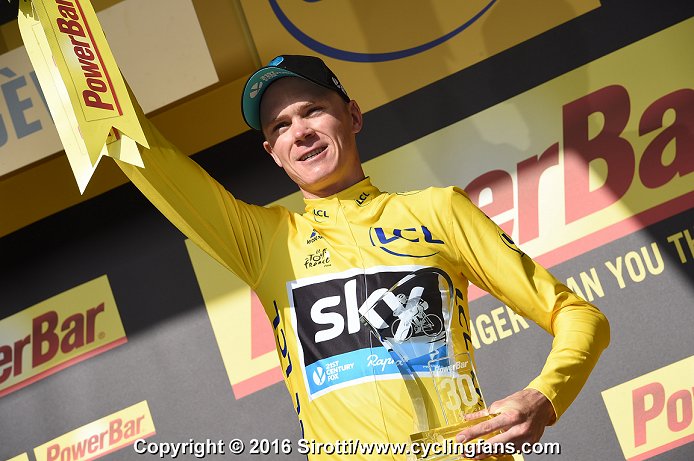 Chris Froome waves from the Powerbar podium following his Stage 18 ITT victory.
- Click for high resolution - more Tour de France Photos -
photo Copyright © 2016 Fotoreporter Sirotti/cyclingfans.com
- WATCH Stage 18 yellow jersey minute - more Tour de France videos -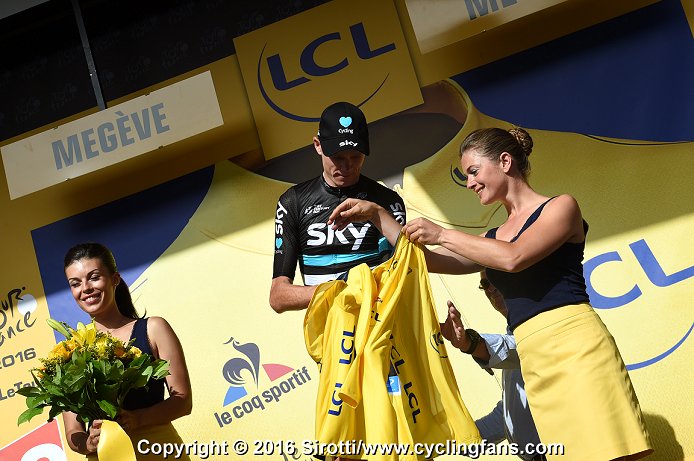 Chris Froome gets another yellow jersey following Stage 18.
- Click for high resolution - more Tour de France Photos -
photo Copyright © 2016 Fotoreporter Sirotti/cyclingfans.com
- WATCH Stage 18 yellow jersey awarded to Chris Froome - more Tour de France videos -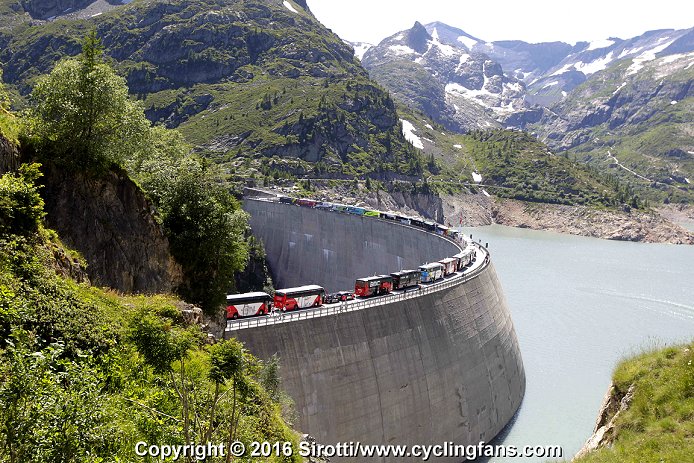 Tour de France team buses in the Alps on Stage 17.
- Click for high resolution - more Tour de France Photos -
photo Copyright © 2016 Fotoreporter Sirotti/cyclingfans.com
- WATCH Stage 17 landscapes of the day - more Tour de France videos -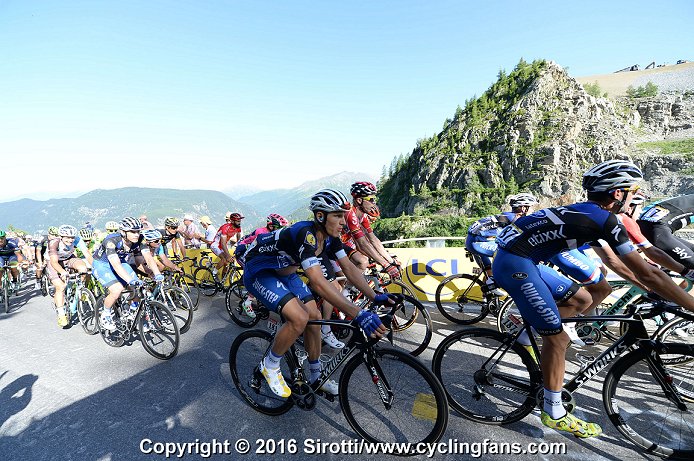 The grupetto in the Alps near the finish of Stage 17
- Click for high resolution - more Tour de France Photos -
photo Copyright © 2016 Fotoreporter Sirotti/cyclingfans.com
- WATCH Stage 17 official highlights in English - more Tour de France videos -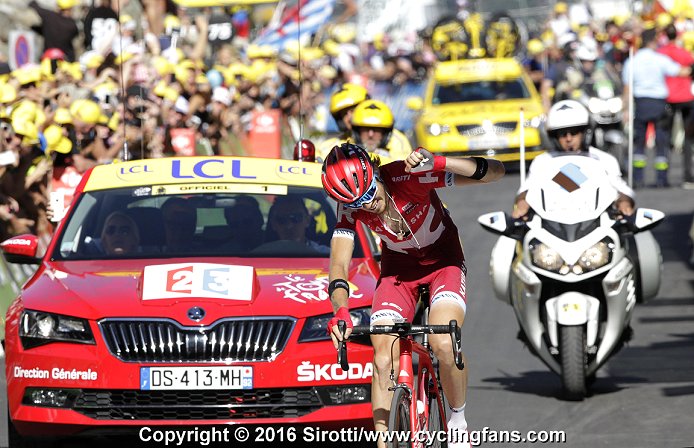 Ilnur Zakarin (Katusha) wins Stage 17 at Emosson dam.
- Click for high resolution - more Tour de France Photos -
photo Copyright © 2016 Fotoreporter Sirotti/cyclingfans.com
- WATCH inteview with Stage 17 winner Ilnur Zakarin - more Tour de France videos -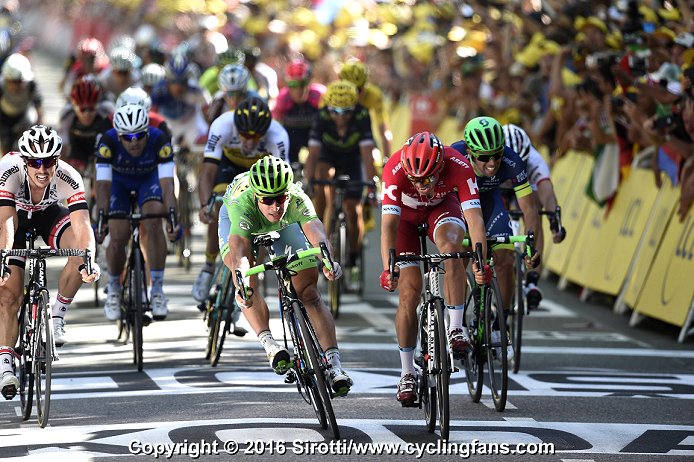 Peter Sagan (Tinkoff) edges Alexander Kristoff (Katusha) for victory on Stage 16 in Bern. It was Sagan's third victory of this Tour.
- Click for high resolution - more Tour de France Photos -
photo Copyright © 2016 Fotoreporter Sirotti/cyclingfans.com
- WATCH Stage 16 official highlights in English - more Tour de France videos -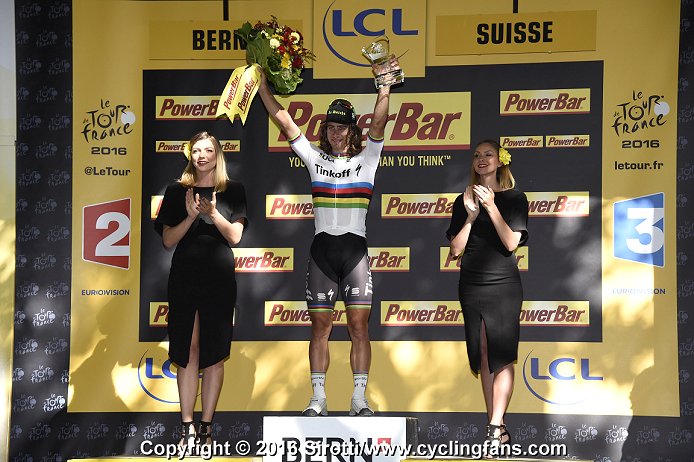 Peter Sagan (Tinkoff) and podium girls
- Click for high resolution - more Tour de France Photos -
photo Copyright © 2016 Fotoreporter Sirotti/cyclingfans.com
- WATCH Stage 16 final sprint - more Tour de France videos -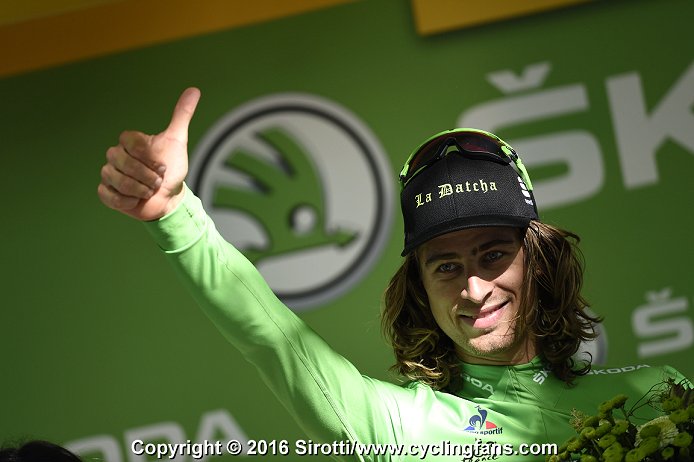 Peter Sagan (Tinkoff), who remains in the green jersey following Stage 16, gives a thumbs up from the podium.
- Click for high resolution - more Tour de France Photos -
photo Copyright © 2016 Fotoreporter Sirotti/cyclingfans.com
- WATCH Stage 16 Skoda green jersey minute - more Tour de France videos -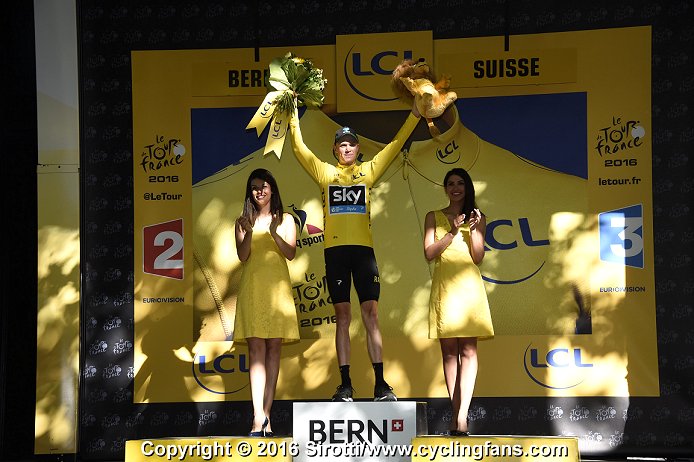 Race leader Chris Froome (Team Sky) and LCL podium girls after Stage 16.
- Click for high resolution - more Tour de France Photos -
photo Copyright © 2016 Fotoreporter Sirotti/cyclingfans.com
- WATCH Stage 16 yellow jersey minute - more Tour de France videos -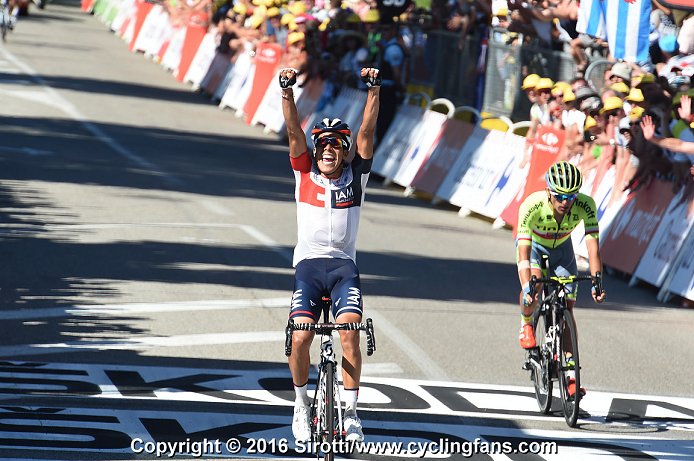 Jarlinson Pantano (IAM Cycling) wins Stage 15.
- Click for high resolution - more Tour de France Photos -
photo Copyright © 2016 Fotoreporter Sirotti/cyclingfans.com
- WATCH Stage 15 highlights - more Tour de France videos -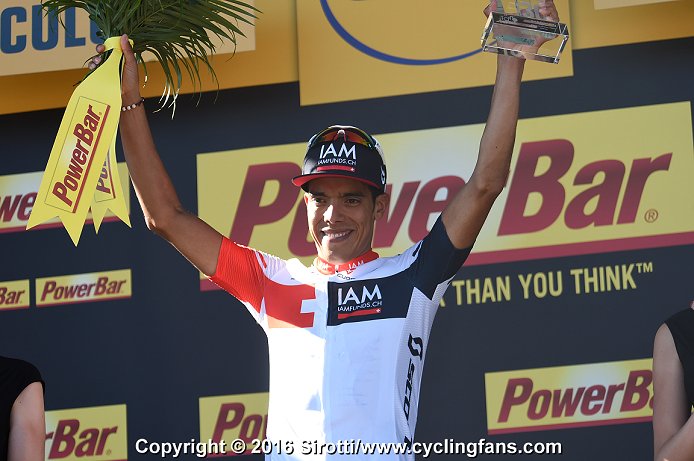 Jarlinson Pantano (IAM Cycling) celebrates his Stage 15 victory on the podium.
- Click for high resolution - more Tour de France Photos -
photo Copyright © 2016 Fotoreporter Sirotti/cyclingfans.com
- WATCH interview with Stage 15 winner Jarlinson Pantano - more Tour de France videos -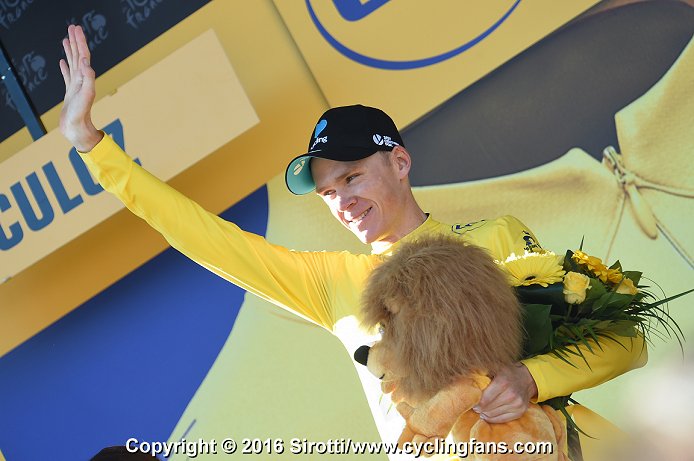 Race leader Chris Froome waves from the podium following Stage 15.
- Click for high resolution - more Tour de France Photos -
photo Copyright © 2016 Fotoreporter Sirotti/cyclingfans.com
- WATCH interview with race leader Chris Froome following Stage 15 - more Tour de France videos -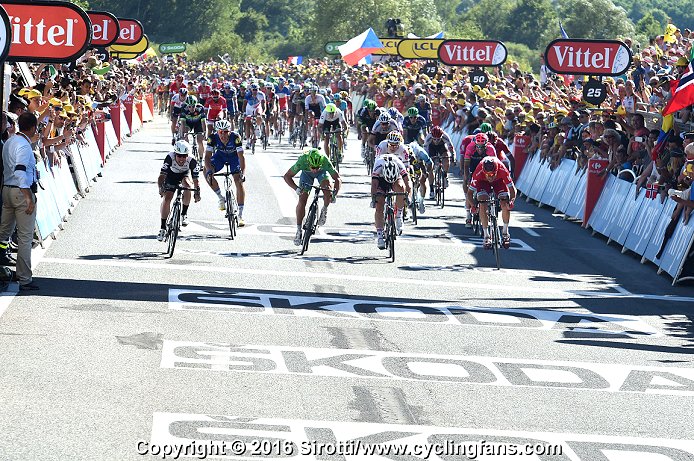 Mark Cavendish (Team Dimension Data) wins Stage 14.
- Click for high resolution - more Tour de France Photos -
photo Copyright © 2016 Fotoreporter Sirotti/cyclingfans.com
- WATCH Stage 14 highlights - more Tour de France videos -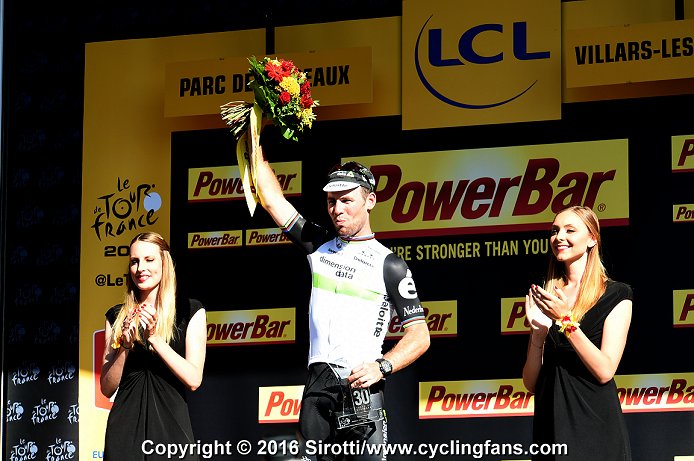 Mark Cavendish on the podium following his Stage 14 victory. It was his fourth stage win of this Tour.
- Click for high resolution - more Tour de France Photos -
photo Copyright © 2016 Fotoreporter Sirotti/cyclingfans.com
- WATCH interview with Stage 14 winner Mark Cavendish - more Tour de France videos -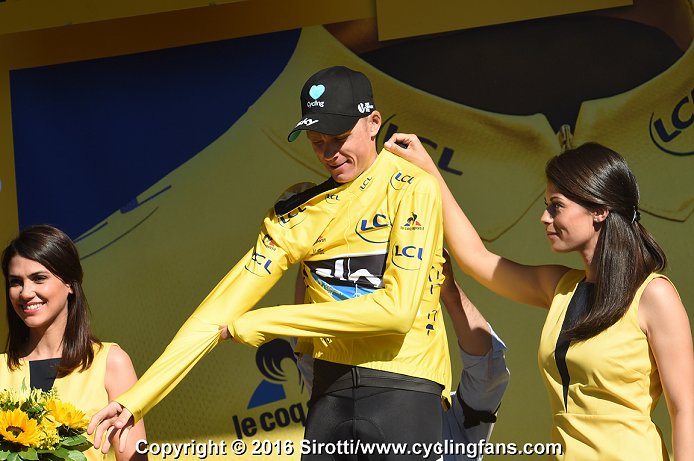 Race leader Chris Froome gets yet another yellow jersey following Stage 14.
- Click for high resolution - more Tour de France Photos -
photo Copyright © 2016 Fotoreporter Sirotti/cyclingfans.com
- WATCH interview with race leader Chris Froome following Stage 14 - more Tour de France videos -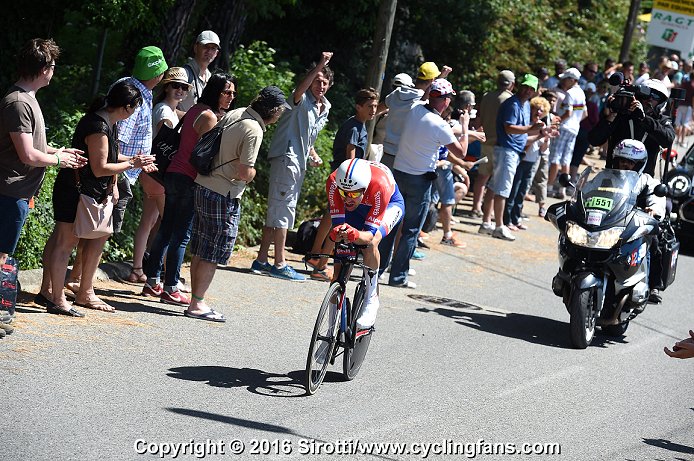 Tom Dumoulin (Giant-Alpecin), on his way to winning the Stage 13 Individual Time Trial. Said Dumoulin: "It's a day of two halves. I'm very happy with the win but my thoughts go out to everyone affected by the horrific attack in Nice. This morning we woke up to the terrible news and I had to get into my zone and focus on the time trial. It is terrible what happened today and it shadows the day a lot. I think we cannot let terrorists decide our lives in our society."
- Click for high resolution - more Tour de France Photos -
photo Copyright © 2016 Fotoreporter Sirotti/cyclingfans.com
- WATCH Stage 13 recap - more Tour de France videos -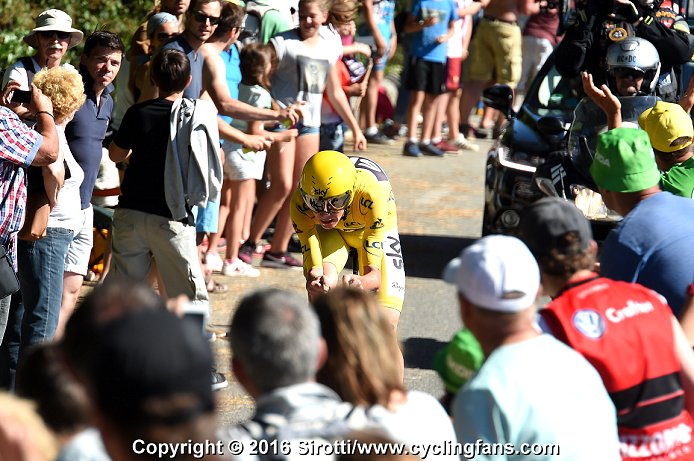 Chris Froome (Team Sky) rode to a second place finish in the Stage 13 ITT, gaining time on his rivals for overall victory.
- Click for high resolution - more Tour de France Photos -
photo Copyright © 2016 Fotoreporter Sirotti/cyclingfans.com
- WATCH Chris Froome: Nice attack puts everything in perspective - more Tour de France videos -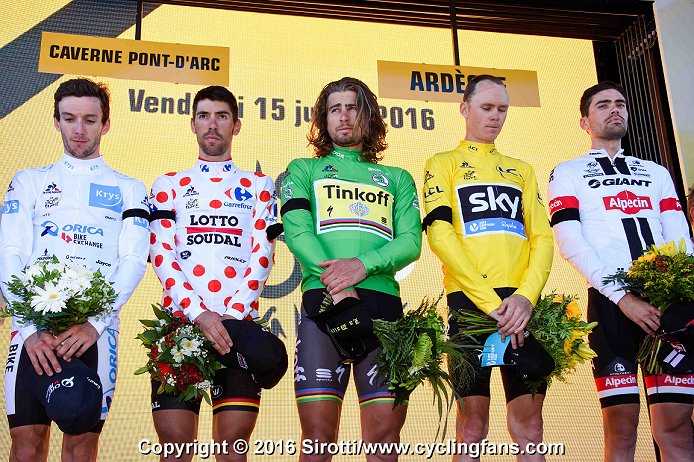 A moment of silence was observed on the podium following Stage 13.
- Click for high resolution - more Tour de France Photos -
photo Copyright © 2016 Fotoreporter Sirotti/cyclingfans.com
- WATCH Moment of silence held at the Tour de France for Nice - more Tour de France videos -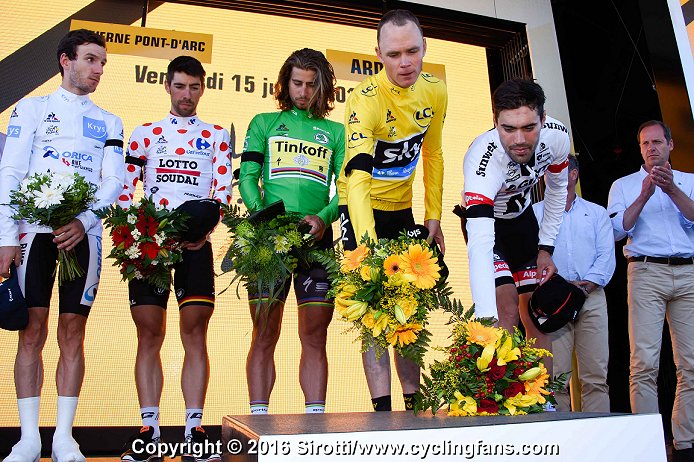 Wearers of the Tour's distinctive jerseys and stage winner Dumoulin lay down bouquets of flowers in remembrance of the victims of the attacks in Nice.
- Click for high resolution - more Tour de France Photos -
photo Copyright © 2016 Fotoreporter Sirotti/cyclingfans.com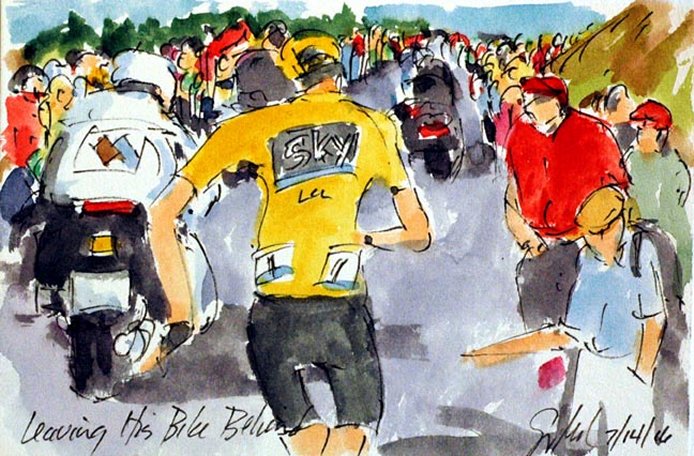 2016 Tour de France Stage 12 Art: "Leaving His Bike Behind - Chris Froome (Sky)" by Greig Leach. More The Art of Cycling -
Sponsored by Richeson Art -
Copyright © 2016 Greig Leach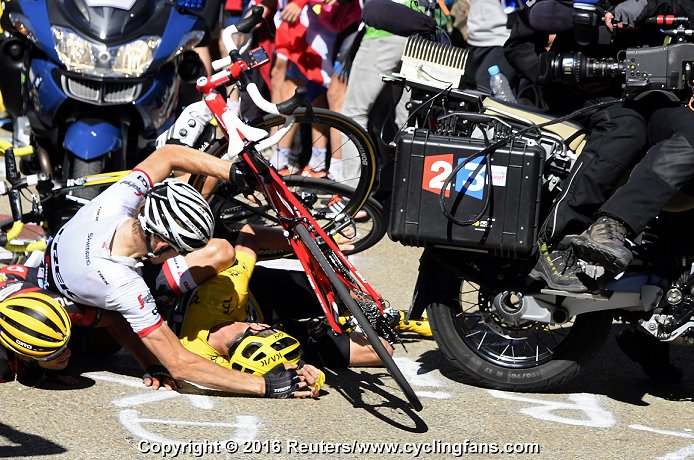 Race leader Chris Froome (Team Sky) is down along with Richie Porte (BMC Racing) and Bauke Mollema (Trek-Segafredo) after Porte crashed into the back of a stopped race moto near the Stage 12 finish at Mont Ventoux's Chalet Reynard.
- Click for high resolution - more Tour de France Photos -
photo Copyright © 2016 Reuters/cyclingfans.com
- WATCH crazy Stage 12 finish with Chris Froome's lack of bike - more Tour de France videos -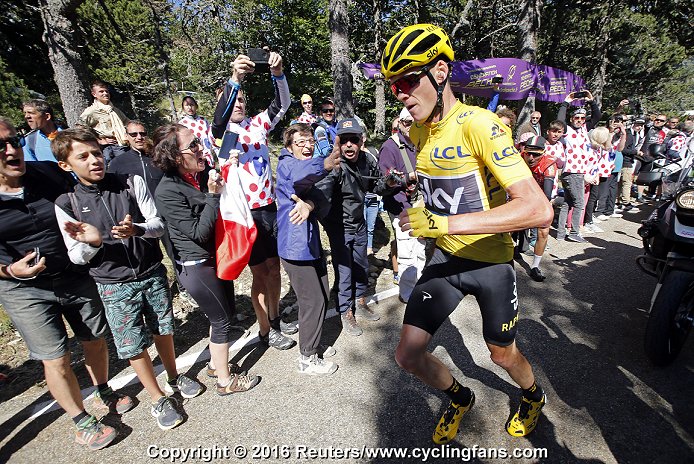 His bike rendered unusable and with his team car nowhere in sight, Chris Froome takes to running up the mountain. It was a surreal scene.
- Click for high resolution - more Tour de France Photos -
photo Copyright © 2016 Reuters/cyclingfans.com
- WATCH Chris Froome ditches bike after crash, runs up the climb - more Tour de France videos -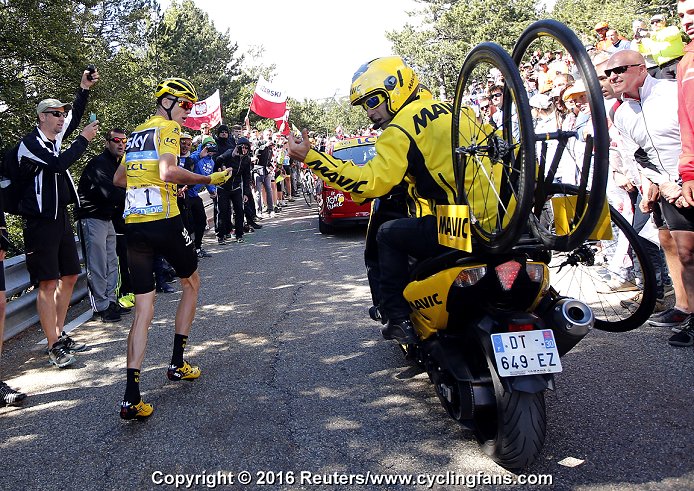 A Mavic support crew member motions for Froome to go back and get a bike.
- Click for high resolution - more Tour de France Photos -
photo Copyright © 2016 Reuters/cyclingfans.com
- WATCH the Stage 12 yellow jersey minute - more Tour de France videos -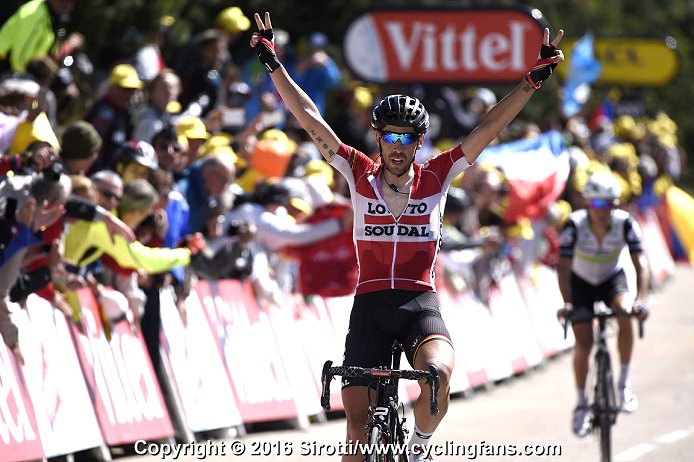 Thomas De Gendt (Lotto-Soudal) wins Stage 12.
- Click for high resolution - more Tour de France Photos -
photo Copyright © 2016 Fotoreporter Sirotti/cyclingfans.com
- WATCH the Stage 12 Official highlights in English - more Tour de France videos -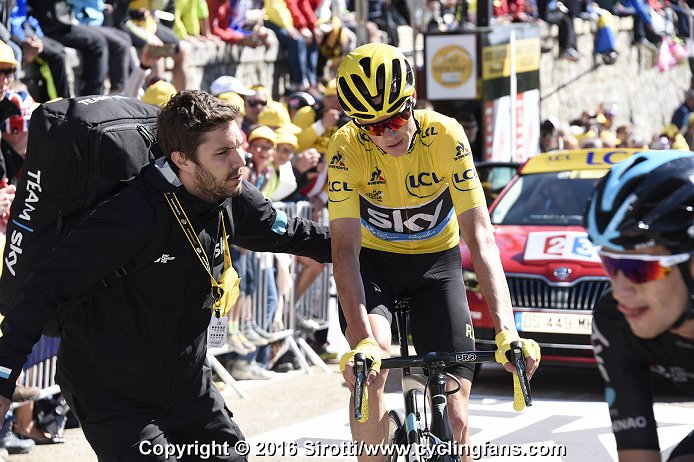 Chris Froome arrives at the finish shaking his head and believing he'd lost the yellow jersey.
- Click for high resolution - more Tour de France Photos -
photo Copyright © 2016 Fotoreporter Sirotti/cyclingfans.com
- WATCH the Stage 12 interview with Chris Froome - more Tour de France videos -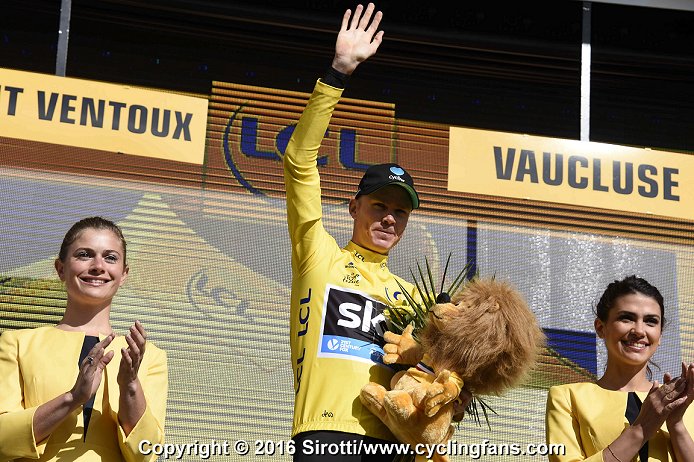 Following a lengthy delay as the race jury decided what to do about the dramatic incident involving Chris Froome, Froome is informed that he will remain race leader.
- Click for high resolution - more Tour de France Photos -
photo Copyright © 2016 Fotoreporter Sirotti/cyclingfans.com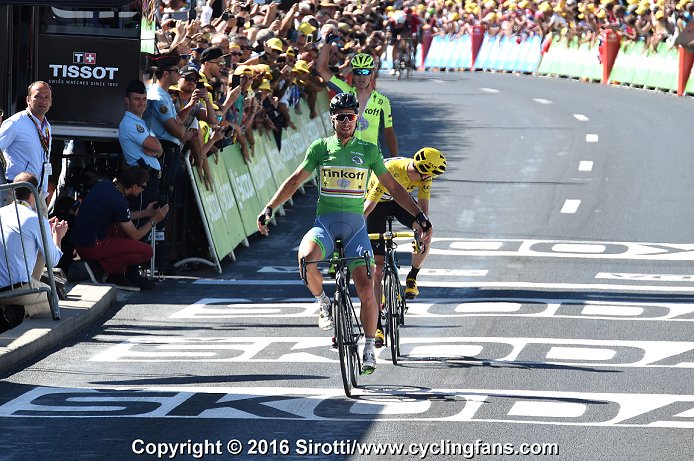 Peter Sagan (Tinkoff) wins Stage 11 in Montpellier ahead of Chris Froome (Team Sky).
- Click for high resolution - more Tour de France Photos -
photo Copyright © 2016 Fotoreporter Sirotti/cyclingfans.com
- WATCH Stage 11 official highlights in English - more Tour de France videos -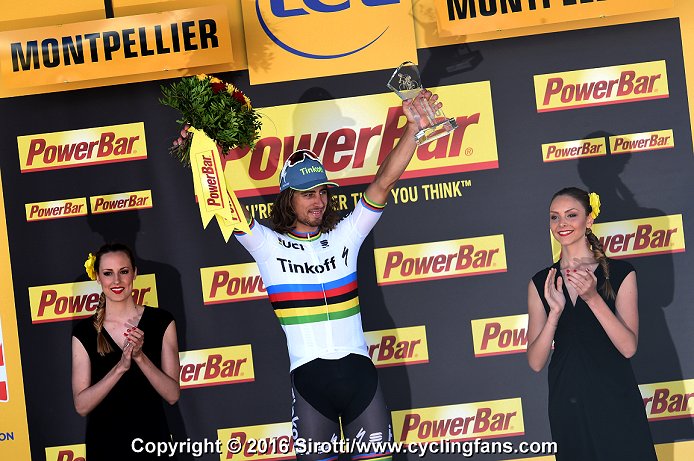 Peter Sagan (Tinkoff) on the podium following his Stage 11 victory
- Click for high resolution - more Tour de France Photos -
photo Copyright © 2016 Fotoreporter Sirotti/cyclingfans.com
- WATCH Peter Sagan accelerate on Stage 11 - more Tour de France videos -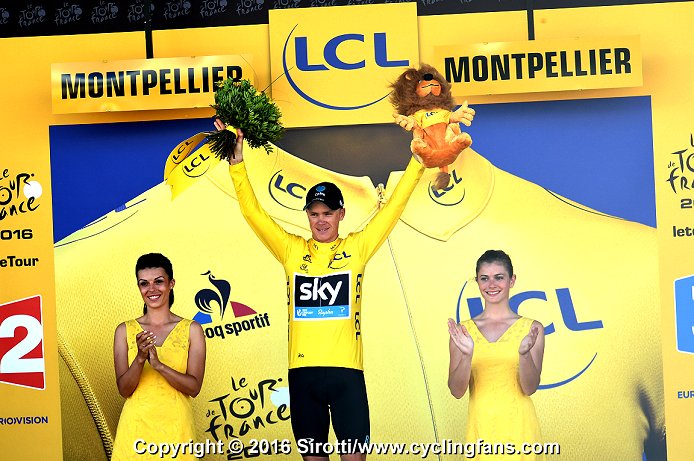 Another yellow jersey for race leader Chris Froome (Team Sky) following Stage 11
- Click for high resolution - more Tour de France Photos -
photo Copyright © 2016 Fotoreporter Sirotti/cyclingfans.com
- WATCH the Stage 11 yellow jersey minute - more Tour de France videos -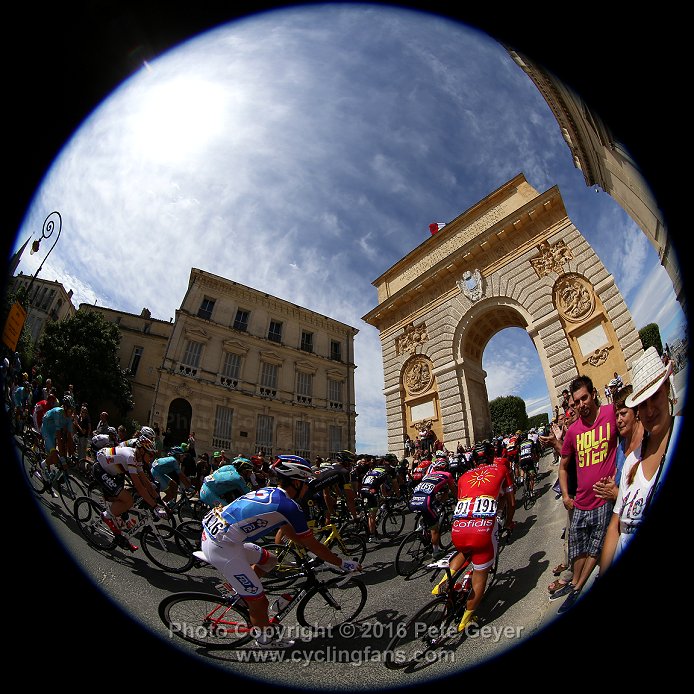 The peloton rides through the Arc de Triomphe in Montpellier on Stage 12, on its way to Le Mont Ventoux.
- Click for high resolution -
photo Copyright © 2016 Pete Geyer/www.cyclingfans.com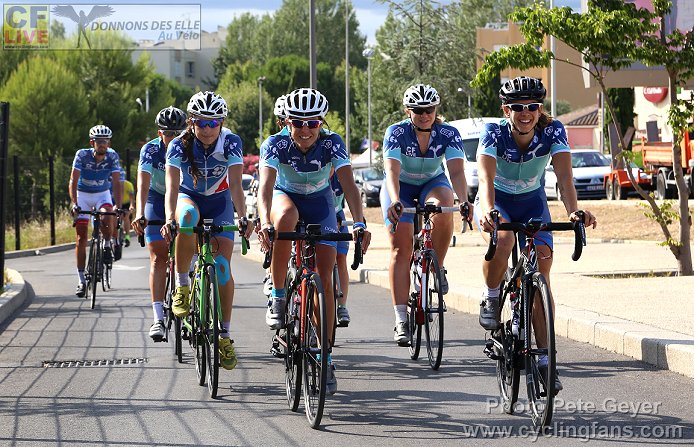 7 women riding the 2016 Tour de France route, one day ahead of the men's race, arrive in Montpellier Tuesday at the finish of their Stage 11.
- Click for high resolution -
photo Copyright © 2016 Pete Geyer/www.cyclingfans.com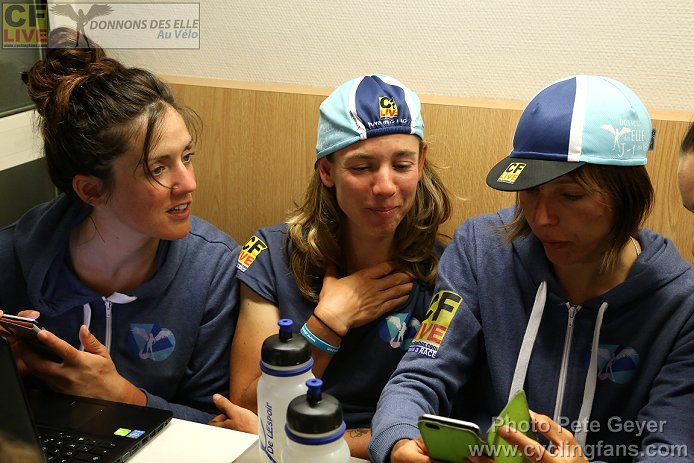 Marie, Claire and Amandine relax at their hotel following their Stage 11 to Montpellier.
- Click for high resolution -
photo Copyright © 2016 Pete Geyer/www.cyclingfans.com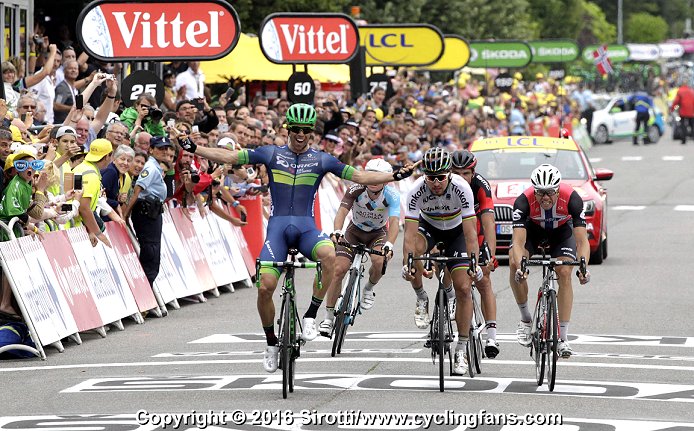 Michael Matthews (Orica-BikeExchange) wins Stage 10.
- Click for high resolution - more Tour de France Photos -
photo Copyright © 2016 Fotoreporter Sirotti/cyclingfans.com
- WATCH Stage 10 official highlights in English - more Tour de France videos -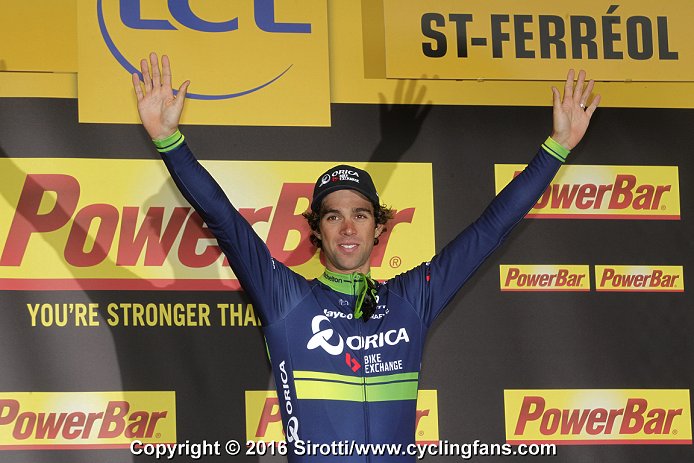 Michael Matthews (Orica-BikeExchange) raises his arms on the Stage 10 victory podium.
- Click for high resolution - more Tour de France Photos -
photo Copyright © 2016 Fotoreporter Sirotti/cyclingfans.com
- WATCH interview with Stage 10 winner Michael Matthews - more Tour de France videos -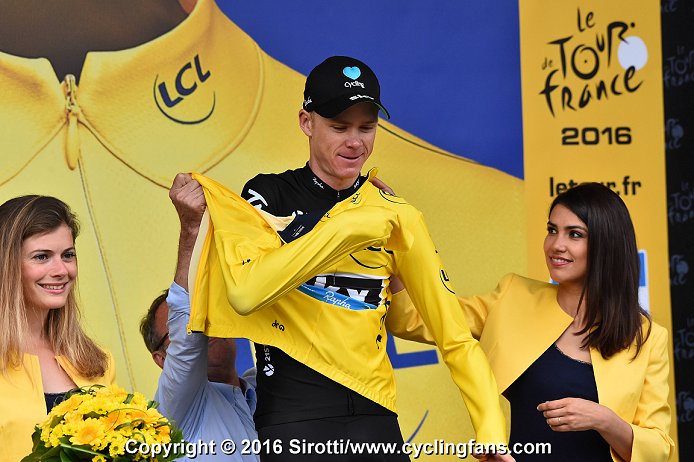 Another yellow jersey for race leader Chris Froome (Team Sky) following Stage 10
- Click for high resolution - more Tour de France Photos -
photo Copyright © 2016 Fotoreporter Sirotti/cyclingfans.com
- WATCH interview with race leader Chris Froome following Stage 10 - more Tour de France videos -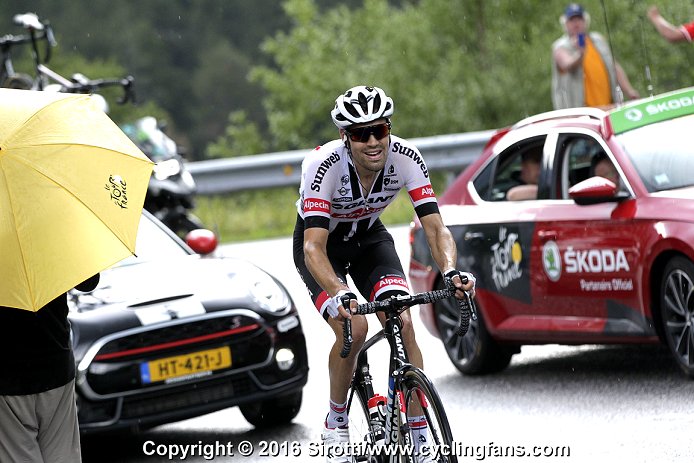 Tom Dumoulin (Giant-Alpecin), on the attack on the final climb of the day, the Arcalis, rode to a solo victory on Stage 9. Commenting on the rest day regarding the team's deal with Sunweb, Dumoulin said: "This is huge news for everyone in the team. It is fantastic to see that this partnership offers us the stability needed to continue the great strides we have made over recent years. It is fantastic that such a recognized organisation as Sunweb sees the financial potential of our sport in general and supports our team's specific goals and overall vision."
- Click for high resolution - more Tour de France Photos -
photo Copyright © 2016 Fotoreporter Sirotti/cyclingfans.com
- WATCH Stage 9 official English highlights - more Tour de France videos -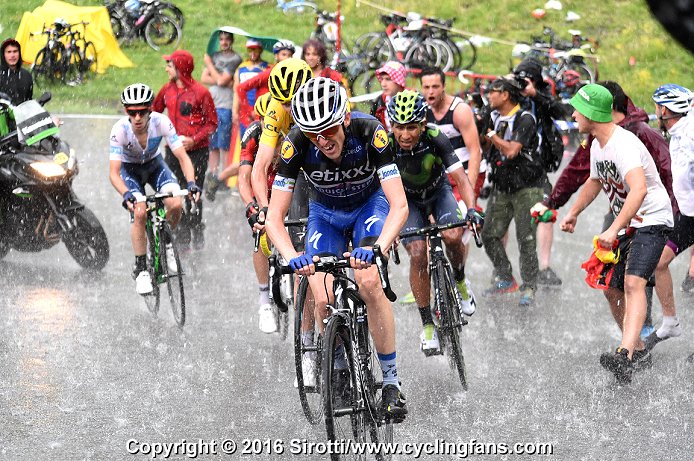 Dan Martin (Etixx-Quickstep) leads Nairo Quintana (Movistar), Chris Froome (Team Sky) and Richie Porte (BMC Racing) in miserable conditions, pouring rain and hail, on the final climb of Stage 9.
- Click for high resolution - more Tour de France Photos -
photo Copyright © 2016 Fotoreporter Sirotti/cyclingfans.com
- WATCH Stage 9 Recap (NBC Sports) - more Tour de France videos -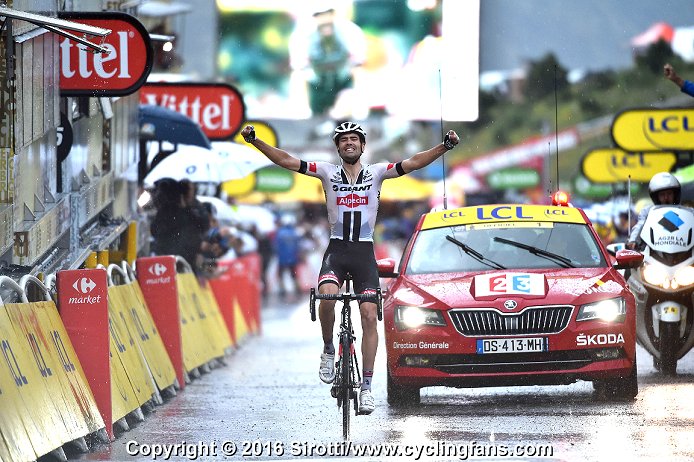 Tom Dumoulin (Giant-Alpecin) wins Stage 9 in the rain.
- Click for high resolution - more Tour de France Photos -
photo Copyright © 2016 Fotoreporter Sirotti/cyclingfans.com
- WATCH Stage 9 final kilometer - more Tour de France videos -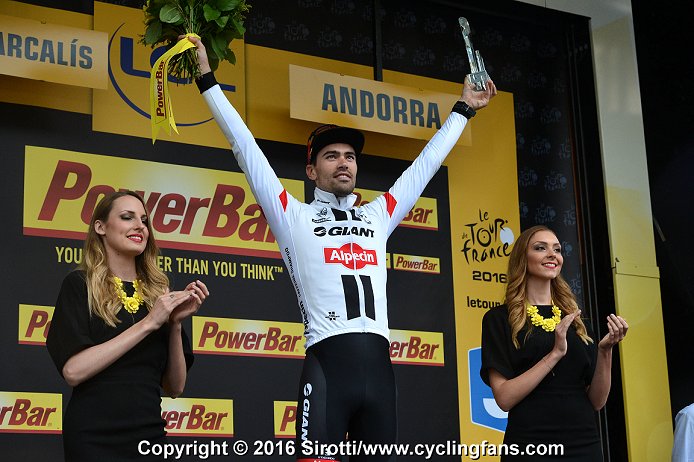 Tom Dumoulin (Giant-Alpecin) celebrates his Stage 9 victory on the podium.
- Click for high resolution - more Tour de France Photos -
photo Copyright © 2016 Fotoreporter Sirotti/cyclingfans.com
- WATCH interview with Stage 9 winner Tom Dumoulin - more Tour de France videos -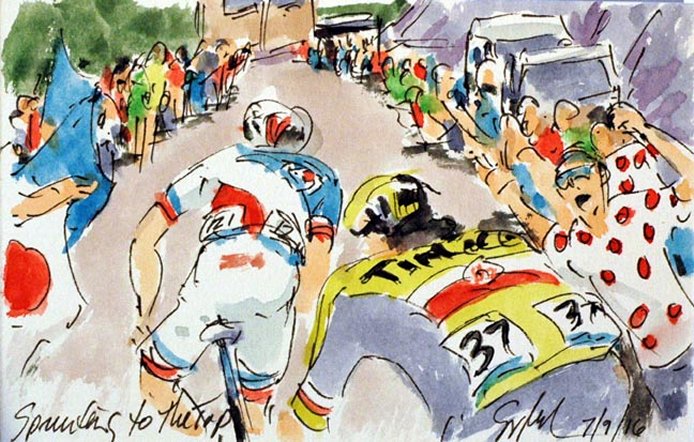 2016 Tour de France Stage 8 Art: "Sprinting to the Top - Thibaut Pinot (FDJ), Rafal Majka (Tinkoff)" by Greig Leach. More The Art of Cycling -
Sponsored by Richeson Art -
Copyright © 2016 Greig Leach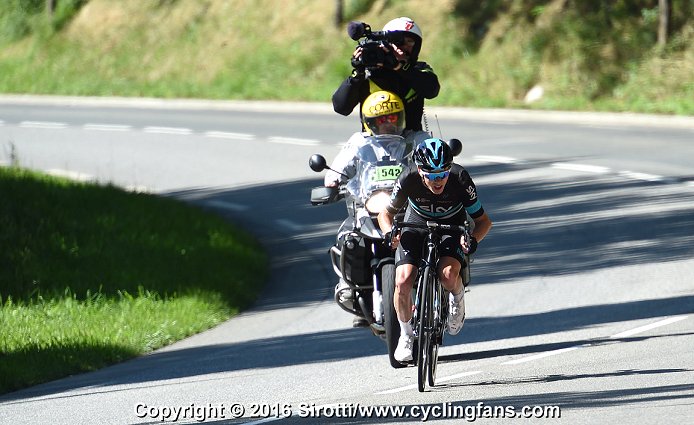 Chris Froome (Team Sky) on the attack on Stage 8.
- Click for high resolution - more Tour de France Photos -
photo Copyright © 2016 Fotoreporter Sirotti/cyclingfans.com
- WATCH Stage 8 official highlights - more Tour de France videos -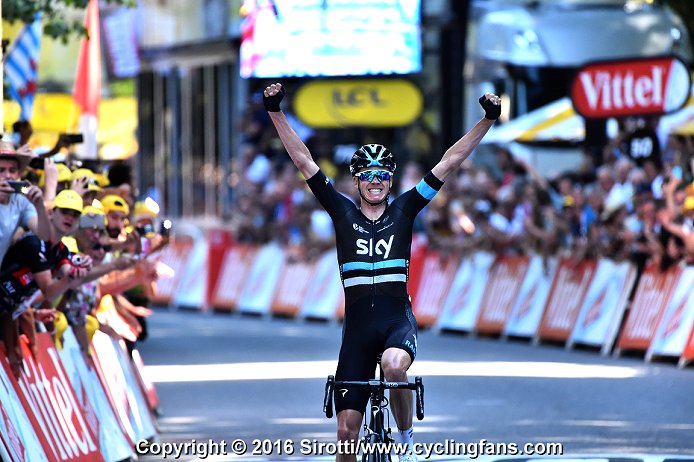 Chris Froome (Team Sky) wins Stage 8.
- Click for high resolution - more Tour de France Photos -
photo Copyright © 2016 Fotoreporter Sirotti/cyclingfans.com
- WATCH Stage 8 final kilometer - more Tour de France videos -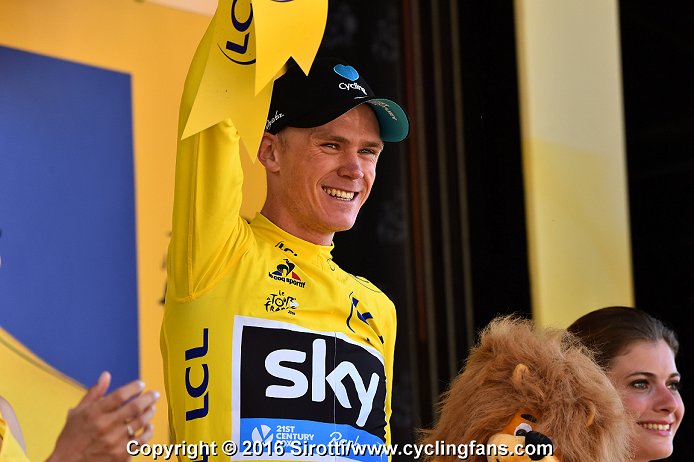 Defending champion Chris Froome (Team Sky) in his favorite Tour color, yellow
- Click for high resolution - more Tour de France Photos -
photo Copyright © 2016 Fotoreporter Sirotti/cyclingfans.com
- WATCH Stage 8 interview with Chris Froome - more Tour de France videos -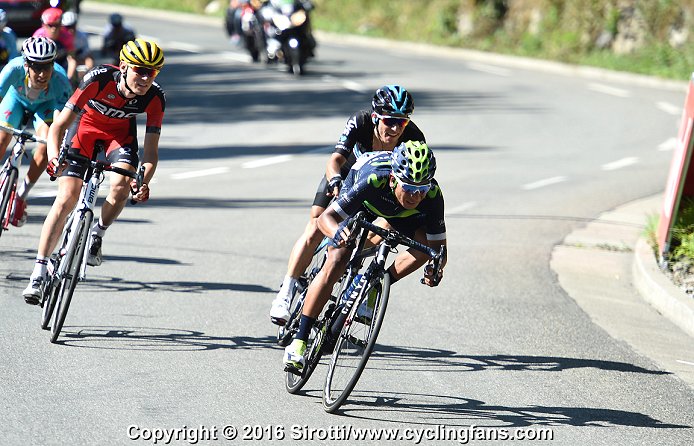 Nairo Quintana (Movistar) leads a group in pursuit of Froome.
- Click for high resolution - more Tour de France Photos -
photo Copyright © 2016 Fotoreporter Sirotti/cyclingfans.com
- WATCH Quintana responds to Froome attack, Contador dropped - more Tour de France videos -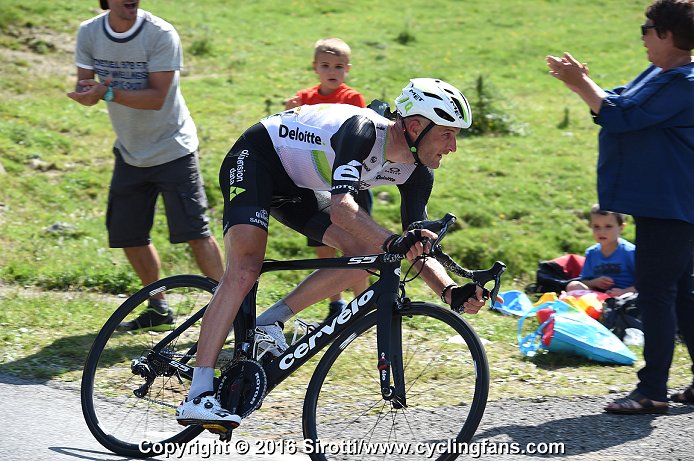 Steve Cummings (Team Dimension Data) is on the attack on Stage 7.
- Click for high resolution - more Tour de France Photos -
photo Copyright © 2016 Fotoreporter Sirotti/cyclingfans.com
- WATCH Stage 7 official highlights (English audio) - more Tour de France videos -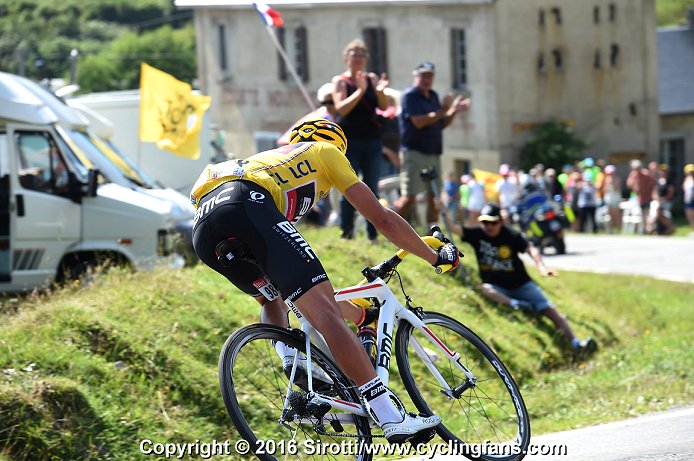 Race leader Greg Van Avermaet (BMC Racing) got into a breakaway to protect his yellow jersey and gained more time in the general classification.
- Click for high resolution - more Tour de France Photos -
photo Copyright © 2016 Fotoreporter Sirotti/cyclingfans.com
- WATCH Stage 7 Yellow Jersey Minute - more Tour de France videos -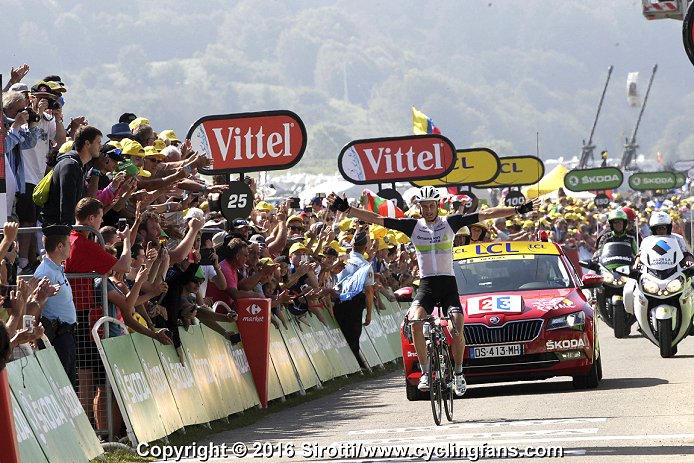 Stephen Cummings (Dimension Data) wins Stage 7.
- Click for high resolution - more Tour de France Photos -
photo Copyright © 2016 Fotoreporter Sirotti/cyclingfans.com
- WATCH Stage 7 final kilometer - more Tour de France videos -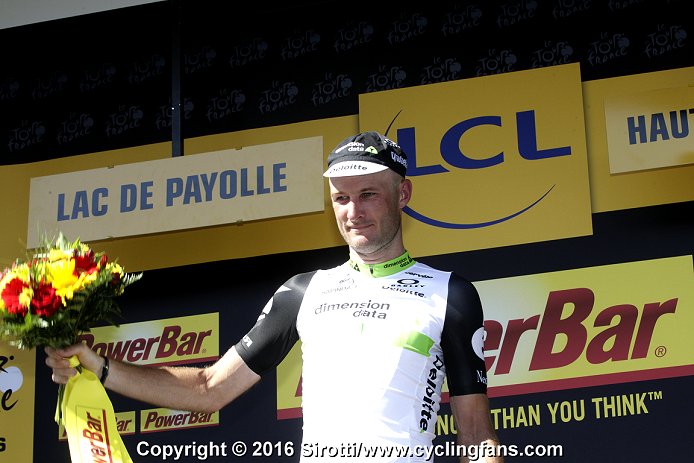 Steve Cummings on the Stage 7 victory podium
- Click for high resolution - more Tour de France Photos -
photo Copyright © 2016 Fotoreporter Sirotti/cyclingfans.com
- WATCH the Stage 7 interview with Steve Cummings - more Tour de France videos -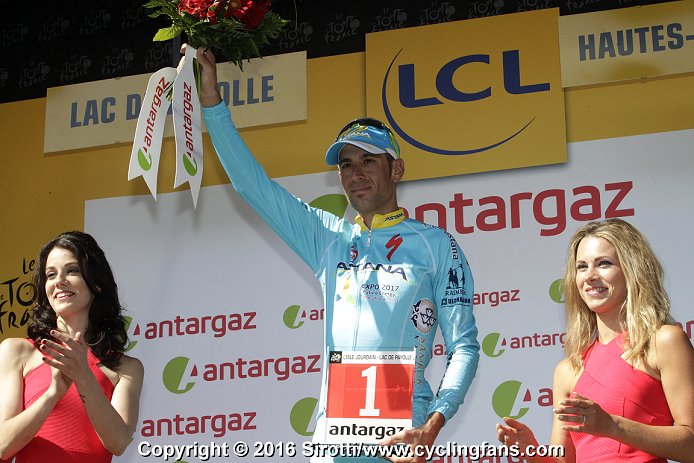 Vincenzo Nibali (Astana) was voted Most Combative rider on the day.
- Click for high resolution - more Tour de France Photos -
photo Copyright © 2016 Fotoreporter Sirotti/cyclingfans.com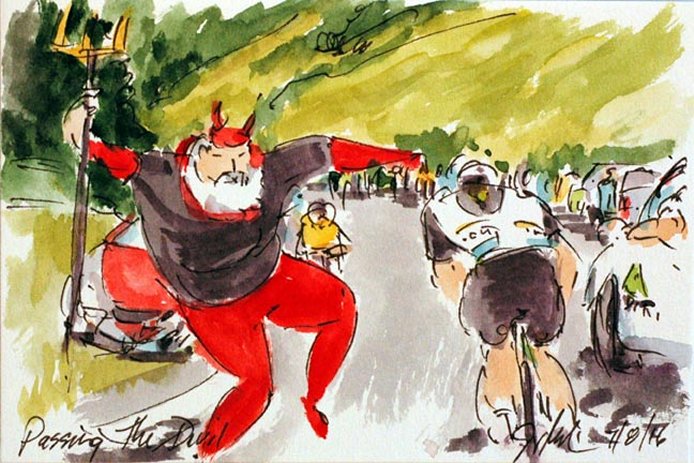 2016 Tour de France Stage 7 Art: "Passing the Devil - Steve Cummings, (Dimension Data), Didi Senft" by Greig Leach. More The Art of Cycling -
Sponsored by Richeson Art -
Copyright © 2016 Greig Leach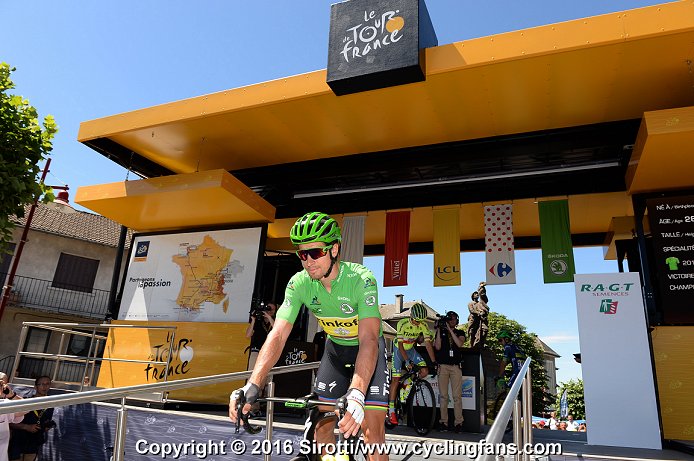 Peter Sagan (Tinkoff) rides down a ramp after signing in before the start of Stage 6. Sagan started the Tour in the rainbow jersey, took the yellow jersey, and now wears the green jersey.
- Click for high resolution -
photo Copyright © 2016 Fotoreporter Sirotti/cyclingfans.com
- WATCH Stage 6 official highlights in English - more Tour de France videos -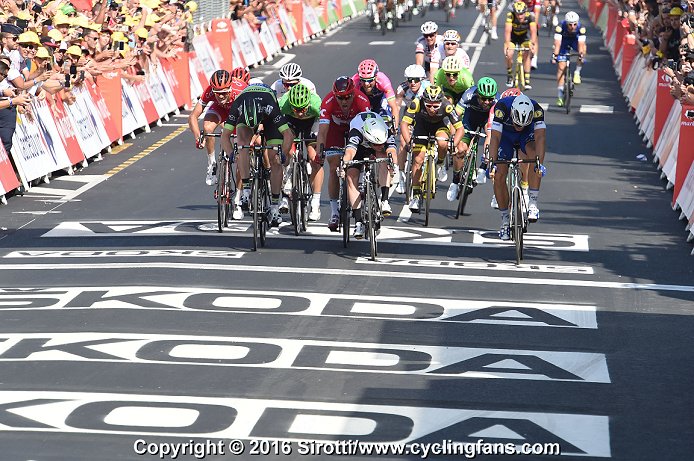 Another stage win for Mark Cavendish (Team Dimension Data), middle, who takes Stage 6 ahead of Marcel Kittel, right.
- Click for high resolution -
photo Copyright © 2016 Fotoreporter Sirotti/cyclingfans.com
- WATCH Stage 6 final kilometer - more Tour de France videos -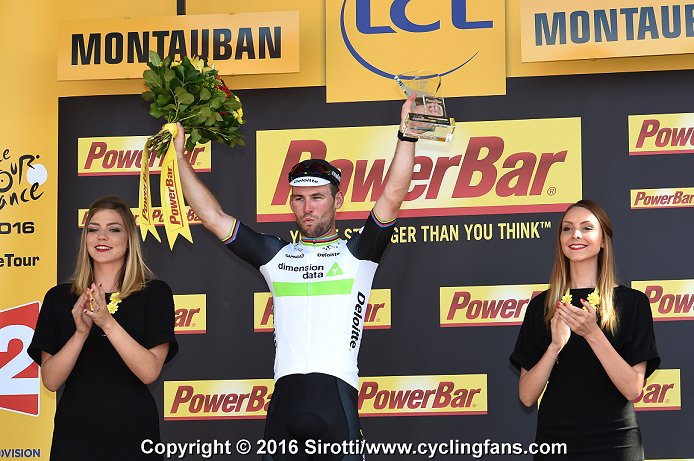 Stage 6 winner Mark Cavendish (Dimension Data) and podium girls
- Click for high resolution -
photo Copyright © 2016 Fotoreporter Sirotti/cyclingfans.com
- WATCH interview with Stage 6 winner Mark Cavendish - more Tour de France videos -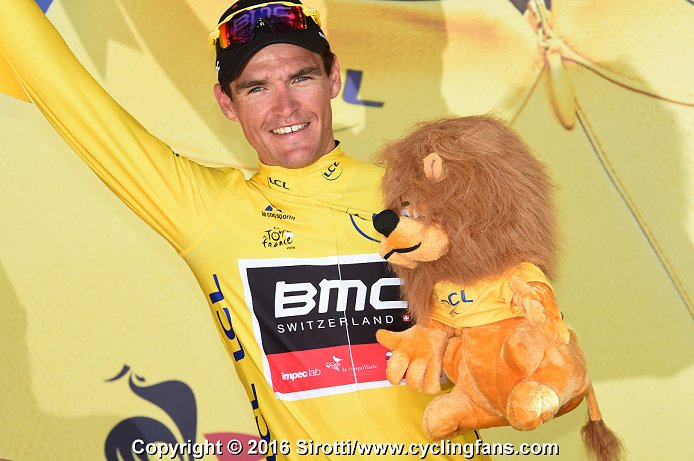 Another yellow jersey and LCL lion for Greg Van Avermaet
- Click for high resolution -
photo Copyright © 2016 Fotoreporter Sirotti/cyclingfans.com
- WATCH the Stage 6 yellow jersey ceremony with Greg Van Avermaet - more Tour de France videos -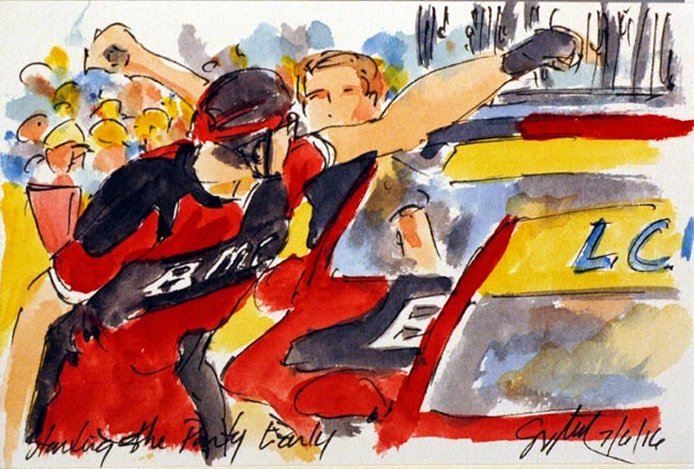 2016 Tour de France Stage 5 Art: "Starting the Party Early - Greg Van Avermaet, Yvon Ledanois (BMC)" by Greig Leach. More The Art of Cycling -
Sponsored by Richeson Art -
Copyright © 2016 Greig Leach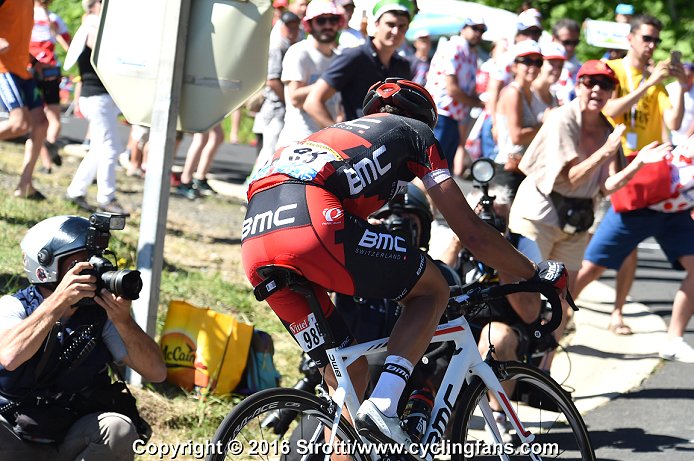 Greg Van Avermaet (BMC Racing) is off the front on the attack on Stage 5.
- Click for high resolution - more Tour de France Photos -
photo Copyright © 2016 Fotoreporter Sirotti/cyclingfans.com
- WATCH Stage 5 official highlights in English - more Tour de France videos -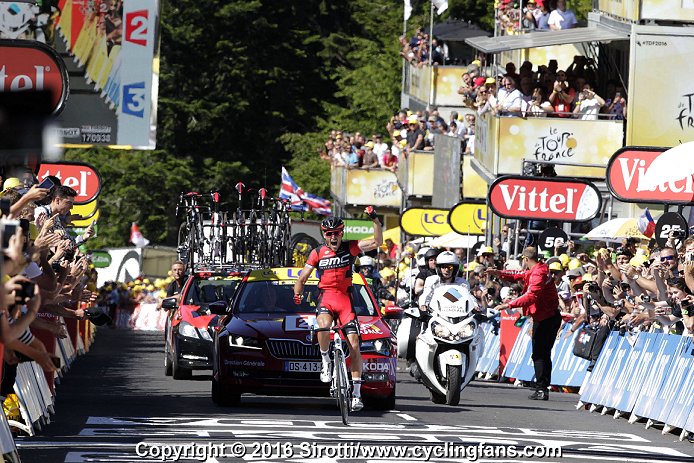 Greg Van Avermaet (BMC Racing) wins Stage 5 at Le Lioran.
- Click for high resolution - more Tour de France Photos -
photo Copyright © 2016 Fotoreporter Sirotti/cyclingfans.com
- WATCH Stage 5 final kilometer - more Tour de France videos -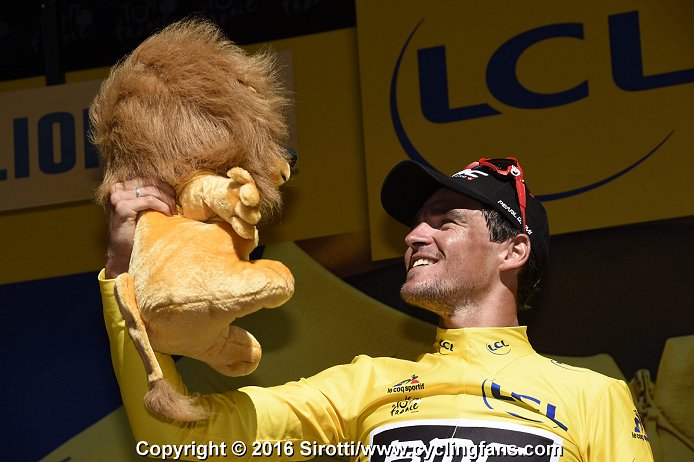 New race leader Greg Van Avermaet sports the yellow jersey and stares at his prize LCL lion.
- Click for high resolution -
photo Copyright © 2016 Fotoreporter Sirotti/cyclingfans.com
- WATCH Stage 5 interview with Greg Van Avermaet - more Tour de France videos -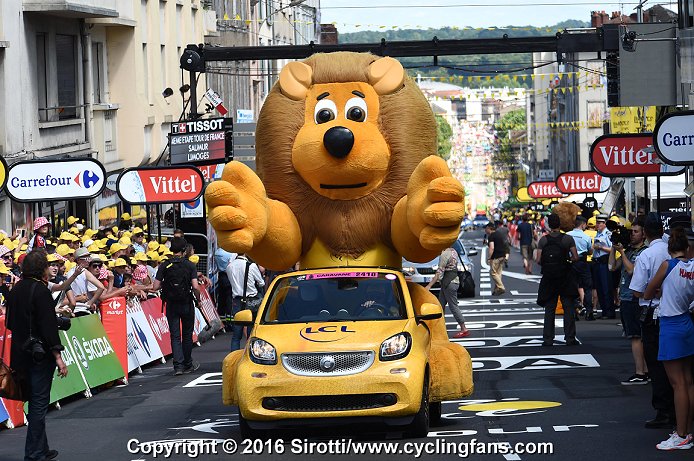 The publicity caravan, including an LCL lion vehicle, arrives at the Stage 4 finish in Limoges.
- Click for high resolution - more Tour de France Photos -
photo Copyright © 2016 Fotoreporter Sirotti/cyclingfans.com
- WATCH Stage 4 official highlights in English - more Tour de France videos -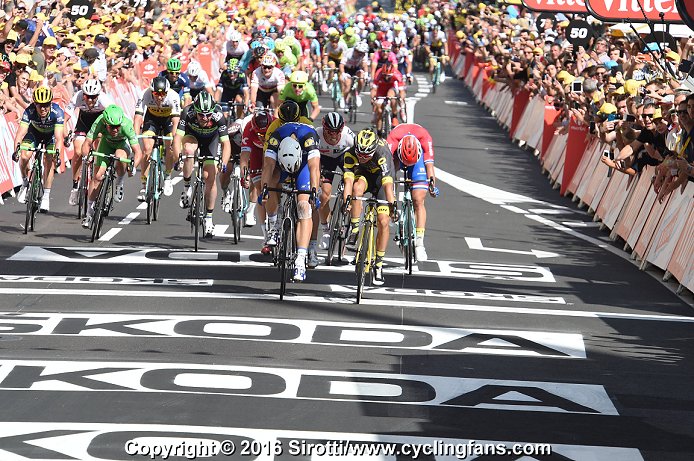 Marcel Kittel (Etixx-Quickstep) wins Stage 4, pipping Bryan Coquard at the line in a photo finish. Race leader Peter Sagan was third.
- Click for high resolution - more Tour de France Photos -
photo Copyright © 2016 Fotoreporter Sirotti/cyclingfans.com
- WATCH Stage 4 photo finish final sprint - more Tour de France videos -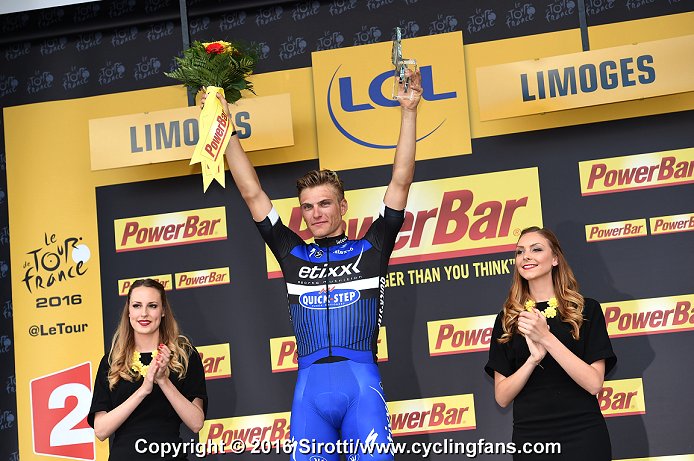 Stage 4 winner Marcel Kittel (Etixx-Quickstep) and podium girls
- Click for high resolution - more Tour de France Photos -
photo Copyright © 2016 Fotoreporter Sirotti/cyclingfans.com
- WATCH Stage 4 interview with Marcel Kittel - more Tour de France videos -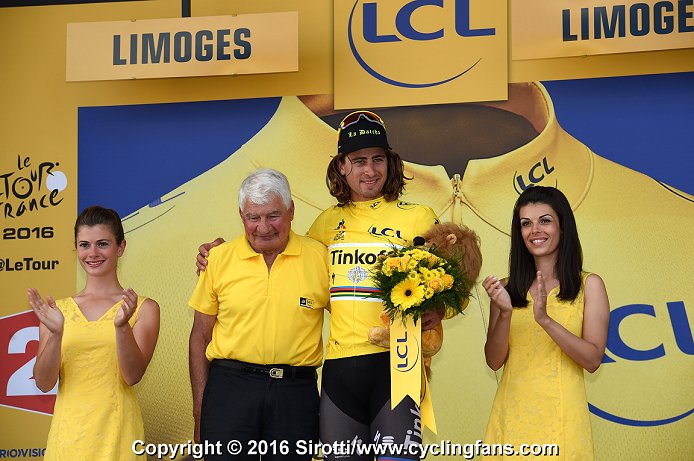 Race leader Peter Sagan (Tinkoff) welcomed French legend Raymond Poulidor on the podium.
- Click for high resolution - more Tour de France Photos -
photo Copyright © 2016 Fotoreporter Sirotti/cyclingfans.com
- WATCH Stage 4 yellow jersey minute - more Tour de France videos -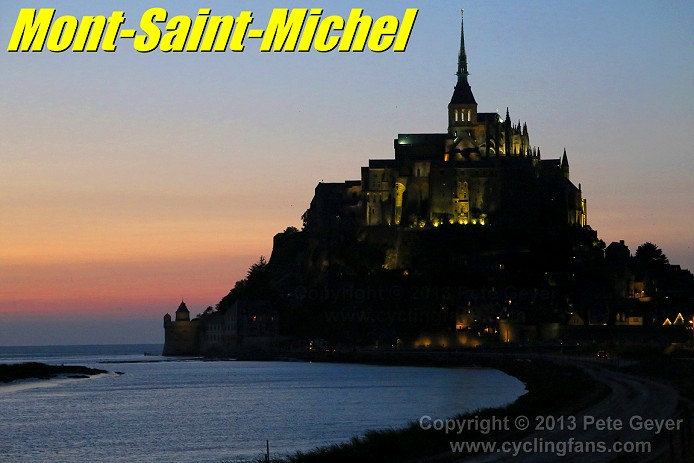 2016 Tour de France LIVE coverage. 12th consecutive year at CF! At cyclingfans.com, you can watch and follow the TDF live for free from your desktop computers, laptops, tablets (including iPad, Samsung, Amazon Fire TV), smartphones (iPhone, Android) and other devices. If you have problems, contact me via email or Twitter. - Pete
The 2016 Tour de France "Grand Depart" will take place in the French department of La Manche in Normandy, with Stage 1 starting at Mont Saint-Michel.
- Click for high resolution -
photo Copyright © 2013 Pete Geyer/www.cyclingfans.com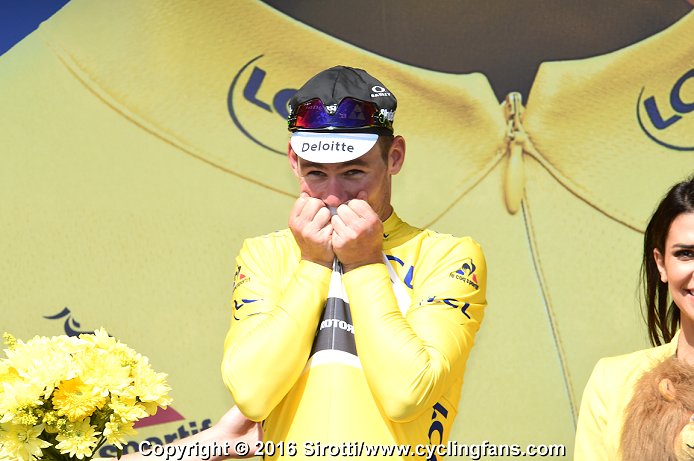 Mark Cavendish cherishes the fact that he has grabbed his first Tour de France yellow jersey. Said Cavendish, as reported by Cyclingnews: "It's quite emotional. This is the only jersey in cycling I've not worn...I just wanted to win the stage and to wear this jersey is an honour."
- Click for high resolution - more Tour de France Photos -
photo Copyright © 2016 Fotoreporter Sirotti/cyclingfans.com
- WATCH interview with Stage 1 winner Mark Cavendish - more Tour de France videos -
2015 Tour de France Map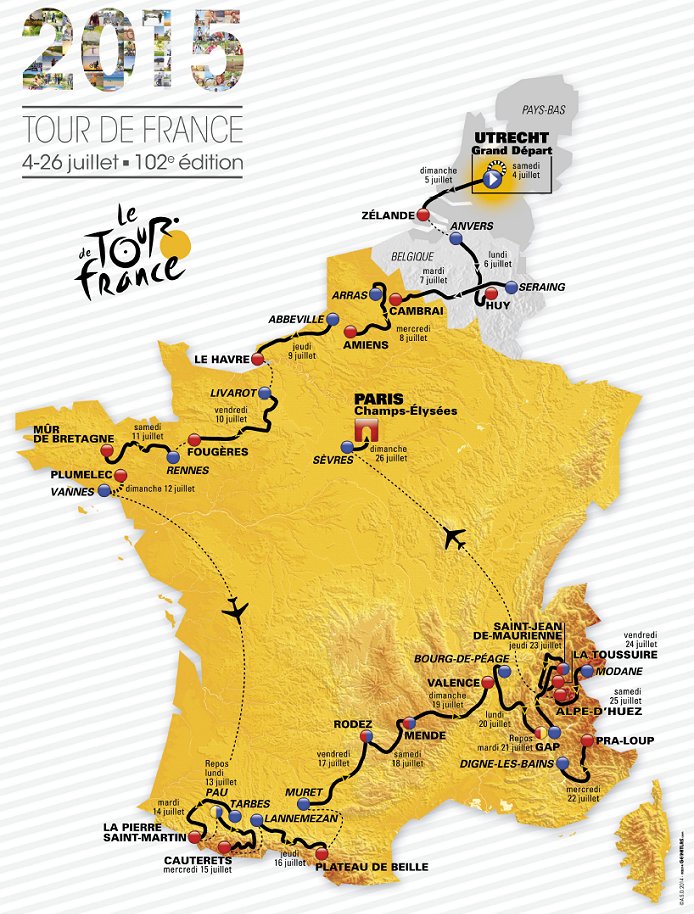 Tour de France Stage 21 Profile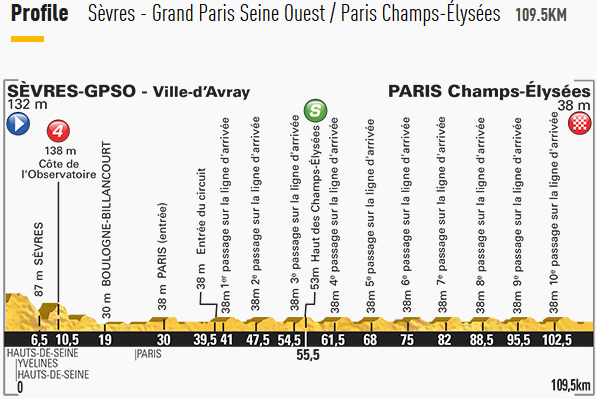 Tour de France Stage Profiles
(coming)
Tour de France Photos
(coming)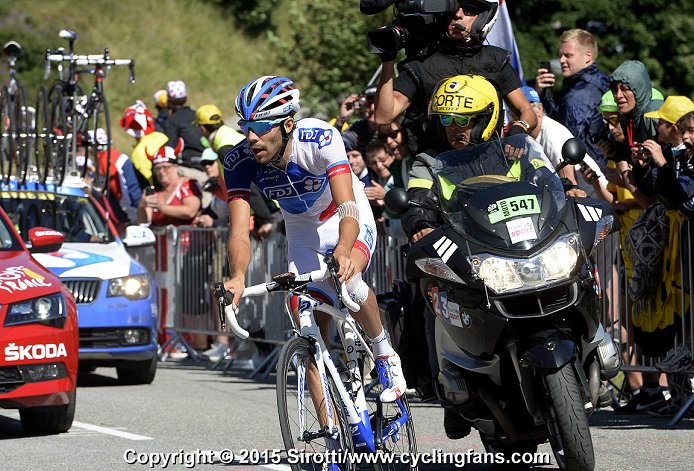 Thibaut Pinot (FDJ), on the attack on Alpe d'Huez on Stage 20
- Click for high resolution -
photo Copyright © 2015 Fotoreporter Sirotti/cyclingfans.com
- WATCH Stage 20 official highlights - more Tour de France videos -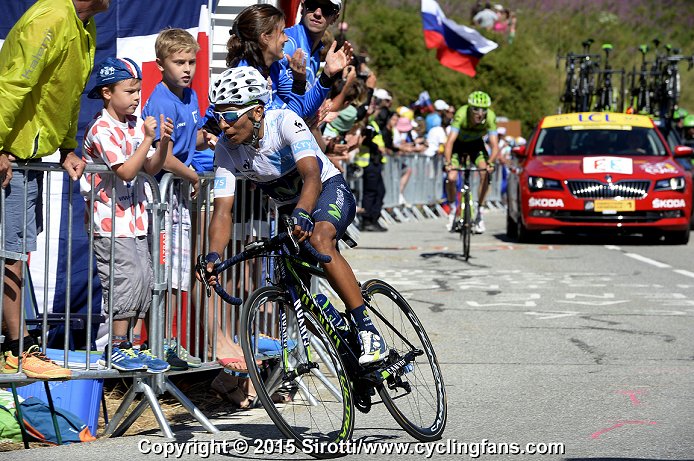 Nairo Quintana (Movistar) repeatedly attacked race leader Chris Froome before finally getting away and putting some time into him.
- Click for high resolution -
photo Copyright © 2015 Fotoreporter Sirotti/cyclingfans.com
- WATCH Stage 20 Quintana's future is bright - more Tour de France videos -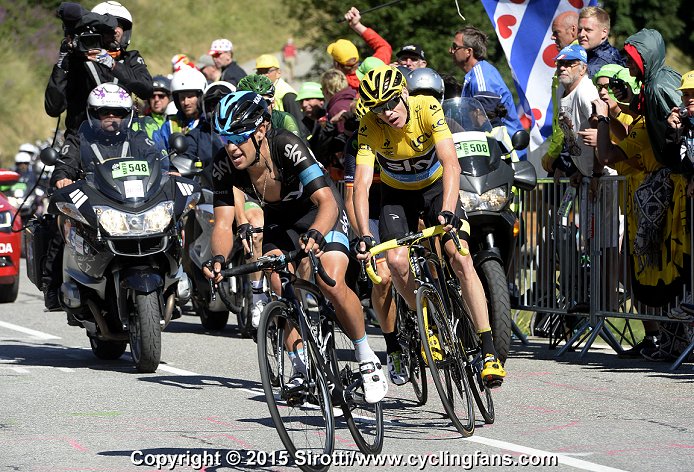 Team Sky's Richie Porte led teammate and race leader Chris Froome up Alpe d'Huez, limiting Froome's losses and helping save the yellow jersey.
- Click for high resolution -
photo Copyright © 2015 Fotoreporter Sirotti/cyclingfans.com
- WATCH Stage 20 Froome "really tired" on climb - more Tour de France videos -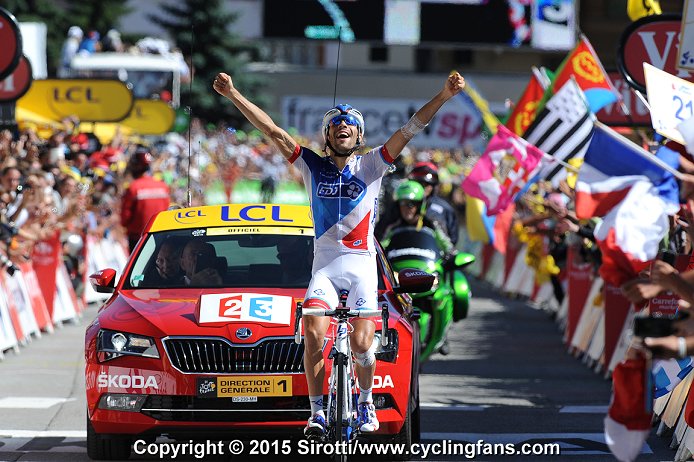 Thibaut Pinot (FDJ) wins Stage 20 at Alpe d'Huez.
- Click for high resolution -
photo Copyright © 2015 Fotoreporter Sirotti/cyclingfans.com
- WATCH Stage 20 interview with Thibaut Pinot - more Tour de France videos -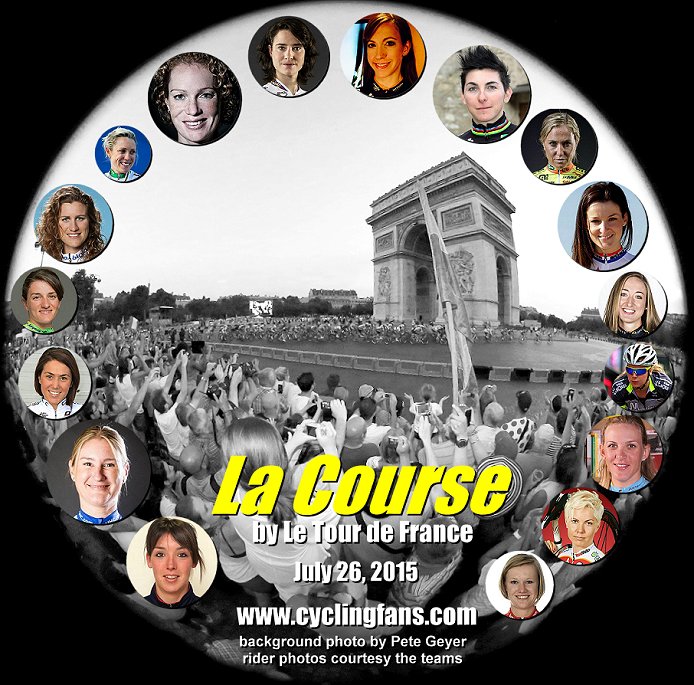 La Course by Le Tour de France returns in 2015.
- Click for high resolution -
Paris photo Copyright © 2013 Pete Geyer/www.cyclingfans.com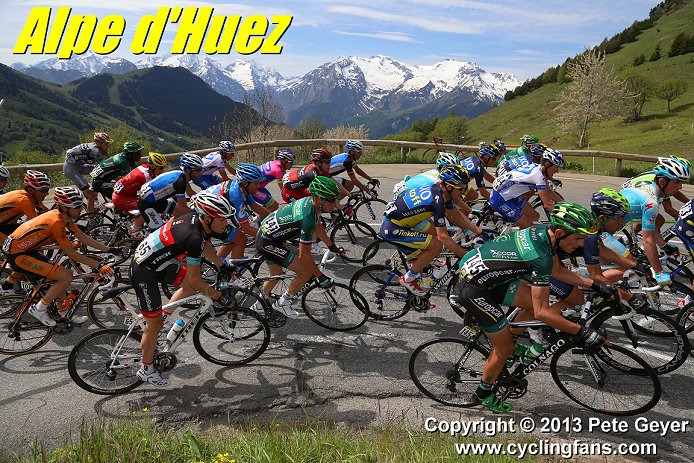 Alpe d'Huez is back for the 2015 edition of the Tour.
photo Copyright © 2013 Pete Geyer/www.cyclingfans.com
Tour de France Results
(coming)