2015 Strade Bianche Photos
Submitted by admin on Sat, 03/07/2015 - 16:57

Follow cyclingfans on Twitter and never miss a race. Cyclingfans.com: The #1 destination on the internet for live race coverage.
- Note: High resolution versions of all photos can be viewed by clicking the "high resolution" link under each photo.
See also: Strade Bianche LIVE - Strade Bianche Videos - Strade Bianche Results -
NOTE: If you believe you may not be seeing the latest content on this page, try clearing your browser's cache (or try a different browser).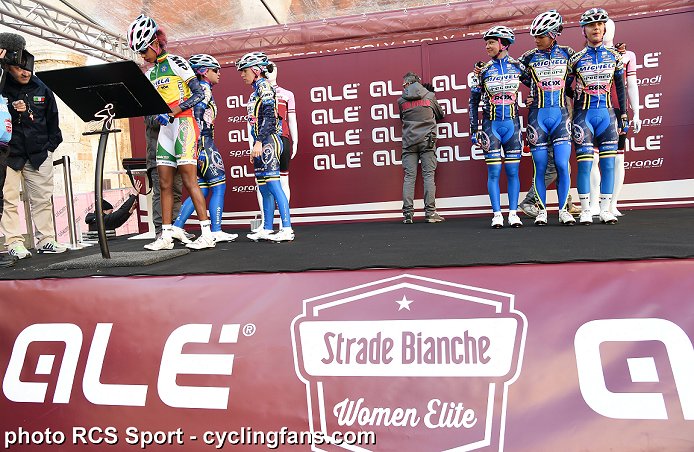 The women sign in for the inaugural women's 2015 Strade Bianche.
- Click for high resolution -
photo Copyright © 2015 RCS Sport
More photos below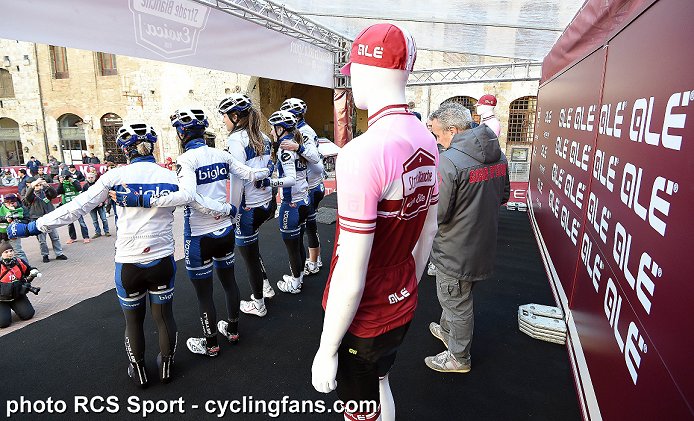 The women's Bigla Pro Cycling Team before the start
- Click for high resolution -
photo Copyright © 2015 RCS Sport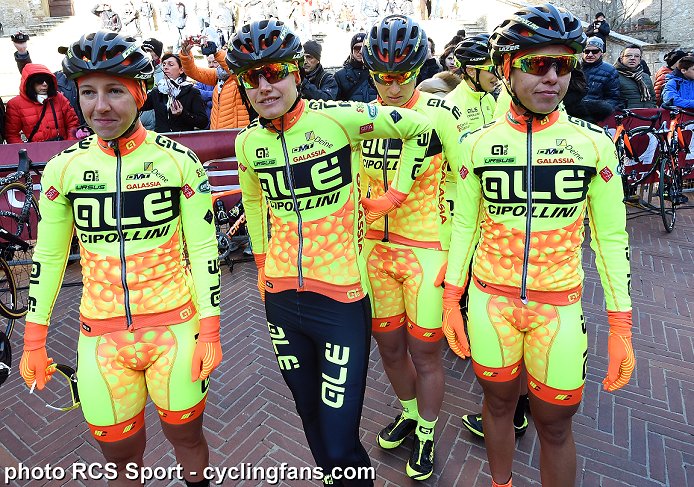 Ale Cipollini riders before the start
- Click for high resolution -
photo Copyright © 2015 RCS Sport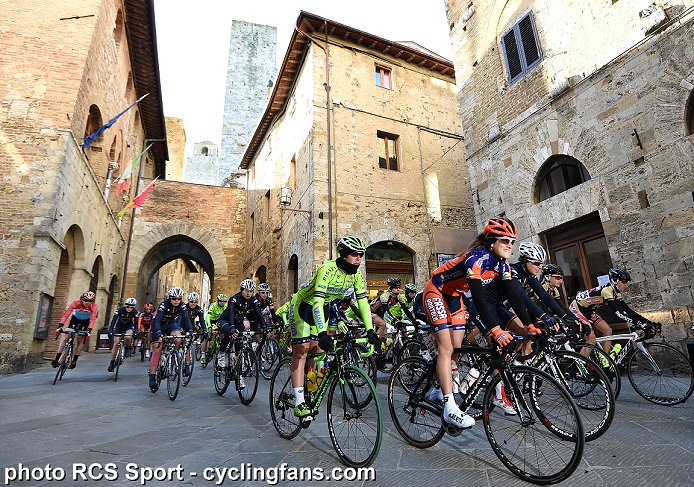 The women roll out at the start.
- Click for high resolution -
photo Copyright © 2015 RCS Sport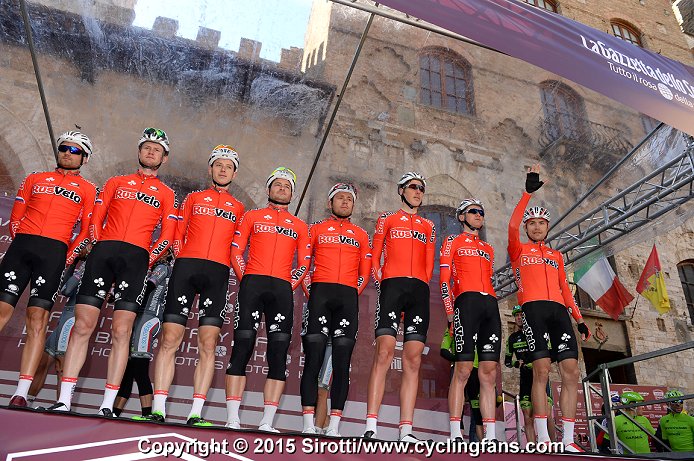 The men's Rusvelo Team is presented to the public before the men's 2015 Strade Bianche
- Click for high resolution -
photo Copyright © 2015 Fotoreporter Sirotti/cyclingfans.com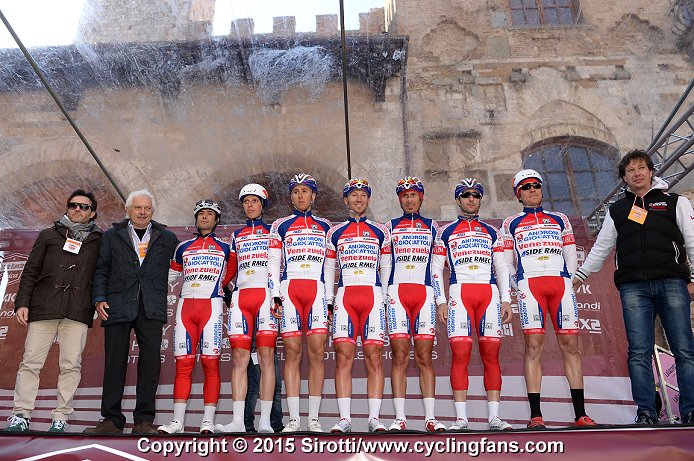 Androni Giocattoli
- Click for high resolution -
photo Copyright © 2015 Fotoreporter Sirotti/cyclingfans.com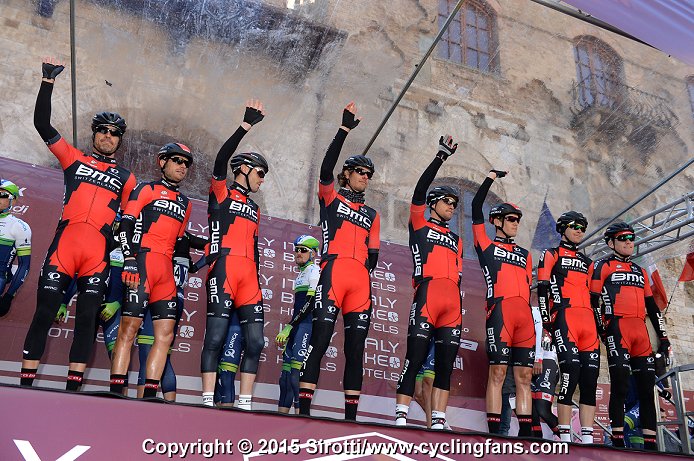 BMC Racing team
- Click for high resolution -
photo Copyright © 2015 Fotoreporter Sirotti/cyclingfans.com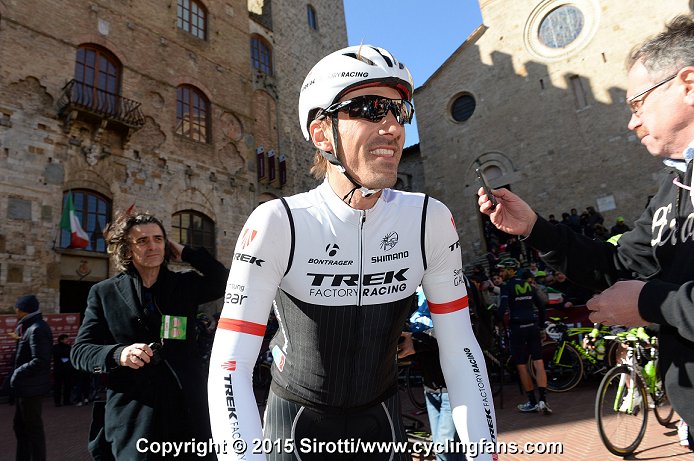 Fabian Cancellara before the start
- Click for high resolution -
photo Copyright © 2015 Fotoreporter Sirotti/cyclingfans.com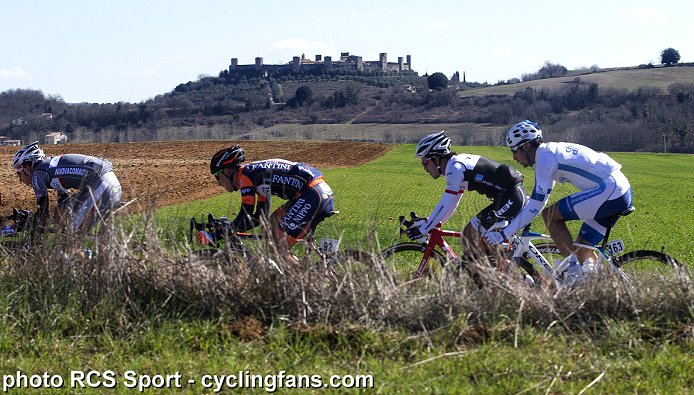 The 2015 Strade Bianche is underway and there's a breakaway.
- Click for high resolution -
photo Copyright © 2015 RCS Sport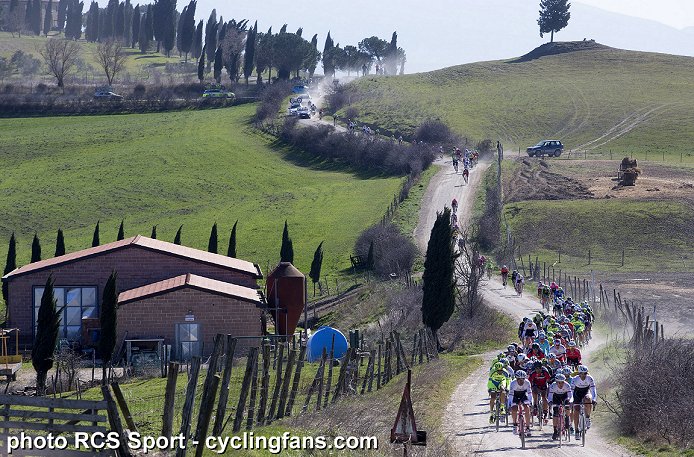 The scenic, dusty roads of Tuscany...
- Click for high resolution -
photo Copyright © 2015 RCS Sport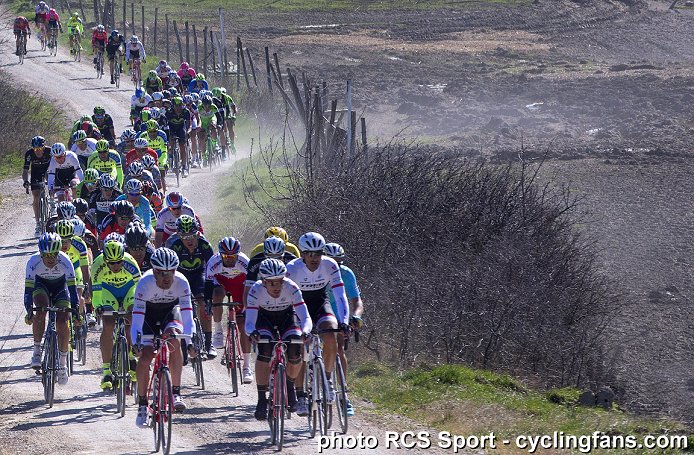 - Click for high resolution -
photo Copyright © 2015 RCS Sport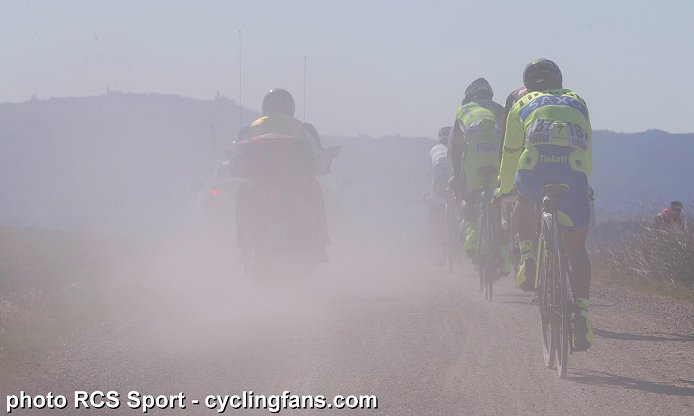 - Click for high resolution -
photo Copyright © 2015 RCS Sport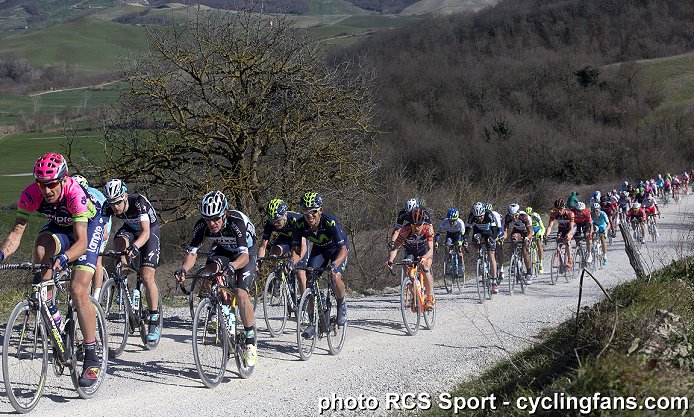 - Click for high resolution -
photo Copyright © 2015 RCS Sport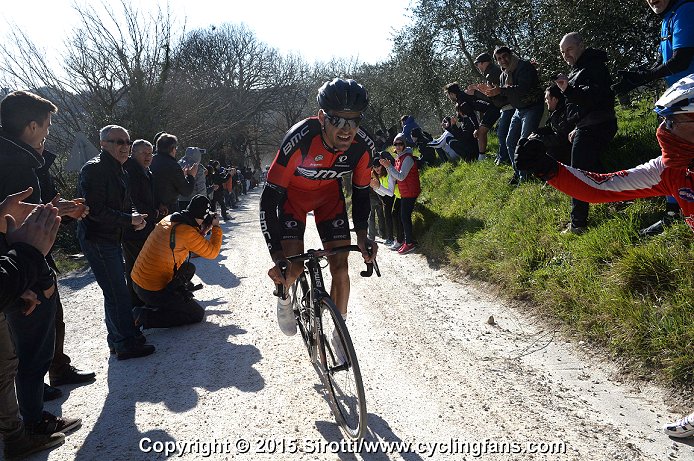 Greg Van Avermaet (BMC) is on the attack in the finale.
- Click for high resolution -
photo Copyright © 2015 Fotoreporter Sirotti/cyclingfans.com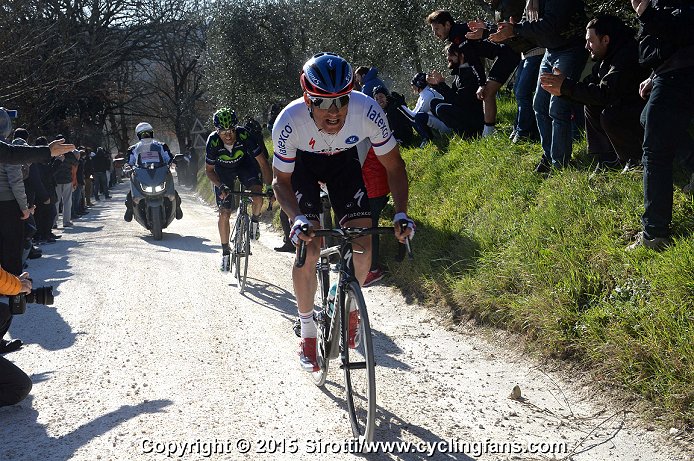 Zdenek Stybar (Etixx-Quickstep) chases after Van Avermaet.
- Click for high resolution -
photo Copyright © 2015 Fotoreporter Sirotti/cyclingfans.com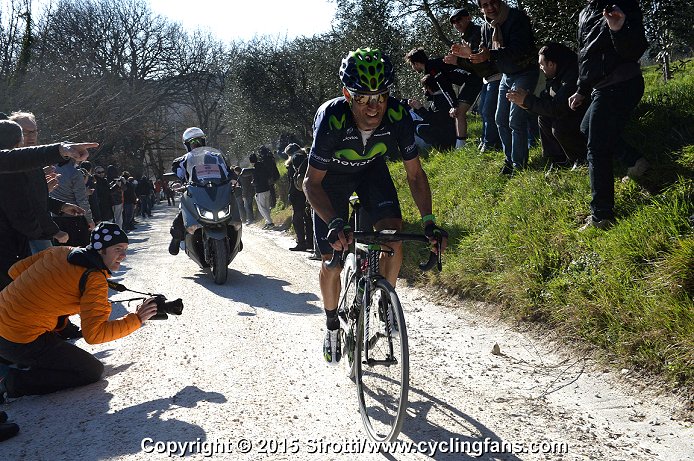 Alejandro Valverde (Movistar) tries to close the gap.
- Click for high resolution -
photo Copyright © 2015 Fotoreporter Sirotti/cyclingfans.com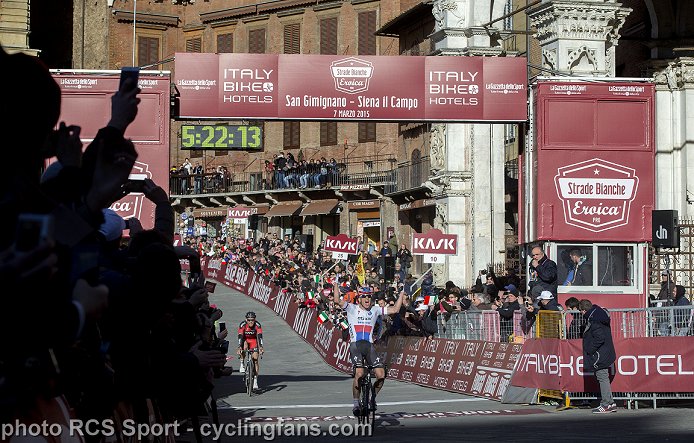 Zdenek Stybar wins the 2015 Strade Bianche.
- Click for high resolution -
photo Copyright © 2015 RCS Sport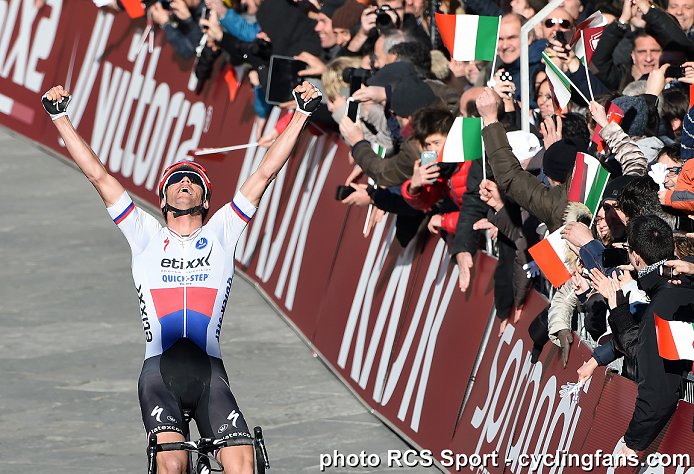 - Click for high resolution -
photo Copyright © 2015 RCS Sport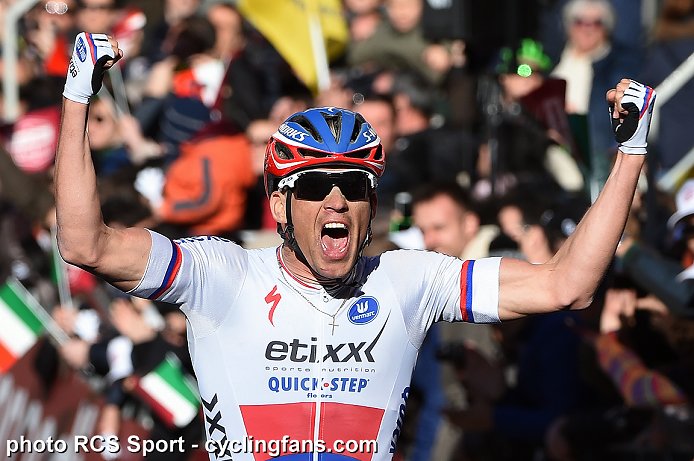 - Click for high resolution -
photo Copyright © 2015 RCS Sport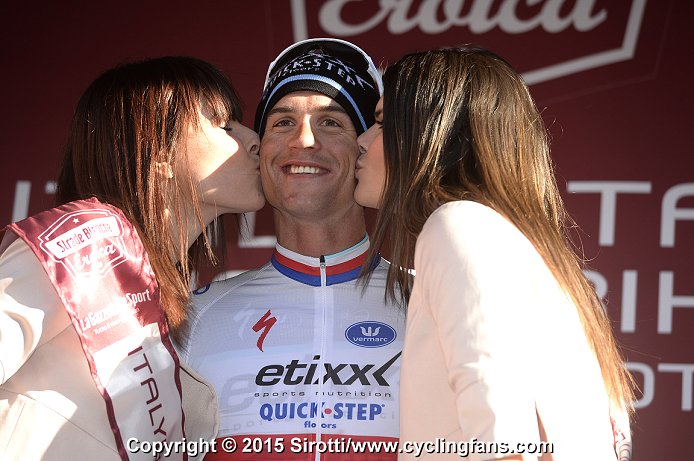 Stybar on the victory podium
- Click for high resolution -
photo Copyright © 2015 Fotoreporter Sirotti/cyclingfans.com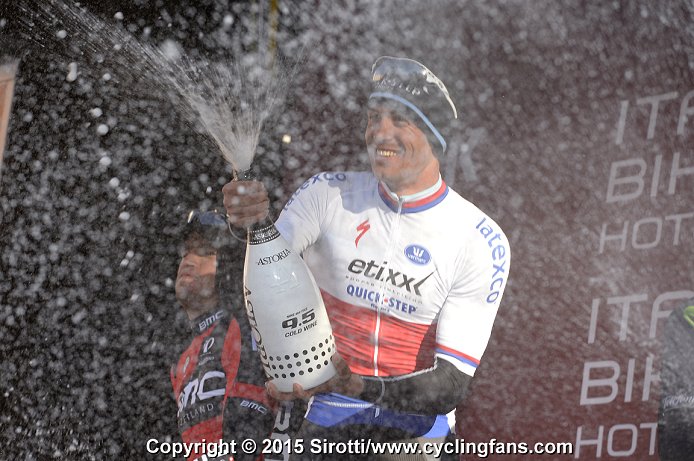 Stybar celebrates with champagne.
- Click for high resolution -
photo Copyright © 2015 Fotoreporter Sirotti/cyclingfans.com