La Course by Le Tour de France: Shelley Olds and Alé-Cipollini-Galassia Cycling Team
Submitted by mary topping on Sat, 07/19/2014 - 11:40

Follow cyclingfans on Twitter and never miss a race. Cyclingfans.com: The #1 destination on the internet for live race coverage.
- La Course by Le Tour de France: Shelley Olds and Alé-Cipollini-Galassia Cycling Team.
- See also: Tour de France LIVE
- There are 20 teams entered in the La Course by Le Tour de France, a race for the women that will be held in Paris on the final day of the men's Tour de France. There are 20 stages in the TDF before the final day. So each day of the men's TDF leading up to Paris, we will feature one women's team and rider for La Course.
Shelley Olds
Alé-Cipollini-Galassia http://www.alecipolliniteam.com/
Twitter: @ShelleyJOlds – Pro Cyclist at @CipolliniTeam
Strengths on the bike: sprinting
Age: 33
Website: http://www.shelleyoldsusa.com/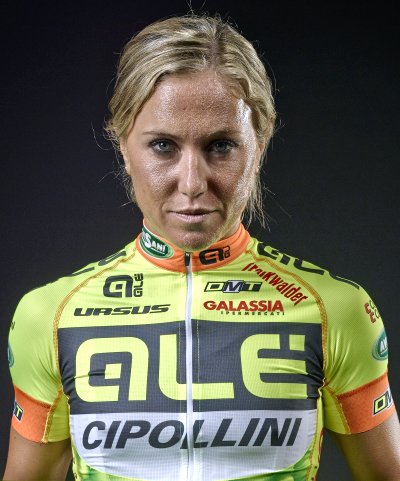 As a collegiate athlete Shelley Olds appeared to have a successful future in soccer ahead of her. Then a casual encounter with a mountain bike lured her into cycling and she quickly transformed her competitive thirst into accomplishments on two wheels. Within three years she became a national track champion and ultimately developed into an accomplished track racer. In 2009 Olds collected an enviable number of podium medals at road races and the overall win at the multi-day US Tulsa Tough event. Top results kept coming. A two-time American national criterium champion, she's also triumphed at two stages of the Giro Donne. The American's 2014 results include two stage wins at the Vuelta a Costa Rica and podiums at the Giro Donne.
A win for this sprinter at La Course would fit the incredible finish team president Alessia Piccolo anticipates. "We come to Paris to win La Course, but also to ride a spectacular race in an aggressive sprint," she told race representatives.
Alé-Cipollini-Galassia is a team of eleven riders from five countries. The squad's bright yellow colors – retained from the formation's 2013 Yellow Flou name – often grace podiums and why not at La Course? For sprint finale support the team depends on Barbara Guarischi and Marta Tagliaferro. Last year Tagliaferro finished on the podium in several events; this season she placed second overall in the Tour of Zhoushan Island. Team member Ane Santesteban Gonzalez is a former Spanish national road champion. The 2009 road world champion Tatiana Guderzo brings lots valuable experience to this Italian-based UCI team which is guided by sports director Luisiana Pegoraro. Sponsor Ale fashions cycling clothing. Cipollini is a bike maker and Galassia produces bathroom devices.
Why she races: On her website Olds writes, "I am driven by the feeling of elation that comes with achieving competitive glory."
Favorite activities off the bike: long walks on the beach with her dog, knitting, coffee
A favorite expression: "If you think you can, you will."
Cycling career goals: win a medal at the Olympic Games
by Mary Topping
(photo courtesy Alé-Cipollini-Galassia team)