2016 Route du Sud Results
Submitted by admin on Thu, 06/16/2016 - 09:09

Follow cyclingfans on Twitter and never miss a race. Cyclingfans.com: The #1 destination on the internet for live race coverage.
- This page lists Route du Sud results
See also: Route du Sud LIVE - Route du Sud Videos -
NOTE: If you believe you may not be seeing the latest content on this page, try clearing your browser's cache (or try a different browser).
-

2016: Stage 1 Results
Bryan Coquard (Directe Energie) won Stage 1. Provisional results. Full, final results to come...
| | | | | | |
| --- | --- | --- | --- | --- | --- |
| Rank | Name | Nationality | Team | Age | Result |
| 1 | Bryan COQUARD | FRA | DEN | 24 | 4:50:01 |
| 2 | Arnaud DEMARE | FRA | FDJ | 25 | +0 |
| 3 | Jose Joaquin ROJAS GIL | ESP | MOV | 31 | +0 |
| 4 | Yannick MARTINEZ | FRA | DMP | 28 | +0 |
| 5 | Daniel MCLAY | GBR | FVC | 24 | +0 |
| 6 | Maxime DANIEL | FRA | ALM | 25 | +0 |
| 7 | Stéphane POULHIES | FRA | ADT | 31 | +0 |
| 8 | Mickael DELAGE | FRA | FDJ | 31 | +0 |
| 9 | Romain HARDY | FRA | COF | 28 | +0 |
| 10 | Manuel BELLETTI | ITA | WIL | 31 | +0 |
G.C. after Stage 1
| | | | | | |
| --- | --- | --- | --- | --- | --- |
| Rank | Name | Nationality | Team | Age | Result |
| 1 | Bryan COQUARD | France | DEN | 24 | 4:49:51 |
| 2 | Arnaud DEMARE | France | FDJ | 25 | +4 |
| 3 | Jose Joaquin ROJAS GIL | Spain | MOV | 31 | +6 |
| 4 | Yannick MARTINEZ | France | DMP | 28 | +10 |
| 5 | Daniel MCLAY | Great Britain | FVC | 24 | +10 |
| 6 | Maxime DANIEL | France | ALM | 25 | +10 |
| 7 | Stéphane POULHIES | France | ADT | 31 | +10 |
| 8 | Mickael DELAGE | France | FDJ | 31 | +10 |
| 9 | Romain HARDY | France | COF | 28 | +10 |
| 10 | Manuel BELLETTI | Italy | WIL | 31 | +10 |
2015 (Overall winner: Alberto Contador)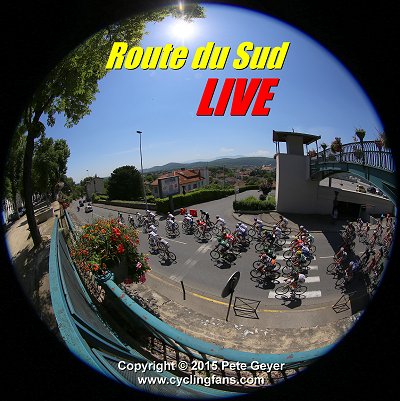 (Route du Sud resultats)