Paris-Roubaix Results
Submitted by admin on Sun, 04/10/2016 - 13:19

Follow cyclingfans on Twitter and never miss a race. Cyclingfans.com: The #1 destination on the internet for live race coverage.
- This page lists Paris-Roubaix results
See also: Paris-Roubaix LIVE - Paris-Roubaix Videos - Paris-Roubaix Photos - Paris-Roubaix Art -
NOTE: If you believe you may not be seeing the latest content on this page, try clearing your browser's cache (or try a different browser).
-

2016

Mathew Hayman (Orica-GreenEdge) won the 2016 Paris-Roubaix ahead of Tom Boonen and Ian Stannard.
| | | | | | |
| --- | --- | --- | --- | --- | --- |
| Rank | Name | Nationality | Team | Age | Result |
| 1 | Mathew HAYMAN | AUS | OGE | 38 | 5:51:53 |
| 2 | Tom BOONEN | BEL | EQS | 36 | +0 |
| 3 | Ian STANNARD | GBR | SKY | 29 | +0 |
| 4 | Sep VANMARCKE | BEL | TLJ | 28 | +0 |
| 5 | Edvald BOASSON HAGEN | NOR | DDD | 29 | +3 |
| 6 | Heinrich HAUSSLER | AUS | IAM | 32 | +1:00 |
| 7 | Marcel SIEBERG | GER | LTS | 34 | +1:00 |
| 8 | Aleksejs SARAMOTINS | LAT | IAM | 34 | +1:00 |
| 9 | Imanol ERVITI | ESP | MOV | 33 | +1:07 |
| 10 | Adrien PETIT | FRA | DEN | 26 | +2:20 |
| 11 | Peter SAGAN | SVK | TNK | 26 | +2:20 |
| 12 | Maarten WYNANTS | BEL | TLJ | 34 | +2:20 |
| 13 | Oliver NAESEN | BEL | IAM | 26 | +2:20 |
| 14 | Luke ROWE | GBR | SKY | 26 | +2:20 |
| 15 | Ramon SINKELDAM | NED | TGA | 27 | +2:20 |
| 16 | Dylan VAN BAARLE | NED | CPT | 24 | +2:20 |
| 17 | Bert DE BACKER | BEL | TGA | 32 | +2:20 |
| 18 | Luke DURBRIDGE | AUS | OGE | 25 | +4:40 |
| 19 | Marcus BURGHARDT | GER | BMC | 33 | +5:48 |
| 20 | Christophe LAPORTE | FRA | COF | 24 | +6:18 |
| 21 | Gijs VAN HOECKE | BEL | TSV | 25 | +6:18 |
| 22 | Frederik BACKAERT | BEL | WGG | 26 | +6:18 |
| 23 | Koen DE KORT | NED | TGA | 34 | +6:18 |
| 24 | Zakkari DEMPSTER | AUS | BOA | 29 | +6:18 |
| 25 | Tom VAN ASBROECK | BEL | TLJ | 26 | +6:18 |
| 26 | Florian SENECHAL | FRA | COF | 23 | +6:18 |
| 27 | Maarten TJALLINGII | NED | TLJ | 39 | +6:28 |
| 28 | Maxime DANIEL | FRA | ALM | 25 | +7:12 |
| 29 | Nikias ARNDT | GER | TGA | 25 | +7:12 |
| 30 | Mark CAVENDISH | GBR | DDD | 31 | +7:12 |
| 31 | Preben VAN HECKE | BEL | TSV | 34 | +7:12 |
| 32 | Marco MARCATO | ITA | WGG | 32 | +7:12 |
| 33 | Salvatore PUCCIO | ITA | SKY | 27 | +7:12 |
| 34 | Damien GAUDIN | FRA | ALM | 30 | +7:12 |
| 35 | André GREIPEL | GER | LTS | 34 | +7:24 |
| 36 | Matteo TRENTIN | ITA | EQS | 27 | +7:24 |
| 37 | Borut BOZIC | SLO | COF | 36 | +7:24 |
| 38 | Gianni MOSCON | ITA | SKY | 22 | +7:26 |
| 39 | Jasper STUYVEN | BEL | TFS | 24 | +7:35 |
| 40 | Fabian CANCELLARA | SUI | TFS | 35 | +7:35 |
| 41 | Stefan KUENG | SUI | BMC | 23 | +11:14 |
| 42 | Bert VAN LERBERGHE | BEL | TSV | 24 | +11:14 |
| 43 | Magnus Cort NIELSEN | DEN | OGE | 23 | +11:14 |
| 44 | Bernhard EISEL | AUT | DDD | 35 | +11:14 |
| 45 | Mike TEUNISSEN | NED | TLJ | 24 | +11:14 |
| 46 | Timo ROOSEN | NED | TLJ | 23 | +12:55 |
| 47 | Bjorn THURAU | GER | WGG | 28 | +14:22 |
| 48 | Alexander KRISTOFF | NOR | KAT | 29 | +14:23 |
| 49 | Taylor PHINNEY | USA | BMC | 26 | +14:23 |
| 50 | Michael MORKOV | DEN | KAT | 31 | +14:23 |
| 51 | Juraj SAGAN | SVK | TNK | 28 | +14:23 |
| 52 | Robert WAGNER | GER | TLJ | 33 | +14:23 |
| 53 | Jesse SERGENT | NZL | ALM | 28 | +14:23 |
| 54 | Andreas SCHILLINGER | GER | BOA | 33 | +14:23 |
| 55 | Scott THWAITES | GBR | BOA | 26 | +14:23 |
| 56 | Reto HOLLENSTEIN | SUI | IAM | 31 | +14:23 |
| 57 | Kenny DE HAES | BEL | WGG | 32 | +14:23 |
| 58 | Antoine DUCHESNE | CAN | DEN | 25 | +14:23 |
| 59 | Vicente REYNES MIMO | ESP | IAM | 35 | +14:23 |
| 60 | Jonas VANGENECHTEN | BEL | IAM | 30 | +14:23 |
| 61 | Danny VAN POPPEL | NED | SKY | 23 | +14:23 |
| 62 | Alan MARANGONI | ITA | CPT | 32 | +14:23 |
| 63 | Laurens DE VREESE | BEL | AST | 28 | +14:23 |
| 64 | Benoit JARRIER | FRA | FVC | 27 | +14:23 |
| 65 | Lars Ytting BAK | DEN | LTS | 36 | +14:23 |
| 66 | Sébastien MINARD | FRA | ALM | 34 | +14:23 |
| 67 | Viacheslav KUZNETSOV | RUS | KAT | 27 | +14:23 |
| 68 | Guillaume VAN KEIRSBULCK | BEL | EQS | 25 | +14:23 |
| 69 | Jean-Pierre DRUCKER | LUX | BMC | 30 | +14:23 |
| 70 | Jack BAUER | NZL | CPT | 31 | +14:23 |
| 71 | Roy CURVERS | NED | TGA | 37 | +14:23 |
| 72 | Reinardt JANSE VAN RENSBURG | RSA | DDD | 27 | +14:23 |
| 73 | Nikolay TRUSOV | RUS | TNK | 31 | +14:23 |
| 74 | Pavel BRUTT | RUS | TNK | 34 | +14:23 |
| 75 | Francis MOUREY | FRA | FVC | 36 | +14:23 |
| 76 | Tony MARTIN | GER | EQS | 31 | +14:23 |
| 77 | Jens KEUKELEIRE | BEL | OGE | 28 | +14:48 |
| 78 | Jurgen ROELANDTS | BEL | LTS | 31 | +14:48 |
| 79 | Dimitri CLAEYS | BEL | WGG | 29 | +14:48 |
| 80 | Evaldas SISKEVICIUS | LTU | DMP | 28 | +16:52 |
| 81 | Christophe LABORIE | FRA | DMP | 30 | +16:52 |
| 82 | Shane ARCHBOLD | NZL | BOA | 27 | +16:52 |
| 83 | Johan LE BON | FRA | FDJ | 26 | +16:52 |
| 84 | Sebastian LANGEVELD | NED | CPT | 31 | +16:52 |
| 85 | Marko KUMP | SLO | LAM | 28 | +16:57 |
| 86 | Yaroslav POPOVYCH | UKR | TFS | 36 | +16:57 |
| 87 | Wouter WIPPERT | NED | CPT | 26 | +18:30 |
| 88 | Jan BARTA | CZE | BOA | 32 | +18:30 |
| 89 | Rick ZABEL | GER | BMC | 23 | +18:30 |
| 90 | Roy JANS | BEL | WGG | 26 | +18:30 |
| 91 | Robin STENUIT | BEL | WGG | 26 | +18:30 |
| 92 | Gediminas BAGDONAS | LTU | ALM | 31 | +18:30 |
| 93 | Rudiger SELIG | GER | BOA | 27 | +18:30 |
| 94 | Frederik FRISON | BEL | LTS | 24 | +18:30 |
| 95 | Steven TRONET | FRA | FVC | 30 | +18:30 |
| 96 | Floris GERFS | NED | BMC | 24 | +18:30 |
| 97 | Maxime FARAZIJN | BEL | TSV | 22 | +18:30 |
| 98 | Markel IRIZAR ARANBURU | ESP | TFS | 36 | +18:30 |
| 99 | Vegard BREEN | NOR | FVC | 26 | +18:30 |
| 100 | Tom STAMSNIJDER | NED | TGA | 31 | +18:30 |
| 101 | Marco HALLER | AUT | KAT | 25 | +18:30 |
| 102 | Grégory RAST | SUI | TFS | 36 | +18:30 |
| 103 | Ryan MULLEN | IRL | CPT | 22 | +18:30 |
| 104 | Sander HELVEN | BEL | TSV | 26 | +18:30 |
| 105 | Matt BRAMMEIER | IRL | DDD | 31 | +18:30 |
| 106 | Luka PIBERNIK | SLO | LAM | 23 | +18:30 |
| 107 | Yohann GENE | FRA | DEN | 35 | +18:30 |
| 108 | Kristijan KOREN | SLO | CPT | 30 | +18:30 |
| 109 | Cyril LEMOINE | FRA | COF | 33 | +18:30 |
| 110 | Zdenek STYBAR | CZE | EQS | 31 | +18:30 |
| 111 | Hugo HOULE | CAN | ALM | 26 | +18:30 |
| 112 | Marc SARREAU | FRA | FDJ | 23 | +18:30 |
| 113 | Lieuwe WESTRA | NED | AST | 34 | +18:30 |
| 114 | Tiesj BENOOT | BEL | LTS | 22 | +18:30 |
| 115 | Iljo KEISSE | BEL | EQS | 34 | +18:30 |
| 116 | Hugo Hofstetter | FRA | COF | 22 | +18:42 |
| 117 | Jay Robert THOMSON | RSA | DDD | 30 | +24:45 |
| 118 | Twan CASTELIJNS | NED | TLJ | 27 | +24:45 |
| 119 | Luka MEZGEC | SLO | OGE | 28 | +24:45 |
| DNQ | Matthias BRANDLE | AUT | IAM | 27 | +30:15 |
| DNQ | Marco COLEDAN | ITA | TFS | 28 | +39:16 |
| DNQ | Ryan ANDERSON | CAN | DEN | 29 | +40:58 |
| DNQ | Sam BENNETT | IRL | BOA | 26 | +40:58 |
| DNF | Søren Kragh ANDERSEN | DEN | TGA | 22 | |
| DNF | Lars VAN DER HAAR | NED | TGA | 25 | |
| DNF | Nikolas MAES | BEL | EQS | 30 | |
| DNF | Niki TERPSTRA | NED | EQS | 32 | |
| DNF | Daniel OSS | ITA | BMC | 29 | |
| DNF | Manuel QUINZIATO | ITA | BMC | 37 | |
| DNF | Lars BOOM | NED | AST | 31 | |
| DNF | Maxat AYAZBAYEV | KAZ | AST | 24 | |
| DNF | Dmitriy GRUZDEV | KAZ | AST | 30 | |
| DNF | Arman KAMYSHEV | KAZ | AST | 25 | |
| DNF | Gatis SMUKULIS | LAT | AST | 29 | |
| DNF | Roger KLUGE | GER | IAM | 30 | |
| DNF | Sam BEWLEY | NZL | OGE | 29 | |
| DNF | Mitchell DOCKER | AUS | OGE | 30 | |
| DNF | Svein TUFT | CAN | OGE | 39 | |
| DNF | Andrew FENN | GBR | SKY | 26 | |
| DNF | Christian KNEES | GER | SKY | 35 | |
| DNF | Elia VIVIANI | ITA | SKY | 27 | |
| DNF | Jasper DE BUYST | BEL | LTS | 23 | |
| DNF | Jelle WALLAYS | BEL | LTS | 27 | |
| DNF | Vladimir ISAYCHEV | RUS | KAT | 30 | |
| DNF | Nils POLITT | GER | KAT | 22 | |
| DNF | Alexander PORSEV | RUS | KAT | 30 | |
| DNF | Michael SCHWARZMANN | GER | BOA | 25 | |
| DNF | Adam BLYTHE | GBR | TNK | 27 | |
| DNF | Oscar GATTO | ITA | TNK | 31 | |
| DNF | Michael GOGL | AUT | TNK | 23 | |
| DNF | Michal KOLÁR | SVK | TNK | 24 | |
| DNF | Gert JOEAAR | EST | COF | 29 | |
| DNF | Kenneth VAN BILSEN | BEL | COF | 26 | |
| DNF | Michael VAN STAEYEN | BEL | COF | 28 | |
| DNF | Tom DEVRIENDT | BEL | WGG | 25 | |
| DNF | Stijn DEVOLDER | BEL | TFS | 37 | |
| DNF | Boy VAN POPPEL | NED | TFS | 28 | |
| DNF | Sébastien TURGOT | FRA | ALM | 32 | |
| DNF | Nico DENZ | GER | ALM | 22 | |
| DNF | Matthieu LADAGNOUS | FRA | FDJ | 32 | |
| DNF | Mickael DELAGE | FRA | FDJ | 31 | |
| DNF | Murilo Antonio FISCHER | BRA | FDJ | 37 | |
| DNF | Daniel HOELGAARD | NOR | FDJ | 23 | |
| DNF | Ignatas KONOVALOVAS | LTU | FDJ | 31 | |
| DNF | Olivier LE GAC | FRA | FDJ | 23 | |
| DNF | Franck BONNAMOUR | FRA | FVC | 21 | |
| DNF | Yauheni HUTAROVICH | BLR | FVC | 33 | |
| DNF | Daniel MCLAY | GBR | FVC | 24 | |
| DNF | Boris VALLEE | BEL | FVC | 23 | |
| DNF | Sylvain CHAVANEL | FRA | DEN | 37 | |
| DNF | Fabien GRELLIER | FRA | DEN | 22 | |
| DNF | Julien MORICE | FRA | DEN | 25 | |
| DNF | Alexandre PICHOT | FRA | DEN | 33 | |
| DNF | Tim DECLERCQ | BEL | TSV | 27 | |
| DNF | Jonas RICKAERT | BEL | TSV | 22 | |
| DNF | Stijn STEELS | BEL | TSV | 27 | |
| DNF | Nick DOUGALL | RSA | DDD | 24 | |
| DNF | Tyler FARRAR | USA | DDD | 32 | |
| DNF | Davide CIMOLAI | ITA | LAM | 27 | |
| DNF | Mario Jorge FARIA DA COSTA | POR | LAM | 31 | |
| DNF | Chun Kai FENG | TPE | LAM | 28 | |
| DNF | Roberto FERRARI | ITA | LAM | 33 | |
| DNF | Gang XU | CHN | LAM | 32 | |
| DNF | Federico ZURLO | ITA | LAM | 22 | |
| DNF | Jorge ARCAS PENA | ESP | MOV | 24 | |
| DNF | Juan Jose LOBATO DEL VALLE | ESP | MOV | 28 | |
| DNF | Javier MORENO BAZAN | ESP | MOV | 32 | |
| DNF | Nelson Filipe SANTOS SIMOES OLIVEIRA | POR | MOV | 27 | |
| DNF | Dayer Uberney QUINTANA ROJAS | COL | MOV | 24 | |
| DNF | Jasha SÜTTERLIN | GER | MOV | 24 | |
| DNF | Francisco José VENTOSO ALBERDI | ESP | MOV | 34 | |
| DNF | Phillip GAIMON | USA | CPT | 30 | |
| DNF | Mikel ARISTI GARDOKI | ESP | DMP | 23 | |
| DNF | Romain COMBAUD | FRA | DMP | 25 | |
| DNF | Fredrik Strand GALTA | NOR | DMP | 24 | |
| DNF | Benjamin GIRAUD | FRA | DMP | 30 | |
| DNF | Martin LAAS | EST | DMP | 23 | |
| DNF | Yannick MARTINEZ | FRA | DMP | 28 | |
| DNS | Jacopo GUARNIERI | ITA | KAT | 29 | |
- 2015 Paris-Roubaix Results here -
- 2014 Paris-Roubaix Results here -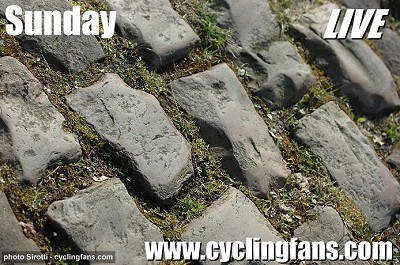 (Paris-Roubaix Resultats)