Tour of Norway Results
Submitted by admin on Sat, 05/21/2016 - 22:15

Follow cyclingfans on Twitter and never miss a race. Cyclingfans.com: The #1 destination on the internet for live race coverage.
- This page lists Tour of Norway results
See also: Tour of Norway LIVE - Tour of Norway Videos -
NOTE: If you believe you may not be seeing the latest content on this page, try clearing your browser's cache (or try a different browser).
-

2016 Tour of Norway Results (Overall winner: Pieter Weening)

| | | |
| --- | --- | --- |
| Stage | Stage winner | Overall leader |
| 1. Drammen/Langesund (173.4 km) | Steele Von Hoff | Steele Von Hoff |
| 2. Kragero/Rjukan (211 km) | Pieter Weening | Pieter Weening |
| 3. Rjukan/Geilo (168 km) | Mads Pedersen | Pieter Weening |
| 4. Fla/Eggemoen (Ringerike) (174 km) | Edvald Boasson Hagen | Pieter Weening |
| 5. Drobak/Sarpsborg (163 km) | Edvald Boasson Hagen | Pieter Weening |
2015 Tour of Norway Results (Overall winner: Jesper Hansen)

| | | |
| --- | --- | --- |
| Stage | Stage winner | Overall leader |
| 1. Arnes/Sarpsborg (182 km) | Alexander Kristoff | Alexander Kristoff |
| 2. Drammen/Langesund (199 km) | Alexander Kristoff | Alexander Kristoff |
| 3. Skien/Rjukan (185 km) | Jesper Hansen | Jesper Hansen |
| 4. Rjukan/Geilo (167 km) | Amets Txurruka | Jesper Hansen |
| 5. Fla/Eggemoen (175 km) | Andreas Vangstad | Jesper Hansen |
2014 Tour of Norway Results (Overall winner: Maciej Paterski)

| | | |
| --- | --- | --- |
| Stage | Stage winner | Overall leader |
| 1. Larvik/Larvik (147.7 km) | Alexander Kristoff | Alexander Kristoff |
| 2. Drobak/Sarpsborg (193.9 km) | Marc de Maar | Marc de Maar |
| 3. Arnes/Budor (177.7 km) | Sep Vanmarcke | Marc de Maar |
| 4. Brumunddal/Lillehammer (195 km) | Bauke Mollema | Marc de Maar |
| 5. Gjovik/Eggemoen (167 km) | Alexander Kristoff | Maciej Paterski |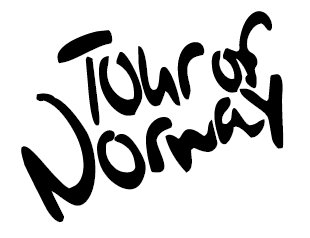 (Tour of Norway/Tour de Norvege resultats)