La Course by Le Tour de France: Simona Frapporti and Astana BePink Team
Submitted by mary topping on Sun, 07/13/2014 - 08:57

Follow cyclingfans on Twitter and never miss a race. Cyclingfans.com: The #1 destination on the internet for live race coverage.
- La Course by Le Tour de France: Simona Frapporti and Astana BePink Team.
- See also: Tour de France LIVE
- There are 20 teams entered in the La Course by Le Tour de France, a race for the women that will be held in Paris on the final day of the men's Tour de France. There are 20 stages in the TDF before the final day. So each day of the men's TDF leading up to Paris, we will feature one women's team and rider for La Course.
Simona Frapporti
Astana BePink http://www.astanabepink.com/
Twitter: @SimonaFrapporti – Professional Cyclist to AstanaBePink
Strengths on the bike: I'm a "passista veloce" as we say (all-rounder). I am also a track cyclist member of the Italian national team. I like the TTT and ITT.
Age: 26
Nickname: Frappa or Frappy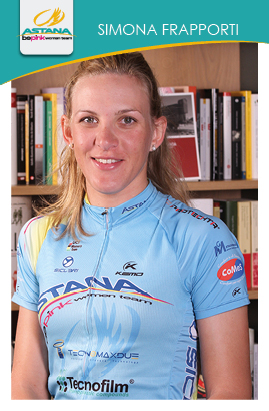 It takes more than one hand to count the Italian national championships this lady has scored in a velodrome. Simona Frapporti fares well on the road too. Among multiple top five results in the last few seasons she's won a La Route de France stage as well as the Gp Porto San Giorgio. Frapporti grew up as the youngest child in a family of pro cyclists. Competitive since her early schoolgirl days, "Frappy" started racing bikes as a junior. She turned professional in 2008, raced for several Italian teams, and then joined BePink in 2012. Along the way she found time to study accounting.
Recent sessions in the wind tunnel helped Frapporti assess her position on the bike, just in time to feel her best at La Course by Le Tour de France. There in Paris, she says, "A dream comes true, riding my bike with my team mates and colleagues and living the Tour de France atmosphere is just magic, it is what we've seen on TV!"
This season the Italian-based BePink team gained a new partner in Astana. In line with Astana's mission to develop cyclists from Kazakhstan, four young Kazakh riders joined the mostly Italian squad that was founded in 2011. Headliners among the 17 Astana BePink riders include Alena Amialiusik, now ranked 8th by the UCI. Amialiusik excelled in the early season with stage wins, second overall, and the mountains jersey at the Vuelta a El Salvador, and recently re-upped as the Belarus national road and time trial champion. Kazakh Yekateryna Yuraytis contributed a U19 time trial Asian championship to the team's seven 2014 victories. Former Italian road champion Dalia Muccioli also rides for this team which is guided by sports director Walter Zini.
Self-description in three words: "il gigante buono," the good giant
Favorite activities off the bike: I like sport in general: skiing, swimming and... is shopping a sport? I love it!
Gluten-free or pasta lover? I love "spaghetti allo scoglio." I am a pasta lover but during the competition season I cannot have it as I would like to.
What's on my iPod: I have a mix of everything but dance music and country music take a great part of its gigabytes.
What's on my bucket list: We call it:"sogni nel cassette:" taking part at the Olympics. I see myself married with kids.
Cycling career goals: I would like to take part at the Rio Olympics with the track team and I dream to wear the Italian jersey in a road world championship.
Post pro cycling plans: I would like to go on with my family business.
by Mary Topping
(photo courtesy Astana BePink Team)