2013 Tour de Suisse Stage 2 Results
Submitted by admin on Sun, 06/09/2013 - 12:07

Follow cyclingfans on Twitter and never miss a race. Cyclingfans.com: The #1 destination on the internet for live race coverage.
- This page lists 2013 Tour de Suisse results for Stage 2

- Stage 2 (Ulrichen to Crans-Montana (--)) -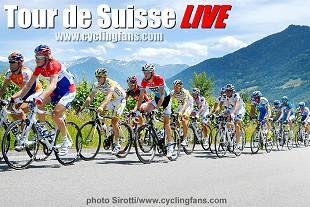 Bauke Mollema (Blanco) won a modified Stage 2 to Crans-Montana ahead of Mathias Frank and Thibaut Pinot. Ryder Hesjedal was fourth. Cameron Meyer (Orica-GreenEdge) remains overall race leader while Hesjedal moved up to second place.
| | | | | |
| --- | --- | --- | --- | --- |
| Rank | Name | Nationality | Team | Result |
| 1 | Bauke MOLLEMA | NED | BLA | 2:43:00 |
| 2 | Mathias FRANK | SUI | BMC | +11 |
| 3 | Thibaut PINOT | FRA | FDJ | +11 |
| 4 | Ryder HESJEDAL | CAN | GRS | +11 |
| 5 | Johann TSCHOPP | SUI | IAM | +11 |
| 6 | Daniel MARTIN | IRL | GRS | +11 |
| 7 | Roman KREUZIGER | CZE | TST | +11 |
| 8 | Michele SCARPONI | ITA | LAM | +11 |
| 9 | Giovanni VISCONTI | ITA | MOV | +19 |
| 10 | Domenico POZZOVIVO | ITA | ALM | +19 |
| 11 | Diego ULISSI | ITA | LAM | +24 |
| 12 | Moreno MOSER | ITA | CAN | +24 |
| 13 | Cameron MEYER | AUS | OGE | +27 |
| 14 | Rui Alberto FARIA DA COSTA | POR | MOV | +27 |
| 15 | Janez BRAJKOVIC | SLO | AST | +27 |
| 16 | Simon SPILAK | SLO | KAT | +29 |
| 17 | Jean-Christophe PERAUD | FRA | ALM | +29 |
| 18 | Joseph Lloyd DOMBROWSKI | USA | SKY | +29 |
| 19 | Igor ANTON HERNANDEZ | ESP | EUS | +36 |
| 20 | Sébastien REICHENBACH | SUI | IAM | +36 |
| 21 | Marcel WYSS | SUI | IAM | +38 |
| 22 | Wilco KELDERMAN | NED | BLA | +38 |
| 23 | Tanel KANGERT | EST | AST | +40 |
| 24 | Alexsandr DYACHENKO | KAZ | AST | +40 |
| 25 | Tejay VAN GARDEREN | USA | BMC | +40 |
| 26 | Thomas LÖVKVIST | SWE | IAM | +44 |
| 27 | Nicolas ROCHE | IRL | TST | +52 |
| 28 | Joshua EDMONDSON | GBR | SKY | +52 |
| 29 | Maxime BOUET | FRA | ALM | +52 |
| 30 | Andrey AMADOR BAKKAZAKOVA | CRC | MOV | +55 |
| 31 | Brice FEILLU | FRA | SOJ | +1:08 |
| 32 | Gorka VERDUGO MARCOTEGUI | ESP | EUS | +1:15 |
| 33 | Maxime MONFORT | BEL | RLT | +1:20 |
| 34 | Lars Petter NORDHAUG | NOR | BLA | +1:20 |
| 35 | Vladimir GUSEV | RUS | KAT | +1:29 |
| 36 | Luis Leon SANCHEZ GIL | ESP | BLA | +2:05 |
| 37 | Amaël MOINARD | FRA | BMC | +2:16 |
| 38 | Steven KRUIJSWIJK | NED | BLA | +2:41 |
| 39 | Damiano CARUSO | ITA | CAN | +2:41 |
| 40 | Matteo MONTAGUTI | ITA | ALM | +2:41 |
| 41 | Eduard VORGANOV | RUS | KAT | +2:41 |
| 42 | Oliver ZAUGG | SUI | TST | +2:41 |
| 43 | Jesus HERRADA LOPEZ | ESP | MOV | +2:57 |
| 44 | Rémi PAURIOL | FRA | SOJ | +3:16 |
| 45 | Peter VELITS | SVK | OPQ | +3:16 |
| 46 | Tom DUMOULIN | NED | ARG | +3:16 |
| 47 | Georg PREIDLER | AUT | ARG | +3:28 |
| 48 | Stefan DENIFL | AUT | IAM | +3:28 |
| 49 | Stefano AGOSTINI | ITA | CAN | +3:28 |
| 50 | Andrey KASHECHKIN | KAZ | AST | +3:28 |
| 51 | Mirko SELVAGGI | ITA | VCD | +3:28 |
| 52 | Jorge AZANZA SOTO | ESP | EUS | +3:28 |
| 53 | Francis DE GREEF | BEL | LTB | +3:28 |
| 54 | Andy SCHLECK | LUX | RLT | +3:32 |
| 55 | Jens VOIGT | GER | RLT | +3:32 |
| 56 | Mikael CHEREL | FRA | ALM | +3:32 |
| 57 | Maxime MEDEREL | FRA | SOJ | +3:32 |
| 58 | Jérémy ROY | FRA | FDJ | +3:32 |
| 59 | Philippe GILBERT | BEL | BMC | +3:38 |
| 60 | Michael ALBASINI | SUI | OGE | +4:05 |
| 61 | Robert VRECER | SLO | EUS | +4:25 |
| 62 | Kevin DE WEERT | BEL | OPQ | +4:30 |
| 63 | Gatis SMUKULIS | LAT | KAT | +4:49 |
| 64 | Matti BRESCHEL | DEN | TST | +4:50 |
| 65 | Michel KOCH | GER | CAN | +4:50 |
| 66 | Patrick GRETSCH | GER | ARG | +4:50 |
| 67 | José Ivan GUTIERREZ PALACIOS | ESP | MOV | +5:02 |
| 68 | Stijn DEVOLDER | BEL | RLT | +5:08 |
| 69 | Evgeny PETROV | RUS | TST | +5:24 |
| 70 | Heinrich HAUSSLER | AUS | IAM | +5:24 |
| 71 | Jose Joaquin ROJAS GIL | ESP | MOV | +6:02 |
| 72 | Johannes FRÖHLINGER | GER | ARG | +6:22 |
| 73 | Juan Jose OROZ UGALDE | ESP | EUS | +6:22 |
| 74 | Frederik VEUCHELEN | BEL | VCD | +6:22 |
| 75 | Grega BOLE | SLO | VCD | +6:22 |
| 76 | Julien SIMON | FRA | SOJ | +6:22 |
| 77 | Johan VAN SUMMEREN | BEL | GRS | +6:22 |
| 78 | Matteo TOSATTO | ITA | TST | +6:56 |
| 79 | Simone STORTONI | ITA | LAM | +7:39 |
| 80 | Serge PAUWELS | BEL | OPQ | +9:27 |
| 81 | Guillaume VAN KEIRSBULCK | BEL | OPQ | +9:27 |
| 82 | Lloyd MONDORY | FRA | ALM | +9:27 |
| 83 | Alexandr KOLOBNEV | RUS | KAT | +9:27 |
| 84 | Michael MORKOV | DEN | TST | +9:27 |
| 85 | Manuele MORI | ITA | LAM | +9:27 |
| 86 | Sébastien MINARD | FRA | ALM | +9:27 |
| 87 | Anthony DELAPLACE | FRA | SOJ | +9:27 |
| 88 | Vladimir KARPETS | RUS | MOV | +9:27 |
| 89 | Andreas KLÖDEN | GER | RLT | +9:27 |
| 90 | Daryl IMPEY | RSA | OGE | +9:27 |
| 91 | Simon GESCHKE | GER | ARG | +9:27 |
| 92 | Tomasz MARCZYNSKI | POL | VCD | +9:27 |
| 93 | Jon IZAGUIRRE INSAUSTI | ESP | EUS | +9:27 |
| 94 | Aliaksandr KUCHYNSKI | BLR | KAT | +10:52 |
| 95 | Marcus BURGHARDT | GER | BMC | +10:52 |
| 96 | Kristof VANDEWALLE | BEL | OPQ | +10:52 |
| 97 | Niki TERPSTRA | NED | OPQ | +10:52 |
| 98 | Tosh VAN DER SANDE | BEL | LTB | +10:52 |
| 99 | Brian BULGAC | NED | LTB | +10:52 |
| 100 | Michael SCHÄR | SUI | BMC | +10:52 |
| 101 | Simone PONZI | ITA | AST | +10:52 |
| 102 | Maarten NEYENS | BEL | LTB | +10:52 |
| 103 | Peter SAGAN | SVK | CAN | +10:52 |
| 104 | Boy VAN POPPEL | NED | VCD | +10:52 |
| 105 | Edward KING | USA | CAN | +10:52 |
| 106 | Yoann OFFREDO | FRA | FDJ | +10:52 |
| 107 | Bert GRABSCH | GER | OPQ | +10:52 |
| 108 | Davide VIGANO | ITA | LAM | +10:52 |
| 109 | Paolo LONGO BORGHINI | ITA | CAN | +10:52 |
| 110 | Gabriel RASCH | NOR | SKY | +10:52 |
| 111 | Reto HOLLENSTEIN | SUI | IAM | +10:52 |
| 112 | John DEGENKOLB | GER | ARG | +10:52 |
| 113 | William BONNET | FRA | FDJ | +10:52 |
| 114 | Arnold JEANNESSON | FRA | FDJ | +10:52 |
| 115 | Ricardo MESTRE | POR | EUS | +10:52 |
| 116 | Adrian SAEZ | ESP | EUS | +10:52 |
| 117 | Yannick TALABARDON | FRA | SOJ | +10:52 |
| 118 | Enrico GASPAROTTO | ITA | AST | +10:52 |
| 119 | Jonathan TIERNAN-LOCKE | GBR | SKY | +10:52 |
| 120 | Thomas PETERSON | USA | ARG | +10:52 |
| 121 | Jean Marc MARINO | FRA | SOJ | +10:52 |
| 122 | David MILLAR | GBR | GRS | +11:12 |
| 123 | Mathew HAYMAN | AUS | SKY | +11:12 |
| 124 | Lachlan David MORTON | AUS | GRS | +11:12 |
| 125 | Benoît VAUGRENARD | FRA | FDJ | +11:49 |
| 126 | Greg VAN AVERMAET | BEL | BMC | +14:23 |
| 127 | Tom BOONEN | BEL | OPQ | +14:23 |
| 128 | Martin KOHLER | SUI | BMC | +14:23 |
| 129 | Romain FEILLU | FRA | VCD | +14:23 |
| 130 | Grégory RAST | SUI | RLT | +14:23 |
| 131 | Martin ELMIGER | SUI | IAM | +14:23 |
| 132 | Bernhard EISEL | AUT | SKY | +14:23 |
| 133 | Fabian CANCELLARA | SUI | RLT | +14:23 |
| 134 | Arman KAMYSHEV | KAZ | AST | +14:23 |
| 135 | Hayden ROULSTON | NZL | RLT | +14:23 |
| 136 | Wesley KREDER | NED | VCD | +14:23 |
| 137 | Tyler FARRAR | USA | GRS | +14:23 |
| 138 | Alex RASMUSSEN | DEN | GRS | +14:23 |
| 139 | Christophe RIBLON | FRA | ALM | +14:23 |
| 140 | Aidis KRUOPIS | LTU | OGE | +14:23 |
| 141 | Sam BEWLEY | NZL | OGE | +14:23 |
| 142 | Sep VANMARCKE | BEL | BLA | +14:23 |
| 143 | Matthew Harley GOSS | AUS | OGE | +14:23 |
| 144 | Olivier KAISEN | BEL | LTB | +14:23 |
| 145 | Lucas Sebastian HAEDO | ARG | CAN | +14:23 |
| 146 | Jacopo GUARNIERI | ITA | AST | +14:23 |
| 147 | Mark RENSHAW | AUS | BLA | +14:23 |
| 148 | Enrique SANZ | ESP | MOV | +14:23 |
| 149 | Thomas LEEZER | NED | BLA | +14:23 |
| 150 | Alexander KRISTOFF | NOR | KAT | +14:23 |
| 151 | Ben SWIFT | GBR | SKY | +14:23 |
| 152 | Vladimir ISAICHEV | RUS | KAT | +14:23 |
| 153 | Cédric PINEAU | FRA | FDJ | +14:23 |
| 154 | Baden COOKE | AUS | OGE | +14:23 |
| 155 | Jens DEBUSSCHERE | BEL | LTB | +14:23 |
| 156 | Jonas AHLSTRAND | SWE | ARG | +14:23 |
| 157 | Luke ROWE | GBR | SKY | +14:23 |
| 158 | Daniele BENNATI | ITA | TST | +14:23 |
| 159 | Fabian WEGMANN | GER | GRS | +14:23 |
| 160 | Davide CIMOLAI | ITA | LAM | +14:23 |
| 161 | Arnaud DEMARE | FRA | FDJ | +14:23 |
| 162 | Roberto FERRARI | ITA | LAM | +14:23 |
| 163 | Kenny DE HAES | BEL | LTB | +14:23 |
| 164 | Stuart O'GRADY | AUS | OGE | +14:23 |
| 165 | Cyril LEMOINE | FRA | SOJ | +14:23 |
| 166 | Luca WACKERMANN | ITA | LAM | +14:23 |
| 167 | Frederique ROBERT | BEL | LTB | +15:48 |
General Classification after Stage 2

| | | | | |
| --- | --- | --- | --- | --- |
| Rank | Name | Nationality | Team | Result |
| 1 | Cameron MEYER | Australia | OGE | 2:53:06 |
| 2 | Ryder HESJEDAL | Canada | GRS | +3 |
| 3 | Mathias FRANK | Switzerland | BMC | +5 |
| 4 | Giovanni VISCONTI | Italy | MOV | +12 |
| 5 | Thibaut PINOT | France | FDJ | +16 |
| 6 | Roman KREUZIGER | Czech Republic | TST | +28 |
| 7 | Moreno MOSER | Italy | CAN | +34 |
| 8 | Bauke MOLLEMA | Netherlands | BLA | +34 |
| 9 | Alexsandr DYACHENKO | Kazakhstan | AST | +35 |
| 10 | Domenico POZZOVIVO | Italy | ALM | +36 |
| 11 | Rui Alberto FARIA DA COSTA | Portugal | MOV | +40 |
| 12 | Daniel MARTIN | Ireland | GRS | +42 |
| 13 | Janez BRAJKOVIC | Slovenia | AST | +42 |
| 14 | Diego ULISSI | Italy | LAM | +43 |
| 15 | Michele SCARPONI | Italy | LAM | +44 |
| 16 | Tanel KANGERT | Estonia | AST | +45 |
| 17 | Jean-Christophe PERAUD | France | ALM | +47 |
| 18 | Sébastien REICHENBACH | Switzerland | IAM | +48 |
| 19 | Wilco KELDERMAN | Netherlands | BLA | +53 |
| 20 | Joseph Lloyd DOMBROWSKI | United States | SKY | +56 |
| 21 | Johann TSCHOPP | Switzerland | IAM | +56 |
| 22 | Tejay VAN GARDEREN | United States | BMC | +58 |
| 23 | Maxime BOUET | France | ALM | +58 |
| 24 | Andrey AMADOR BAKKAZAKOVA | Costa Rica | MOV | +1:02 |
| 25 | Nicolas ROCHE | Ireland | TST | +1:02 |
| 26 | Gorka VERDUGO MARCOTEGUI | Spain | EUS | +1:04 |
| 27 | Thomas LÖVKVIST | Sweden | IAM | +1:06 |
| 28 | Simon SPILAK | Slovenia | KAT | +1:09 |
| 29 | Marcel WYSS | Switzerland | IAM | +1:18 |
| 30 | Maxime MONFORT | Belgium | RLT | +1:18 |
| 31 | Igor ANTON HERNANDEZ | Spain | EUS | +1:22 |
| 32 | Joshua EDMONDSON | Great Britain | SKY | +1:28 |
| 33 | Brice FEILLU | France | SOJ | +1:30 |
| 34 | Lars Petter NORDHAUG | Norway | BLA | +1:46 |
| 35 | Vladimir GUSEV | Russia | KAT | +1:48 |
| 36 | Amaël MOINARD | France | BMC | +2:16 |
| 37 | Luis Leon SANCHEZ GIL | Spain | BLA | +2:37 |
| 38 | Matteo MONTAGUTI | Italy | ALM | +2:50 |
| 39 | Damiano CARUSO | Italy | CAN | +3:04 |
| 40 | Peter VELITS | Slovakia | OPQ | +3:08 |
| 41 | Jesus HERRADA LOPEZ | Spain | MOV | +3:08 |
| 42 | Steven KRUIJSWIJK | Netherlands | BLA | +3:12 |
| 43 | Oliver ZAUGG | Switzerland | TST | +3:19 |
| 44 | Tom DUMOULIN | Netherlands | ARG | +3:19 |
| 45 | Eduard VORGANOV | Russia | KAT | +3:24 |
| 46 | Georg PREIDLER | Austria | ARG | +3:32 |
| 47 | Philippe GILBERT | Belgium | BMC | +3:33 |
| 48 | Jens VOIGT | Germany | RLT | +3:36 |
| 49 | Rémi PAURIOL | France | SOJ | +3:41 |
| 50 | Jérémy ROY | France | FDJ | +3:51 |
| 51 | Mikael CHEREL | France | ALM | +3:58 |
| 52 | Stefan DENIFL | Austria | IAM | +3:59 |
| 53 | Stefano AGOSTINI | Italy | CAN | +4:05 |
| 54 | Francis DE GREEF | Belgium | LTB | +4:10 |
| 55 | Andrey KASHECHKIN | Kazakhstan | AST | +4:11 |
| 56 | Andy SCHLECK | Luxembourg | RLT | +4:11 |
| 57 | Maxime MEDEREL | France | SOJ | +4:12 |
| 58 | Michael ALBASINI | Switzerland | OGE | +4:12 |
| 59 | Mirko SELVAGGI | Italy | VCD | +4:20 |
| 60 | Jorge AZANZA SOTO | Spain | EUS | +4:24 |
| 61 | Michel KOCH | Germany | CAN | +4:41 |
| 62 | Robert VRECER | Slovenia | EUS | +4:59 |
| 63 | José Ivan GUTIERREZ PALACIOS | Spain | MOV | +5:03 |
| 64 | Patrick GRETSCH | Germany | ARG | +5:05 |
| 65 | Heinrich HAUSSLER | Australia | IAM | +5:11 |
| 66 | Matti BRESCHEL | Denmark | TST | +5:11 |
| 67 | Gatis SMUKULIS | Latvia | KAT | +5:14 |
| 68 | Kevin DE WEERT | Belgium | OPQ | +5:15 |
| 69 | Stijn DEVOLDER | Belgium | RLT | +5:17 |
| 70 | Evgeny PETROV | Russia | TST | +5:32 |
| 71 | Jose Joaquin ROJAS GIL | Spain | MOV | +6:31 |
| 72 | Frederik VEUCHELEN | Belgium | VCD | +6:33 |
| 73 | Johannes FRÖHLINGER | Germany | ARG | +6:46 |
| 74 | Matteo TOSATTO | Italy | TST | +6:48 |
| 75 | Johan VAN SUMMEREN | Belgium | GRS | +6:52 |
| 76 | Juan Jose OROZ UGALDE | Spain | EUS | +6:59 |
| 77 | Julien SIMON | France | SOJ | +7:09 |
| 78 | Grega BOLE | Slovenia | VCD | +7:12 |
| 79 | Simone STORTONI | Italy | LAM | +8:23 |
| 80 | Sébastien MINARD | France | ALM | +9:28 |
| 81 | Michael MORKOV | Denmark | TST | +9:28 |
| 82 | Serge PAUWELS | Belgium | OPQ | +9:32 |
| 83 | Anthony DELAPLACE | France | SOJ | +9:34 |
| 84 | Daryl IMPEY | South Africa | OGE | +9:35 |
| 85 | Jon IZAGUIRRE INSAUSTI | Spain | EUS | +9:43 |
| 86 | Andreas KLÖDEN | Germany | RLT | +9:43 |
| 87 | Vladimir KARPETS | Russia | MOV | +9:49 |
| 88 | Tomasz MARCZYNSKI | Poland | VCD | +9:50 |
| 89 | Simon GESCHKE | Germany | ARG | +9:53 |
| 90 | Guillaume VAN KEIRSBULCK | Belgium | OPQ | +9:55 |
| 91 | Lloyd MONDORY | France | ALM | +10:06 |
| 92 | Alexandr KOLOBNEV | Russia | KAT | +10:22 |
| 93 | Manuele MORI | Italy | LAM | +10:24 |
| 94 | Niki TERPSTRA | Netherlands | OPQ | +10:35 |
| 95 | Reto HOLLENSTEIN | Switzerland | IAM | +10:41 |
| 96 | William BONNET | France | FDJ | +10:53 |
| 97 | Peter SAGAN | Slovakia | CAN | +11:00 |
| 98 | Gabriel RASCH | Norway | SKY | +11:04 |
| 99 | Paolo LONGO BORGHINI | Italy | CAN | +11:05 |
| 100 | Adrian SAEZ | Spain | EUS | +11:06 |
| 101 | Brian BULGAC | Netherlands | LTB | +11:09 |
| 102 | Ricardo MESTRE | Portugal | EUS | +11:11 |
| 103 | John DEGENKOLB | Germany | ARG | +11:15 |
| 104 | Kristof VANDEWALLE | Belgium | OPQ | +11:17 |
| 105 | Aliaksandr KUCHYNSKI | Belarus | KAT | +11:17 |
| 106 | Yannick TALABARDON | France | SOJ | +11:18 |
| 107 | Michael SCHÄR | Switzerland | BMC | +11:19 |
| 108 | Davide VIGANO | Italy | LAM | +11:21 |
| 109 | Enrico GASPAROTTO | Italy | AST | +11:21 |
| 110 | Yoann OFFREDO | France | FDJ | +11:23 |
| 111 | Lachlan David MORTON | Australia | GRS | +11:27 |
| 112 | Edward KING | United States | CAN | +11:28 |
| 113 | Arnold JEANNESSON | France | FDJ | +11:28 |
| 114 | Jean Marc MARINO | France | SOJ | +11:33 |
| 115 | Maarten NEYENS | Belgium | LTB | +11:33 |
| 116 | Jonathan TIERNAN-LOCKE | Great Britain | SKY | +11:34 |
| 117 | Thomas PETERSON | United States | ARG | +11:36 |
| 118 | Boy VAN POPPEL | Netherlands | VCD | +11:36 |
| 119 | David MILLAR | Great Britain | GRS | +11:41 |
| 120 | Simone PONZI | Italy | AST | +11:46 |
| 121 | Bert GRABSCH | Germany | OPQ | +11:47 |
| 122 | Marcus BURGHARDT | Germany | BMC | +11:48 |
| 123 | Mathew HAYMAN | Australia | SKY | +11:50 |
| 124 | Tosh VAN DER SANDE | Belgium | LTB | +11:59 |
| 125 | Benoît VAUGRENARD | France | FDJ | +12:15 |
| 126 | Alex RASMUSSEN | Denmark | GRS | +14:11 |
| 127 | Cyril LEMOINE | France | SOJ | +14:18 |
| 128 | Fabian CANCELLARA | Switzerland | RLT | +14:18 |
| 129 | Arnaud DEMARE | France | FDJ | +14:21 |
| 130 | Grégory RAST | Switzerland | RLT | +14:23 |
| 131 | Alexander KRISTOFF | Norway | KAT | +14:24 |
| 132 | Sep VANMARCKE | Belgium | BLA | +14:27 |
| 133 | Jacopo GUARNIERI | Italy | AST | +14:29 |
| 134 | Stuart O'GRADY | Australia | OGE | +14:29 |
| 135 | Lucas Sebastian HAEDO | Argentina | CAN | +14:34 |
| 136 | Jonas AHLSTRAND | Sweden | ARG | +14:34 |
| 137 | Martin ELMIGER | Switzerland | IAM | +14:35 |
| 138 | Jens DEBUSSCHERE | Belgium | LTB | +14:37 |
| 139 | Baden COOKE | Australia | OGE | +14:38 |
| 140 | Roberto FERRARI | Italy | LAM | +14:38 |
| 141 | Vladimir ISAICHEV | Russia | KAT | +14:39 |
| 142 | Tyler FARRAR | United States | GRS | +14:40 |
| 143 | Enrique SANZ | Spain | MOV | +14:40 |
| 144 | Daniele BENNATI | Italy | TST | +14:41 |
| 145 | Aidis KRUOPIS | Lithuania | OGE | +14:41 |
| 146 | Hayden ROULSTON | New Zealand | RLT | +14:43 |
| 147 | Tom BOONEN | Belgium | OPQ | +14:45 |
| 148 | Luca WACKERMANN | Italy | LAM | +14:47 |
| 149 | Sam BEWLEY | New Zealand | OGE | +14:48 |
| 150 | Kenny DE HAES | Belgium | LTB | +14:48 |
| 151 | Thomas LEEZER | Netherlands | BLA | +14:49 |
| 152 | Davide CIMOLAI | Italy | LAM | +14:51 |
| 153 | Arman KAMYSHEV | Kazakhstan | AST | +14:51 |
| 154 | Martin KOHLER | Switzerland | BMC | +14:53 |
| 155 | Cédric PINEAU | France | FDJ | +14:53 |
| 156 | Romain FEILLU | France | VCD | +14:55 |
| 157 | Luke ROWE | Great Britain | SKY | +14:58 |
| 158 | Bernhard EISEL | Austria | SKY | +15:01 |
| 159 | Mark RENSHAW | Australia | BLA | +15:01 |
| 160 | Greg VAN AVERMAET | Belgium | BMC | +15:06 |
| 161 | Wesley KREDER | Netherlands | VCD | +15:08 |
| 162 | Matthew Harley GOSS | Australia | OGE | +15:09 |
| 163 | Christophe RIBLON | France | ALM | +15:17 |
| 164 | Ben SWIFT | Great Britain | SKY | +15:19 |
| 165 | Fabian WEGMANN | Germany | GRS | +15:24 |
| 166 | Olivier KAISEN | Belgium | LTB | +15:26 |
| 167 | Frederique ROBERT | Belgium | LTB | +17:00 |