2013 Giro d'Italia Stage 14 Results
Submitted by admin on Sat, 05/18/2013 - 10:32

Follow cyclingfans on Twitter and never miss a race. Cyclingfans.com: The #1 destination on the internet for live race coverage.
- This page lists 2013 Giro d'Italia results for Stage 14

- Stage 14 (Cervere to Bardonecchia (168 km)) -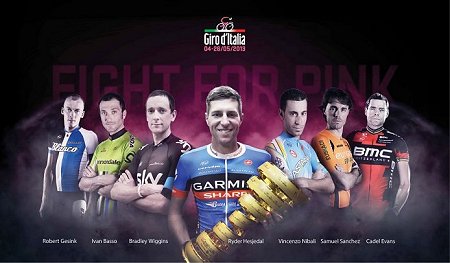 Race leader Vincenzo Nibali (Astana) attacked with 3km to go and Mauro Santambrogio (Vini Fantini-Selle Italia) went with him. The pair caught the earlier breakaway and pushed on toward the finish, with Santambrogio taking an uncontested stage victory while Nibali increased his lead over Cadel Evans, second overall, in the general classification. Due to bad weather, the Sestriere climb was removed from the day's route.
| | | | | |
| --- | --- | --- | --- | --- |
| Rank | Name | Nationality | Team | Result |
| 1 | Mauro SANTAMBROGIO | ITA | VIN | 4:42:55 |
| 2 | Vincenzo NIBALI | ITA | AST | +0 |
| 3 | Carlos Alberto BETANCUR GOMEZ | COL | ALM | +9 |
| 4 | Samuel SANCHEZ GONZALEZ | ESP | EUS | +26 |
| 5 | Rigoberto URAN URAN | COL | SKY | +30 |
| 6 | Cadel EVANS | AUS | BMC | +33 |
| 7 | Domenico POZZOVIVO | ITA | ALM | +33 |
| 8 | Robert KISERLOVSKI | CRO | RLT | +33 |
| 9 | Sonny COLBRELLI | ITA | BAR | +55 |
| 10 | Damiano CARUSO | ITA | CAN | +58 |
| 11 | Rafal MAJKA | POL | TST | +59 |
| 12 | Yury TROFIMOV | RUS | KAT | +59 |
| 13 | Franco PELLIZOTTI | ITA | AND | +1:04 |
| 14 | Diego ROSA | ITA | AND | +1:08 |
| 15 | Przemyslaw NIEMIEC | POL | LAM | +1:08 |
| 16 | Fabio Andres DUARTE AREVALO | COL | COL | +1:15 |
| 17 | Benat INTXAUSTI ELORRIAGA | ESP | MOV | +1:24 |
| 18 | Michele SCARPONI | ITA | LAM | +1:28 |
| 19 | Luca PAOLINI | ITA | KAT | +1:41 |
| 20 | Sergio Luis HENAO MONTOYA | COL | SKY | +1:48 |
| 21 | Tanel KANGERT | EST | AST | +2:16 |
| 22 | Thomas DANIELSON | USA | GRS | +2:32 |
| 23 | Danilo DI LUCA | ITA | VIN | +2:40 |
| 24 | Daniele PIETROPOLLI | ITA | LAM | +2:53 |
| 25 | Evgeny PETROV | RUS | TST | +3:21 |
| 26 | Darwin ATAPUMA HURTADO | COL | COL | +3:21 |
| 27 | Eros CAPECCHI | ITA | MOV | +3:21 |
| 28 | Hubert DUPONT | FRA | ALM | +3:25 |
| 29 | Fabio FELLINE | ITA | AND | +3:39 |
| 30 | Egoi MARTINEZ DE ESTEBAN | ESP | EUS | +4:01 |
| 31 | Jose Rodolfo SERPA PEREZ | COL | LAM | +4:05 |
| 32 | Juan Manuel GARATE | ESP | BLA | +4:16 |
| 33 | Wilco KELDERMAN | NED | BLA | +4:16 |
| 34 | Steven KRUIJSWIJK | NED | BLA | +4:16 |
| 35 | Robert GESINK | NED | BLA | +4:16 |
| 36 | Francis MOUREY | FRA | FDJ | +4:16 |
| 37 | Peter STETINA | USA | GRS | +4:16 |
| 38 | Thomas DAMUSEAU | FRA | ARG | +4:16 |
| 39 | Tiago MACHADO | POR | RLT | +4:16 |
| 40 | José HERRADA LOPEZ | ESP | MOV | +4:16 |
| 41 | Francis DE GREEF | BEL | LTB | +4:30 |
| 42 | Valerio AGNOLI | ITA | AST | +4:58 |
| 43 | Fabio ARU | ITA | AST | +4:58 |
| 44 | Jarlinson PANTANO | COL | COL | +5:18 |
| 45 | Rob RUIJGH | NED | VCD | +5:43 |
| 46 | Rafael VALLS FERRI | ESP | VCD | +5:43 |
| 47 | Dario CATALDO | ITA | SKY | +5:50 |
| 48 | Jorge AZANZA SOTO | ESP | EUS | +5:50 |
| 49 | Emanuele SELLA | ITA | AND | +6:18 |
| 50 | Ben GASTAUER | LUX | ALM | +6:24 |
| 51 | Johan LE BON | FRA | FDJ | +6:24 |
| 52 | Fredrik Carl Wilhelm KESSIAKOFF | SWE | AST | +6:56 |
| 53 | Matteo RABOTTINI | ITA | VIN | +6:56 |
| 54 | Giampaolo CARUSO | ITA | KAT | +6:56 |
| 55 | Stef CLEMENT | NED | BLA | +7:06 |
| 56 | Steve MORABITO | SUI | BMC | +7:06 |
| 57 | Vladimir GUSEV | RUS | KAT | +7:42 |
| 58 | Kanstantsin SIUTSOU | BLR | SKY | +7:54 |
| 59 | Petr IGNATENKO | RUS | KAT | +7:54 |
| 60 | Pieter WEENING | NED | OGE | +7:57 |
| 61 | Giovanni VISCONTI | ITA | MOV | +9:11 |
| 62 | Fabio SABATINI | ITA | CAN | +10:08 |
| 63 | Dominique ROLLIN | CAN | FDJ | +10:08 |
| 64 | Adam HANSEN | AUS | LTB | +10:08 |
| 65 | Lars Ytting BAK | DEN | LTB | +10:08 |
| 66 | Frederik WILLEMS | BEL | LTB | +10:08 |
| 67 | Kristijan DURASEK | CRO | LAM | +10:08 |
| 68 | Dmitry KOZONTCHUK | RUS | KAT | +10:08 |
| 69 | Stephen CUMMINGS | GBR | BMC | +10:08 |
| 70 | Patrick GRETSCH | GER | ARG | +10:08 |
| 71 | Danilo WYSS | SUI | BMC | +10:08 |
| 72 | Koen DE KORT | NED | ARG | +10:08 |
| 73 | Matteo TRENTIN | ITA | OPQ | +10:17 |
| 74 | Manuele BOARO | ITA | TST | +11:14 |
| 75 | Christian KNEES | GER | SKY | +11:23 |
| 76 | Ivan SANTAROMITA | ITA | BMC | +11:27 |
| 77 | Alessandro PRONI | ITA | VIN | +12:05 |
| 78 | Francisco José VENTOSO ALBERDI | ESP | MOV | +12:17 |
| 79 | Hayden ROULSTON | NZL | RLT | +12:28 |
| 80 | Robert VRECER | SLO | EUS | +12:59 |
| 81 | Simone STORTONI | ITA | LAM | +13:02 |
| 82 | Jesse SERGENT | NZL | RLT | +13:31 |
| 83 | Ricardo MESTRE | POR | EUS | +13:31 |
| 84 | Nelson Filipe SANTOS SIMOES OLIVEIRA | POR | RLT | +13:31 |
| 85 | Robinson Eduardo CHALAPUD GOMEZ | COL | COL | +13:35 |
| 86 | Daniel OSS | ITA | BMC | +14:22 |
| 87 | Manuel BELLETTI | ITA | ALM | +14:22 |
| 88 | Tiziano DALL'ANTONIA | ITA | CAN | +14:22 |
| 89 | Salvatore PUCCIO | ITA | SKY | +14:22 |
| 90 | Danny PATE | USA | SKY | +14:22 |
| 91 | Alan MARANGONI | ITA | CAN | +14:28 |
| 92 | Maxim BELKOV | RUS | KAT | +14:50 |
| 93 | Dmitriy GRUZDEV | KAZ | AST | +14:53 |
| 94 | Jackson RODRIGUEZ | VEN | AND | +15:00 |
| 95 | Cayetano José SARMIENTO TUNARROSA | COL | CAN | +15:03 |
| 96 | Christian VANDEVELDE | USA | GRS | +15:09 |
| 97 | Oscar GATTO | ITA | VIN | +16:05 |
| 98 | Rory SUTHERLAND | AUS | TST | +16:57 |
| 99 | Bruno PIRES | POR | TST | +16:57 |
| 100 | Cristiano SALERNO | ITA | CAN | +17:48 |
| 101 | Marco MARCATO | ITA | VCD | +18:17 |
| 102 | Laurent PICHON | FRA | FDJ | +20:32 |
| 103 | Maarten TJALLINGII | NED | BLA | +20:32 |
| 104 | Filippo POZZATO | ITA | LAM | +20:32 |
| 105 | Elia VIVIANI | ITA | CAN | +20:32 |
| 106 | Gert DOCKX | BEL | LTB | +20:32 |
| 107 | Thomas DEKKER | NED | GRS | +20:32 |
| 108 | Jens KEUKELEIRE | BEL | OGE | +20:32 |
| 109 | Vicente REYNES MIMO | ESP | LTB | +20:32 |
| 110 | Juan Jose COBO ACEBO | ESP | MOV | +20:32 |
| 111 | Robert HUNTER | RSA | GRS | +20:32 |
| 112 | Paul MARTENS | GER | BLA | +20:32 |
| 113 | Grega BOLE | SLO | VCD | +20:32 |
| 114 | Martijn KEIZER | NED | VCD | +20:32 |
| 115 | Pablo LASTRAS GARCIA | ESP | MOV | +20:32 |
| 116 | Gorka VERDUGO MARCOTEGUI | ESP | EUS | +20:32 |
| 117 | Albert TIMMER | NED | ARG | +20:32 |
| 118 | Brett LANCASTER | AUS | OGE | +20:32 |
| 119 | Guillaume BONNAFOND | FRA | ALM | +20:32 |
| 120 | Dirk BELLEMAKERS | NED | LTB | +20:32 |
| 121 | Christian MEIER | CAN | OGE | +20:32 |
| 122 | Matthew Harley GOSS | AUS | OGE | +20:32 |
| 123 | Mads CHRISTENSEN | DEN | TST | +20:32 |
| 124 | Luke DURBRIDGE | AUS | OGE | +20:32 |
| 125 | Svein TUFT | CAN | OGE | +20:32 |
| 126 | Tobias LUDVIGSSON | SWE | ARG | +20:32 |
| 127 | Xabier ZANDIO ECHAIDE | ESP | SKY | +20:32 |
| 128 | Alex DOWSETT | GBR | MOV | +20:32 |
| 129 | Maarten WYNANTS | BEL | BLA | +20:32 |
| 130 | Vladimir KARPETS | RUS | MOV | +20:32 |
| 131 | Miguel Angel RUBIANO CHAVEZ | COL | AND | +20:32 |
| 132 | Pavel BRUTT | RUS | KAT | +20:32 |
| 133 | Brian BULGAC | NED | LTB | +20:32 |
| 134 | Miguel MINGUEZ AYALA | ESP | EUS | +20:32 |
| 135 | Cameron WURF | AUS | CAN | +20:32 |
| 136 | Frederik VEUCHELEN | BEL | VCD | +20:32 |
| 137 | Ioannis TAMOURIDIS | GRE | EUS | +20:32 |
| 138 | Giacomo NIZZOLO | ITA | RLT | +20:32 |
| 139 | Taylor PHINNEY | USA | BMC | +20:32 |
| 140 | Paolo LONGO BORGHINI | ITA | CAN | +20:32 |
| 141 | Stefano GARZELLI | ITA | VIN | +20:32 |
| 142 | Rafael ANDRIATO | BRA | VIN | +20:32 |
| 143 | Stefano LOCATELLI | ITA | BAR | +20:32 |
| 144 | Leonardo Fabio DUQUE | COL | COL | +20:32 |
| 145 | Danilo HONDO | GER | RLT | +20:32 |
| 146 | Luka MEZGEC | SLO | ARG | +20:32 |
| 147 | Bert DE BACKER | BEL | ARG | +20:32 |
| 148 | Willem WAUTERS | BEL | VCD | +20:32 |
| 149 | George BENNETT | NZL | RLT | +20:32 |
| 150 | Anthony ROUX | FRA | FDJ | +20:32 |
| 151 | Jens MOURIS | NED | OGE | +20:32 |
| 152 | Murilo Antonio FISCHER | BRA | FDJ | +20:32 |
| 153 | Francesco Manuel BONGIORNO | ITA | BAR | +21:18 |
| 154 | Sacha MODOLO | ITA | BAR | +21:28 |
| 155 | Stefano PIRAZZI | ITA | BAR | +21:31 |
| 156 | Edoardo ZARDINI | ITA | BAR | +21:33 |
| 157 | Kenny DE HAES | BEL | LTB | +21:35 |
| 158 | Paolo TIRALONGO | ITA | AST | +22:26 |
| 159 | Serge PAUWELS | BEL | OPQ | +22:26 |
| 160 | Adam BLYTHE | GBR | BMC | +22:26 |
| 161 | Jérôme PINEAU | FRA | OPQ | +22:31 |
| 162 | Julien VERMOTE | BEL | OPQ | +22:31 |
| 163 | Mark CAVENDISH | GBR | OPQ | +22:31 |
| 164 | Gianluca BRAMBILLA | ITA | OPQ | +22:31 |
| 165 | Michal GOLAS | POL | OPQ | +22:31 |
| 166 | Iljo KEISSE | BEL | OPQ | +22:31 |
| 167 | Roberto FERRARI | ITA | LAM | +22:31 |
| 168 | Davide APPOLLONIO | ITA | ALM | +22:36 |
| 169 | Yaroslav POPOVYCH | UKR | RLT | +22:58 |
| 170 | Nicola BOEM | ITA | BAR | +23:32 |
| 171 | Ramunas NAVARDAUSKAS | LTU | GRS | +23:45 |
| 172 | Giairo ERMETI | ITA | AND | +24:13 |
| 173 | Edwin Alcibiades AVILA VANEGAS | COL | COL | +24:45 |
| 174 | Wilson Alexander MARENTES TORRES | COL | COL | +24:45 |
| 175 | Marco CANOLA | ITA | BAR | +24:45 |
| 176 | Andrey ZEITS | KAZ | AST | +25:03 |
| 177 | Pim LIGTHART | NED | VCD | +25:05 |
| 178 | Maurits LAMMERTINK | NED | VCD | +25:05 |
| 179 | Mattia GAVAZZI | ITA | AND | +25:17 |
| 180 | Nathan HAAS | AUS | GRS | +25:24 |
| DNF | David MILLAR | GBR | GRS | |
| DNF | Alessandro VANOTTI | ITA | AST | |
| DNF | Enrico BATTAGLIN | ITA | BAR | |
| DNS | Jack BOBRIDGE | AUS | BLA | |
| DNS | Gert STEEGMANS | BEL | OPQ | |
| DNS | Daniele BENNATI | ITA | TST | |
| DNS | Karsten KROON | NED | TST | |
General Classification after Stage 14

| | | | | |
| --- | --- | --- | --- | --- |
| Rank | Name | Nationality | Team | Result |
| 1 | Vincenzo NIBALI | Italy | AST | 57:20:52 |
| 2 | Cadel EVANS | Australia | BMC | +1:26 |
| 3 | Rigoberto URAN URAN | Colombia | SKY | +2:46 |
| 4 | Mauro SANTAMBROGIO | Italy | VIN | +2:47 |
| 5 | Michele SCARPONI | Italy | LAM | +3:53 |
| 6 | Przemyslaw NIEMIEC | Poland | LAM | +4:55 |
| 7 | Domenico POZZOVIVO | Italy | ALM | +5:12 |
| 8 | Rafal MAJKA | Poland | TST | +5:32 |
| 9 | Carlos Alberto BETANCUR GOMEZ | Colombia | ALM | +5:39 |
| 10 | Benat INTXAUSTI ELORRIAGA | Spain | MOV | +5:51 |
| 11 | Robert GESINK | Netherlands | BLA | +6:40 |
| 12 | Robert KISERLOVSKI | Croatia | RLT | +6:42 |
| 13 | Sergio Luis HENAO MONTOYA | Colombia | SKY | +7:06 |
| 14 | Yury TROFIMOV | Russia | KAT | +7:19 |
| 15 | Tanel KANGERT | Estonia | AST | +7:36 |
| 16 | Franco PELLIZOTTI | Italy | AND | +8:11 |
| 17 | Samuel SANCHEZ GONZALEZ | Spain | EUS | +8:24 |
| 18 | Damiano CARUSO | Italy | CAN | +9:53 |
| 19 | Wilco KELDERMAN | Netherlands | BLA | +13:23 |
| 20 | Danilo DI LUCA | Italy | VIN | +14:29 |
| 21 | Evgeny PETROV | Russia | TST | +14:36 |
| 22 | Rafael VALLS FERRI | Spain | VCD | +14:36 |
| 23 | Darwin ATAPUMA HURTADO | Colombia | COL | +16:25 |
| 24 | Francis DE GREEF | Belgium | LTB | +16:44 |
| 25 | Jose Rodolfo SERPA PEREZ | Colombia | LAM | +19:37 |
| 26 | Steven KRUIJSWIJK | Netherlands | BLA | +21:49 |
| 27 | Egoi MARTINEZ DE ESTEBAN | Spain | EUS | +22:25 |
| 28 | Francis MOUREY | France | FDJ | +22:44 |
| 29 | Tiago MACHADO | Portugal | RLT | +28:01 |
| 30 | Diego ROSA | Italy | AND | +29:50 |
| 31 | Giampaolo CARUSO | Italy | KAT | +30:01 |
| 32 | José HERRADA LOPEZ | Spain | MOV | +32:01 |
| 33 | Fabio Andres DUARTE AREVALO | Colombia | COL | +34:02 |
| 34 | Juan Manuel GARATE | Spain | BLA | +38:35 |
| 35 | Ivan SANTAROMITA | Italy | BMC | +39:20 |
| 36 | Thomas DANIELSON | United States | GRS | +40:26 |
| 37 | Hubert DUPONT | France | ALM | +40:41 |
| 38 | Jorge AZANZA SOTO | Spain | EUS | +43:56 |
| 39 | Kanstantsin SIUTSOU | Belarus | SKY | +46:21 |
| 40 | Steve MORABITO | Switzerland | BMC | +46:28 |
| 41 | Petr IGNATENKO | Russia | KAT | +46:56 |
| 42 | Pieter WEENING | Netherlands | OGE | +47:06 |
| 43 | Luca PAOLINI | Italy | KAT | +49:18 |
| 44 | Jarlinson PANTANO | Colombia | COL | +49:50 |
| 45 | Giovanni VISCONTI | Italy | MOV | +53:55 |
| 46 | Valerio AGNOLI | Italy | AST | +56:24 |
| 47 | Fabio FELLINE | Italy | AND | +58:03 |
| 48 | Jackson RODRIGUEZ | Venezuela | AND | +1:00:41 |
| 49 | Michal GOLAS | Poland | OPQ | +1:01:10 |
| 50 | Emanuele SELLA | Italy | AND | +1:01:12 |
| 51 | Stefano PIRAZZI | Italy | BAR | +1:01:54 |
| 52 | Vladimir KARPETS | Russia | MOV | +1:02:04 |
| 53 | Francisco José VENTOSO ALBERDI | Spain | MOV | +1:04:19 |
| 54 | Peter STETINA | United States | GRS | +1:05:22 |
| 55 | Matteo RABOTTINI | Italy | VIN | +1:07:54 |
| 56 | Simone STORTONI | Italy | LAM | +1:08:07 |
| 57 | Miguel Angel RUBIANO CHAVEZ | Colombia | AND | +1:08:24 |
| 58 | Jens KEUKELEIRE | Belgium | OGE | +1:08:36 |
| 59 | Ben GASTAUER | Luxembourg | ALM | +1:09:43 |
| 60 | Fabio ARU | Italy | AST | +1:14:42 |
| 61 | Leonardo Fabio DUQUE | Colombia | COL | +1:15:27 |
| 62 | Kristijan DURASEK | Croatia | LAM | +1:15:33 |
| 63 | Rob RUIJGH | Netherlands | VCD | +1:16:17 |
| 64 | Thomas DAMUSEAU | France | ARG | +1:17:55 |
| 65 | Serge PAUWELS | Belgium | OPQ | +1:18:44 |
| 66 | Paolo LONGO BORGHINI | Italy | CAN | +1:20:02 |
| 67 | Bruno PIRES | Portugal | TST | +1:21:31 |
| 68 | Marco MARCATO | Italy | VCD | +1:22:42 |
| 69 | Rory SUTHERLAND | Australia | TST | +1:24:28 |
| 70 | Paul MARTENS | Germany | BLA | +1:24:52 |
| 71 | Stef CLEMENT | Netherlands | BLA | +1:24:56 |
| 72 | Francesco Manuel BONGIORNO | Italy | BAR | +1:26:00 |
| 73 | Nelson Filipe SANTOS SIMOES OLIVEIRA | Portugal | RLT | +1:26:05 |
| 74 | Adam HANSEN | Australia | LTB | +1:27:17 |
| 75 | Daniele PIETROPOLLI | Italy | LAM | +1:27:53 |
| 76 | Dario CATALDO | Italy | SKY | +1:28:52 |
| 77 | Cayetano José SARMIENTO TUNARROSA | Colombia | CAN | +1:29:47 |
| 78 | Koen DE KORT | Netherlands | ARG | +1:31:45 |
| 79 | Salvatore PUCCIO | Italy | SKY | +1:31:50 |
| 80 | Cristiano SALERNO | Italy | CAN | +1:32:03 |
| 81 | Vladimir GUSEV | Russia | KAT | +1:32:34 |
| 82 | Frederik VEUCHELEN | Belgium | VCD | +1:33:11 |
| 83 | Fredrik Carl Wilhelm KESSIAKOFF | Sweden | AST | +1:33:44 |
| 84 | Dominique ROLLIN | Canada | FDJ | +1:35:06 |
| 85 | Eros CAPECCHI | Italy | MOV | +1:37:18 |
| 86 | Robinson Eduardo CHALAPUD GOMEZ | Colombia | COL | +1:37:51 |
| 87 | Robert VRECER | Slovenia | EUS | +1:37:54 |
| 88 | Danilo WYSS | Switzerland | BMC | +1:38:41 |
| 89 | Ramunas NAVARDAUSKAS | Lithuania | GRS | +1:40:54 |
| 90 | Gorka VERDUGO MARCOTEGUI | Spain | EUS | +1:40:56 |
| 91 | Sonny COLBRELLI | Italy | BAR | +1:42:09 |
| 92 | Christian KNEES | Germany | SKY | +1:43:23 |
| 93 | Oscar GATTO | Italy | VIN | +1:44:23 |
| 94 | Fabio SABATINI | Italy | CAN | +1:44:24 |
| 95 | Anthony ROUX | France | FDJ | +1:44:58 |
| 96 | Guillaume BONNAFOND | France | ALM | +1:45:54 |
| 97 | Danilo HONDO | Germany | RLT | +1:45:56 |
| 98 | Stefano LOCATELLI | Italy | BAR | +1:47:01 |
| 99 | Andrey ZEITS | Kazakhstan | AST | +1:47:09 |
| 100 | Patrick GRETSCH | Germany | ARG | +1:47:17 |
| 101 | Pablo LASTRAS GARCIA | Spain | MOV | +1:48:19 |
| 102 | Martijn KEIZER | Netherlands | VCD | +1:50:03 |
| 103 | Vicente REYNES MIMO | Spain | LTB | +1:50:03 |
| 104 | Stefano GARZELLI | Italy | VIN | +1:51:09 |
| 105 | Juan Jose COBO ACEBO | Spain | MOV | +1:51:44 |
| 106 | Gert DOCKX | Belgium | LTB | +1:51:49 |
| 107 | Manuele BOARO | Italy | TST | +1:52:24 |
| 108 | Lars Ytting BAK | Denmark | LTB | +1:53:04 |
| 109 | Alessandro PRONI | Italy | VIN | +1:53:10 |
| 110 | Elia VIVIANI | Italy | CAN | +1:53:11 |
| 111 | Tiziano DALL'ANTONIA | Italy | CAN | +1:53:37 |
| 112 | Matteo TRENTIN | Italy | OPQ | +1:55:07 |
| 113 | Mads CHRISTENSEN | Denmark | TST | +1:56:50 |
| 114 | Christian VANDEVELDE | United States | GRS | +1:57:45 |
| 115 | Pavel BRUTT | Russia | KAT | +1:58:22 |
| 116 | Dirk BELLEMAKERS | Netherlands | LTB | +1:59:13 |
| 117 | Paolo TIRALONGO | Italy | AST | +2:00:59 |
| 118 | Alan MARANGONI | Italy | CAN | +2:01:28 |
| 119 | Hayden ROULSTON | New Zealand | RLT | +2:02:17 |
| 120 | Brett LANCASTER | Australia | OGE | +2:02:23 |
| 121 | Maarten TJALLINGII | Netherlands | BLA | +2:02:28 |
| 122 | Dmitry KOZONTCHUK | Russia | KAT | +2:02:37 |
| 123 | Xabier ZANDIO ECHAIDE | Spain | SKY | +2:02:55 |
| 124 | Filippo POZZATO | Italy | LAM | +2:03:06 |
| 125 | Johan LE BON | France | FDJ | +2:03:08 |
| 126 | Gianluca BRAMBILLA | Italy | OPQ | +2:03:22 |
| 127 | Frederik WILLEMS | Belgium | LTB | +2:04:04 |
| 128 | Luka MEZGEC | Slovenia | ARG | +2:06:03 |
| 129 | Jérôme PINEAU | France | OPQ | +2:08:24 |
| 130 | Giacomo NIZZOLO | Italy | RLT | +2:08:53 |
| 131 | Tobias LUDVIGSSON | Sweden | ARG | +2:09:00 |
| 132 | George BENNETT | New Zealand | RLT | +2:11:27 |
| 133 | Grega BOLE | Slovenia | VCD | +2:12:58 |
| 134 | Mark CAVENDISH | Great Britain | OPQ | +2:13:42 |
| 135 | Julien VERMOTE | Belgium | OPQ | +2:14:31 |
| 136 | Albert TIMMER | Netherlands | ARG | +2:14:32 |
| 137 | Nicola BOEM | Italy | BAR | +2:15:16 |
| 138 | Yaroslav POPOVYCH | Ukraine | RLT | +2:15:59 |
| 139 | Danny PATE | United States | SKY | +2:16:24 |
| 140 | Daniel OSS | Italy | BMC | +2:16:44 |
| 141 | Sacha MODOLO | Italy | BAR | +2:16:48 |
| 142 | Edoardo ZARDINI | Italy | BAR | +2:17:53 |
| 143 | Cameron WURF | Australia | CAN | +2:18:22 |
| 144 | Christian MEIER | Canada | OGE | +2:18:37 |
| 145 | Manuel BELLETTI | Italy | ALM | +2:19:50 |
| 146 | Luke DURBRIDGE | Australia | OGE | +2:20:35 |
| 147 | Marco CANOLA | Italy | BAR | +2:21:28 |
| 148 | Maxim BELKOV | Russia | KAT | +2:21:49 |
| 149 | Murilo Antonio FISCHER | Brazil | FDJ | +2:22:14 |
| 150 | Robert HUNTER | South Africa | GRS | +2:23:43 |
| 151 | Roberto FERRARI | Italy | LAM | +2:25:38 |
| 152 | Matthew Harley GOSS | Australia | OGE | +2:26:43 |
| 153 | Ricardo MESTRE | Portugal | EUS | +2:28:10 |
| 154 | Jesse SERGENT | New Zealand | RLT | +2:28:24 |
| 155 | Alex DOWSETT | Great Britain | MOV | +2:28:31 |
| 156 | Dmitriy GRUZDEV | Kazakhstan | AST | +2:29:37 |
| 157 | Stephen CUMMINGS | Great Britain | BMC | +2:30:00 |
| 158 | Thomas DEKKER | Netherlands | GRS | +2:31:32 |
| 159 | Maarten WYNANTS | Belgium | BLA | +2:31:59 |
| 160 | Svein TUFT | Canada | OGE | +2:32:48 |
| 161 | Taylor PHINNEY | United States | BMC | +2:33:54 |
| 162 | Ioannis TAMOURIDIS | Greece | EUS | +2:33:55 |
| 163 | Giairo ERMETI | Italy | AND | +2:39:13 |
| 164 | Maurits LAMMERTINK | Netherlands | VCD | +2:39:35 |
| 165 | Jens MOURIS | Netherlands | OGE | +2:41:24 |
| 166 | Brian BULGAC | Netherlands | LTB | +2:42:07 |
| 167 | Iljo KEISSE | Belgium | OPQ | +2:43:01 |
| 168 | Willem WAUTERS | Belgium | VCD | +2:43:51 |
| 169 | Bert DE BACKER | Belgium | ARG | +2:44:06 |
| 170 | Kenny DE HAES | Belgium | LTB | +2:49:00 |
| 171 | Pim LIGTHART | Netherlands | VCD | +2:52:00 |
| 172 | Nathan HAAS | Australia | GRS | +2:56:45 |
| 173 | Laurent PICHON | France | FDJ | +3:00:31 |
| 174 | Adam BLYTHE | Great Britain | BMC | +3:01:52 |
| 175 | Miguel MINGUEZ AYALA | Spain | EUS | +3:02:37 |
| 176 | Davide APPOLLONIO | Italy | ALM | +3:03:14 |
| 177 | Rafael ANDRIATO | Brazil | VIN | +3:04:34 |
| 178 | Wilson Alexander MARENTES TORRES | Colombia | COL | +3:06:15 |
| 179 | Edwin Alcibiades AVILA VANEGAS | Colombia | COL | +3:07:11 |
| 180 | Mattia GAVAZZI | Italy | AND | +3:24:38 |