2013 Tour of California Stage 6 Results
Submitted by admin on Fri, 05/17/2013 - 18:08

Follow cyclingfans on Twitter and never miss a race. Cyclingfans.com: The #1 destination on the internet for live race coverage.
- This page lists 2013 Tour of California results for Stage 6

- Stage 6 (San Jose to San Jose Individual Time Trial (31.6 km)) -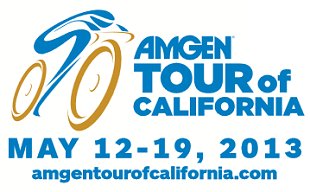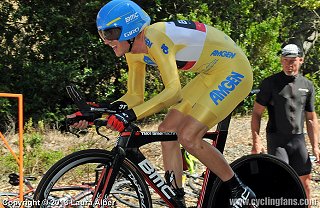 Tejay van Garderen (BMC)
photo Laura Alber
Race leader Tejay van Garderen (BMC Racing Team) won the Stage 6 Time Trial at San Jose. Lieuwe Westra was second at 23 seconds and Rohan Dennis was third at 28 seconds. Michael Rogers was fourth, 1:05 back.
| | | | | |
| --- | --- | --- | --- | --- |
| Rank | Name | Nationality | Team | Result |
| 1 | Tejay VAN GARDEREN | USA | BMC | 48:52 |
| 2 | Lieuwe WESTRA | NED | VCD | +23 |
| 3 | Rohan DENNIS | AUS | GRS | +28 |
| 4 | Michael ROGERS | AUS | TST | +1:05 |
| 5 | Marco PINOTTI | ITA | BMC | +1:08 |
| 6 | Cameron MEYER | AUS | OGE | +1:28 |
| 7 | Bob JUNGELS | LUX | RLT | +1:29 |
| 8 | Leopold KONIG | CZE | TNE | +1:43 |
| 9 | Mathias FRANK | SUI | BMC | +1:46 |
| 10 | Sylvain CHAVANEL | FRA | OPQ | +1:48 |
| 11 | Kristijan KOREN | SLO | CAN | +2:06 |
| 12 | David DE LA CRUZ MELGAREJO | ESP | TNE | +2:09 |
| 13 | Thomas DE GENDT | BEL | VCD | +2:17 |
| 14 | Juan Antonio FLECHA GIANNONI | ESP | VCD | +2:23 |
| 15 | Matthew BUSCHE | USA | RLT | +2:29 |
| 16 | Francisco MANCEBO PEREZ | ESP | 5HR | +2:33 |
| 17 | Travis MEYER | AUS | OGE | +2:39 |
| 18 | Javier Alexis ACEVEDO COLLE | COL | JSH | +2:41 |
| 19 | Lawson CRADDOCK | USA | BLS | +2:42 |
| 20 | Chad HAGA | USA | OPM | +2:59 |
| 21 | Scott ZWIZANSKI | USA | OPM | +3:08 |
| 22 | Marc DE MAAR | AHO | UHC | +3:10 |
| 23 | Nathaniel ENGLISH | USA | 5HR | +3:31 |
| 24 | Philip DEIGNAN | IRL | UHC | +3:35 |
| 25 | Robert SWEETING | USA | 5HR | +3:41 |
| 26 | Nathan BROWN | USA | BLS | +3:41 |
| 27 | Bartosz HUZARSKI | POL | TNE | +3:42 |
| 28 | Michael MATTHEWS | AUS | OGE | +3:44 |
| 29 | Jeremy VENNELL | NZL | BPC | +3:47 |
| 30 | Andy SCHLECK | LUX | RLT | +3:53 |
| 31 | Guillaume VAN KEIRSBULCK | BEL | OPQ | +3:55 |
| 32 | Haimar ZUBELDIA AGIRRE | ESP | RLT | +3:58 |
| 33 | James ORAM | NZL | BLS | +3:59 |
| 34 | Markel IRIZAR ARANBURU | ESP | RLT | +4:00 |
| 35 | Brian VANDBORG | DEN | CAN | +4:11 |
| 36 | Peter SAGAN | SVK | CAN | +4:14 |
| 37 | Michael SCHÄR | SUI | BMC | +4:16 |
| 38 | Brent BOOKWALTER | USA | BMC | +4:17 |
| 39 | Jason MCCARTNEY | USA | BPC | +4:19 |
| 40 | Michael TORCKLER | NZL | BPC | +4:19 |
| 41 | Laurent DIDIER | LUX | RLT | +4:19 |
| 42 | Carlos VERONA QUINTANILLA | ESP | OPQ | +4:24 |
| 43 | Matteo TOSATTO | ITA | TST | +4:30 |
| 44 | Amaël MOINARD | FRA | BMC | +4:31 |
| 45 | Michael MORKOV | DEN | TST | +4:42 |
| 46 | José Joao PIMENTA COSTA MENDES | POR | TNE | +4:47 |
| 47 | Gianni MEERSMAN | BEL | OPQ | +4:47 |
| 48 | Kevin DE WEERT | BEL | OPQ | +4:49 |
| 49 | Jacob RATHE | USA | GRS | +4:52 |
| 50 | Lucas EUSER | USA | UHC | +4:57 |
| 51 | Gregor GAZVODA | SLO | CSS | +5:06 |
| 52 | Wesley SULZBERGER | AUS | OGE | +5:07 |
| 53 | Antoine DUCHESNE | CAN | BLS | +5:15 |
| 54 | Carter JONES | USA | BPC | +5:19 |
| 55 | Luis ROMERO AMARAN | CUB | JSH | +5:25 |
| 56 | Jesse ANTHONY | USA | OPM | +5:26 |
| 57 | Boy VAN POPPEL | NED | VCD | +5:31 |
| 58 | Johan VAN SUMMEREN | BEL | GRS | +5:31 |
| 59 | Tanner PUTT | USA | BLS | +5:38 |
| 60 | Ryan ROTH | CAN | CSS | +5:38 |
| 61 | Ben JACQUES-MAYNES | USA | JSH | +5:40 |
| 62 | Oliver ZAUGG | SUI | TST | +5:41 |
| 63 | James STEMPER | USA | 5HR | +5:43 |
| 64 | Christopher JONES | USA | UHC | +5:51 |
| 65 | Gavin MANNION | USA | BLS | +6:01 |
| 66 | Caleb FAIRLY | USA | GRS | +6:04 |
| 67 | John MURPHY | USA | UHC | +6:08 |
| 68 | Tyler WREN | USA | JSH | +6:17 |
| 69 | Paul VOSS | GER | TNE | +6:19 |
| 70 | Shawn MILNE | USA | 5HR | +6:21 |
| 71 | Marsh COOPER | CAN | OPM | +6:34 |
| 72 | Edward KING | USA | CAN | +6:35 |
| 73 | Wesley KREDER | NED | VCD | +6:37 |
| 74 | Jay MCCARTHY | AUS | TST | +6:37 |
| 75 | Lachlan David MORTON | AUS | GRS | +6:49 |
| 76 | Thor HUSHOVD | NOR | BMC | +6:52 |
| 77 | Jasper STUYVEN | BEL | BLS | +6:53 |
| 78 | Chad BEYER | USA | CSS | +6:56 |
| 79 | James DRISCOLL | USA | JSH | +7:04 |
| 80 | Jens VOIGT | GER | RLT | +7:06 |
| 81 | Matt BRAMMEIER | IRL | CSS | +7:07 |
| 82 | Jacobe KEOUGH | USA | UHC | +7:09 |
| 83 | Jonathan Patrick MC CARTY | USA | BPC | +7:12 |
| 84 | Aldo Ino ILESIC | SLO | UHC | +7:20 |
| 85 | Guillaume BOIVIN | CAN | CAN | +7:20 |
| 86 | Christopher BALDWIN | USA | BPC | +7:23 |
| 87 | Alexander CANDELARIO | USA | OPM | +7:25 |
| 88 | Tyler FARRAR | USA | GRS | +7:37 |
| 89 | Zakkari DEMPSTER | AUS | TNE | +7:39 |
| 90 | Chris BUTLER | USA | CSS | +7:40 |
| 91 | Kris BOECKMANS | BEL | VCD | +7:44 |
| 92 | Frank Kevin PIPP | USA | BPC | +7:45 |
| 93 | Daniel SCHORN | AUT | TNE | +7:45 |
| 94 | Maciej BODNAR | POL | CAN | +7:58 |
| 95 | Max JENKINS | USA | 5HR | +8:00 |
| 96 | Alex HOWES | USA | GRS | +8:02 |
| 97 | Lucas Sebastian HAEDO | ARG | CAN | +8:06 |
| 98 | Baden COOKE | AUS | OGE | +8:13 |
| 99 | Bobbie TRAKSEL | NED | CSS | +8:20 |
| 100 | Ken HANSON | USA | OPM | +8:36 |
| 101 | Bertjan LINDEMAN | NED | VCD | +8:40 |
| 102 | Kin San WU | HKG | CSS | +8:43 |
| 103 | Jeffry LOUDER | USA | UHC | +8:44 |
| 104 | David WILLIAMS | USA | 5HR | +8:47 |
| 105 | Carson MILLER | USA | JSH | +8:50 |
| 106 | Jonas Aaen JÖRGENSEN | DEN | TST | +9:07 |
| 107 | Thomas SOLADAY | USA | OPM | +9:20 |
| 108 | Mitchell DOCKER | AUS | OGE | +9:28 |
| 109 | Ryan EASTMAN | USA | BLS | +9:37 |
| 110 | Timothy DUGGAN | USA | TST | +9:56 |
| 111 | Cesare BENEDETTI | ITA | TNE | +11:30 |
| OTL | Chun Kai FENG | TPE | CSS | +24:53 |
| DNS | David ZABRISKIE | USA | GRS | |
General Classification after Stage 6

| | | | | |
| --- | --- | --- | --- | --- |
| Rank | Name | Nationality | Team | Result |
| 1 | Tejay VAN GARDEREN | United States | BMC | 22:44:24 |
| 2 | Michael ROGERS | Australia | TST | +1:47 |
| 3 | Cameron MEYER | Australia | OGE | +2:57 |
| 4 | Mathias FRANK | Switzerland | BMC | +3:21 |
| 5 | Javier Alexis ACEVEDO COLLE | Colombia | JSH | +3:31 |
| 6 | Matthew BUSCHE | United States | RLT | +3:33 |
| 7 | Francisco MANCEBO PEREZ | Spain | 5HR | +4:26 |
| 8 | Philip DEIGNAN | Ireland | UHC | +4:52 |
| 9 | Chad HAGA | United States | OPM | +5:02 |
| 10 | Lawson CRADDOCK | United States | BLS | +5:04 |
| 11 | Marc DE MAAR | Netherlands Antilles | UHC | +5:56 |
| 12 | Leopold KONIG | Czech Republic | TNE | +6:15 |
| 13 | Nathaniel ENGLISH | United States | 5HR | +6:57 |
| 14 | David DE LA CRUZ MELGAREJO | Spain | TNE | +7:32 |
| 15 | Lucas EUSER | United States | UHC | +8:14 |
| 16 | Laurent DIDIER | Luxembourg | RLT | +9:11 |
| 17 | Brian VANDBORG | Denmark | CAN | +10:08 |
| 18 | Lieuwe WESTRA | Netherlands | VCD | +10:32 |
| 19 | Haimar ZUBELDIA AGIRRE | Spain | RLT | +10:54 |
| 20 | Edward KING | United States | CAN | +11:42 |
| 21 | Tanner PUTT | United States | BLS | +12:16 |
| 22 | Bartosz HUZARSKI | Poland | TNE | +12:19 |
| 23 | Andy SCHLECK | Luxembourg | RLT | +14:04 |
| 24 | Chad BEYER | United States | CSS | +14:18 |
| 25 | Michael SCHÄR | Switzerland | BMC | +15:36 |
| 26 | Brent BOOKWALTER | United States | BMC | +16:01 |
| 27 | Juan Antonio FLECHA GIANNONI | Spain | VCD | +16:03 |
| 28 | Jeremy VENNELL | New Zealand | BPC | +17:04 |
| 29 | Jacob RATHE | United States | GRS | +18:10 |
| 30 | Amaël MOINARD | France | BMC | +18:17 |
| 31 | Alexander CANDELARIO | United States | OPM | +18:50 |
| 32 | Gavin MANNION | United States | BLS | +19:35 |
| 33 | Gianni MEERSMAN | Belgium | OPQ | +21:01 |
| 34 | Jens VOIGT | Germany | RLT | +21:43 |
| 35 | Luis ROMERO AMARAN | Cuba | JSH | +21:59 |
| 36 | Paul VOSS | Germany | TNE | +22:25 |
| 37 | Peter SAGAN | Slovakia | CAN | +23:37 |
| 38 | Ryan ROTH | Canada | CSS | +23:38 |
| 39 | Nathan BROWN | United States | BLS | +23:41 |
| 40 | Jasper STUYVEN | Belgium | BLS | +24:19 |
| 41 | Mitchell DOCKER | Australia | OGE | +24:24 |
| 42 | Sylvain CHAVANEL | France | OPQ | +24:32 |
| 43 | José Joao PIMENTA COSTA MENDES | Portugal | TNE | +25:05 |
| 44 | Bob JUNGELS | Luxembourg | RLT | +25:14 |
| 45 | Max JENKINS | United States | 5HR | +25:26 |
| 46 | Christopher BALDWIN | United States | BPC | +25:37 |
| 47 | Markel IRIZAR ARANBURU | Spain | RLT | +25:45 |
| 48 | Oliver ZAUGG | Switzerland | TST | +25:52 |
| 49 | Michael TORCKLER | New Zealand | BPC | +26:31 |
| 50 | Baden COOKE | Australia | OGE | +27:10 |
| 51 | Rohan DENNIS | Australia | GRS | +27:13 |
| 52 | Marco PINOTTI | Italy | BMC | +27:52 |
| 53 | Wesley SULZBERGER | Australia | OGE | +27:55 |
| 54 | Michael MORKOV | Denmark | TST | +28:11 |
| 55 | Lachlan David MORTON | Australia | GRS | +28:28 |
| 56 | Michael MATTHEWS | Australia | OGE | +29:03 |
| 57 | Jay MCCARTHY | Australia | TST | +29:28 |
| 58 | Caleb FAIRLY | United States | GRS | +29:30 |
| 59 | Tyler FARRAR | United States | GRS | +29:45 |
| 60 | Chris BUTLER | United States | CSS | +30:05 |
| 61 | Carter JONES | United States | BPC | +30:25 |
| 62 | Ben JACQUES-MAYNES | United States | JSH | +30:46 |
| 63 | Boy VAN POPPEL | Netherlands | VCD | +31:29 |
| 64 | Antoine DUCHESNE | Canada | BLS | +31:39 |
| 65 | Kristijan KOREN | Slovenia | CAN | +31:49 |
| 66 | Kevin DE WEERT | Belgium | OPQ | +32:02 |
| 67 | Guillaume VAN KEIRSBULCK | Belgium | OPQ | +32:44 |
| 68 | Thomas DE GENDT | Belgium | VCD | +32:47 |
| 69 | James STEMPER | United States | 5HR | +33:05 |
| 70 | Alex HOWES | United States | GRS | +33:29 |
| 71 | Ken HANSON | United States | OPM | +35:06 |
| 72 | Matt BRAMMEIER | Ireland | CSS | +36:15 |
| 73 | Matteo TOSATTO | Italy | TST | +37:00 |
| 74 | Jonas Aaen JÖRGENSEN | Denmark | TST | +37:06 |
| 75 | Daniel SCHORN | Austria | TNE | +37:08 |
| 76 | Robert SWEETING | United States | 5HR | +37:20 |
| 77 | Travis MEYER | Australia | OGE | +37:51 |
| 78 | Lucas Sebastian HAEDO | Argentina | CAN | +38:56 |
| 79 | Jeffry LOUDER | United States | UHC | +39:03 |
| 80 | Ryan EASTMAN | United States | BLS | +39:23 |
| 81 | Jonathan Patrick MC CARTY | United States | BPC | +39:36 |
| 82 | Christopher JONES | United States | UHC | +39:50 |
| 83 | Maciej BODNAR | Poland | CAN | +41:16 |
| 84 | David WILLIAMS | United States | 5HR | +42:07 |
| 85 | Bertjan LINDEMAN | Netherlands | VCD | +42:50 |
| 86 | Carlos VERONA QUINTANILLA | Spain | OPQ | +45:05 |
| 87 | Zakkari DEMPSTER | Australia | TNE | +45:47 |
| 88 | Guillaume BOIVIN | Canada | CAN | +46:32 |
| 89 | Thor HUSHOVD | Norway | BMC | +46:37 |
| 90 | Jesse ANTHONY | United States | OPM | +46:53 |
| 91 | Tyler WREN | United States | JSH | +48:17 |
| 92 | John MURPHY | United States | UHC | +48:53 |
| 93 | Shawn MILNE | United States | 5HR | +48:55 |
| 94 | Timothy DUGGAN | United States | TST | +49:45 |
| 95 | Jacobe KEOUGH | United States | UHC | +49:51 |
| 96 | Scott ZWIZANSKI | United States | OPM | +50:26 |
| 97 | Frank Kevin PIPP | United States | BPC | +51:47 |
| 98 | Aldo Ino ILESIC | Slovenia | UHC | +54:16 |
| 99 | Kin San WU | Hong Kong, China | CSS | +54:24 |
| 100 | Cesare BENEDETTI | Italy | TNE | +55:25 |
| 101 | Thomas SOLADAY | United States | OPM | +55:42 |
| 102 | Marsh COOPER | Canada | OPM | +56:37 |
| 103 | James ORAM | New Zealand | BLS | +59:34 |
| 104 | Gregor GAZVODA | Slovenia | CSS | +1:00:22 |
| 105 | Jason MCCARTNEY | United States | BPC | +1:03:07 |
| 106 | James DRISCOLL | United States | JSH | +1:03:08 |
| 107 | Kris BOECKMANS | Belgium | VCD | +1:04:31 |
| 108 | Johan VAN SUMMEREN | Belgium | GRS | +1:06:30 |
| 109 | Wesley KREDER | Netherlands | VCD | +1:07:01 |
| 110 | Bobbie TRAKSEL | Netherlands | CSS | +1:09:08 |
| 111 | Carson MILLER | United States | JSH | +1:14:33 |