2013 Four Days of Dunkirk Stage 1 Results
Submitted by admin on Wed, 05/01/2013 - 11:03

Follow cyclingfans on Twitter and never miss a race. Cyclingfans.com: The #1 destination on the internet for live race coverage.
- This page lists 2013 Four Days of Dunkirk results for Stage 1

- Stage 1 (Dunkerque to Courrières (155.1 km)) -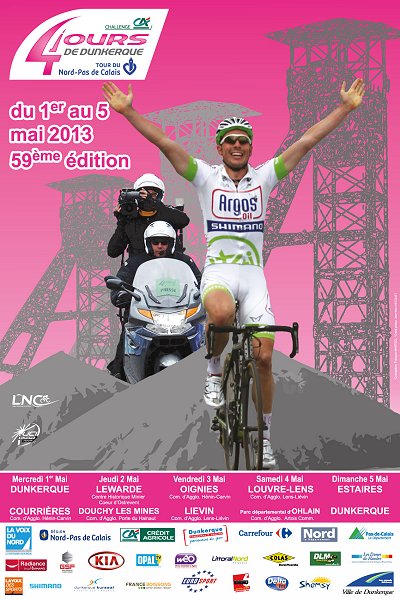 Arnaud Demare (FDJ) won Stage 1 ahead of Ramon Sinkeldam and Kenny Van Hummel. Demare is first race leader of the 2013 Four Days of Dunkirk.
| | | | | |
| --- | --- | --- | --- | --- |
| Rank | Name | Nationality | Team | Result |
| 1 | Arnaud DEMARE | FRA | FDJ | 3:38:55 |
| 2 | Ramon SINKELDAM | NED | ARG | +0 |
| 3 | Kenny Robert VAN HUMMEL | NED | VCD | +0 |
| 4 | Benoit DRUJON | FRA | BIG | +0 |
| 5 | Yannick MARTINEZ | FRA | LPM | +0 |
| 6 | Michael VAN STAEYEN | BEL | TSV | +0 |
| 7 | Adrien PETIT | FRA | COF | +0 |
| 8 | Benjamin GIRAUD | FRA | LPM | +0 |
| 9 | Sébastien TURGOT | FRA | EUC | +0 |
| 10 | Fabian SCHNAIDT | GER | CSS | +0 |
| 11 | Matteo PELUCCHI | ITA | IAM | +0 |
| 12 | Evaldas SISKEVICIUS | LTU | SOJ | +0 |
| 13 | Andrea GUARDINI | ITA | AST | +0 |
| 14 | Martin REIMER | GER | MTN | +0 |
| 15 | Maxime LE MONTAGNER | FRA | RLM | +0 |
| 16 | Stefan VAN DIJK | NED | AJW | +0 |
| 17 | Armindo FONSECA | FRA | BSE | +0 |
| 18 | Steele VON HOFF | AUS | GRS | +0 |
| 19 | Raymond KREDER | NED | GRS | +0 |
| 20 | José GONÇALVES | POR | LPM | +0 |
| 21 | Tom VAN ASBROECK | BEL | TSV | +0 |
| 22 | Alex RASMUSSEN | DEN | GRS | +0 |
| 23 | Mickael DELAGE | FRA | FDJ | +0 |
| 24 | Joeri STALLAERT | BEL | CRE | +0 |
| 25 | Florian VACHON | FRA | BSE | +0 |
| 26 | Yves LAMPAERT | BEL | TSV | +0 |
| 27 | Ruslan TLEUBAYEV | KAZ | AST | +0 |
| 28 | Angelo TULIK | FRA | EUC | +0 |
| 29 | Clinton Robert AVERY | NZL | CSS | +0 |
| 30 | Lloyd MONDORY | FRA | ALM | +0 |
| 31 | Kevin PEETERS | BEL | CRE | +0 |
| 32 | Valentin IGLINSKIY | KAZ | ALM | +0 |
| 33 | Jarl SALOMEIN | BEL | TSV | +0 |
| 34 | Edwig CAMMAERTS | BEL | COF | +0 |
| 35 | Steven TRONET | FRA | BIG | +0 |
| 36 | Geoffrey SOUPE | FRA | FDJ | +0 |
| 37 | Steven CAETHOVEN | BEL | AJW | +0 |
| 38 | Julien EL FARES | FRA | SOJ | +0 |
| 39 | Maxime DANIEL | FRA | SOJ | +0 |
| 40 | Yoann OFFREDO | FRA | FDJ | +0 |
| 41 | Jan GHYSELINCK | BEL | COF | +0 |
| 42 | Samuel DUMOULIN | FRA | ALM | +0 |
| 43 | Gregor GAZVODA | SLO | CSS | +0 |
| 44 | Roy CURVERS | NED | ARG | +0 |
| 45 | Martin ELMIGER | SUI | IAM | +0 |
| 46 | Jean-Lou PAIANI | FRA | SOJ | +0 |
| 47 | Nikita NOVIKOV | RUS | VCD | +0 |
| 48 | Bertjan LINDEMAN | NED | VCD | +0 |
| 49 | Gijs VAN HOECKE | BEL | TSV | +0 |
| 50 | Matthias FRIEDEMANN | GER | CSS | +0 |
| 51 | Cyrille PATOUX | FRA | RLM | +0 |
| 52 | Morgan KNEISKY | FRA | RLM | +0 |
| 53 | Egidijus JUODVALKIS | LTU | CRE | +0 |
| 54 | Geoffroy LEQUATRE | FRA | BSE | +0 |
| 55 | Kenneth VAN BILSEN | BEL | TSV | +0 |
| 56 | David LELAY | FRA | SOJ | +0 |
| 57 | Wesley KREDER | NED | VCD | +0 |
| 58 | Muhamad Adiq Husainie OTHMAN | MAS | CSS | +0 |
| 59 | Pirmin LANG | SUI | IAM | +0 |
| 60 | Sébastien HINAULT | FRA | IAM | +0 |
| 61 | Zachary BELL | CAN | CSS | +0 |
| 62 | Marco BANDIERA | ITA | IAM | +0 |
| 63 | Matthieu BOULO | FRA | RLM | +0 |
| 64 | Gael MALACARNE | FRA | BSE | +0 |
| 65 | Sven VANDOUSSELAERE | BEL | TSV | +0 |
| 66 | Wouter MOL | NED | VCD | +0 |
| 67 | Romain HARDY | FRA | COF | +0 |
| 68 | Arnaud LABBE | FRA | COF | +0 |
| 69 | Hugo HOULE | CAN | ALM | +0 |
| 70 | Ignatas KONOVALOVAS | LTU | MTN | +0 |
| 71 | Jani TEWELDE WELDEGABIR | ERI | MTN | +0 |
| 72 | Yoann PAILLOT | FRA | LPM | +0 |
| 73 | Thierry HUPOND | FRA | ARG | +0 |
| 74 | Sébastien ROSSELER | BEL | GRS | +0 |
| 75 | Tristan VALENTIN | FRA | COF | +0 |
| 76 | Baptiste PLACKAERT | BEL | CRE | +0 |
| 77 | Jay Robert THOMSON | RSA | MTN | +0 |
| 78 | Jérémie GALLAND | FRA | SOJ | +0 |
| 79 | Dimitri LE BOULCH | FRA | BIG | +0 |
| 80 | Jean-Marc BIDEAU | FRA | BSE | +0 |
| 81 | Fabien BACQUET | FRA | BIG | +0 |
| 82 | Anthony GESLIN | FRA | FDJ | +0 |
| 83 | Jacobus VENTER | RSA | MTN | +0 |
| 84 | Jean-Pierre DRUCKER | LUX | AJW | +0 |
| 85 | Benoît VAUGRENARD | FRA | FDJ | +0 |
| 86 | Christophe RIBLON | FRA | ALM | +0 |
| 87 | Jacob RATHE | USA | GRS | +0 |
| 88 | Vincent JEROME | FRA | EUC | +0 |
| 89 | Biel KADRI | FRA | ALM | +0 |
| 90 | Martin WESEMANN | RSA | MTN | +0 |
| 91 | Sébastien MINARD | FRA | ALM | +0 |
| 92 | Arnaud GERARD | FRA | BSE | +0 |
| 93 | Yohann GENE | FRA | EUC | +0 |
| 94 | Florian GUILLOU | FRA | BSE | +0 |
| 95 | David BOUCHER | FRA | FDJ | +0 |
| 96 | Klaas SYS | BEL | CRE | +0 |
| 97 | Gregory HABEAUX | BEL | AJW | +0 |
| 98 | Mathieu DRUJON | FRA | BIG | +0 |
| 99 | Flavien DASSONVILLE | FRA | BIG | +0 |
| 100 | Kevin LALOUETTE | FRA | RLM | +0 |
| 101 | Gediminas BAGDONAS | LTU | ALM | +0 |
| 102 | Jurgen VAN GOOLEN | BEL | AJW | +0 |
| 103 | Frédéric AMORISON | BEL | CRE | +0 |
| 104 | Julien DUVAL | FRA | RLM | +0 |
| 105 | Yan Dong XING | CHN | ARG | +0 |
| 106 | Benoit JARRIER | FRA | BSE | +0 |
| 107 | Rudy KOWALSKI | FRA | RLM | +0 |
| 108 | Kevin CLAEYS | BEL | CRE | +0 |
| 109 | Arman KAMYSHEV | KAZ | AST | +0 |
| 110 | Mart OJAVEE | EST | CSS | +0 |
| 111 | Tom STAMSNIJDER | NED | ARG | +0 |
| 112 | Dominic KLEMME | GER | IAM | +0 |
| 113 | Romain LEMARCHAND | FRA | COF | +0 |
| 114 | Julien ANTOMARCHI | FRA | LPM | +0 |
| 115 | Chun Kai FENG | TPE | CSS | +0 |
| 116 | Evan HUFFMAN | USA | AST | +0 |
| 117 | Marcel AREGGER | SUI | IAM | +0 |
| 118 | Loïc DESRIAC | FRA | RLM | +0 |
| 119 | Perrig QUEMENEUR | FRA | EUC | +0 |
| 120 | Koldo FERNANDEZ | ESP | GRS | +0 |
| 121 | Romain BACON | FRA | BIG | +0 |
| 122 | Franck BOUYER | FRA | EUC | +0 |
| 123 | Martijn MAASKANT | NED | GRS | +0 |
| 124 | Théo VIMPERE | FRA | BIG | +0 |
| 125 | Matthieu LADAGNOUS | FRA | FDJ | +0 |
| 126 | Damien GAUDIN | FRA | EUC | +0 |
| 127 | Jean Marc MARINO | FRA | SOJ | +0 |
| 128 | Grégoire TARRIDE | FRA | LPM | +0 |
| 129 | William CLARKE | AUS | ARG | +0 |
| 130 | Danny VAN POPPEL | NED | VCD | +22 |
| 131 | Boy VAN POPPEL | NED | VCD | +28 |
| 132 | Tim MERTENS | BEL | TSV | +0 |
| 133 | Michel KREDER | NED | GRS | +0 |
| 134 | Egoitz GARCIA ECHEGUIBEL | ESP | COF | +0 |
| 135 | Dmitriy MURAVYEV | KAZ | AST | +5:14 |
| 136 | Jacopo GUARNIERI | ITA | AST | +5:14 |
| 137 | Jim SONGEZO | RSA | MTN | +5:15 |
| 138 | Robert BUSH | USA | LPM | +7:02 |
| 139 | Kevin SEELDRAEYERS | BEL | AST | +8:14 |
| 140 | Kristof GODDAERT | BEL | IAM | +8:16 |
| 141 | Nicolas VOGONDY | FRA | AJW | +9:44 |
| 142 | Jerome COUSIN | FRA | EUC | +9:44 |
| 143 | Jonathan BREYNE | BEL | CRE | +9:44 |
| 144 | Bradley POTGIETER | RSA | MTN | +11:17 |
| 145 | Thomas PETERSON | USA | ARG | +11:17 |
| 146 | Thomas DEGAND | BEL | AJW | +11:17 |
| DNF | Thomas VAUBOURZEIX | FRA | LPM | |
General Classification after Stage 1

| | | | | |
| --- | --- | --- | --- | --- |
| Rank | Name | Nationality | Team | Result |
| 1 | Arnaud DEMARE | France | FDJ | 3:38:45 |
| 2 | Ramon SINKELDAM | Netherlands | ARG | +4 |
| 3 | Tim MERTENS | Belgium | TSV | +5 |
| 4 | Kenny Robert VAN HUMMEL | Netherlands | VCD | +6 |
| 5 | Julien DUVAL | France | RLM | +6 |
| 6 | Adrien PETIT | France | COF | +7 |
| 7 | Mickael DELAGE | France | FDJ | +8 |
| 8 | Romain HARDY | France | COF | +9 |
| 9 | Benoit DRUJON | France | BIG | +10 |
| 10 | Yannick MARTINEZ | France | LPM | +10 |
| 11 | Michael VAN STAEYEN | Belgium | TSV | +10 |
| 12 | Benjamin GIRAUD | France | LPM | +10 |
| 13 | Sébastien TURGOT | France | EUC | +10 |
| 14 | Fabian SCHNAIDT | Germany | CSS | +10 |
| 15 | Matteo PELUCCHI | Italy | IAM | +10 |
| 16 | Evaldas SISKEVICIUS | Lithuania | SOJ | +10 |
| 17 | Andrea GUARDINI | Italy | AST | +10 |
| 18 | Martin REIMER | Germany | MTN | +10 |
| 19 | Maxime LE MONTAGNER | France | RLM | +10 |
| 20 | Stefan VAN DIJK | Netherlands | AJW | +10 |
| 21 | Armindo FONSECA | France | BSE | +10 |
| 22 | Steele VON HOFF | Australia | GRS | +10 |
| 23 | Raymond KREDER | Netherlands | GRS | +10 |
| 24 | José GONÇALVES | Portugal | LPM | +10 |
| 25 | Tom VAN ASBROECK | Belgium | TSV | +10 |
| 26 | Alex RASMUSSEN | Denmark | GRS | +10 |
| 27 | Joeri STALLAERT | Belgium | CRE | +10 |
| 28 | Florian VACHON | France | BSE | +10 |
| 29 | Yves LAMPAERT | Belgium | TSV | +10 |
| 30 | Ruslan TLEUBAYEV | Kazakhstan | AST | +10 |
| 31 | Angelo TULIK | France | EUC | +10 |
| 32 | Clinton Robert AVERY | New Zealand | CSS | +10 |
| 33 | Lloyd MONDORY | France | ALM | +10 |
| 34 | Kevin PEETERS | Belgium | CRE | +10 |
| 35 | Valentin IGLINSKIY | Kazakhstan | ALM | +10 |
| 36 | Jarl SALOMEIN | Belgium | TSV | +10 |
| 37 | Edwig CAMMAERTS | Belgium | COF | +10 |
| 38 | Steven TRONET | France | BIG | +10 |
| 39 | Geoffrey SOUPE | France | FDJ | +10 |
| 40 | Steven CAETHOVEN | Belgium | AJW | +10 |
| 41 | Julien EL FARES | France | SOJ | +10 |
| 42 | Maxime DANIEL | France | SOJ | +10 |
| 43 | Yoann OFFREDO | France | FDJ | +10 |
| 44 | Jan GHYSELINCK | Belgium | COF | +10 |
| 45 | Samuel DUMOULIN | France | ALM | +10 |
| 46 | Gregor GAZVODA | Slovenia | CSS | +10 |
| 47 | Roy CURVERS | Netherlands | ARG | +10 |
| 48 | Martin ELMIGER | Switzerland | IAM | +10 |
| 49 | Jean-Lou PAIANI | France | SOJ | +10 |
| 50 | Nikita NOVIKOV | Russia | VCD | +10 |
| 51 | Bertjan LINDEMAN | Netherlands | VCD | +10 |
| 52 | Gijs VAN HOECKE | Belgium | TSV | +10 |
| 53 | Matthias FRIEDEMANN | Germany | CSS | +10 |
| 54 | Cyrille PATOUX | France | RLM | +10 |
| 55 | Morgan KNEISKY | France | RLM | +10 |
| 56 | Arnaud DEMARE | France | FDJ | +10 |
| 57 | Ramon SINKELDAM | Netherlands | ARG | +10 |
| 58 | Tim MERTENS | Belgium | TSV | +10 |
| 59 | Kenny Robert VAN HUMMEL | Netherlands | VCD | +10 |
| 60 | Julien DUVAL | France | RLM | +10 |
| 61 | Adrien PETIT | France | COF | +10 |
| 62 | Mickael DELAGE | France | FDJ | +10 |
| 63 | Romain HARDY | France | COF | +10 |
| 64 | Benoit DRUJON | France | BIG | +10 |
| 65 | Yannick MARTINEZ | France | LPM | +10 |
| 66 | Michael VAN STAEYEN | Belgium | TSV | +10 |
| 67 | Benjamin GIRAUD | France | LPM | +10 |
| 68 | Sébastien TURGOT | France | EUC | +10 |
| 69 | Fabian SCHNAIDT | Germany | CSS | +10 |
| 70 | Matteo PELUCCHI | Italy | IAM | +10 |
| 71 | Evaldas SISKEVICIUS | Lithuania | SOJ | +10 |
| 72 | Andrea GUARDINI | Italy | AST | +10 |
| 73 | Martin REIMER | Germany | MTN | +10 |
| 74 | Maxime LE MONTAGNER | France | RLM | +10 |
| 75 | Stefan VAN DIJK | Netherlands | AJW | +10 |
| 76 | Armindo FONSECA | France | BSE | +10 |
| 77 | Steele VON HOFF | Australia | GRS | +10 |
| 78 | Raymond KREDER | Netherlands | GRS | +10 |
| 79 | José GONÇALVES | Portugal | LPM | +10 |
| 80 | Tom VAN ASBROECK | Belgium | TSV | +10 |
| 81 | Alex RASMUSSEN | Denmark | GRS | +10 |
| 82 | Joeri STALLAERT | Belgium | CRE | +10 |
| 83 | Florian VACHON | France | BSE | +10 |
| 84 | Yves LAMPAERT | Belgium | TSV | +10 |
| 85 | Ruslan TLEUBAYEV | Kazakhstan | AST | +10 |
| 86 | Angelo TULIK | France | EUC | +10 |
| 87 | Clinton Robert AVERY | New Zealand | CSS | +10 |
| 88 | Lloyd MONDORY | France | ALM | +10 |
| 89 | Kevin PEETERS | Belgium | CRE | +10 |
| 90 | Valentin IGLINSKIY | Kazakhstan | ALM | +10 |
| 91 | Jarl SALOMEIN | Belgium | TSV | +10 |
| 92 | Edwig CAMMAERTS | Belgium | COF | +10 |
| 93 | Steven TRONET | France | BIG | +10 |
| 94 | Geoffrey SOUPE | France | FDJ | +10 |
| 95 | Steven CAETHOVEN | Belgium | AJW | +10 |
| 96 | Julien EL FARES | France | SOJ | +10 |
| 97 | Maxime DANIEL | France | SOJ | +10 |
| 98 | Yoann OFFREDO | France | FDJ | +10 |
| 99 | Jan GHYSELINCK | Belgium | COF | +10 |
| 100 | Samuel DUMOULIN | France | ALM | +10 |
| 101 | Gregor GAZVODA | Slovenia | CSS | +10 |
| 102 | Roy CURVERS | Netherlands | ARG | +10 |
| 103 | Martin ELMIGER | Switzerland | IAM | +10 |
| 104 | Jean-Lou PAIANI | France | SOJ | +10 |
| 105 | Nikita NOVIKOV | Russia | VCD | +10 |
| 106 | Bertjan LINDEMAN | Netherlands | VCD | +10 |
| 107 | Gijs VAN HOECKE | Belgium | TSV | +10 |
| 108 | Matthias FRIEDEMANN | Germany | CSS | +10 |
| 109 | Cyrille PATOUX | France | RLM | +10 |
| 110 | Morgan KNEISKY | France | RLM | +10 |
| 111 | Mart OJAVEE | Estonia | CSS | +10 |
| 112 | Tom STAMSNIJDER | Netherlands | ARG | +10 |
| 113 | Dominic KLEMME | Germany | IAM | +10 |
| 114 | Romain LEMARCHAND | France | COF | +10 |
| 115 | Julien ANTOMARCHI | France | LPM | +10 |
| 116 | Chun Kai FENG | Chinese Taipei | CSS | +10 |
| 117 | Evan HUFFMAN | United States | AST | +10 |
| 118 | Marcel AREGGER | Switzerland | IAM | +10 |
| 119 | Loïc DESRIAC | France | RLM | +10 |
| 120 | Perrig QUEMENEUR | France | EUC | +10 |
| 121 | Koldo FERNANDEZ | Spain | GRS | +10 |
| 122 | Romain BACON | France | BIG | +10 |
| 123 | Franck BOUYER | France | EUC | +10 |
| 124 | Martijn MAASKANT | Netherlands | GRS | +10 |
| 125 | Théo VIMPERE | France | BIG | +10 |
| 126 | Matthieu LADAGNOUS | France | FDJ | +10 |
| 127 | Damien GAUDIN | France | EUC | +10 |
| 128 | Jean Marc MARINO | France | SOJ | +10 |
| 129 | Grégoire TARRIDE | France | LPM | +10 |
| 130 | William CLARKE | Australia | ARG | +10 |
| 131 | Michel KREDER | Netherlands | GRS | +10 |
| 132 | Egoitz GARCIA ECHEGUIBEL | Spain | COF | +10 |
| 133 | Danny VAN POPPEL | Netherlands | VCD | +32 |
| 134 | Boy VAN POPPEL | Netherlands | VCD | +38 |
| 135 | Dmitriy MURAVYEV | Kazakhstan | AST | +5:24 |
| 136 | Jacopo GUARNIERI | Italy | AST | +5:24 |
| 137 | Jim SONGEZO | South Africa | MTN | +5:25 |
| 138 | Robert BUSH | United States | LPM | +7:09 |
| 139 | Kevin SEELDRAEYERS | Belgium | AST | +8:24 |
| 140 | Kristof GODDAERT | Belgium | IAM | +8:26 |
| 141 | Nicolas VOGONDY | France | AJW | +9:54 |
| 142 | Jerome COUSIN | France | EUC | +9:54 |
| 143 | Jonathan BREYNE | Belgium | CRE | +9:54 |
| 144 | Bradley POTGIETER | South Africa | MTN | +11:27 |
| 145 | Thomas PETERSON | United States | ARG | +11:27 |
| 146 | Thomas DEGAND | Belgium | AJW | +11:27 |