2013 Paris-Camembert Results
Submitted by admin on Tue, 04/09/2013 - 14:53

Follow cyclingfans on Twitter and never miss a race. Cyclingfans.com: The #1 destination on the internet for live race coverage.
- This page lists 2013 Paris-Camembert Results

- Magnanville to Vimoutiers (206.5 km) -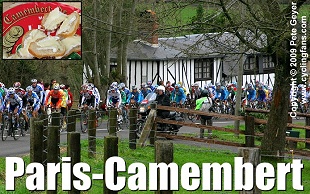 In a battle of French riders and teams, Pierrick Fedrigo (FDJ) won the 2013 Paris-Camembert ahead of Sylvain Georges (AG2R) and Pierre Rolland (Europcar). Julien Antomarchi was fourth, Bryan Coquard fifth.
| | | | | |
| --- | --- | --- | --- | --- |
| Rank | Name | Nationality | Team | Result |
| 1 | Pierrick FEDRIGO | FRA | FDJ | 4:53:35 |
| 2 | Sylvain GEORGES | FRA | ALM | +0 |
| 3 | Pierre ROLLAND | FRA | EUC | +0 |
| 4 | Julien ANTOMARCHI | FRA | LPM | +0 |
| 5 | Bryan COQUARD | FRA | EUC | +21 |
| 6 | Anthony GESLIN | FRA | FDJ | +21 |
| 7 | Julien SIMON | FRA | SOJ | +21 |
| 8 | Samuel DUMOULIN | FRA | ALM | +21 |
| 9 | Julien EL FARES | FRA | SOJ | +21 |
| 10 | Thomas MOSES | GBR | RAL | +21 |
| 11 | Laurent PICHON | FRA | FDJ | +21 |
| 12 | Yannick MARTINEZ | FRA | LPM | +21 |
| 13 | Gijs VAN HOECKE | BEL | TSV | +21 |
| 14 | Juan Jose OROZ UGALDE | ESP | EUS | +21 |
| 15 | Tim DECLERCQ | BEL | TSV | +21 |
| 16 | Arnaud GERARD | FRA | BSE | +21 |
| 17 | Mathieu DRUJON | FRA | BIG | +21 |
| 18 | Mikael CHEREL | FRA | ALM | +21 |
| 19 | Mike TERPSTRA | NED | MMM | +21 |
| 20 | Loïc DESRIAC | FRA | RLM | +21 |
| 21 | Sébastien MINARD | FRA | ALM | +30 |
| 22 | Julien DUVAL | FRA | RLM | +30 |
| 23 | Anthony CHARTEAU | FRA | EUC | +30 |
| 24 | Rob BRITTON | CAN | RAL | +30 |
| 25 | Edwig CAMMAERTS | BEL | COF | +30 |
| 26 | Sibrecht PIETERS | BEL | MMM | +30 |
| 27 | Geoffroy LEQUATRE | FRA | BSE | +33 |
| 28 | Théo VIMPERE | FRA | BIG | +33 |
| 29 | Cédric PINEAU | FRA | FDJ | +33 |
| 30 | Rémi PAURIOL | FRA | SOJ | +36 |
| 31 | Cyril BESSY | FRA | COF | +36 |
| 32 | Tom VAN ASBROECK | BEL | TSV | +36 |
| 33 | Cyrille PATOUX | FRA | RLM | +2:11 |
| 34 | Jarl SALOMEIN | BEL | TSV | +2:13 |
| 35 | Morgan KNEISKY | FRA | RLM | +2:16 |
| 36 | Florian GUILLOU | FRA | BSE | +2:30 |
| 37 | Salvador GUARDIOLA TORA | ESP | CCD | +2:30 |
| 38 | Stijn NEIRYNCK | BEL | TSV | +2:32 |
| 39 | Adrian SAEZ | ESP | EUS | +2:51 |
| 40 | Yoann PAILLOT | FRA | LPM | +4:18 |
| 41 | Arnold JEANNESSON | FRA | FDJ | +4:18 |
| 42 | Cyril GAUTIER | FRA | EUC | +4:18 |
| 43 | Guillaume LEVARLET | FRA | COF | +4:18 |
| 44 | Jonathan HIVERT | FRA | SOJ | +4:27 |
| 45 | Grégoire TARRIDE | FRA | LPM | +4:38 |
| 46 | Christian HELMIG | LUX | CCD | +4:38 |
| 47 | Thomas SCULLY | NZL | RAL | +4:38 |
| 48 | Lachlan NORRIS | AUS | RAL | +4:38 |
| 49 | César BIHEL | FRA | CCD | +5:25 |
| 50 | Justin JULES | FRA | LPM | +5:25 |
| 51 | Timothy VANGHEEL | BEL | MMM | +6:37 |
| 52 | Franck BOUYER | FRA | EUC | +8:35 |
| 53 | Peio BILBAO | ESP | EUS | +8:35 |
| 54 | Natnael BERHANE | ERI | EUC | +8:35 |
| 55 | Flavien DASSONVILLE | FRA | BIG | +8:35 |
| 56 | Renaud DION | FRA | BSE | +8:35 |
| 57 | Jérémy BESCOND | FRA | COF | +8:38 |
| 58 | Wouter WIPPERT | NED | MMM | +10:26 |
| 59 | Perrig QUEMENEUR | FRA | EUC | +11:47 |
| 60 | Sascha WEBER | GER | CCD | +11:49 |
| 61 | Jean Marc MARINO | FRA | SOJ | +11:49 |
| 62 | Hugo HOULE | CAN | ALM | +11:49 |