2010 Circuit Cycliste Sarthe Live Coverage
Submitted by admin on Thu, 04/08/2010 - 04:25

Follow cyclingfans on Twitter and never miss a race. Cyclingfans.com: The #1 destination on the internet for live race coverage.
- LIVE ticker (Google-translated to English)
- Video: Stage 3 Time Trial brief Highlights (00:38)
- Video: Stage 2 Highlights (01:37)
- Video: Stage 1 TV news recap video here. (Use timeline to skip to 6:05 in the program for just under 3 minutes of coverage) Thanks Bernie.
- Video: Stage 1 Highlights (01:46)

- Wednesday update: As expected, Lance Armstrong, ill, has dropped out of the race. Ditto for Vaugrenard, Gutierrez, Bewley. Armstrong is returning to the U.S.; his next race: May's Tour of California.
- Tuesday: Note: There are TWO stages Wednesday, a morning road stage (97km) arriving in Angers and an afternoon individual time trial stage (6.8km) around Angers. The morning stage departs Varades at 09:25 CET (3:25am U.S. Eastern) and is expected in Angers between 11:41 and 11:52 CET (5:41am and 5:52am U.S. Eastern). The afternoon time trial is scheduled to begin at 15:45 CET (9:45am U.S. Eastern) with the departure of the first rider. The last rider is expected to arrive at the finish around 18:00 CET (12pm U.S. Eastern) but obviously this will depend on how many riders are left in the race after the morning stage. Also, some riders, including Lance Armstrong, are ill and it is not known how many will actually start the morning stage. Click for PHOTOS (Updated for Stage 1)
Photos: Circuit Cycliste Sarthe photos

Circuit Cycliste Sarthe Official Website
Start List
LIVE ticker
(Google-translated to English)
Live video: There is no live television coverage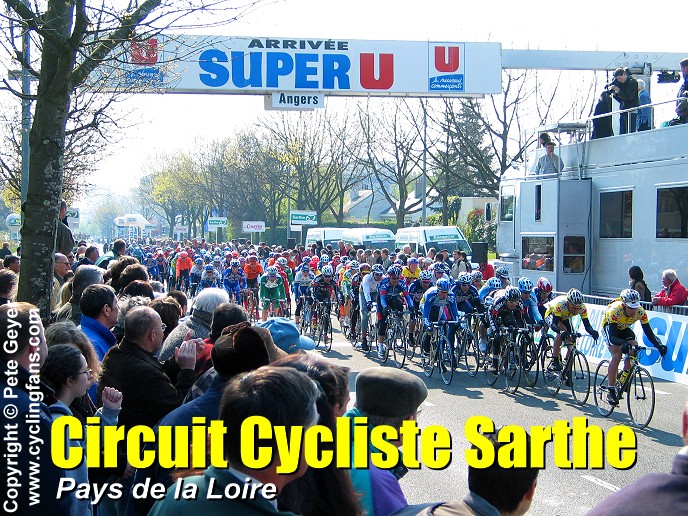 Circuit Cycliste Sarthe - Pays de la Loire: Centered on Angers, France.
photo Copyright © Pete Geyer/cyclingfans.com

The 2010 Circuit Cycliste Sarthe (or Circuit de la Sarthe) starts Tuesday and runs through Friday, April 9. We've covered this race for years now and there still is no live television coverage, even in France. There once again is a live ticker, however, and we should have video clips after each stage.
This year marks the return of Lance Armstrong to Sarthe where he last competed in 2003. Armstrong needs more race miles in his legs but Sarthe also has an Individual Time Trial, an opportunity that is always of interest to Tour contenders. Also expected on the start line: Machado, Popovych, Rubiera, Voeckler, Fedrigo, Vaugrenard, Moreau, Sanchez L.L., Gutierrez, Dumoulin, Florencio, Gustov, Haddou, Moos, King, Bookwalter, Louder, ...
We'll have the available Circuit Cycliste Sarthe live tickers and daily video clips in our Live Coverage Guide in the morning, updated during the race. Note that Stage 1 is expected to finish between 15:41 and 16:06 CET (9:41am and 10:06am U.S. Eastern).
Stage 1 starts at: 11:15 CET (5:15am U.S. Eastern)
Live video: There is no live television coverage
Live coverage from other sources: Please check back in the morning