2013 Tour of Qatar Stage 4 Results
Submitted by admin on Wed, 02/06/2013 - 12:47

Follow cyclingfans on Twitter and never miss a race. Cyclingfans.com: The #1 destination on the internet for live race coverage.
- This page lists 2013 Tour of Qatar results for Stage 4

- Stage 4 (Camel Race Track to Al Khor Corniche (160 km)) -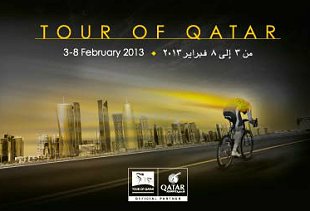 Second consecutive stage win for Mark Cavendish (Omega Pharma Quickstep). Cavendish beat Barry Markus and Andrea Guardini to the line. Cavendish also took over the race lead from Brent Bookwalter. Taylor Phinney is third overall.
| | | | | |
| --- | --- | --- | --- | --- |
| Rank | Name | Nationality | Team | Result |
| 1 | Mark CAVENDISH | GBR | OPQ | 3:30:05 |
| 2 | Barry MARKUS | NED | VCD | +0 |
| 3 | Andrea GUARDINI | ITA | AST | +0 |
| 4 | Filippo FORTIN | ITA | BAR | +0 |
| 5 | Alexander KRISTOFF | NOR | KAT | +0 |
| 6 | Jonathan CANTWELL | AUS | TST | +0 |
| 7 | Nacer BOUHANNI | FRA | FDJ | +0 |
| 8 | Aidis KRUOPIS | LTU | OGE | +0 |
| 9 | Edvald BOASSON HAGEN | NOR | SKY | +0 |
| 10 | Davide APPOLLONIO | ITA | ALM | +0 |
| 11 | Heinrich HAUSSLER | AUS | IAM | +0 |
| 12 | Kenny Robert VAN HUMMEL | NED | VCD | +0 |
| 13 | Roger KLUGE | GER | TNE | +0 |
| 14 | Adam BLYTHE | GBR | BMC | +0 |
| 15 | John DEGENKOLB | GER | ARG | +0 |
| 16 | Geoffrey SOUPE | FRA | FDJ | +0 |
| 17 | Gediminas BAGDONAS | LTU | ALM | +0 |
| 18 | Taiji NISHITANI | JPN | JPN | +0 |
| 19 | Andrea PASQUALON | ITA | BAR | +0 |
| 20 | Christian DELLE STELLE | ITA | BAR | +0 |
| 21 | Blaz JARC | SLO | TNE | +0 |
| 22 | Marco COLEDAN | ITA | BAR | +0 |
| 23 | Baden COOKE | AUS | OGE | +0 |
| 24 | Niki TERPSTRA | NED | OPQ | +0 |
| 25 | Elia VIVIANI | ITA | CAN | +0 |
| 26 | Matti BRESCHEL | DEN | TST | +0 |
| 27 | Luke ROWE | GBR | SKY | +0 |
| 28 | Marco HALLER | AUT | KAT | +0 |
| 29 | Tom VEELERS | NED | ARG | +0 |
| 30 | Bernhard EISEL | AUT | SKY | +0 |
| 31 | Geraint THOMAS | GBR | SKY | +0 |
| 32 | Rudiger SELIG | GER | KAT | +0 |
| 33 | Jacopo GUARNIERI | ITA | AST | +0 |
| 34 | Kazuhiro MORI | JPN | JPN | +0 |
| 35 | Jens MOURIS | NED | OGE | +0 |
| 36 | Ian STANNARD | GBR | SKY | +0 |
| 37 | Jens KEUKELEIRE | BEL | OGE | +0 |
| 38 | Wouter MOL | NED | VCD | +0 |
| 39 | Marco BANDIERA | ITA | IAM | +0 |
| 40 | Fabio SABATINI | ITA | CAN | +0 |
| 41 | Chun Kai FENG | TPE | CSS | +0 |
| 42 | Guillaume VAN KEIRSBULCK | BEL | OPQ | +0 |
| 43 | Dominique ROLLIN | CAN | FDJ | +0 |
| 44 | Pengda JIAO | CHN | CSS | +0 |
| 45 | Greg VAN AVERMAET | BEL | BMC | +0 |
| 46 | Aliaksandr KUCHYNSKI | BLR | KAT | +0 |
| 47 | David BOUCHER | FRA | FDJ | +0 |
| 48 | Reto HOLLENSTEIN | SUI | IAM | +0 |
| 49 | Grégory RAST | SUI | RLT | +0 |
| 50 | Taylor PHINNEY | USA | BMC | +0 |
| 51 | Kristijan KOREN | SLO | CAN | +0 |
| 52 | Jonas Aaen JÖRGENSEN | DEN | TST | +0 |
| 53 | Wesley KREDER | NED | VCD | +0 |
| 54 | Junya SANO | JPN | JPN | +0 |
| 55 | Chan Jae JANG | KOR | CSS | +0 |
| 56 | Murilo Antonio FISCHER | BRA | FDJ | +0 |
| 57 | Gatis SMUKULIS | LAT | KAT | +0 |
| 58 | Pavel BRUTT | RUS | KAT | +0 |
| 59 | Vladimir ISAICHEV | RUS | KAT | +0 |
| 60 | Andriy GRIVKO | UKR | AST | +0 |
| 61 | Arman KAMYSHEV | KAZ | AST | +0 |
| 62 | Yaroslav POPOVYCH | UKR | RLT | +0 |
| 63 | Stijn DEVOLDER | BEL | RLT | +0 |
| 64 | Tony GALLOPIN | FRA | RLT | +0 |
| 65 | Markel IRIZAR ARANBURU | ESP | RLT | +0 |
| 66 | Nelson Filipe SANTOS SIMOES OLIVEIRA | POR | RLT | +0 |
| 67 | Muhamad Adiq Husainie OTHMAN | MAS | CSS | +0 |
| 68 | Daniele BENNATI | ITA | TST | +0 |
| 69 | Roy CURVERS | NED | ARG | +0 |
| 70 | Nikias ARNDT | GER | ARG | +0 |
| 71 | Paul VOSS | GER | TNE | +0 |
| 72 | Zakkari DEMPSTER | AUS | TNE | +0 |
| 73 | Marco CANOLA | ITA | BAR | +0 |
| 74 | Sébastien HINAULT | FRA | IAM | +0 |
| 75 | Jonathan FUMEAUX | SUI | IAM | +0 |
| 76 | Juan Antonio FLECHA GIANNONI | ESP | VCD | +0 |
| 77 | Rob RUIJGH | NED | VCD | +0 |
| 78 | Yuzuru SUZUKI | JPN | JPN | +0 |
| 79 | Matthias FRIEDEMANN | GER | CSS | +0 |
| 80 | Martin ELMIGER | SUI | IAM | +0 |
| 81 | Fabian CANCELLARA | SUI | RLT | +0 |
| 82 | Hayden ROULSTON | NZL | RLT | +0 |
| 83 | Matteo TOSATTO | ITA | TST | +0 |
| 84 | Marko KUMP | SLO | TST | +0 |
| 85 | Markus EICHLER | GER | TNE | +0 |
| 86 | Dmitriy MURAVYEV | KAZ | AST | +0 |
| 87 | Maciej BODNAR | POL | CAN | +0 |
| 88 | Gabriel RASCH | NOR | SKY | +0 |
| 89 | Sergey LAGUTIN | UZB | VCD | +0 |
| 90 | Johan LE BON | FRA | FDJ | +0 |
| 91 | Andreas SCHILLINGER | GER | TNE | +0 |
| 92 | Brent BOOKWALTER | USA | BMC | +0 |
| 93 | Stephen CUMMINGS | GBR | BMC | +1:30 |
| 94 | Yannick EIJSSEN | BEL | BMC | +0 |
| 95 | Michael SCHÄR | SUI | BMC | +0 |
| 96 | Lawrence WARBASSE | USA | BMC | +0 |
| 97 | Kohei UCHIMA | JPN | JPN | +0 |
| 98 | Anders LUND | DEN | TST | +0 |
| 99 | Martin VELITS | SVK | OPQ | +0 |
| 100 | Tiziano DALL'ANTONIA | ITA | CAN | +0 |
| 101 | Daniele RATTO | ITA | CAN | +0 |
| 102 | Daniel SCHORN | AUT | TNE | +1:34 |
| 103 | Alexander PORSEV | RUS | KAT | +0 |
| 104 | Stijn VANDENBERGH | BEL | OPQ | +0 |
| 105 | Iljo KEISSE | BEL | OPQ | +0 |
| 106 | Zdenek STYBAR | CZE | OPQ | +0 |
| 107 | Pirmin LANG | SUI | IAM | +1:49 |
| 108 | Andrea DI CORRADO | ITA | BAR | +0 |
| 109 | Yusuke HATANAKA | JPN | JPN | +0 |
| 110 | Evan HUFFMAN | USA | AST | +1:53 |
| 111 | Sébastien MINARD | FRA | ALM | +0 |
| 112 | Dmitriy GRUZDEV | KAZ | AST | +1:53 |
| 113 | Marco MARCATO | ITA | VCD | +1:55 |
| 114 | Borut BOZIC | SLO | AST | +1:55 |
| 115 | Yauheni HUTAROVICH | BLR | ALM | +2:12 |
| 116 | Hugo HOULE | CAN | ALM | +2:12 |
| 117 | Brett LANCASTER | AUS | OGE | +0 |
| 118 | Allan DAVIS | AUS | OGE | +2:28 |
| 119 | Matteo TRENTIN | ITA | OPQ | +0 |
| 120 | Tom STAMSNIJDER | NED | ARG | +2:31 |
| 121 | Matthieu LADAGNOUS | FRA | FDJ | +0 |
| 122 | Sonny COLBRELLI | ITA | BAR | +0 |
| 123 | Russell DOWNING | GBR | TNE | +0 |
| 124 | Ramon SINKELDAM | NED | ARG | +0 |
| 125 | Luka MEZGEC | SLO | ARG | +0 |
| 126 | Matt BRAMMEIER | IRL | CSS | +0 |
| 127 | Bobbie TRAKSEL | NED | CSS | +0 |
| 128 | Yoann OFFREDO | FRA | FDJ | +0 |
| 129 | Valentin IGLINSKIY | KAZ | ALM | +0 |
| 130 | Kristof GODDAERT | BEL | IAM | +0 |
| 131 | Fumiyuki BEPPU | JPN | OGE | +0 |
| 132 | Miyataka SHIMIZU | JPN | JPN | +0 |
| 133 | Julien BERARD | FRA | ALM | +4:57 |
| 134 | Steve CHAINEL | FRA | ALM | +4:57 |
| 135 | Mathew HAYMAN | AUS | SKY | +0 |
| 136 | Christopher SUTTON | AUS | SKY | +5:01 |
| 137 | Alessandro DE MARCHI | ITA | CAN | +5:06 |
| 138 | Guillaume BOIVIN | CAN | CAN | +0 |
| 139 | Koen DE KORT | NED | ARG | +0 |
General Classification after Stage 4

| | | | | |
| --- | --- | --- | --- | --- |
| Rank | Name | Nationality | Team | Result |
| 1 | Mark CAVENDISH | Great Britain | OPQ | 10:20:01 |
| 2 | Brent BOOKWALTER | United States | BMC | +2 |
| 3 | Taylor PHINNEY | United States | BMC | +8 |
| 4 | Adam BLYTHE | Great Britain | BMC | +9 |
| 5 | Greg VAN AVERMAET | Belgium | BMC | +12 |
| 6 | Michael SCHÄR | Switzerland | BMC | +12 |
| 7 | Bernhard EISEL | Austria | SKY | +13 |
| 8 | Mathew HAYMAN | Australia | SKY | +14 |
| 9 | Edvald BOASSON HAGEN | Norway | SKY | +16 |
| 10 | Geraint THOMAS | Great Britain | SKY | +17 |
| 11 | Luke ROWE | Great Britain | SKY | +17 |
| 12 | Niki TERPSTRA | Netherlands | OPQ | +22 |
| 13 | Zdenek STYBAR | Czech Republic | OPQ | +22 |
| 14 | Tony GALLOPIN | France | RLT | +23 |
| 15 | Alexander KRISTOFF | Norway | KAT | +25 |
| 16 | Marco HALLER | Austria | KAT | +27 |
| 17 | Alexander PORSEV | Russia | KAT | +27 |
| 18 | Jacopo GUARNIERI | Italy | AST | +29 |
| 19 | Aidis KRUOPIS | Lithuania | OGE | +31 |
| 20 | Andriy GRIVKO | Ukraine | AST | +34 |
| 21 | Baden COOKE | Australia | OGE | +35 |
| 22 | Jens KEUKELEIRE | Belgium | OGE | +35 |
| 23 | Matthieu LADAGNOUS | France | FDJ | +35 |
| 24 | Elia VIVIANI | Italy | CAN | +36 |
| 25 | Tiziano DALL'ANTONIA | Italy | CAN | +36 |
| 26 | Matti BRESCHEL | Denmark | TST | +38 |
| 27 | Jonas Aaen JÖRGENSEN | Denmark | TST | +38 |
| 28 | Ian STANNARD | Great Britain | SKY | +38 |
| 29 | John DEGENKOLB | Germany | ARG | +40 |
| 30 | Dominique ROLLIN | Canada | FDJ | +41 |
| 31 | Tom VEELERS | Netherlands | ARG | +42 |
| 32 | Koen DE KORT | Netherlands | ARG | +42 |
| 33 | Martin ELMIGER | Switzerland | IAM | +43 |
| 34 | Stijn VANDENBERGH | Belgium | OPQ | +43 |
| 35 | Markel IRIZAR ARANBURU | Spain | RLT | +44 |
| 36 | Yoann OFFREDO | France | FDJ | +44 |
| 37 | Roger KLUGE | Germany | TNE | +45 |
| 38 | Gatis SMUKULIS | Latvia | KAT | +45 |
| 39 | Heinrich HAUSSLER | Australia | IAM | +49 |
| 40 | Guillaume VAN KEIRSBULCK | Belgium | OPQ | +55 |
| 41 | Paul VOSS | Germany | TNE | +56 |
| 42 | Daniele BENNATI | Italy | TST | +59 |
| 43 | Reto HOLLENSTEIN | Switzerland | IAM | +1:00 |
| 44 | Kenny Robert VAN HUMMEL | Netherlands | VCD | +1:03 |
| 45 | Roy CURVERS | Netherlands | ARG | +1:03 |
| 46 | Rob RUIJGH | Netherlands | VCD | +1:03 |
| 47 | Juan Antonio FLECHA GIANNONI | Spain | VCD | +1:03 |
| 48 | Matteo TOSATTO | Italy | TST | +1:20 |
| 49 | Yaroslav POPOVYCH | Ukraine | RLT | +1:25 |
| 50 | Grégory RAST | Switzerland | RLT | +1:34 |
| 51 | Sergey LAGUTIN | Uzbekistan | VCD | +1:36 |
| 52 | Zakkari DEMPSTER | Australia | TNE | +1:38 |
| 53 | Matt BRAMMEIER | Ireland | CSS | +1:39 |
| 54 | Sébastien MINARD | France | ALM | +1:39 |
| 55 | Fabian CANCELLARA | Switzerland | RLT | +1:43 |
| 56 | Murilo Antonio FISCHER | Brazil | FDJ | +1:47 |
| 57 | Iljo KEISSE | Belgium | OPQ | +2:06 |
| 58 | Johan LE BON | France | FDJ | +2:17 |
| 59 | Pavel BRUTT | Russia | KAT | +2:21 |
| 60 | Sébastien HINAULT | France | IAM | +2:22 |
| 61 | Martin VELITS | Slovakia | OPQ | +2:22 |
| 62 | Ramon SINKELDAM | Netherlands | ARG | +2:29 |
| 63 | Gabriel RASCH | Norway | SKY | +2:54 |
| 64 | Yauheni HUTAROVICH | Belarus | ALM | +2:57 |
| 65 | Dmitriy MURAVYEV | Kazakhstan | AST | +3:19 |
| 66 | Andreas SCHILLINGER | Germany | TNE | +3:23 |
| 67 | Nikias ARNDT | Germany | ARG | +3:27 |
| 68 | Daniel SCHORN | Austria | TNE | +4:00 |
| 69 | Rudiger SELIG | Germany | KAT | +4:09 |
| 70 | Pirmin LANG | Switzerland | IAM | +4:58 |
| 71 | Tom STAMSNIJDER | Netherlands | ARG | +7:17 |
| 72 | Steve CHAINEL | France | ALM | +8:25 |
| 73 | Stijn DEVOLDER | Belgium | RLT | +16:25 |
| 74 | Geoffrey SOUPE | France | FDJ | +16:37 |
| 75 | Jens MOURIS | Netherlands | OGE | +16:37 |
| 76 | Fumiyuki BEPPU | Japan | OGE | +16:37 |
| 77 | Andrea GUARDINI | Italy | AST | +16:44 |
| 78 | Maciej BODNAR | Poland | CAN | +16:46 |
| 79 | Lawrence WARBASSE | United States | BMC | +16:46 |
| 80 | Blaz JARC | Slovenia | TNE | +16:47 |
| 81 | Gediminas BAGDONAS | Lithuania | ALM | +16:47 |
| 82 | Davide APPOLLONIO | Italy | ALM | +16:47 |
| 83 | Kristof GODDAERT | Belgium | IAM | +16:51 |
| 84 | Barry MARKUS | Netherlands | VCD | +16:53 |
| 85 | Yannick EIJSSEN | Belgium | BMC | +16:53 |
| 86 | Nacer BOUHANNI | France | FDJ | +16:57 |
| 87 | Nelson Filipe SANTOS SIMOES OLIVEIRA | Portugal | RLT | +17:02 |
| 88 | Fabio SABATINI | Italy | CAN | +17:08 |
| 89 | Luka MEZGEC | Slovenia | ARG | +17:11 |
| 90 | Filippo FORTIN | Italy | BAR | +17:13 |
| 91 | Andrea PASQUALON | Italy | BAR | +17:13 |
| 92 | Marco COLEDAN | Italy | BAR | +17:13 |
| 93 | Marco CANOLA | Italy | BAR | +17:13 |
| 94 | Wesley KREDER | Netherlands | VCD | +17:13 |
| 95 | Russell DOWNING | Great Britain | TNE | +17:16 |
| 96 | Chan Jae JANG | Korea | CSS | +17:28 |
| 97 | Bobbie TRAKSEL | Netherlands | CSS | +17:30 |
| 98 | Sonny COLBRELLI | Italy | BAR | +17:36 |
| 99 | Hayden ROULSTON | New Zealand | RLT | +17:40 |
| 100 | Kristijan KOREN | Slovenia | CAN | +17:45 |
| 101 | Wouter MOL | Netherlands | VCD | +17:47 |
| 102 | David BOUCHER | France | FDJ | +17:49 |
| 103 | Daniele RATTO | Italy | CAN | +17:50 |
| 104 | Markus EICHLER | Germany | TNE | +17:59 |
| 105 | Taiji NISHITANI | Japan | JPN | +18:02 |
| 106 | Kazuhiro MORI | Japan | JPN | +18:02 |
| 107 | Chun Kai FENG | Chinese Taipei | CSS | +18:02 |
| 108 | Miyataka SHIMIZU | Japan | JPN | +18:02 |
| 109 | Matthias FRIEDEMANN | Germany | CSS | +18:03 |
| 110 | Arman KAMYSHEV | Kazakhstan | AST | +18:07 |
| 111 | Pengda JIAO | China | CSS | +18:12 |
| 112 | Marco BANDIERA | Italy | IAM | +18:12 |
| 113 | Valentin IGLINSKIY | Kazakhstan | ALM | +18:16 |
| 114 | Yuzuru SUZUKI | Japan | JPN | +18:17 |
| 115 | Borut BOZIC | Slovenia | AST | +18:26 |
| 116 | Matteo TRENTIN | Italy | OPQ | +18:26 |
| 117 | Yusuke HATANAKA | Japan | JPN | +18:34 |
| 118 | Andrea DI CORRADO | Italy | BAR | +18:34 |
| 119 | Vladimir ISAICHEV | Russia | KAT | +18:46 |
| 120 | Brett LANCASTER | Australia | OGE | +18:48 |
| 121 | Hugo HOULE | Canada | ALM | +18:59 |
| 122 | Muhamad Adiq Husainie OTHMAN | Malaysia | CSS | +19:02 |
| 123 | Guillaume BOIVIN | Canada | CAN | +19:07 |
| 124 | Junya SANO | Japan | JPN | +19:07 |
| 125 | Dmitriy GRUZDEV | Kazakhstan | AST | +19:16 |
| 126 | Kohei UCHIMA | Japan | JPN | +19:21 |
| 127 | Christian DELLE STELLE | Italy | BAR | +19:26 |
| 128 | Stephen CUMMINGS | Great Britain | BMC | +19:29 |
| 129 | Jonathan FUMEAUX | Switzerland | IAM | +19:30 |
| 130 | Marko KUMP | Slovenia | TST | +19:42 |
| 131 | Jonathan CANTWELL | Australia | TST | +19:57 |
| 132 | Anders LUND | Denmark | TST | +20:27 |
| 133 | Aliaksandr KUCHYNSKI | Belarus | KAT | +20:28 |
| 134 | Evan HUFFMAN | United States | AST | +20:41 |
| 135 | Allan DAVIS | Australia | OGE | +21:16 |
| 136 | Marco MARCATO | Italy | VCD | +21:56 |
| 137 | Alessandro DE MARCHI | Italy | CAN | +22:14 |
| 138 | Julien BERARD | France | ALM | +23:13 |
| 139 | Christopher SUTTON | Australia | SKY | +23:36 |