2012 Bpost Bank Trophy Cyclocross Koppenbergcross Oudenaarde LIVE
Submitted by admin on Thu, 11/01/2012 - 08:30

Follow cyclingfans on Twitter and never miss a race. Cyclingfans.com: The #1 destination on the internet for live race coverage.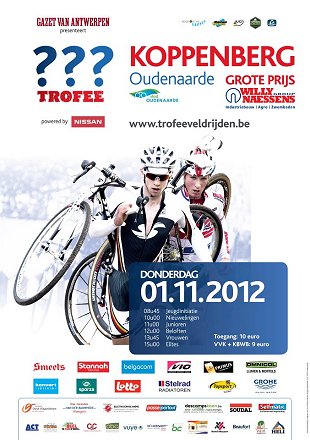 - Video: Final lap (Sporza, 10:15)
- LIVE video here and here. (geo-restricted)
- Next update as live video coverage gets underway.
- No live coverage is expected for the Women's race but there should be highlights just prior to the start of the Men's race. Women riders expected on the start line include Cant, Wyman, Kupfernagel, Harris, Ferrand-Prévot, Dombroski, Day, ...
- Albert, Nys, Pauwels, Meeusen, Vantornout, Peeters, Wellens, Aernouts, Page, ... 2012/2013 cyclocross action continues...
- Coverage gets underway at 2:45pm CET (9:45am U.S. Eastern) with the Elite Men race beginning at 3:00pm CET (10:00am U.S. Eastern). Reminder: As Daylight Saving Time ended in Europe last weekend, there continues to be a 5-hour difference between New York and Paris instead of the usual 6 hour difference, until this Sunday when DST also ends in the U.S.
- The 2012 GVA Bpost Bank Trophy Cyclocross Koppenbergcross at Oudenaarde is Thursday, November 1. There will once again be live streams. Official website here - Start List (Women) - Start List (Men)- More info -
Live streaming video: 2:45pm CET (9:45am U.S. Eastern)

LIVE video streaming

(Sport.be)
(3:00pm CET (10:00am U.S. Eastern))
Alternative


(Sporza)
(2:45pm CET (9:45am U.S. Eastern))
Alternative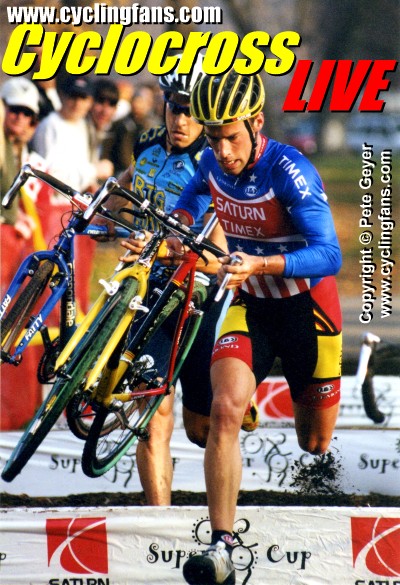 Copyright © Pete Geyer/www.cyclingfans.com