2010 Giro di Sardegna Live Coverage
Submitted by admin on Mon, 02/22/2010 - 18:27

Follow cyclingfans on Twitter and never miss a race. Cyclingfans.com: The #1 destination on the internet for live race coverage.

Giro di Sardegna
photo Copyright © Fotoreporter Sirotti/cyclingfans.com
The 2010 Giro di Sardegna starts Tuesday, February 23, and runs to February 27. There is no live video expected but there will be a live ticker and we hope to have videos after each stage. Fotoreporter Sirotti will also be on the scene getting us the pics. Most of the teams competing are Italian but RadioShack and Bbox Bouygues Telecom have also brought teams. RadioShack will be led by Janez Brajkovic, with Chris Horner and Geoffroy Lequatre also among RS riders entered. Lequatre has been getting considerable press in France for being a teammate of Lance Armstrong, who arrives in Europe tomorrow to begin preparing for his own 2010 season campaign. Teams have arrived by ferry, see pics below. More Tuesday.
Official Website
Start List
Live Ticker
Stage 1 starts at 11:30 CET (5:30am U.S. Eastern)
- more info and links Tuesday -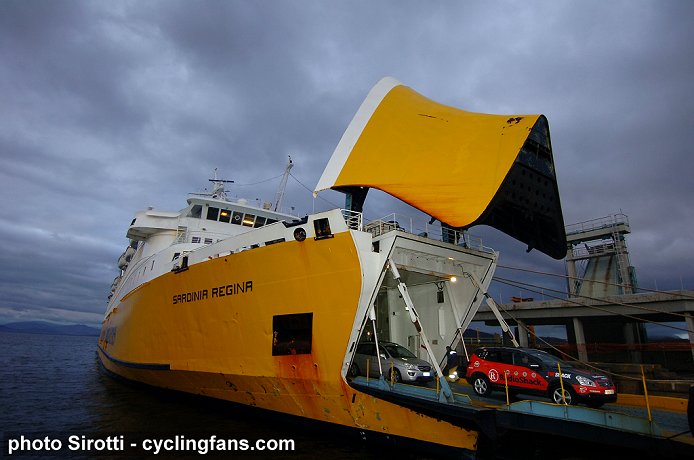 2010 Giro di Sardegna: Team RadioShack arrives by ferry.
- Click for high resolution -
photo Copyright © 2010 Fotoreporter Sirotti/cyclingfans.com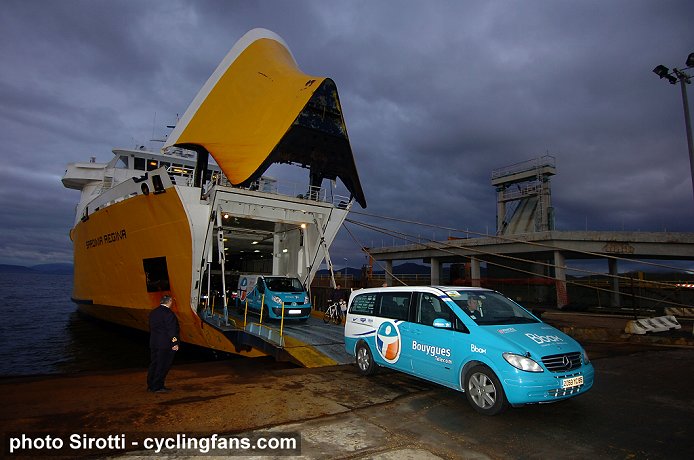 2010 Giro di Sardegna: Bbox-Bouygues Telecom rolls off the boat.
- Click for high resolution -
photo Copyright © Fotoreporter Sirotti/cyclingfans.com