Tour de Cycling - Thursday
Submitted by admin on Thu, 10/29/2009 - 11:04
- The Six Days of Grenoble (track cycling) starts this evening. We are not aware of any live video streaming for this event, unfortunately. - Official Website -
- The November issue of Velo Magazine hit newsstands in France yesterday. It contains more details regarding the selection of Alberto Contador as Velo d'Or winner for the third consecutive year.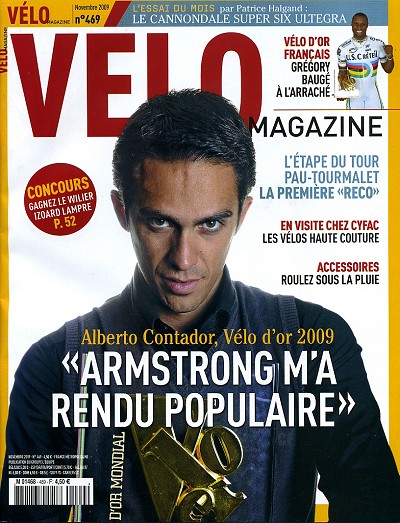 November 2009 Velo Magazine, Alberto Contador Velo d'Or issue:
"Armstrong made me popular"
The 2009 Velo d'Or jury was composed of 16 journalists from around the world. This year, each member of this international jury ranked their top 5 picks for "rider of the year". A rider earned 5 points for each #1 pick he received, 4 points for each #2 pick he received and so on. All the points were tallied up and the results were as follows:
1. Alberto Contador - 69 points
2. Mark Cavendish - 49
3. Fabian Cancellara - 32
4. Cadel Evans, Andy Schleck, tie - 22
6. Lance Armstrong - 19
7. Alejandro Valverde - 18
8. Denis Menchov - 6
9. Tom Boonen - 2
10 Thor Hushovd - 1
The jury was made up of Klaus Angermann (Germany, Wiesbadener Kurier), Rupert Guinness (Australia, The Sydney Morning Herald), Michael Kasper (Austria, ORF-Radio), Joel Godaert (Belgium, La Derniere Heure), Hector Urrego (Colombia, Cyclisme RCN), Josu Garai (Spain, Marca), Gilles Simon (France, Velo Magazine), Jeremy Whittle (Great Britain, The Times), Raymond Kerckhoffs (Holland, De Telegraaf), Pier Bergonzi (Italy, La Gazzetta dello Sport), Nobuhito Kubo (Japan, Cycle Sport), Marcel Gilles (Luxembourg, RTL), Christophe Wyrzykowski (Poland, Eurosport Polska), Matvey Voznesenski (Russia, Canal Sport), Martin Born (Switzerland, Tages Anzeiger), and John Wilcockson (USA, Velo News).
Of the 16 journalists, 9 had Contador as their #1 pick, 5 had Cavendish as their #1 pick, 1 (Kasper) had Armstrong as his #1 pick, and 1 (Wilcockson) had Cancellara as #1.