Tour de Cycling - Saturday
Submitted by admin on Sat, 10/03/2009 - 20:21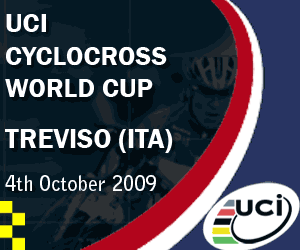 - LIVE Sunday: Live coverage of Sunday's UCI Cyclocross World Cup event in Treviso, Italy is scheduled to begin on Cycling TV at 13:50 CET for the women's race and at 15:20 CET for the men's race. Cycling TV's coverage is worldwide excluding the U.S. Live coverage on Sporza should begin at around 15:15 CET (9:15am U.S. Eastern). We will not know until the morning what, if any, live streaming will be available to the U.S. market. Last season, Cycling TV's Cyclocross World Cup coverage only became available in the U.S. several weeks into the season. Cycling TV informed me today that they may have U.S. rights as early as next week. Stay tuned. -Pete - More information on this event here.
- LIVE Sunday: Live coverage of Sunday's Tour de Vendee is scheduled to begin at 16:35 CET (10:35am U.S. Eastern). Live streaming coverage on France TV is listed as geo-restricted. Eurosport France is also covering the latter part of the race live.
- Circuit Franco-Belge Stage 3 today. Official site - Live ticker (Select Stage 3 (Etape 3) from drop-down list)
- Today is the 5th Memorial Cimurri (Italy). The race starts at 11:00 CET (5am U.S. Eastern) and is expected to finish between 15:34 and 16:06 CET (9:34am and 10:06am U.S. Eastern). Television coverage on Rai3 is scheduled to begin at 17:05 CET (11:05am U.S. Eastern). Video streaming of this coverage may be available.