Cyclocross Photos - 2019 UCI Cyclocross World Cup at Koksijde, Belgium - Elite Men Race Photos
Submitted by admin on Sun, 11/24/2019 - 18:04

Follow cyclingfans on Twitter and never miss a race. Cyclingfans.com: The #1 destination on the internet for live race coverage.
- Note: High resolution versions of all photos can be viewed by clicking the "high resolution" link under each photo.
See also: Cyclocross LIVE - Cyclocross Videos - Cyclocross Results -
NOTE: If you believe you may not be seeing the latest content on this page, try clearing your browser's cache (or try a different browser).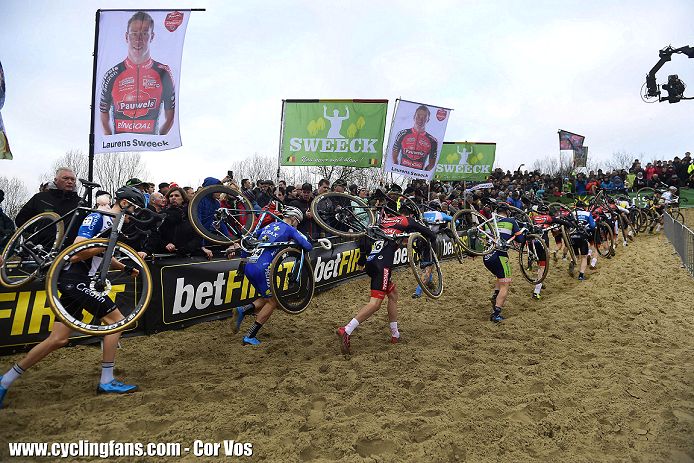 2019 UCI Cyclocross World Cup at Koksijde, Belgium - Elite Men Race Photos - Bikes on shoulders, the elite men's field races across the sand on foot.
- Click for high resolution -
photo Copyright © 2019 Cor Vos/cyclingfans.com
More photos below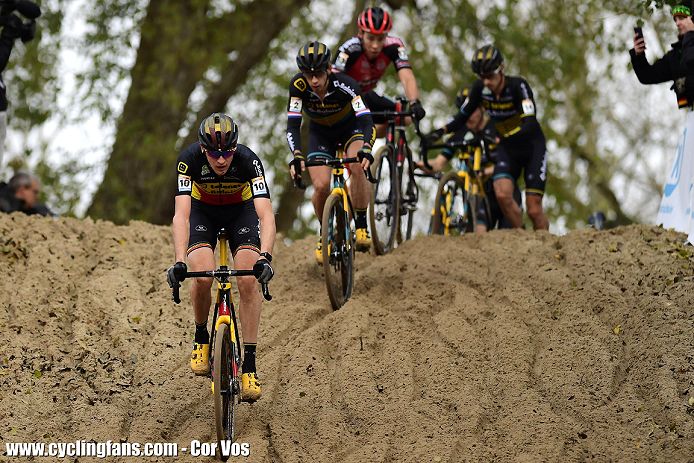 2019 UCI Cyclocross World Cup at Koksijde, Belgium - Elite Men Race Photos: Toon Aerts leads a group down the sand of Koksijde.
- Click for high resolution -
photo Copyright © 2019 Cor Vos/cyclingfans.com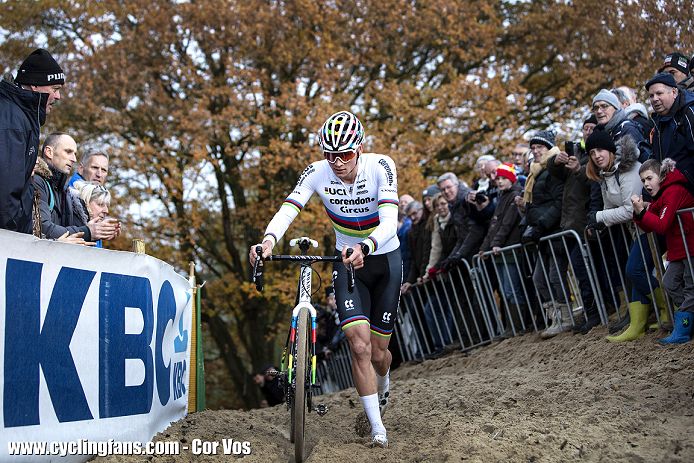 World Champion Mathieu van der Poel, in a class of his own, is off the front.
- Click for high resolution -
photo Copyright © 2019 Cor Vos/cyclingfans.com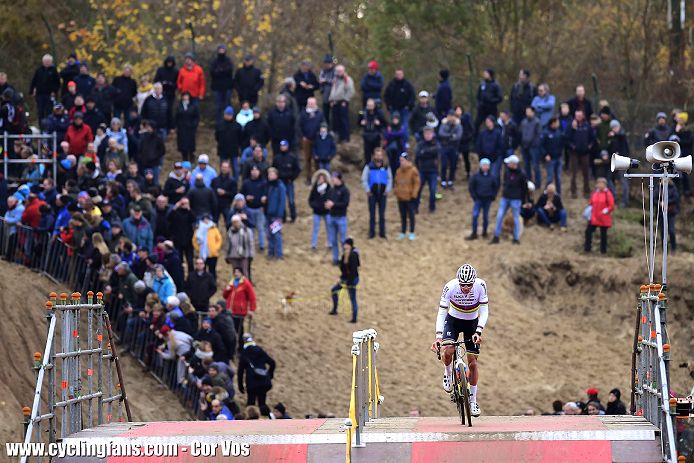 Mathieu van der Poel in action
- Click for high resolution -
photo Copyright © 2019 Cor Vos/cyclingfans.com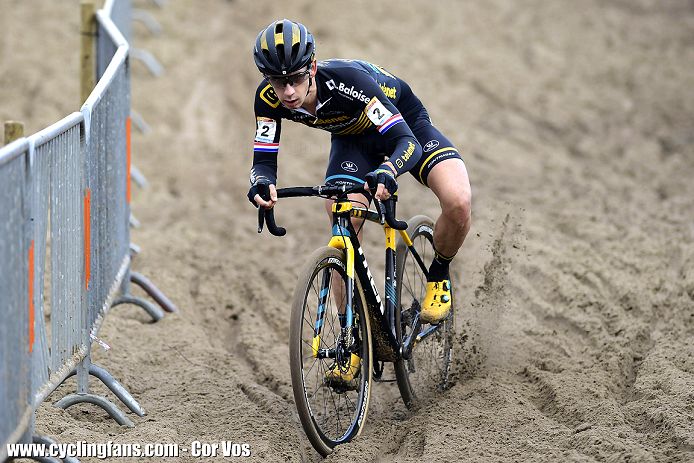 Lars van der Haar negotiates the sand.
- Click for high resolution -
photo Copyright © 2019 Cor Vos/cyclingfans.com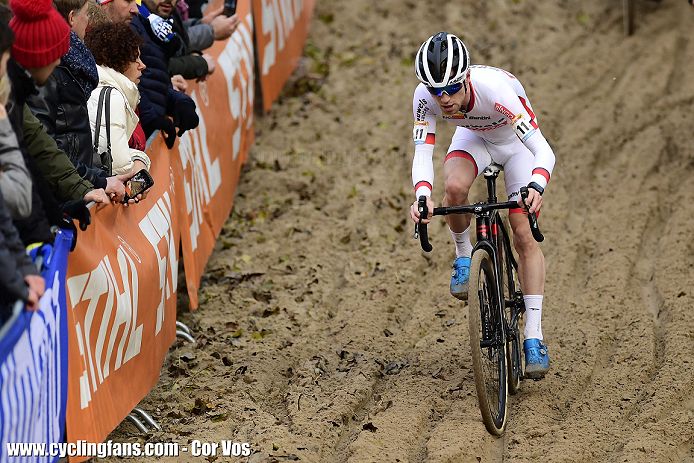 Eli Iserbyt dominated the early part of the 2019-2020 cross season. Then van der Poel began his season.
- Click for high resolution -
photo Copyright © 2019 Cor Vos/cyclingfans.com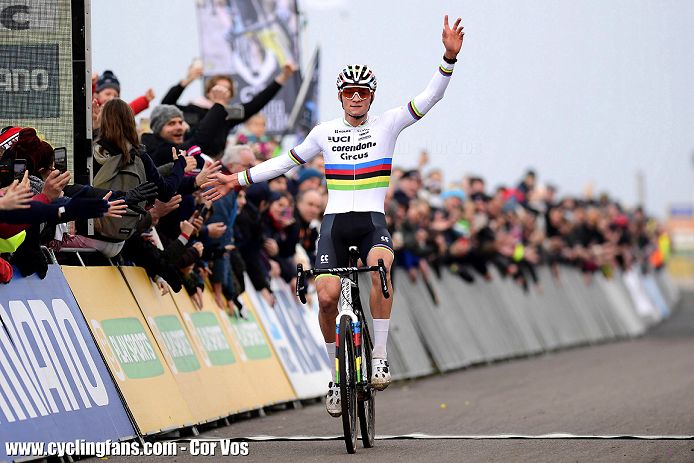 Mathieu van der Poel wins the 2019 UCI Cyclocross World Cup elite men's race at Koksijde, Belgium.
- Click for high resolution -
photo Copyright © 2019 Cor Vos/cyclingfans.com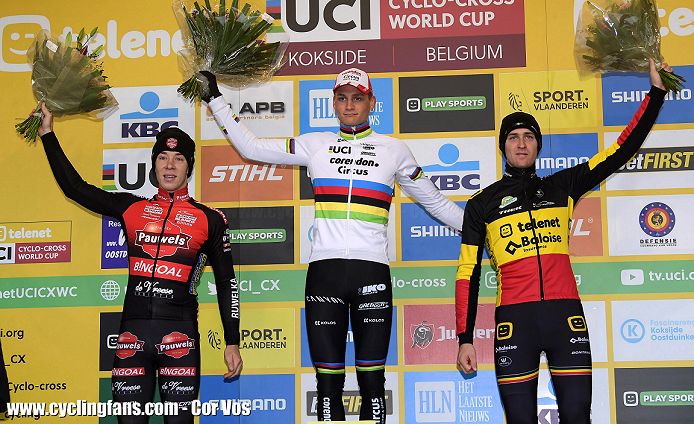 The elite men race podium: Laurens Sweeck, Mathieu van der Poel and Toon Aerts
- Click for high resolution -
photo Copyright © 2019 Cor Vos/cyclingfans.com