Laurent Fignon, 20 years after great '89 TDF battle, battles for his life
Submitted by pete geyer on Mon, 06/15/2009 - 14:26
Fignon appeared on French television Sunday - links below
20 years ago, Frenchman Laurent Fignon won the 1989 Giro d'Italia. He also won Milan-San Remo that year and became the number one ranked cyclist in the world. But as Fignon himself is quick to acknowledge, and despite winning the Tour in 1983 and 1984, he is most remembered for losing the 1989 Tour de France to American Greg LeMond by just 8 seconds.
What a great Tour that was! LeMond took the yellow jersey after the Stage 5 individual time trial. Fignon then took the jersey from LeMond after the Stage 10 climb to Superbagnères. LeMond got the jersey back after the Stage 15 mountain time trial.....only to lose it again to Fignon at Alpe d'Huez! The final stage of the race was a largely downhill 25km time trial from Versailles to Paris. Fignon's 50 seconds lead over LeMond was widely considered a large enough margin to ensure a third Tour victory for the Frenchman. But LeMond, using triathlon handlebars and an aerodynamic helmet, posted a time that was 58 seconds faster than Fignon, resulting in an 8-second dramatic victory after 3 weeks of racing.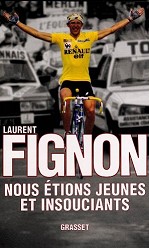 Laurent Fignon, 48, announced last week that he has late-stage cancer of the digestive tract. Some reports in France have said there is "little hope" of Fignon beating this, reports that Fignon found upsetting particularly because his family saw them. Fignon appeared on French television yesterday to talk about his illness, about doping (he has admitted to using amphetamines and cortisone during his career, "like everyone else" he says), and his new book "Laurent Fignon: Nous étions jeunes et insouciants" ("We were young and carefree") which will be published on Wednesday. The book (cover pictured above) was completed before Fignon was diagnosed with cancer, so contains no mention of his illness.
Today, the French professional cyclists union (UNCP) expressed its support, encouragement and best wishes to Laurent as he battles his illness. cyclingfans.com would also like to wish Laurent the best in this difficult time.
On a personal note, I became hooked on this sport when just 10 days after moving to France in July, 1989, I turned on French TV on a Sunday with nothing better to do and watched the final minutes of the '89 race unfold as first LeMond, then Fignon, rode onto the Champs-Elysees. My introduction to this sport, literally, was what I witnessed live on TV that afternoon. It was a great victory by LeMond...but Fignon helped to make it great. Since, I've followed Fignon's career as a race organizer and TV broadcaster. When I read former ASO cycling director and French cycling federation president Daniel Baal's description, in one of his books, of ASO's negotiations to acquire Paris-Nice from Fignon a few years ago -- Fignon stormed out of a meeting with ASO officials in a cafe near the Gare du Nord train station in Paris, temporarily breaking off negotiations -- I could only smile. As Greg LeMond and ASO both found, you don't take anything from Laurent Fignon easily. Let's hope that Fignon's cancer discovers that as well, gets defeated, and that Laurent Fignon is around for many years to come. -Pete Geyer, Editor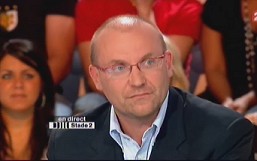 Laurent Fignon on French TV (France 2) Sunday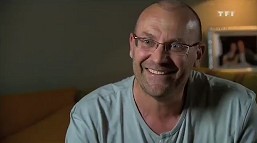 Laurent Fignon on French TV (TF1)