Tour de Cycling - Thursday
Submitted by admin on Thu, 06/04/2009 - 03:30
- More to come...

Le Sale Tour: Le systeme Armstrong
by Pierre Ballester and David Walsh

- You know the Tour de France is right around the corner when Pierre Ballester and David Walsh publish another book about Lance Armstrong. Obviously they didn't take the advice of esteemed International Herald Tribune reporter Sam Abt who suggested a couple of years ago it was perhaps time for them to "move on". Of course, Walsh and Ballester's favorite subject was in retirement then. He's back now and so are they. Fair enough, except that early indications are that the book, "Le Sale Tour" (or The Dirty Tour), published today, is filled with wild speculation about Armstrong's reasons for returning to the sport, including future political ambitions, to make money, etc. (Chicago Bulls basketball star Michael Jordan made more than $30 million in salary per year each of the last few years of his career, not including endorsements. Armstrong is not taking a salary for riding for Astana but naturally is able to command high appearance fees.) Ballester and Walsh also assert "(Tour de France organizer) ASO's new strategy is more turned towards business than the credibility of the sport". Huh? That has always been ASO's "strategy" and always will be for as long as they own the race.

Three years ago I asked Ballester, who once covered cycling, including Greg LeMond's comeback 20 years ago, for French sports daily L'Equipe, if he was a cycling fan. He said no, his sport is rugby. Funny, a former French rugby player last year stated that dope testing is virtually non-existent in the sport. No wonder Ballester (and Walsh for that matter) likes rugby. It is "clean" because no one is out to bust it. Meanwhile, for over 10 years pro cycling, an easy target, is repeatedly targeted at every opportunity.

Will it ever end? Not as long as there is money to be made tearing down the sport.

-Pete
- We mentioned yesterday that Astana was cleared to ride the Dauphine Libere (June 7-14). That information is confirmed in today's edition of the French sports daily L'Equipe.
- Tour of Luxembourg info and links below.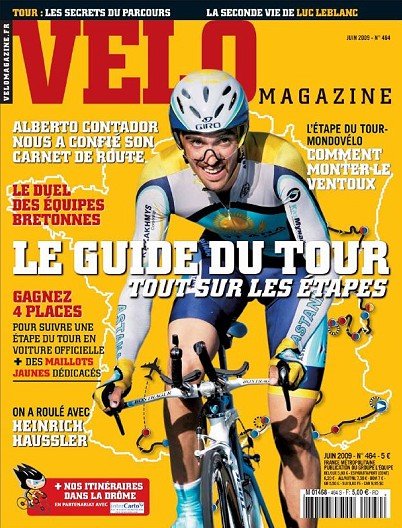 June, 2009 issue of Velo Magazine (French): Le Guide du Tour.
Velo Magazine appears to be the first 2009 Tour de France guide
out of the gate; many more to come.
Meet Ed Buchette, Tour de Luxembourg organiser and forester!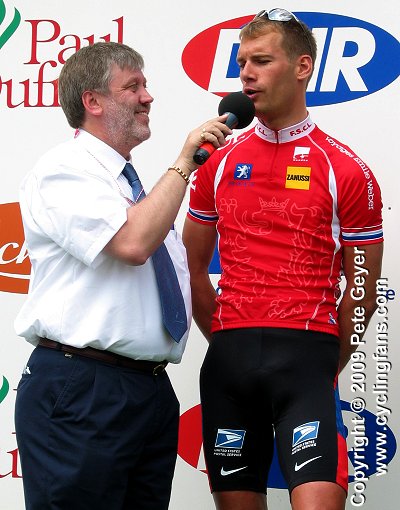 Flashback: 2003 Tour de Luxembourg: Ed Buchette interviews
Benoit Joachim (Luxembourg national team and USPS) before the start of Stage 1.
Copyright © 2009 Pete Geyer/www.cyclingfans.com
When it comes to race organizers, the names Jean-Marie Leblanc (former director of the Tour de France), Christian Prudhomme (current TDF director), Angelo Zomegnan (Giro d'Italia), Victor Cordero (Vuelta a Espana) and Thierry Cazeneuve (Critérium du Dauphiné Libéré) come to mind. In Luxembourg, no one is more involved in the organization and other aspects of bike racing than Ed Buchette (photo above). Buchette's résumé is impressive: in addition to his involvement with the Tour of Luxembourg and related races (including the Grand Prix General Patton) as General Secretary of the Association des Organisateurs du Tour de Luxembourg, he is Vice-president, along with Zomegnan, of the Association des Organisateurs des Courses Cyclistes (AIOCC) (Prudhomme is president), member (since 2000) of the UCI Road Commission, General Secretary of the Luxembourg cycling federation, and an international commissaire for the UCI. Buchette is also a government forester since 1979 and since 1998 has been in charge of forests for the city of Luxembourg.
Buchette also appears to be the only organizer mentioned above who is on Twitter. -Pete
Today is the Tour de Luxembourg Stage 1 from Luxembourg to Mondorf. The stage is scheduled to begin at 13:00 CET (7am U.S. Eastern) and finish between 16:35 and 17:18 CET (10:35am and 11:18am U.S. Eastern).