2018 Giro d'Italia Stage 21 Photos
Submitted by admin on Sun, 05/27/2018 - 14:25

Follow cyclingfans on Twitter and never miss a race. Cyclingfans.com: The #1 destination on the internet for live race coverage.
- Note: High resolution versions of all photos can be viewed by clicking the "high resolution" link under each photo.
See also: Giro d'Italia LIVE - Giro d'Italia Videos - Giro d'Italia Photos - Giro d'Italia Results - Giro d'Italia Art -
NOTE: If you believe you may not be seeing the latest content on this page, try clearing your browser's cache (or try a different browser).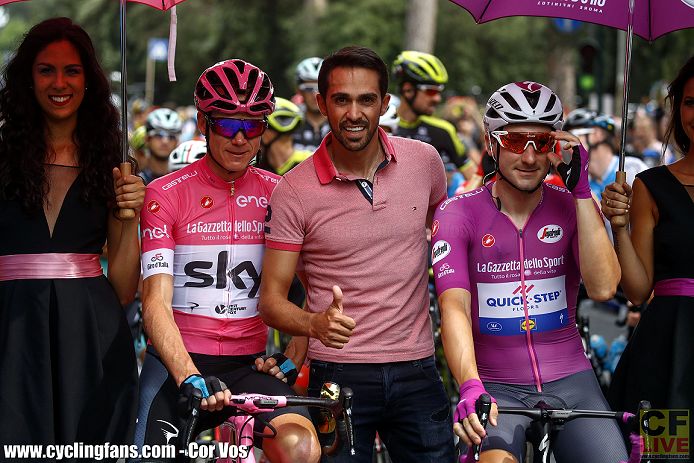 2018 Giro d'Italia Stage 21 Photos: Alberto Contador stands between race winner Chris Froome, left, and sprinter Elia Viviani, right, at the start of the final stage in Rome.
- Click for high resolution -
photo Copyright © 2018 Cor Vos/cyclingfans.com
More photos below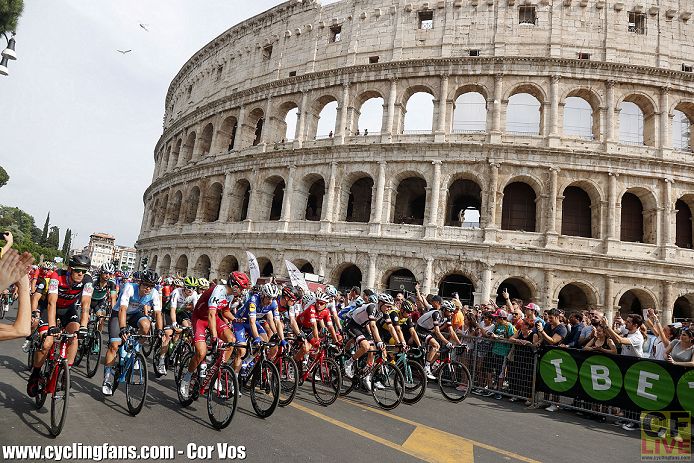 The peloton rides by the Coliseum in Rome during the 2018 Giro d'Italia.
- Click for high resolution -
photo Copyright © 2018 Cor Vos/cyclingfans.com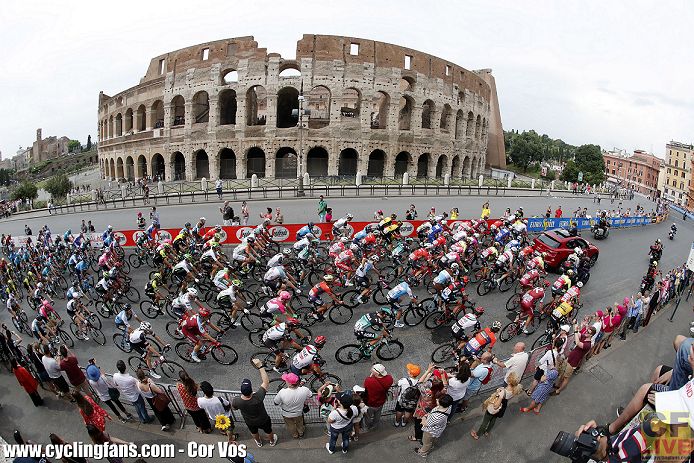 - Click for high resolution -
photo Copyright © 2018 Cor Vos/cyclingfans.com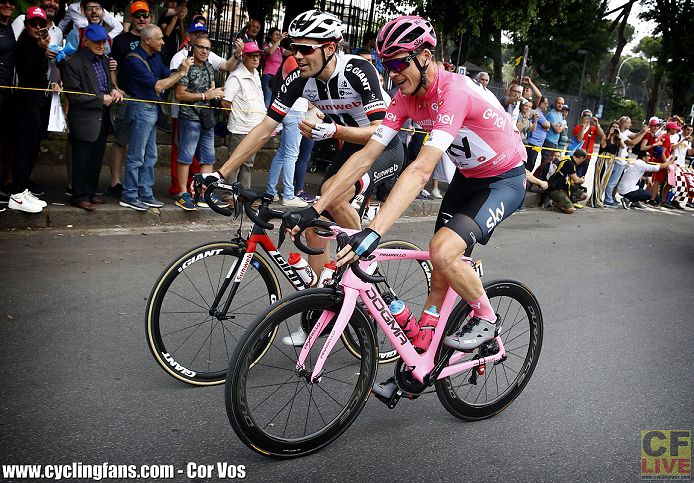 Race winner Chris Froome (Team Sky) speaks with runner-up Tom Dumoulin (Team Sunweb) during Stage 21.
- Click for high resolution -
photo Copyright © 2018 Cor Vos/cyclingfans.com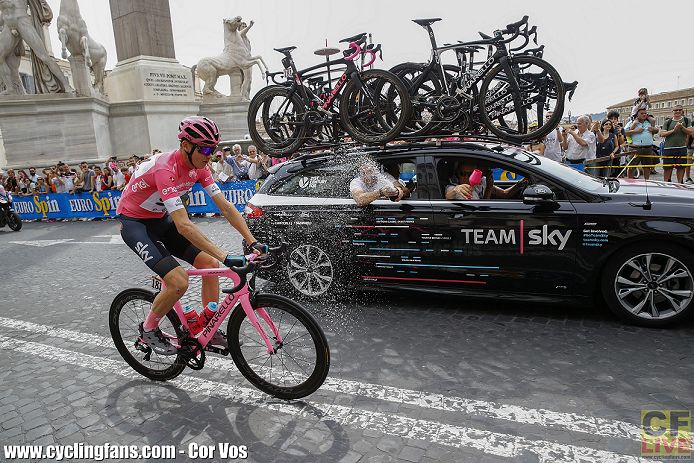 Chris Froome gets sprayed from the Team Sky car.
- Click for high resolution -
photo Copyright © 2018 Cor Vos/cyclingfans.com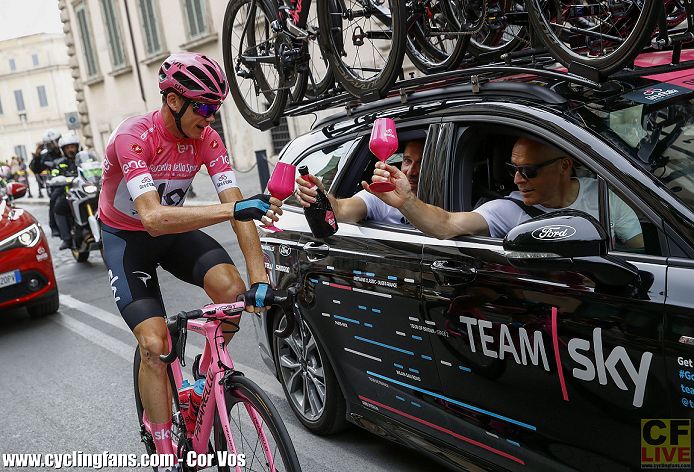 Chris Froome, team manager Dave Brailsford and Team Sky celebrate with champagne.
- Click for high resolution -
photo Copyright © 2018 Cor Vos/cyclingfans.com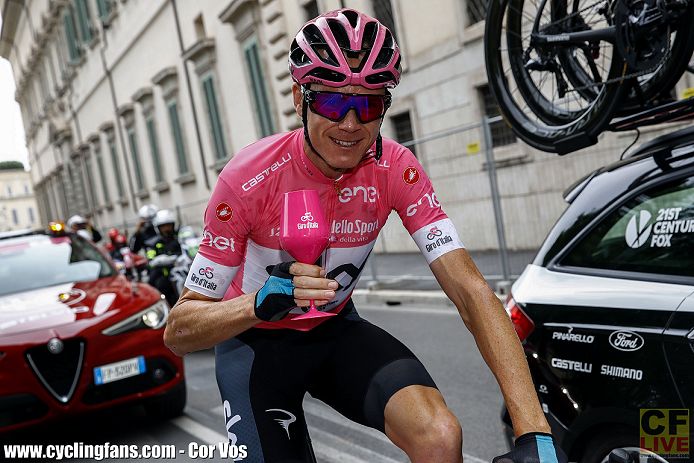 - Click for high resolution -
photo Copyright © 2018 Cor Vos/cyclingfans.com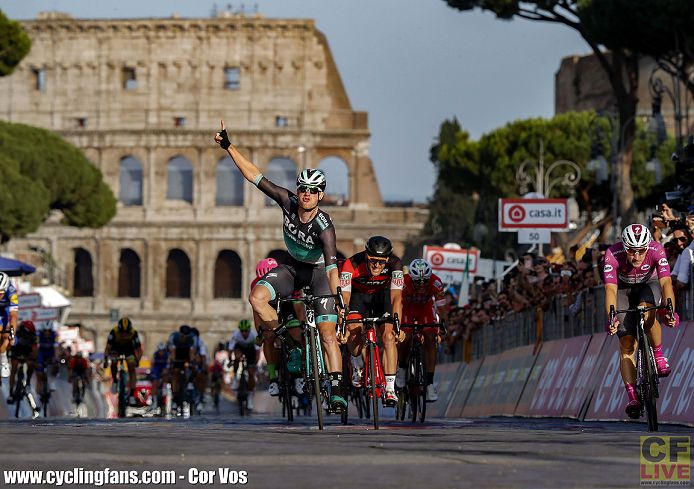 Sam Bennett (Bora-Hansgrohe) wins Stage 21 in Rome.
- Click for high resolution -
photo Copyright © 2018 Cor Vos/cyclingfans.com

Sam Bennett wins.
- Click for high resolution -
photo Copyright © 2018 Cor Vos/cyclingfans.com

Chris Froome and his Team Sky teammates celebrate during the final stage.
- Click for high resolution -
photo Copyright © 2018 Cor Vos/cyclingfans.com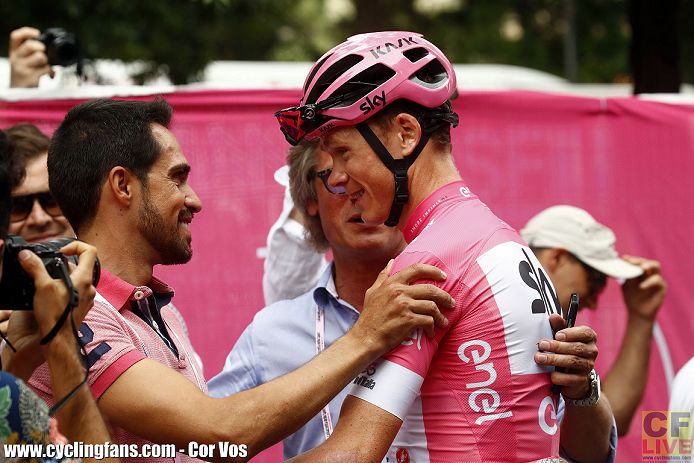 Alberto Contador and Chris Froome speak following the final stage.
- Click for high resolution -
photo Copyright © 2018 Cor Vos/cyclingfans.com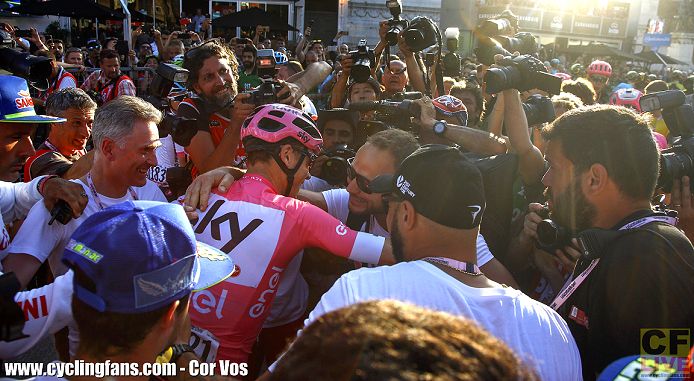 Photographers scramble around race winner Chris Froome.
- Click for high resolution -
photo Copyright © 2018 Cor Vos/cyclingfans.com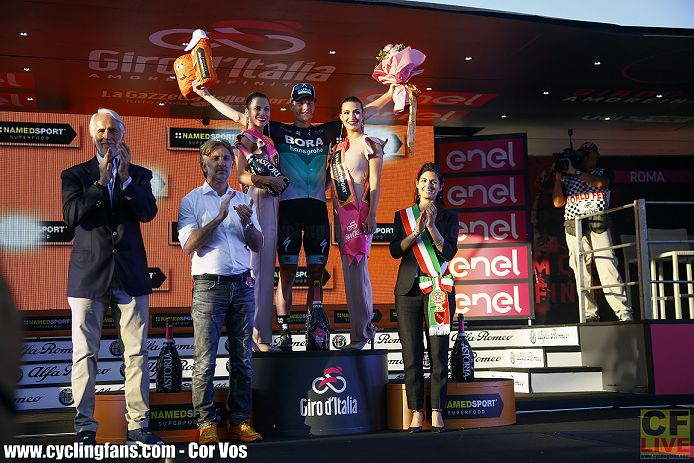 Stage 21 winner Sam Bennett celebrates on the podium.
- Click for high resolution -
photo Copyright © 2018 Cor Vos/cyclingfans.com

Chris Froome holds up his victory trophy on the podium.
- Click for high resolution -
photo Copyright © 2018 Cor Vos/cyclingfans.com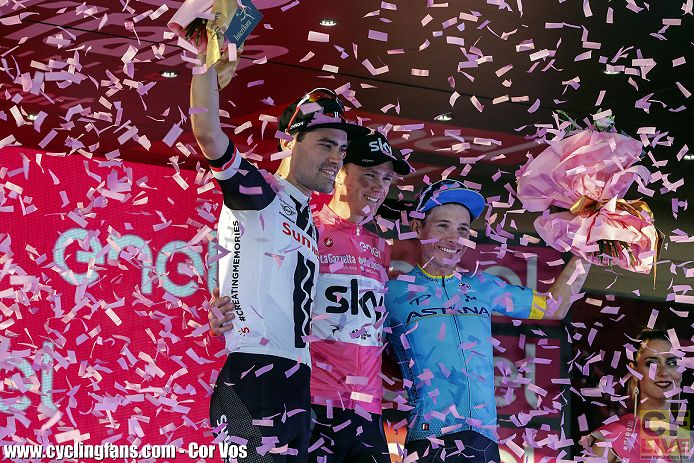 The final podium: Tom Dumoulin, Chris Froome and Miguel Angel Lopez.
- Click for high resolution -
photo Copyright © 2018 Cor Vos/cyclingfans.com
More Giro d'Italia Photos