2011 Paris-Roubaix LIVE
Submitted by admin on Sun, 04/10/2011 - 19:22

Follow cyclingfans on Twitter and never miss a race. Cyclingfans.com: The #1 destination on the internet for live race coverage.
2011 Paris-Roubaix profile/cobbled sectors (click for map and route details)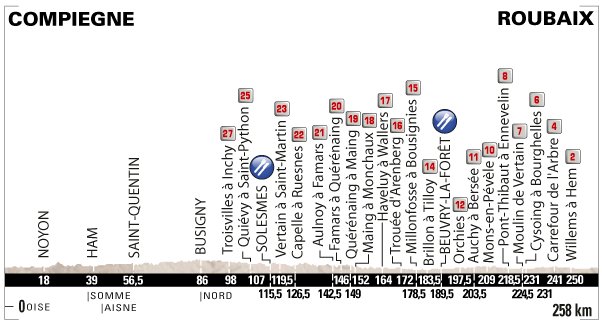 Great sequence shot by Bernard Papon of L'Equipe in 2009, though not from Thor's perspective.
Thor Hushovd goes down and Boonen is gone.
Notes: (latest notes always appear at the top)

- Photos: 2011 Paris-Roubaix by Michael Crook


- Photos: 2011 Paris-Roubaix in high resolution


- Videos: 2011 Paris-Roubaix videos


- Photos: 2011 Paris-Roubaix pics on Facebook


- LIVE AUDIO: Eurosport's audio-only feed is LIVE here.

- France3 LIVE video here. (French)

- Rai coverage LIVE here. Good quality feed but will switch to something else around 3pm.

- Eurosport LIVE video. (English)

- Tdp LIVE video. (Spanish)

- Sporza LIVE video. (Dutch)

- MJ Ray has posted info on watching Paris-Roubaix via satellite, on our cycling via satellite site here.

- On now: Tour of the Basque Country replay via Eurosport. Paris-Roubaix LIVE should follow.

- Cyclingnews ticker also LIVE now here.

- Official site ticker LIVE here (all official site updates here). Sporza ticker is also LIVE here. More tickers in Live tickers section at right.

- Next update before live coverage gets underway.

- The Boonen/Hushovd photo sequence above, by Bernard Papon of L'Equipe in 2009, is one of the great sequences in Paris-Roubaix history. L'Equipe's team of photographers does outstanding work year-round. I'll of course post photos here after the race.

- Note: Different Eurosport schedules have different start times depending on market. Also, Eurosport has a tendency to start actual coverage 15+ minutes after the scheduled time. Most TV feeds are likely to begin from around 12:50pm local time.

- More info and links to come.


- Videos: 2011 Paris-Roubaix recon, press conference, etc


- Photos: 2011 Paris-Roubaix recon pics - hi-res


- Paris-Roubaix map and route details here.

- Sunday's Paris-Roubaix departs Compiègne at 10:10am CET (4:10am U.S. Eastern) and is expected at the finish in Roubaix around 4:47pm CET (10:47am U.S. Eastern). Paris-Roubaix live streaming video should begin from around 12:30pm CET (6:30am U.S. Eastern).


- For the SEVENTH consecutive year, you can follow Paris-Roubaix live on cyclingfans.com.


The April 2011 issue of Velo Magazine

- Expected options for live video feeds are listed at right.

- We will update here with the best and latest live feeds at broadcast time.

- Welcome to our live coverage guide for the 2011 Paris-Roubaix.

2011 Paris-Roubaix LIVE
April 10, France
Official Website
Start List

Race starts at 10:10am CET
(4:10am U.S. Eastern)

Race finish around 4:47pm CET
(10:47am U.S. Eastern)

LIVE video from 12:30pm CET
(6:30am U.S. Eastern)




---

More links to come as available



(Eurosport)
(12:15 CET)
(6:15am U.S. Eastern)


(Sporza)
(Geo-restricted)
(13:00 CET)
(7:00am U.S. Eastern)


(RTBF, Belgium)
(Paris-Roubaix en direct)
(12:55 CET)
(6:55am U.S. Eastern)
Alternative



(France3.fr)
(geo-restricted)
(12:50 CET)
(6:50am U.S. Eastern)
Alternative



(NOS, Netherlands)
(--)
(--)


(Rai Sport 2)
(12:50 CET)
(6:50am U.S. Eastern)
Alternative

TDP

(more video links to come)

Live audio streaming:

Eurosport audio feeds may be offline

(English)
Alternative
---
Deutsch - Español
Français - Italiano
Russian
---
Check schedule


Official site ticker
(all updates)


(L'Equipe ticker)


(Sporza)
(auto-translated to English)


(Sportwereld)


(English)
Deutsch - Español
Français - Italiano


- More tickers to come -

News and photos:


(cycling news)
Yahoo photo gallery (AP/AFP)

Copyright © 2011 www.cyclingfans.com