Team Type 1 out of Coppi e Bartali after thieves steal bikes
Submitted by admin on Sat, 03/26/2011 - 18:02

Follow cyclingfans on Twitter and never miss a race. Cyclingfans.com: The #1 destination on the internet for live race coverage.
- Team Type 1 CEO and Founder Phil Southerland issued the following statement this evening regarding last night's theft of bikes and equipment: (original press release below the photos)
"Having to withdraw from Coppi-Bartali as a result of the devastating loss of equipment is a tremendous disappointment for the team, especially after riding so well here with Rubens and Lazlo both in the top ten in the time trial on Stage 4 and Andrea 2nd in the sprint in the opening stage. It's an unfortunate situation but our immediate priority is getting our guys back on bikes. We have extraordinary partners in sanofi-aventis, Colnago, Shimano, Limar, and Park Tools, and are working closely with all of them to ensure our guys can be ready to compete in Vitre* on April 1st." (*Ed.: Route Adélie de Vitré)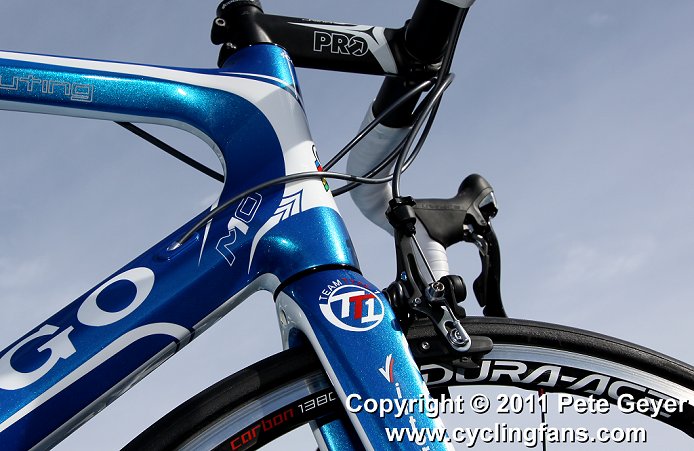 2011 Tour du Haut Var: Team Type 1 road bike close-up
- Click for high resolution -
photo Copyright © 2011 Pete Geyer/cyclingfans.com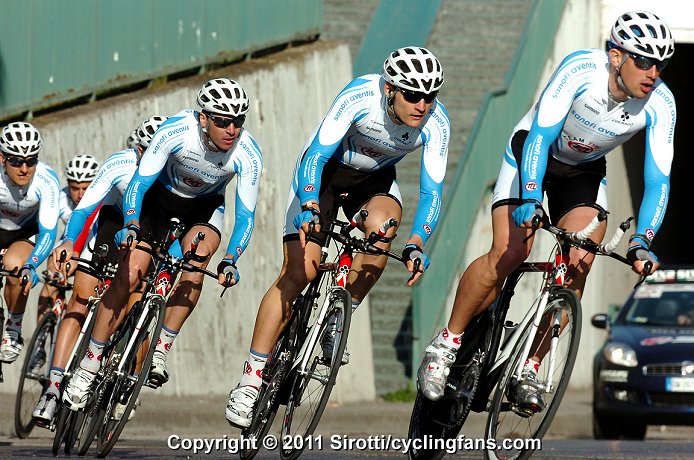 2011 Coppi e Bartali: Team Type 1 time trial bikes
- Click for high resolution -
photo Copyright © 2011 Fotoreporter Sirotti/cyclingfans.com
(Team Type 1 press release)
ZOLA PREDOSA, Italy, March 26 - Thieves broke in to locked Team Type 1 - sanofi-aventis vehicles overnight on Friday in a parking lot outside the race hotel, stealing more than 500,000 euros worth of bicycles, tools, spare parts and equipment, forcing the team to abandon the start at Stage 5 of the Settimana Internazionale Coppi e Bartali in Italy.
Team mechanics came out on Saturday morning and found the front window of a team car smashed and the vehicle pushed back from the back door of the locked panel van used to store equipment. The locks on the side and back doors of the panel van were forced open and all bicycles, tools, wheels, spare parts and equipment were stolen.
The large luggage door underneath the team bus was pried off and removed from the vehicle and all bikes mounted in the storage bin under the bus were stolen.
Police were called and arrived around 8:30 am, and began an investigation.
"This is a sad and terrible situation. We are devastated by the loss of so much equipment and the invaluable sizing and measurement information for our time trial and race bikes. It's only a matter of time before these bikes resurface for sale somewhere, and we simply ask our friends and supporters to help us find the bikes and help the police catch the thieves," said Director Sportif Vassili Davidenko. Team Type 1 website here