2011 Paris-Nice Route
Submitted by admin on Tue, 02/01/2011 - 11:17

Follow cyclingfans on Twitter and never miss a race. Cyclingfans.com: The #1 destination on the internet for live race coverage.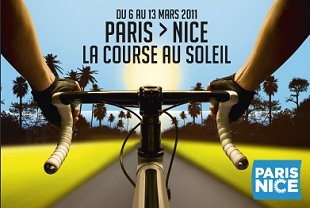 2011 Paris-Nice Route Revealed

- Today in Versailles, race organizer Amaury Sport Organization officially revealed the route for the 2011 Paris-Nice (March 6-13). As expected, there will be no prologue but the Stage 6 Time Trial will be the longest since 1968 according to AFP.
Sunday, March 6: Stage 1: Houdan to Houdan (154.5 km)
Monday, March 7: Stage 2: Montfort l'Amaury to Amilly (198.5 km)
Tuesday, March 8: Stage 3: Cosne-Cours-sur-Loire to Nuits-Saint-Georges (202.5 km)
Wednesday, March 9: Stage 4: Crêches-sur-Saône to Belleville (191 km)
Thursday, March 10: Stage 5: Saint-Symphorien-sur-Coise to Vernoux-en-Vivarais (194 km)
Friday, March 11: Stage 6: Rognes to Aix-en-Provence, Individual Time Trial (27 km)
Saturday, March 12: Stage 7: Brignoles to Biot - Sophia Antipolis (215.5 km)
Sunday, March 13: Stage 8: Nice to Nice (124 km)