2011 Le Tour de Langkawi LIVE
Submitted by admin on Mon, 01/31/2011 - 01:33

Follow cyclingfans on Twitter and never miss a race. Cyclingfans.com: The #1 destination on the internet for live race coverage.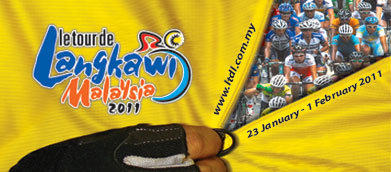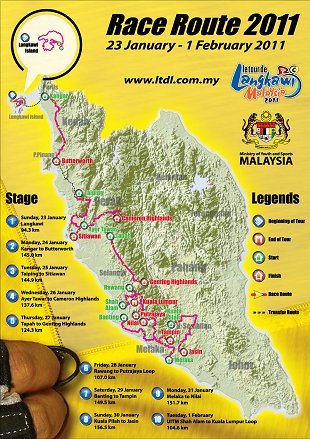 - Note: You'll find broadcast start times here.
- LIVE video here. Text updates LIVE here.
- Note: They are showing stage highlights followed by the live feed for the finish. Looks like that will be the plan for each stage.
- Monday night update: The live feed is scheduled to show the finish of Stage 3 at 07:05am CET Tuesday (01:05am U.S. Eastern Tuesday). Note that for Stage 2 they had coverage with commentators starting about 20 minutes before the scheduled broadcast time but they only showed the race finish.
- Update: Feed below may be a delayed feed, not live, as the scheduled broadcast start time is after the scheduled finish of the stage. Perhaps stage highlights, then live for the finish?
- LIVE video here. (I believe the live feed will be with Stage 2 at 07:00am CET Monday (01:00am U.S. Eastern Monday))
- Next update here if and when live coverage gets underway.
- Start list here (Sella, Arashiro, Kern, Rolland, Clarke, Jenkins, Menzies, De Kort, Van Hummel, Bodnar, Carlsen, Howes)
- 2011 Le Tour de Langkawi (Malaysia) runs from January 23-February 1. There may be live streaming video. (Thanks Bernie S.) Official Website