French TV: Behind the scenes at the 2010 Tour de France
Submitted by admin on Tue, 12/07/2010 - 14:09

Follow cyclingfans on Twitter and never miss a race. Cyclingfans.com: The #1 destination on the internet for live race coverage.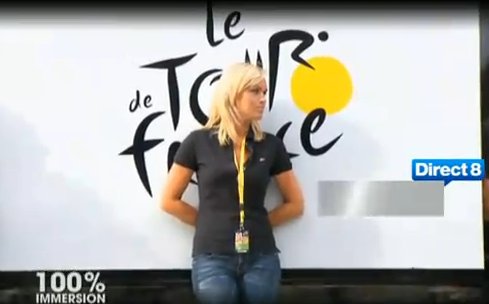 - Note: If you missed the live broadcast, you can watch the full archived program when you want here.
- French TV (Direct 8) television personality Cécile de Ménibus, who recently did a report on Paris-area gangs for the program 100% Immersion, this time goes behind the scenes at the 2010 Tour de France. Tour organizer A.S.O. and France TV gave her full access, though she decided to pass on covering anti-doping controls. Prior to shooting, de Ménibus considered pro cycling about as interesting as curling; "Why do people spend hours watching the Tour?," she asked herself in approaching the subject. Since the Tour, she has kept in contact with one rider according to today's L'Equipe: World Champion Thor Hushovd. They exchange text messages and she follows his results on the bike. This program is just under 2 hours in length and starts today at around 20:45 CET (2:45pm U.S. Eastern). Live feed here.

(Direct 8 live feed)