Binche-Tournai-Binche - Mémorial Frank Vandenbroucke LIVE
Submitted by admin on Tue, 10/05/2010 - 11:43

Follow cyclingfans on Twitter and never miss a race. Cyclingfans.com: The #1 destination on the internet for live race coverage.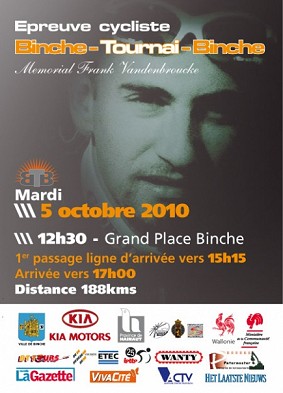 Binche-Tournai-Binche - Mémorial Frank Vandenbroucke official poster
- Full results are here. (.pdf)
- Video: Final kilometer (02:12, RTBF)
- Elia Viviani (Liquigas) has won the Mémorial Frank Vandenbroucke according to Sporza. We hope to have some video coverage later.
- This event is live on local TV. At the moment it does not look like it is going to be streamed on the internet.
- Start list is here. (.pdf) - Official Website
- Last run in 1996, the Binche-Tournai-Binche (Belgium) makes its return Tuesday under the name Mémorial Frank Vandenbroucke. Vandenbroucke, who died a year ago at the age of 34, won that last edition of the race. There will be live TV coverage with special guests as well as of the peloton as it passes through Binche. We are hoping there will be a live video stream here starting at 15:30 CET (9:30am U.S. Eastern). We don't expect there to be full coverage of the actual race itself. Click for more info. (Thanks, Bernie S.)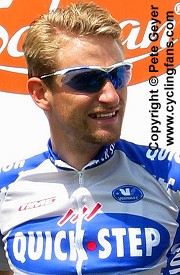 Frank Vandenbroucke, 2003 Tour of Luxembourg
Copyright © Pete Geyer/www.cyclingfans.com