2013 Superprestige Cyclocross Zonhoven LIVE
Submitted by admin on Sun, 11/03/2013 - 08:50

Follow cyclingfans on Twitter and never miss a race. Cyclingfans.com: The #1 destination on the internet for live race coverage.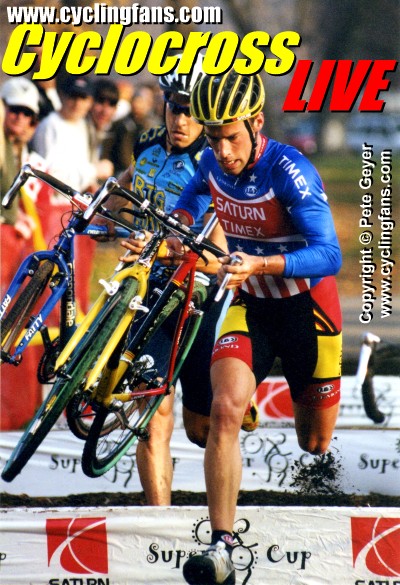 Copyright © Pete Geyer/www.cyclingfans.com
- Videos: Highlights: Elite Men - Under-23 - Juniors - Elite Men race: Final lap
- LIVE video here and here. (Coverage begins at 2:30pm CET. Elite Men race begins at 3pm CET).
- Next update as live video coverage gets underway.
- Video: 2013 race trailer
- Video: Virtual tour of the Zonhoven course
- We'll have Zonhoven videos post-race for all events.
- Should be a good one in the difficult sand at Zonhoven...
- This is not a race that often sees successful title defenses. And as the Dutch say, "Alle toppers present in Zonhoven". That said, Bart Wellens is out. U.S. national champion Jonathan Page is on the provisional start list but sat out Koppenberg on Friday, recovering from illness.
- Past winners: 2012: Nys - 2011: Albert - 2010: Stybar - 2009: Nys - 2008: Albert - 2007: Wellens - 2006: Nys - 2005: Nys
- van der Haar, Meeusen, Nys, Albert, Pauwels, Vantornout, Peeters, Simunek, Aernouts, Page (?), Field ... 2013/2014 cyclocross action continues...
- Coverage gets underway at 2:30pm CET (8:30am U.S. Eastern) with the Elite Men race beginning at 3:00pm CET (9:00am U.S. Eastern). Note that Daylight Saving Time ends in the U.S. Saturday night/early Sunday.
- The 2013 Superprestige Cyclocross - Zonhoven is Sunday, November 3. There will once again be live streams. Official website here - Start Lists
Live streaming video: 2:30pm CET (8:30am U.S. Eastern)

LIVE video streaming
LIVE video
(2:30pm CET (8:30am U.S. Eastern))
Alternative