Lourdes Oyarbide - HD Action Profile
Submitted by pete geyer on Thu, 08/28/2014 - 12:06

Follow cyclingfans on Twitter and never miss a race. Cyclingfans.com: The #1 destination on the internet for live race coverage.
- Lourdes Oyarbide - HD Action Profile
- With talk of the Vuelta a Espana possibly following the lead of the Tour de France and holding a women's event as early as 2015, I've decided to feature a women's pro rider each day of the 2014 Vuelta a Espana in an attempt to show organizers and others that interest is there. I had planned to carry out the photography part of this project at the women's Tour Languedoc Roussillon in May. Alas, the 2014 edition of T-L-R was cancelled. So I chose this week's women's Trophée d'Or race (August 23-27), specifically the Stage 2 time trial. These "HD Action Profiles" show the women in action, the bikes, the kits and sponsors. Below is Lourdes Oyarbide of Spain who rides for Bizkaia-Durango Team. The team rides Giant bikes; however, Giant does not provide the team with TT bikes. -Pete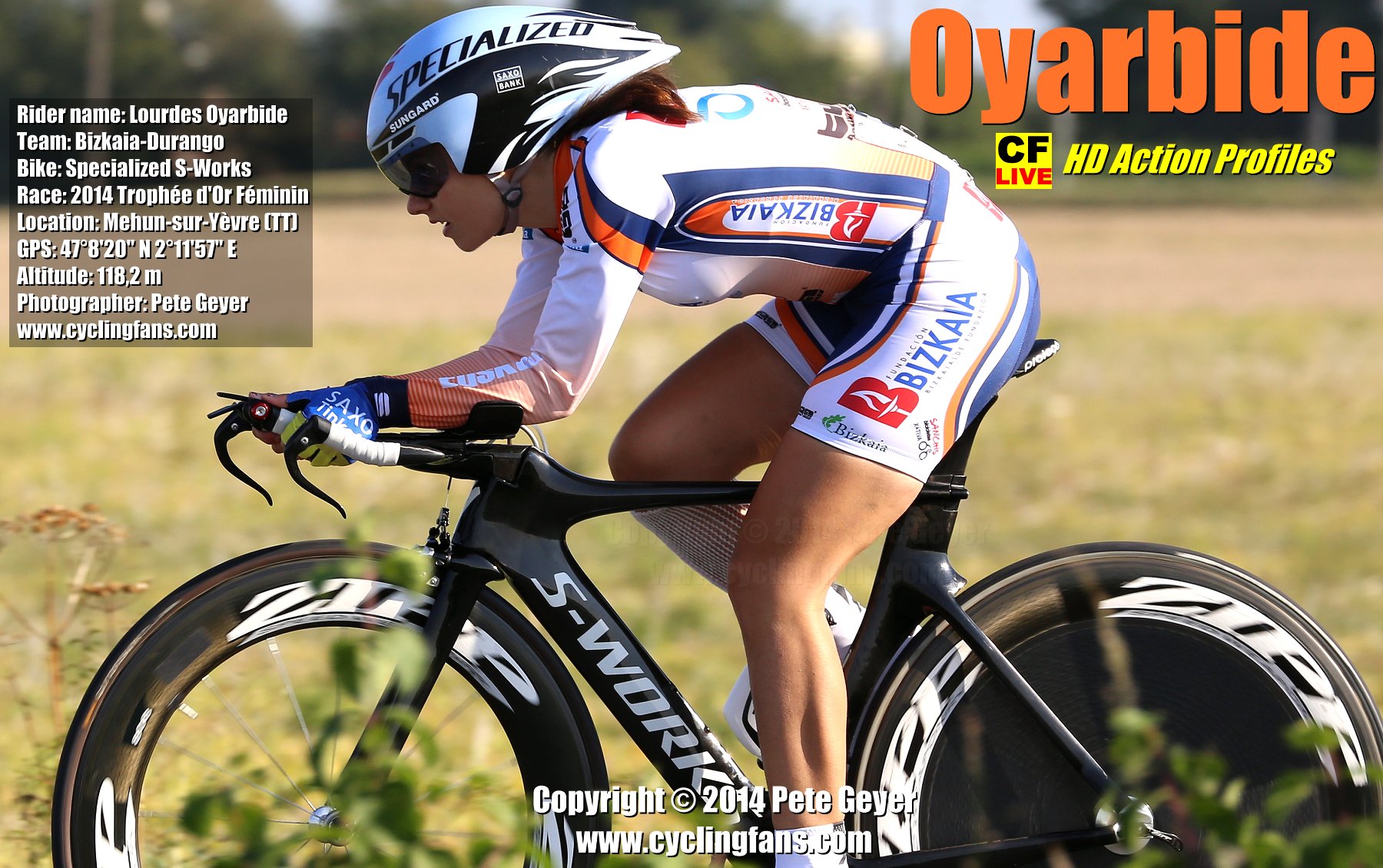 Lourdes Oyarbide (Bizkaia-Durango Team) photographed by Pete Geyer, www.cyclingfans.com
photo Copyright © 2014 Pete Geyer
- La Course by Le Tour de France: Lourdes Oyarbide and Bizkaia-Durango Team.
- See also: Tour de France LIVE
- This page first published July 20, 2014.
- There are 20 teams entered in the La Course by Le Tour de France, a race for the women that will be held in Paris on the final day of the men's Tour de France. There are 20 stages in the TDF before the final day. So each day of the men's TDF leading up to Paris, we will feature one women's team and rider for La Course.
Lourdes Oyarbide
Bizkaia-Durango http://www.duranguesa.com/
Twitter: @Lourdes_OJ -- Joven alavesa, estudiante de Ingenieria de Diseño Industrial e integrante del Equipo Ciclista Bizkaia Durango. 1994.
Strengths on the bike: a developing rider strong in the time trial
Age: 20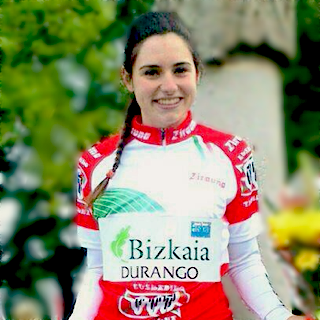 She's a very young Basque Country star and champion who likes red Converse sneakers. Also a former junior national time trial champion, Lourdes Oyarbide raced to a top ten result at the 2012 junior worlds time trial and placed third in the youth classification at the 2012 women's Tour de Bretagne. She joined Bizkaia Durango the following year. Now she studies engineering while pursuing a love of cycling that continues to grow with the support of her dad; before she turned five years-old he helped her through a very short-lived fear of removing training wheels from her bike.
If Oyarbide makes the La Course by Le Tour de France start list she'll likely share a very big smile with the spectators. The event is a great opportunity for her Spanish team which is eager to perform well for a large audience. "La Course will put the light on women's cycling, which needs it so much," team sports director Denis Gonzales told race representatives. "The race will prove to the whole world that women's cycling is a high-performance sport with very skilled riders."
The Spanish Bizkaia–Durango team has existed since 2001. Cycling development and promotional entity Duranguesa together with Bizkaia, a province in the Basque region, back the team. The roster of 16 women features the current top Spanish riders in the road race and time trial, Anna Ramírez and Leire Olaberria. The presence of Hungary's new time trial champion Veronika Kormos and the Brazilian national road champion Márcia Fernandes brings the total number of national champions in the Bizkaia-Durango kit to four. That number grows to six by counting Euskadi or Basque Country titleholders Oyarbide and Lierni Lekuona. 2014 Tour Femenino de San Luis stage winner Clemilda Fernandes, who placed third overall in the San Luis event, has contributed multiple podiums to the team's palmares over the past two years. Jon Elorriaga directs the team.
Favorite activities off the bike: hiking in the mountains
Cycling career dreams: a gold medal in the world or Olympic time trial
Sources of motivation: racing with the world's best women's cyclists

by Mary Topping
(photo courtesy Bizkaia-Durango team)