La Course by Le Tour de France: Lizzie Armitstead and Boels-Dolmans Cycling Team
Submitted by mary topping on Fri, 07/18/2014 - 11:54

Follow cyclingfans on Twitter and never miss a race. Cyclingfans.com: The #1 destination on the internet for live race coverage.
- La Course by Le Tour de France: Lizzie Armitstead and Boels-Dolmans Cycling Team.
- See also: Tour de France LIVE
- There are 20 teams entered in the La Course by Le Tour de France, a race for the women that will be held in Paris on the final day of the men's Tour de France. There are 20 stages in the TDF before the final day. So each day of the men's TDF leading up to Paris, we will feature one women's team and rider for La Course.
Lizzie Armitstead
Boels-Dolmans Cycling Team www.boelsdolmanscyclingteam.com/
Twitter: @L_ArmiTstead – Professional Cyclist, Proud @adidasuk @Oakley BP ambassador. Catch me if you can :)
Strengths on the bike: all-rounder
Age: 25
Nickname: Hollywood (it's changed a bit since "armpitsweat" at school!)
Website: http://www.mtc-uk.com/talent/lizzie-armitstead/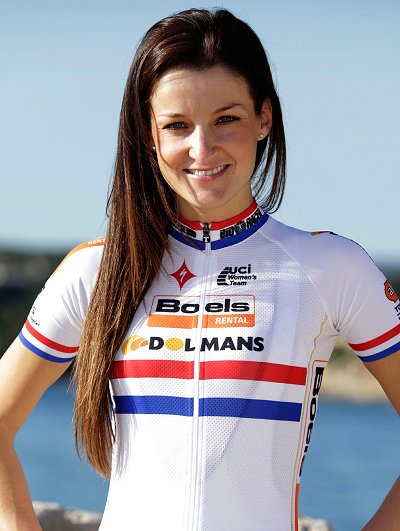 Presently ranked first in the women's UCI Road World Cup and winner of Ronde van Drenthe as well as a frequent top-three finisher in 2014, Lizzie Armitstead could fairly categorize this season as beyond compare. Yet the memory of her return home to Otley in Yorkshire after the 2012 Olympics may outshine even those accomplishments: riding along familiar streets in an open bus, she greeted masses of cheering townspeople who welcomed home their local hero and her hard-earned silver medal from the road race. They knew her since she took up cycling at age 16 and discovered a natural talent for velodrome competition. Armitstead subsequently captured multiple national and international track championships. She wore the British road champion's colors in 2011 and 2013.
This all-rounder's enthusiasm runs high for La Course by Le Tour de France and its world-wide media coverage. "I'm excited that this year's Tour will feature the first La Course event because it's such a huge step forward for women's cycling," Armitstead told a reporter for The Telegraph. "It's going to be really impressive and we need to make sure we put on a good show because we don't normally have access to that kind of audience at all."
Boels-Dolmans Cycling Team now stands third in the UCI team rankings. Among the 14 riders is current world time trial champion, Ellen van Dijk, who won Ronde van Vlaanderen this year. The Netherlands-based team also includes Luxembourg road and time trial national champion Christine Majerus. Launched in 2010 under sponsor Dolmans Landscaping, the outfit with Danny Stam as team manager is keen on developing young talent. Sponsor Boels Rental supplies machines and tools for hire. Both main sponsors have pledged support through 2016 to support riders' ambitions at the Rio Olympic Games.
Self-description in three words: Loyal, straight-forward and caring
Favourite activities off the bike: I like to go out for good food with a nice "non-cycling" group of friends and take my mind off the day job!
Gluten-free or pasta lover? Pasta lover
What's on my iPod: Very varied range of music on my iPod – I'm not fussy! Emeli Sande is my favourite at the moment.
Cycling career goals: To win the Tour of Flanders, Commonwealth Games, Olympic Games and World Championships…Would all be nice!
Post pro cycling plans: That's a question I wish I knew the answer to. A job that makes me happy and a family would be great!
by Mary Topping
(photo courtesy Boels-Dolmans Cycling Team)