Live event coverage
Current and upcoming live coverage

NOTE: If you believe you may not be seeing the latest content on this page, try clearing your browser's cache (or try a different browser)
| | |
| --- | --- |
| Event | Notes |
| February 25: Kuurne-Brussels-Kuurne | 2017 winner: Peter Sagan |
| February 25: Internationale Cyclocross Sluitingsprijs Oostmalle | Belgium |
| February 24: Omloop Het Nieuwsblad | 2017 winner: Greg van Avermaet |
| February 24-25: Les Boucles Drome Ardeche | France |
| February 22-25: Setmana Ciclista Valenciana | women's race in Spain |
| February 21-25: Abu Dhabi Tour | 2017 winner: Rui Costa |
| February 18: Brico Cross CX at Hulst | Netherlands |
| February 17: Superprestige CX at Middelkerke | Belgium |
| February 14-18: Volta ao Algarve | 2017 winner: Primoz Roglic |
| February 14-18: Vuelta a Andalucia/Ruta del Sol | 2017 winner: Alejandro Valverde |
| February 8-11: Tour de La Provence | France |
| February 11: Superprestige CX at Hoogstraten | Belgium |
| February 10: Vuelta a Murcia | Spain |
| February 10: DVV Trophy Cyclocross at Lille | Krawatencross |
| February 7: Brico Cross Cyclocross at Maldegem | Belgium |
| February 6-11: Colombia Oro y Paz | This is the first edition of the race. |
| February 6-10: Dubai Tour | 2017 winner: Marcel Kittel |
| February 3-4: UCI Cyclocross World Championships | Valkenburg, Netherlands |
| February 1-6: Copenhagen Six Days | Track cycling |
| January 31-February 4: Etoile de Besseges | 2017 winner: Lilian Calmejane |
| January 31-February 4: Volta a la Comunitat Valenciana/Tour of Valencia | 2017 winner: Nairo Quintana |
| January 28: UCI Cyclocross World Cup Hoogerheide | NL, Women's and Men's races LIVE |
| January 27-28: Cadel Evans Great Ocean Road Race | Australia |
| January 27: Cyclocross Rucphen | Netherlands, Women and Men races LIVE |
| January 25-30: Six Days of Berlin | Track cycling |
| January 21-28: Vuelta a San Juan | Argentina |
| January 21: UCI Cyclocross World Cup at Nommay | France |
| January 20: Cyclocross Kasteelcross at Zonnebeke | Belgium |
| January 16-21: Tour Down Under | |
| January 15: Internationale Betafence Cyclocross at Otegem | Belgium. Men's race only streamed live. |
| January 14: Tour Down Under People's Choice Classic | |
| January 13-14: USA Cycling Cyclocross National Championships | Reno, Nevada |
| January 13-14: Cyclocross National Championships | Europe: Belgium, France, Netherlands etc |
| January 9: Six Days of Rotterdam | Track cycling. Final day only is streamed live. |
| January 7: Soudal Classics Cyclocross at Leuven | Belgium |
| January 5-7: Cycling New Zealand Road Nationals | |
| January 3-7: Cycling Australia Road Nationals | Ballarat, Australia |
| January 1: DVV Trophy Cyclocross at Baal | aka GP Sven Nys |
| December 30: Superprestige Cyclocross at Diegem | Belgium, Elite Women and Men races live |
| December 29: Cyclocross Brico Cross at Bredene | Belgium |
| December 28: DVV Trophy Cyclocross at Loenhout | |
| December 26: UCI CX World Cup at Heusden-Zolder | Belgium, Women + Men races en direct |
| December 23: Soudal Classics Cyclocross at Sint-Niklaas | Belgium, Women and Men races LIVE |
| December 17: UCI Cyclocross World Cup at Namur | Belgium |
| December 16: DVV Trophy Cyclocross at Antwerp | Belgium |
| December 9-10: UCI Track Cycling World Cup | Santiago, Chile |
| December 10: Vlaamse Druivencross Cyclocross at Overijse | Belgium |
| December 9: DVV Trophy Cyclocross at Essen | Belgium |
| December 1-3: UCI Track Cycling World Cup | Milton, Canada. Final day live only. |
| December 3: Cyclocross Zilvermeercross at Mol | Belgium. Men's race only is live. |
| December 2: Soudal Classics Cyclocross GP Hasselt | Belgium. Men's race only is broadcast live. |
| November 29: 2018 Giro d'Italia Route Presentation | Full route details to be revealed. |
| November 26: DVV Trofee Cyclocross Flandriencross | Hamme, Belgium - Women + Men |
| November 25: UCI Cyclocross World Cup | Zeven, Germany - Women and Men |
| November 19: Six Days of Gent | Final day only is broadcast live |
| November 19: UCI Cyclocross World Cup | Bogense, Denmark |
| November 12: Superprestige Cyclocross at Gavere | Belgium. Women's and men's races LIVE. |
| November 11: Soudal Classics Cyclocross at Niel | Belgium. Women's + men's races LIVE. |
| November 10-12: UCI Track Cycling World Cup | Manchester, Great Britain |
| November 5: UCI Track Cycling World Cup | Pruszków, Poland |
| November 5: UEC European Cyclocross Championships | Tabor, Czech Republic |
| November 4: Saitama Criterium | Japan |
| November 1: DVV Trophy CX at Oudenaarde | Belgium. Women's and men's races LIVE. |
| October 29: Superprestige CX at Ruddervoorde | Belgium |
| October 29: Skoda Shanghai Criterium | Inaugural edition |
| October 28-November 5: Tour of Hainan | China |
| October 24: UCI Cycling Gala | Guilin, China |
| October 24-29: Six Day London Track Cycling | |
| October 22: UCI Cyclocross World Cup Koksijde | Belgium, Women + Men races |
| October 21: Superprestige CX at Boom | Elite Women and Men races. |
| October 19-22: Track Cycling European Championships | Berlin, Germany |
| October 17: 2018 Tour de France Route Presentation | LIVE from Paris. |
| October 15: Chrono des Nations | France. Women's and Men's ITTs. |
| October 15: Superprestige CX at Zonhoven | Belgium. Women + Men races LIVE. |
| October 14: Tacx Pro Classic | Netherlands |
| October 14: Brico Cross Cyclocross Polderscross | Kruibeke, Belgium. Women and Men races. |
| October 11: Famenne Ardenne Classic | Belgium. First edition. |
| October 10-17: Tour of Taihu Lake | 2016 winner: Leonardo Duque |
| October 10-15: Tour of Turkey | 2016 winner: José Gonçalves |
| October 8: DVV Trophy Cyclocross at Ronse | Belgium - Elite Women + Men Races LIVE |
| October 8: Paris-Tours | 2016 winner: Fernando Gaviria |
| October 7: Brico Cross CX Meulebeke | Women's and Men's races live online |
| October 7: Il Lombardia | 2016 winner: Esteban Chaves |
| October 5: Milano-Torino | 2016 winner: Miguel Angel Lopez |
| October 3: Tre Valli Varesine | 2016 winner: Sonny Colbrelli |
| October 3: Binche-Chimay-Binche | 2016 winner: Arnaud Demare |
| October 1: Tour de l'Eurometropole/Circuit Franco Belge | 2016 winner: Dylan Groenewegen |
| October 1: Superprestige Cyclocross at Gieten | Netherlands. Women's + Men's races LIVE. |
| October 1: GP Beghelli | 2016 winner: Nicola Ruffoni |
| September 30: Soudal Classics Cyclocross GP Neerpelt | Belgium. Men's race streamed live. |
| September 30: Giro dell'Emilia | 2016 winner: Esteban Chaves |
| September 24: UCI Cyclo-Cross World Cup | Waterloo, Wisconsin, U.S.A. |
| September 18: 2018 Giro d'Italia Start Route Presentation | Jerusalem |
| September 17-24: UCI Road World Championships | Bergen, Norway |
| September 17: UCI CX World Cup Jingle Cross | Iowa City, U.S.A. |
| September 16: Primus Classic-GP Impanis Van Petegem | 2016 winner: Fernando Gaviria |
| September 15: Koolskamp Kampioenschap van Vlaanderen | 2016 winner: Timothy Dupont |
| September 14: Coppa Bernocchi | 2016 winner: Giacomo Nizzolo |
| September 13: Coppa Agostoni | Italy |
| September 13: Grand Prix de Wallonie | 2016 winner: Tony Gallopin |
| September 12-16: Tour of Denmark | 2016 winner: Michael Valgren |
| September 10: Brico Cross at Eeklo | CX in Belgium |
| September 10: Women's Vuelta Madrid Challenge | 2016 winner: Jolien D'Hoore |
| August 19-September 10: Vuelta a Espana | 2016 winner: Nairo Quintana |
| September 10: Grand Prix de Montreal | 2016 winner: Greg van Avermaet |
| September 8: Grand Prix de Quebec | 2016 winner: Peter Sagan |
| September 3-10: Tour of Britain | 2016 winner: Steve Cummings |
| September 3: GP de Fourmies | 2016 winner: Marcel Kittel |
| September 2: Brussels Cycling Classic | 2016 winner: Tom Boonen |
| September 1-4: Tour of Alberta | 2016 winner: Robin Carpenter |
| August 27: Schaal Sels LIVE video here. | Official site here. |
| August 27: Bretagne Classic-Ouest-France | 2016 winner: Oliver Naesen |
| August 26: GP de Plouay-Bretagne | UCI Women's WorldTour |
| August 18-27: Tour de l'Avenir | 2016 winner: David Gaudu |
| August 17-20: Ladies Tour of Norway | 2016 winner: Lucinda Brand |
| August 10-13: Colorado Classic | Inaugural edition |
| August 10-13: Arctic Race of Norway | 2016 winner: Gianni Moscon |
| August 7-13: BinckBank Tour (former Eneco Tour) | 2016 winner: Niki Terpstra |
| August 5: Documentary: "Les Elles du Vélo" | Women ride for the return of a women's Tour de France |
| August 5: Dwars door het Hageland | |
| August 2-6: UEC Road European Championships | Herning, Denmark |
| August 4-15: Tour of Portugal | 2016 winner: Rui Vinhas |
| August 1-5: Vuelta a Burgos | 2016 winner: Alberto Contador |
| July 31-August 6: Tour of Utah | 2016 winner: Lachlan Morton |
| July 29-30: Prudential RideLondon Classic | UCI Women's WorldTour + Men's race |
| July 29-August 4: Tour de Pologne | 2016 winner: Tim Wellens |
| July 29: Clasica San Sebastian | 2016 winner: Bauke Mollema |
| July 25: Profronde van Surhuisterveen. LIVE video here. Site here. | Post-TDF criterium |
| July 22-26: Tour de Wallonie | Final 3 stages live only |
| June 30-July 22: Women's Tour de France Route Ride | They ride day ahead of men's race. |
| July 1-23: Tour de France | 2016 winner: Chris Froome |
| July 2-8: Tour of Austria | 2016 winner: Jan Hirt |
| June 24-25: USA Cycling National Road Championships | Knoxville, Tenn. |
| June 21-25: National Road Championships | France, Belgium, Netherlands, etc |
| June 21: Halle Ingooigem | Belgium |
| June 14-18: Tour de Beauce | 2016 winner: Greg Daniel |
| June 17-18: UEC BMX European Cup | Sandness, Norway |
| June 15-18: Tour of Slovenia | 2016 winner: Taaramae |
| June 15-18: Route du Sud | 2016 winner: Quintana |
| June 14-18: Tour de Korea | |
| June 10-18: Tour de Suisse | 2016 winner: M. Angel Lopez |
| June 4-11: Criterium du Dauphiné | 2016 winner: Froome |
| June 4: UCI Mountain Bike World Cup | Fort William, Scotland |
| June 2-4: Hammer Series | Limburg, Netherlands |
| June 1-4: Boucles de la Mayenne | France |
| May 31-June 4: Tour de Luxembourg | |
| May 5-28: Giro d'Italia | 2016 winner: Nibali |
| May 28: An Post Ras | Final stage streamed live |
| May 28: UCI Mountain Bike World Cup | Albstadt, Germany |
| May 24-28: Tour of Belgium | 2016 winner: Devenyns |
| May 21-28: Tour of Japan | |
| May 17-21: Euskal Emakumeen Bira. LIVE video here and here. (11am cet) | Official site here. |
| May 17-21: Tour of Norway | 2016 winner: Weening |
| May 14-20: Tour of California | 2016 winner: Alaphilippe |
| May 14: Profronde van Noord-Holland. LIVE video here and here. 10:50 cet | Official site here. |
| May 9-14: Four Days of Dunkirk | 2016 winner: Coquard |
| May 13-14: UCI BMX Supercross World Cup | Heusden-Zolder, Belgium |
| May 1: Eschborn-Frankfurt | 2016 winner: Kristoff |
| April 30: UCI MTB World Cup | Lourdes, France |
| April 28-30: Festival Elsy Jacobs. LIVE video here and here. Official site here. | Geo-restricted? |
| April 30: Rent Liv Løbet Skive. LIVE video here and here. Official site here. | Denmark |
| April 29: Tom Boonen Goodbye Race. LIVE video here. | "Tom Says Thanks" |
| April 29: GP Viborg. LIVE video here and here. Official site here. | Denmark |
| April 28-30: Men's Tour de Yorkshire | 2016 winner: T. Voeckler |
| April 29: Women's Tour de Yorkshire | 2016 winner: Kirsten Wild |
| April 25-30: Tour de Romandie | 2016 winner: Nairo Quintana |
| April 23: Liege-Bastogne-Liege | 2016 winner: Wouter Poels |
| April 22: Little 500 | Indiana University |
| April 22: Arno Wallaard Memorial | Netherlands |
| April 19: La Fleche Wallonne | 2016 winners: Valverde, Van der Breggen |
| April 18-23: Tour of Croatia | 2016 winner: Kvasina |
| April 17-21: Tour of the Alps | Formerly Giro del Trentino |
| April 17: Tro Bro Leon | 2016 winner: Mortensen |
| April 16: Amstel Gold Race | 2016 winner: Gasparotto |
| April 13: GP de Denain Porte du Hainaut/Valenciennes Métropole | 2016 winner: McLay |
| April 12: De Brabantse Pijl | 2016 winner: Vakoc |
| April 12-16: UCI Track Cycling World Championships | Hong Kong |
| April 9: Paris-Roubaix | 2016 winner: Hayman |
| April 5-9: Healthy Ageing Tour | Netherlands |
| April 5: Scheldeprijs | 2016 winner: Kittel |
| April 3-8: Tour of the Basque Country | 2016 winner: Contador |
| April 2: Tour of Flanders | 2016 winner: Sagan |
| April 1: GP Miguel Indurain | |
| April 1: Volta Limburg Classic | 2016 winner: Floris Gerts |
| March 28-30: Three Days of De Panne | 2016 winner: Lieuwe Westra |
| March 26: Gent-Wevelgem | 2016 winner: Sagan |
| March 24: E3 Harelbeke | 2016 winner: Kwiatkowski |
| March 22: Dwars door Vlaanderen | 2016 winner: Debusschere |
| March 20-26: Volta a Catalunya | Nairo Quintana |
| March 19-26: Cape Epic MTB Stage Race | Western Cape, South Africa |
| March 19: Trofeo Binda | UCI Women's WorldTour |
| March 18: Milan-San Remo | 2016 winner: Arnaud Demare |
| March 17: Handzame Classic | |
| March 15: Nokere Koerse-Danilith Classic | Belgium |
| March 12: Dorpenomloop Rucphen | Netherlands |
| March 11: Ronde van Drenthe | Women's + Men's races |
| March 8-14: Tirreno-Adriatico | 2016 winner: Van Avermaet |
| March 5-12: Paris-Nice | 2016 winner: Geraint Thomas |
| March 5: Dwars door West Vlaanderen | Belgium |
| March 5: GP Industria e Artigianato/Larciano | Italy |
| March 4: Strade Bianche | 2016 winner: Cancellara |
| March 1: GP Le Samyn | |
| February 26: Women's Omloop van het Hageland | |
| February 26: Kuurne-Brussels-Kuurne | 2016 winner: Jasper Stuyven |
| February 25: Omloop Het Nieuwsblad | 2016 winner: Van Avermaet |
| February 23-26: Abu Dhabi Tour | 2016 winner: Tanel Kangert |
| February 19: Internationale CX Sluitingsprijs Oostmalle | Belgium |
| February 18: Soudal Classics Cyclocross at Leuven | Belgium, Women + Men races |
| February 15-19: Volta ao Algarve | 2016 winner: Geraint Thomas |
| February 15-19: Vuelta a Andalucia/Ruta del Sol | 2016 winner: Valverde |
| February 12: Cycling South Africa Road National Championships | Elite Men Race |
| February 12: Brico Cross Vestingcross at Hulst | Netherlands |
| February 11: Vuelta a Murcia | Spain |
| February 11: Superprestige Cyclocross Noordzeecross at Middelkerke | Belgium, Women and Men |
| February 1-5: Etoile de Besseges | Final stage only is live |
| February 5: Superprestige Cyclocross Hoogstraten | Women + Men races live |
| February 4: DVV Trophy CX Krawatencross Lille | Belgium, women + men races |
| February 1-5: Jayco Herald Sun Tour | Limited live video for some stages |
| February 1-5: Volta a la Comunitat Valenciana/Tour of Valencia | 2016 winner: Wouter Poels |
| February 1: Brico Cross-Parkcross Maldegem | Belgium |
| January 31-February 4: Dubai Tour | 2016 winner: Marcel Kittel |
| January 28-29: UCI Cyclocross World Championships | Bieles, Luxembourg |
| January 28-29: Cadel Evans Great Ocean Road Race | Australia, Women + Men |
| January 23-29: Vuelta a San Juan | Argentina |
| January 22: UCI Cyclocross World Cup Hoogerheide | Netherlands, Women + Men |
| January 21: Kasteelcross CX Zonnebeke | Belgium |
| January 17-22: Tour Down Under | 2016 winner: Simon Gerrans |
| January 15: Tour Down Under People's Choice Classic | |
| January 15: UCI Cyclocross World Cup at Fiuggi | Italy, Women and Men races |
| January 9: Internationale Betafence Cyclocross at Otegem | Belgium |
| January 8: Cycling Australia Road National Championships | Saturday night in the Americas |
| January 8: USA Cycling Cyclocross National Championships | Hartford, CT |
| January 7-8: Cyclocross National Championships | France, Belgium and more |
| January 6-8: Cycling New Zealand Road National Championships | Elite/U23 Women and Men |
| January 4: Internationale Centrumcross Surhuisterveen | Netherlands |
| January 1-3: Mitchelton Bay Cycling Classic | Australia |
| January 1: DVV Trophy CX/GP Sven Nys at Baal | |
| December 30: Brico Cross CX at Bredene | |
| December 29: DVV Trophy Cyclocross Azencross at Loenhout | |
| December 26: UCI Cyclocross World Cup at Heusden-Zolder | Belgium, Women + Men races |
| December 23: Superprestige Cyclocross at Diegem | Belgium, Women and Men |
| December 18: UCI Cyclocross World Cup at Namur | Belgium, Women and Men |
| December 17: Scheldecross Cyclocross at Antwerp | Belgium, Women + Men races |
| December 11: Coupe de France Cyclocross Finale Nommay | U23, Elite Women, Elite Men |
| December 11: Druivencross CX at Overijse | Belgium |
| December 10: DVV Trophy Cyclocross at Essen | Belgium |
| December 6-11: Six Days of Amsterdam Track Cycling | Netherlands |
| December 4: Cyclocross Zilvermeercross at Mol | |
| December 3: Revolution Series Champions League Track | London |
| December 3: Hansgrohe Superprestige CX at Spa-Francorchamps | Women's + Men's races live |
| November 27: DVV Trophy CX Flandriencross Hamme | Belgium |
| November 26: Revolution Series Champions League Track | Manchester, England |
| November 26: UCI Cyclocross World Cup Zeven | Germany |
| November 20: Six Days of Gent | Final day only is live |
| November 20: UCI Cyclocross World Cup Koksijde | Belgium |
| November 19: Soudal Classics Cyclocross Hasselt | Belgium |
| November 13: Superprestige Cyclocross Gavere | Belgium |
| November 11-13: UCI Track Cycling World Cup | Apeldoorn, Netherlands |
| November 11: Soudal Classics Cyclocross Jaarmarktcross | Niel, Belgium |
| November 5-12: Tour of Taihu Lake | China |
| November 6: Superprestige Cyclocross Ruddervoorde | |
| November 4-6: UCI Track Cycling World Cup | Glasgow, Scotland |
| November 5: Soudal Classics Cyclocross Waaslandcross | |
| November 1: DVV Trophy CX Koppenbergcross Oudenaarde | |
| October 30: Cyclocross European Championships | |
| October 29: Saitama Criterium | 2015 winner: John Degenkolb |
| October 25-30: Six Day London Track Cycling | |
| October 25: 2017 Giro d'Italia Route Presentation | |
| October 23: Chrono des Nations | Women's and Men's TTs |
| October 23: Telenet UCI Cyclocross World Cup Valkenburg | Women's + Men's races |
| October 22-30: Tour of Hainan | China, Hainan Island |
| October 22: Cyclocross: Niels Albert CX | Belgium |
| October 19-23: Track Cycling European Championships | Paris |
| October 20-23: Abu Dhabi Tour | 2015 winner: Esteban Chaves |
| October 18: 2017 Tour de France Route Presentation | Palais des Congres, Paris |
| October 16: Superprestige Cyclocross at Zonhoven | Belgium |
| October 15: Cyclocross: Brico Cross Kruibeke | Belgium |
| October 11: Sluitingsprijs-Putte-Kapellen. LIVE video here and here. | Official site here. |
| October 9-16: UCI Road World Championships | Doha, Qatar |
| October 9: Paris-Tours | 2015 winner: Matteo Trentin |
| October 8: Revolution Series Track Cycling | Glasgow |
| October 8-9: Cyclocross: Brico Cross Meulebeke + DVV Trophy Ronse | Belgium |
| October 4: Binche-Chimay-Binche | 2015 winner: Ramon Sinkledam |
| October 2: Superprestige Cyclocross Gieten | |
| October 2: Tour de l'Eurometropole | 2015 winner: Alexis Gougeard |
| October 2: Tour de Vendee | 2015 winner: Christophe Laporte |
| October 1: Il Lombardia | 2015 winner: Vincenzo Nibali |
| September 28: Milano-Torino | 2015 winner: Diego Rosa |
| September 27: Tre Valli Varesine | 2015 winner: Vincenzo Nibali |
| September 24: Telenet UCI CX World Cup Iowa City (Jingle Cross) | Women's + Men's races |
| September 21: Telenet UCI CX World Cup Las Vegas (CrossVegas) | Women's + Men's races |
| September 19-25: Eneco Tour | 2015 winner: Tim Wellens |
| September 17-18: European Road Championships | Plumelec, France |
| September 17: Primus Classic GP Impanis-Van Petegem | 2015 winner: Sean De Bie |
| September 14: Grand Prix de Wallonie | 2015 winner: Jens Debusschere |
| September 11: Women's La Course des Demois'Elle | 2015 winner: Bérengère Staelens |
| September 11: Cyclocross | Brico Cross Geraardsbergen |
| September 11: Grand Prix Cycliste de Montreal | 2015 winner: Tim Wellens |
| September 11: Thompson Bucks County Classic | |
| September 10: Reading 120 | |
| September 9 and 11: UCI MTB World Championships 4X and Downhill | Val di Sole, Italy |
| September 9: Grand Prix Cycliste de Quebec | 2015 winner: Rigoberto Uran |
| September 4-11: Tour of Britain | 2015 winner: Boasson Hagen |
| August 20-September 11: Vuelta a Espana | 2015 winner: Fabio Aru |
| July 2-24: Tour de France | 2015 winner: Chris Froome |
| January 9-10: Cyclocross National Championships | France, Belgium, Italy, etc. |
More events/races below...
Live race coverage
Submitted by admin on Sat, 10/10/2009 - 14:00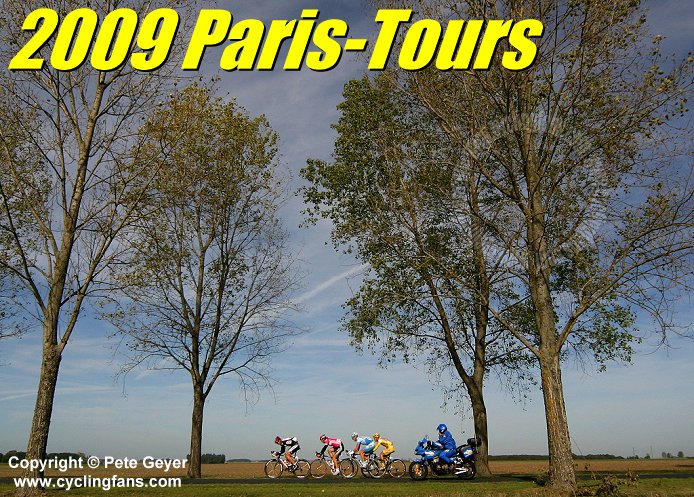 Paris-Tours: An early breakaway, late in the season. Will it go all the way?
Copyright © Pete Geyer/www.cyclingfans.com
- Sunday Update: Race is underway. Our 2009 Paris-Tours Live Online Coverage Guide is here.
- Tomorrow, Sunday, is the 103rd Paris-Tours and there will be live video streaming. The Elite Men's race will start in Chartres instead of the usual Saint-Arnoult-en-Yvelines outside Paris. It will finish in Tours, on the Avenue de Grammont for the last time due to the installation of tramway tracks next year. (There is also an Under-23 race. It starts in Bonneval and finishes in Tours.) Philippe Gilbert (Silence-Lotto) is defending champion. No American has ever reached the podium; Tyler Farrar (Garmin-Slipstream), winding down a breakout season, hopes to become the first American winner. We'll post our full 2009 Paris-Tours Live Online Coverage Guide before the start of live television coverage.
Paris-Tours Official Website
Start List
Race starts at: 11:15 CET (5:15am U.S. Eastern)
Live video webcast on Cycling TV starts at: 15:25 CET (9:25am U.S. Eastern)
Live streaming on Sporza: 15:25 CET (9:25am U.S. Eastern)
Live coverage on Eurosport France: 15:00 CET (9am U.S. Eastern)
Live coverage from other sources: Check back in the morning

- On now: Giro dell'Emilia delayed video coverage via Rai here. (Thanks, Bernie.)
- More Tour de Cycling - Saturday to come, including a first look at tomorrow's Paris-Tours LIVE coverage options.
- LIVE now: GVA Trophy Cyclocross - Namen here. (Thanks, Jirka!) Also LIVE here. (Bernie S.)
Submitted by admin on Wed, 10/07/2009 - 03:33
- Flying overnight to Paris today, so next update late Thursday. -Pete
- The 2010 Tour de France Route Presentation is one week from today at the Palais des Congres in Paris. You will be able to watch the event LIVE on the internet, with audio commentary in English and French. Live streaming is scheduled to begin at 11:00 CET (5am U.S. Eastern), October 14. (We will of course have the links for you + more info as the event approaches.) The first half hour should include speeches from TDF organizer Amaury Sport Organization (A.S.O.) president Jean-Etienne Amaury and Tour director Christian Prudhomme, among others including officials from key regions visited during the 2010 Tour. This is a good time for a nap. Things will then get more interesting as breathtaking 12-minute video highlights of the 2009 Tour, set to music, remind everyone why we love this sport. The event concludes with what everyone is waiting for: the presentation of the 2010 Tour de France race route. Will there be a Team Time Trial? (Rumor is no.) How many Individual Time Trials and how long will they be? How many mountaintop finishes? With coastal winds already expected in week one, will organizers also throw in some cobblestone sections on the route from Rotterdam into Northern France to keep things interesting? (Rumor is yes. Remember Iban Mayo bouncing all over the road and crashing in 2004?) Among the riders expected in attendance in Paris are Lance Armstrong and Alberto Contador. Also expected "in the house": Most everyone from team managers such as Marc Madiot and Johan Bruyneel to broadcasters Paul Sherwen, Phil Liggett and Bob Roll. Will UCI President Pat McQuaid show up or will his "bad France week" this week extend into next week? Will someone, perhaps a member of the French media, have sent bad boy and past regular attendee Alexandre Vinokourov an invitation in order to stir up trouble? Stay tuned. Not to be missed. -Pete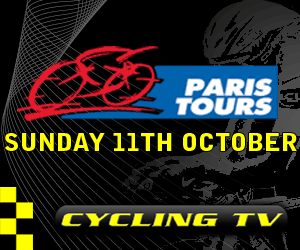 - The 2009 Paris-Tours is Sunday. Cycling.tv will have LIVE video of the race, free, to North America. Click here for more info. Cyclingfans.com will of course publish a complete Paris-Tours Live Online Coverage Guide before the race.
Submitted by admin on Sun, 10/04/2009 - 09:47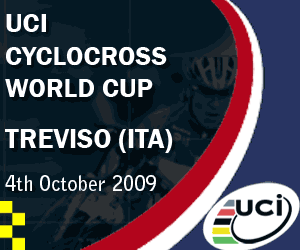 - Tour de Vendee LIVE on France3.fr. Appears to be playing worldwide.
- Cyclo-cross World Cup: Still looking for streams.
- A Cyclocross fan in the U.S. emailed saying he was able to watch the women's race live earlier on Cycling TV. So if you have a CTV subscription in the U.S. you may want to give that a try, despite the fact it is supposed to be geo-restricted (available worldwide excluding U.S).
- UCI Cyclo-cross World Cup: Sporza appears to be geo-restricted, not working in the U.S. No surprise.
- Next updates when live coverage gets underway for the men's Cyclo-cross World Cup and for the Tour de Vendee.
- Circuit Franco-Belge Stage 4 today. Official site - Live ticker (Select Stage 4 (Etape 4) from drop-down list)
- LIVE today: Live coverage of the UCI Cyclocross World Cup event in Treviso, Italy is scheduled to begin on Cycling TV at 13:50 CET for the women's race and at 15:20 CET for the men's race. Cycling TV's coverage is worldwide excluding the U.S. Live coverage on Sporza should begin at around 15:15 CET (9:15am U.S. Eastern).

(Worldwide excluding U.S.A.)


(Likely Belgium only)
(More feeds at race time if available)
- LIVE today: Live coverage of today's Tour de Vendee is scheduled to begin at 16:35 CET (10:35am U.S. Eastern). Live streaming coverage on France TV is listed as geo-restricted. Eurosport France is also covering the latter part of the race live.

(Often worldwide but listed
as restricted for this race)


(Eurosport France)
(Links at race time if available)
Submitted by admin on Sun, 09/27/2009 - 16:53
Notes: (latest notes always appear at the top, below sticky notes)

Follow cyclingfans on Twitter and never miss a race. Cyclingfans.com: The #1 source on the internet for live race coverage.

- Men's Road Race final kilometer video here. (02:02) More Road Race videos from worldwide media sources here.

- LIVE AUDIO: Eurosport live audio feeds are playing in English, French, Russian and Swedish. Links in "Live audio streaming" section at right. Pick your language; audio feeds can be played simultaneously with video streams.

- There are numerous options for watching the UCI Road World Championships, links below and at right.

- Note: Eurosport in some markets has gone to Superbike coverage for a little over an hour. They will then return to live coverage of the World Championships Road Race.

- The race is also LIVE via NOS. -Bernie S.

- Road Race also LIVE via Eurosport France.

- Elite Men Road Race LIVE via TDP. (Spanish)

- Elite Men Road Race LIVE via Swedish public TV here.

- Elite Men Road Race LIVE via Eurosport UK.

- UCI Road Worlds LIVE on Universal Sports. Link at right.

- Vuelta Online Game: TODAY is the last day to register for the game. Details below.

- Today's Elite Men's Road Race starts at 10:30 CET (4:30am U.S. Eastern) and is expected to finish at around 17:30 CET (11:30am U.S. Eastern). UCI Road Worlds live video coverage on Universal Sports is scheduled to begin at 4:30am U.S. Eastern. (10:30 CET) Live video streaming on Cycling TV is also scheduled to begin when the race itself starts. Live coverage on Eurosport will also start with the race or possibly beforehand depending on market.

- NEW! Vuelta a Espana Online game. Free to play. You get to play the directeur sportif. Create your cycling team, train it and compete against players from all over the world on the official stages of the 2009 Vuelta a Espana. Just like in the real Vuelta, one stage is simulated per day. Once you have signed up and set up your team, your race begins the following day with Stage 1. Click banner below or here for more info and to sign up.




- We recommend you open our Twitter feed in a separate window now. If ever we have a server outage, we will update on Twitter and direct you to a live coverage page on another server.

- Welcome to our live coverage guide for the 2009 UCI Road World Championships.

2009 UCI Road World Championships LIVE
Mendrisio, Switzerland
September 23-27
Official Website
Elite Men Start List (.pdf)


Elite Men RR: 10:30-17:30 CET
(10:30am-5:30pm CET)




---


(Worldwide excluding U.S.A.)
(10:30 CET)
(Elite Men's Road Race)
(Live coverage for Elite Men's events)
(Highlights for Women's and U23 events)


(4:30am U.S. Eastern)
(Elite Men Road Race)


(Elite Men RR: 10:30 CET)
(4:30am U.S. Eastern)


(Swedish public TV)


(NOS)


(NRK)

(Links to come at race time)


(Belgium only)
(Elite Men RR: 10:00 CET)

(more links to come)

(more video links to come if available)

Live audio streaming:

(English)
---
Deutsch - Español
Français - Italiano
Russian - Swedish
---
Check schedule

Live tickers:


(English)
Deutsch - Español
Français - Italiano

(more tickers to come)

News and photos:


(cycling news)
Yahoo photo gallery (AP/AFP)

Copyright © 2009 www.cyclingfans.com
Submitted by admin on Sat, 09/26/2009 - 22:33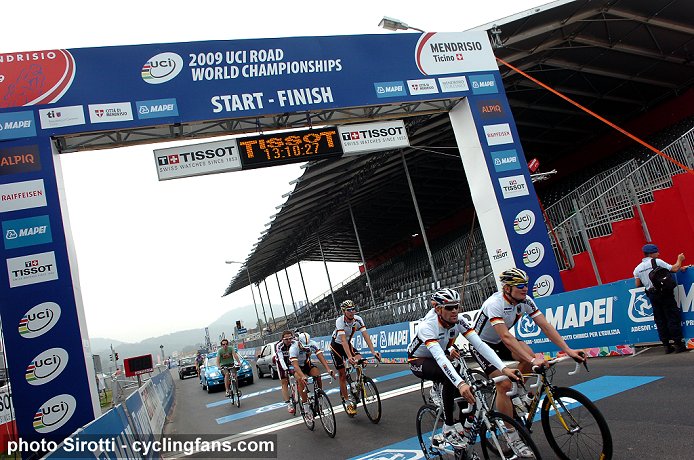 2009 UCI Road World Championships: Germany's Elite Men's team recons the road race course Friday
in Mendrisio, Switzerland. The Elite women and Under 23 men race Saturday, the Elite men on Sunday.
- Click for high resolution -
photo Copyright © 2009 Fotoreporter Sirotti for cyclingfans.com
Notes: (latest notes always appear at the top, below sticky notes)

Follow cyclingfans on Twitter and never miss a race. Cyclingfans.com: The #1 source on the internet for live race coverage.

- Elite Men Road Race Start List (.pdf)

- Sunday's Elite Men's Road Race starts at 10:30 CET (4:30am U.S. Eastern) and is expected to finish at around 17:30 CET (11:30am U.S. Eastern). UCI Road Worlds live video coverage on Universal Sports is scheduled to begin at 4:30am U.S. Eastern. (10:30 CET) Live video streaming on Cycling TV is also scheduled to begin when the race itself starts. Live coverage on Eurosport will also start with the race or possibly beforehand depending on market.

- U23 Men Road Race LIVE via Eurosport France.

- The women's race is over.

- Elite Women's Road Race also LIVE via Eurosport France.

- UCI Road Worlds LIVE via Eurosport UK.

- UCI Road Worlds LIVE on Universal Sports. Link at right.

- Today is the running of the Women's Elite and Men's U23 road races. The women's race starts at 09:00 CET (3:00am U.S. Eastern) and is expected to finish at around 12:30 CET (6:30am U.S. Eastern). UCI Road Worlds live video coverage on Universal Sports is scheduled to begin at 3:00am U.S. Eastern. (9:00 CET) Live coverage of the Elite Women's race on Eurosport is scheduled to begin at 9:00 CET or 9:30 CET depending on market. The U23 Men's race starts at 13:30 CET (7:30am U.S. Eastern) and is expected to finish at around 18:00 CET (12pm U.S. Eastern). Live coverage of the U23 Men's race on Eurosport is scheduled to begin at 14:00 CET (8am U.S. Eastern).

- Vuelta Online Game: Last day to register for the game is September 27.

- NEW! Vuelta a Espana Online game. Free to play. You get to play the directeur sportif. Create your cycling team, train it and compete against players from all over the world on the official stages of the 2009 Vuelta a Espana. Just like in the real Vuelta, one stage is simulated per day. Once you have signed up and set up your team, your race begins the following day with Stage 1. Click banner below or here for more info and to sign up.




- We recommend you open our Twitter feed in a separate window now. If ever we have a server outage, we will update on Twitter and direct you to a live coverage page on another server.

- Welcome to our live coverage guide for the 2009 UCI Road World Championships.

2009 UCI Road World Championships LIVE
Mendrisio, Switzerland
September 23-27
Official Website
Elite Women Start List (.pdf)
U23 Men Start List (.pdf)

Elite Women RR: 09:00-12:30 CET

U23 Men RR: 13:30-18:00 CET
(1:30pm to 6pm CET)





---


(Worldwide excluding U.S.A.)
(Live coverage for Elite Men's events)
(Highlights for Women's and U23 events)


(3:00am U.S. Eastern)
(Elite Women Road Race)


(Elite Women RR: 9:30 CET)
(3:30am U.S. Eastern)
(U23 Men RR: 14:00 CET)
(8am U.S. Eastern)

(Links to come at race time)


(Belgium only)
(Elite Women RR: 11:00 CET)
(U23 Men RR: 16:30 CET)

(more links to come)

(more video links to come if available)

Live audio streaming:

(English)
---
Deutsch - Español
Français - Italiano
Russian - Swedish
---
Check schedule

Live tickers:

News and photos:


(cycling news)
Yahoo photo gallery (AP/AFP)

Copyright © 2009 www.cyclingfans.com
Submitted by admin on Thu, 09/24/2009 - 23:12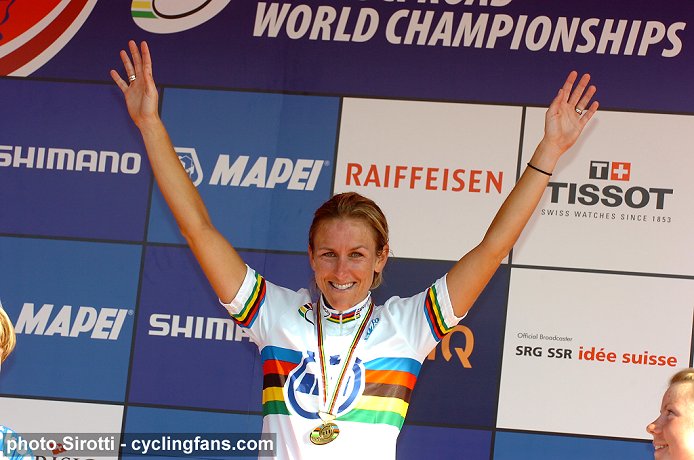 2009 UCI Road World Championships: American Kristin Armstrong on the podium after
winning yesterday's Elite Women's Time Trial.
- Click for high resolution - More photos
photo Copyright © 2009 Fotoreporter Sirotti for cyclingfans.com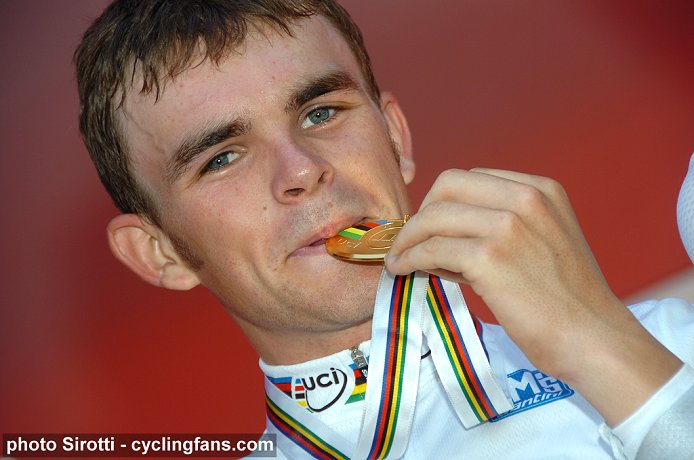 2009 UCI Road World Championships: Jack Bobridge of Australia won yesterday's U23 Men's Time Trial.
- Click for high resolution - More photos
photo Copyright © 2009 Fotoreporter Sirotti for cyclingfans.com
Notes: (latest notes always appear at the top, below sticky notes)

Follow cyclingfans on Twitter and never miss a race. Cyclingfans.com: The #1 source on the internet for live race coverage.

- The UCI Congress is in session on Friday; there are no races. Next road events are Saturday with the Elite Women's and Under 23 Men's road races.

- VIDEOS: UCI Road Worlds video clips from worldwide media are being listed here. (Highlights, interviews, Wiggins mechanical, etc.)

- LIVE AUDIO: Eurosport live audio feeds playing in English, French, Russian and Swedish. Links in "Live audio streaming" section at right. Audio feeds can be played simultaneously with any of the video feeds listed below or at right (mute the sound on a video feed).

- Race is also LIVE via Swedish Public TV here. (Thanks, Gandalf in Slovenia!)

- Elite Men TT LIVE via Eurosport Russia.

- Elite Men TT LIVE via Eurosport. (English, media player)

- UCI Road Worlds LIVE via Eurosport France. Link at right.

- UCI Road Worlds LIVE on Universal Sports. Link at right.

- Today is the Men's Elite Time Trial (49.8km). The event gets underway at 11:30 CET (5:30am U.S. Eastern) when the first rider departs. Full Men's TT Start Order and Times here. (.pdf) UCI Road Worlds live video coverage on Cycling TV and on Universal Sports is scheduled to begin at 5:30am U.S. Eastern. (11:30 CET) Live coverage on Eurosport is also scheduled to begin at that time.

- Vuelta Online Game: Last day to register for the game is September 27.

- NEW! Vuelta a Espana Online game. Free to play. You get to play the directeur sportif. Create your cycling team, train it and compete against players from all over the world on the official stages of the 2009 Vuelta a Espana. Just like in the real Vuelta, one stage is simulated per day. Once you have signed up and set up your team, your race begins the following day with Stage 1. Click banner below or here for more info and to sign up.




- We recommend you open our Twitter feed in a separate window now. If ever we have a server outage, we will update on Twitter and direct you to a live coverage page on another server.

- Welcome to our live coverage guide for the 2009 UCI Road World Championships.

2009 UCI Road World Championships LIVE
Mendrisio, Switzerland
September 23-27
Official Website
Elite Men TT Start List (.pdf)


Elite Men TT: 11:30-17:00 CET
(11:30am to 5pm CET)





---


(Worldwide excluding U.S.A.)
(11:30 CET)
(Elite Men TT)
(Live coverage for Elite Men's events)
(Highlights for Women's and U23 events)


(5:30am U.S. Eastern)
(Elite Men TT)


(Elite Men TT: 11:30 CET)
(5:30am U.S. Eastern)

(Links to come at race time)


(Belgium only)
(Elite Men TT: 14:30 CET)

(more links to come)

(more video links to come if available)

Live audio streaming:

(English)
---
Deutsch - Español
Français - Italiano
Russian - Swedish
---
Check schedule

Live tickers:


(English)
Deutsch - Español
Français - Italiano

News and photos:


(cycling news)
Yahoo photo gallery (AP/AFP)

Copyright © 2009 www.cyclingfans.com
Submitted by admin on Wed, 09/23/2009 - 20:29
Notes: (latest notes always appear at the top, below sticky notes)

Follow cyclingfans on Twitter and never miss a race. Cyclingfans.com: The #1 source on the internet for live race coverage.

- Thursday's Day 2 at the UCI Road World Championships will see the running of the Men's Elite Time Trial (49.8km). The event gets underway at 11:30 CET (5:30am U.S. Eastern) when the first rider departs. Full Men's TT Start Order and Times here. (.pdf) UCI Road Worlds live video coverage on Cycling TV and on Universal Sports is scheduled to begin at 5:30am U.S. Eastern. (11:30 CET) Live coverage on Eurosport is also scheduled to begin at that time.

- Women Elite TT Start Order and Times here (.pdf).

- Women Elite TT LIVE via Universal Sports. Link at right.

- LIVE AUDIO: Eurosport live audio feeds playing in English, French, Russian and Swedish. Links in "Live audio streaming" section at right. Audio feeds can be played simultaneously with video feeds (mute the sound on a video feed).

- UCI World's LIVE video via Rai. (Italian)

- UCI World's LIVE video via TDP. (Spanish)

- Men U23 TT LIVE via Eurosport France.

- Men U23 TT LIVE via Eurosport.

- Time Trial Start Order and Times: Men U23 -- Women Elite

- Today's events are the Men Under 23 Time Trial and the Women Elite Time trial.

- Universal Sports originally planned to broadcast all events live. They have informed us that due to the very early start times, only the Elite Men's and Women's events will be live; other events will be delayed coverage only.

- Vuelta Online Game: Last day to register for the game is September 27.

- NEW! Vuelta a Espana Online game. Free to play. You get to play the directeur sportif. Create your cycling team, train it and compete against players from all over the world on the official stages of the 2009 Vuelta a Espana. Just like in the real Vuelta, one stage is simulated per day. Once you have signed up and set up your team, your race begins the following day with Stage 1. Click banner below or here for more info and to sign up.




- We recommend you open our Twitter feed in a separate window now. If ever we have a server outage, we will update on Twitter and direct you to a live coverage page on another server.

- Welcome to our live coverage guide for the 2009 UCI Road World Championships.

2009 UCI Road World Championships LIVE
Mendrisio, Switzerland
September 23-27
Official Website
Men Under 23 TT Start List (.pdf)
Women Elite TT Start List (.pdf)

Men U23 TT: 09:29-12:45 CET
Women Elite TT: 14:00-17:15 CET
(2:00pm to 5:15pm CET)





---


(Worldwide excluding U.S.A.)
(Live coverage for Elite Men's events)
(Highlights for Women's and U23 events)


(8:00am U.S. Eastern)
(Women Elite TT)


(U23 Men TT: 09:30 CET
(3:30am U.S. Eastern))
(Elite Women TT: 14:00 CET)
(8:00am U.S. Eastern)

(Links to come at race time)


(Belgium only)
(U23 Men TT: 11:00 CET)
(Elite Women TT: 15:25 CET)

(more links to come)

(more video links to come if available)

Live audio streaming:

(English)
---
Deutsch - Español
Français - Italiano
Russian - Swedish
---
Check schedule

Live tickers:

News and photos:


(cycling news)
Yahoo photo gallery (AP/AFP)

Copyright © 2009 www.cyclingfans.com
Submitted by admin on Sun, 09/20/2009 - 10:07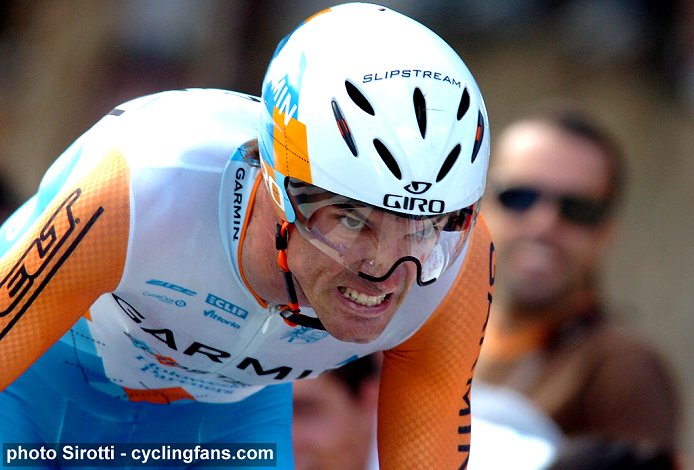 2009 Vuelta a Espana: David Millar (Garmin-Slipstream) on his way to winning the Stage 20 time trial.
- Click for high resolution -
photo Copyright © 2009 Fotoreporter Sirotti for cyclingfans.com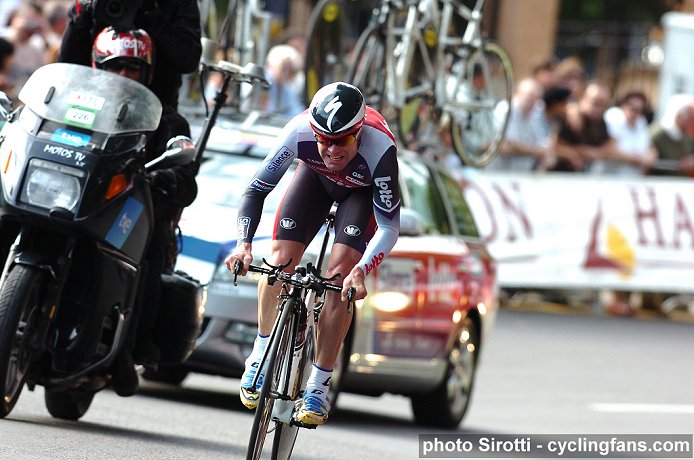 2009 Vuelta a Espana: Cadel Evans (Silence-Lotto) finished third in the time trial, just 9 seconds
behind Millar. It was good enough to move up to third in the overall standings as well,
ahead of Ivan Basso.
- Click for high resolution -
photo Copyright © 2009 Fotoreporter Sirotti for cyclingfans.com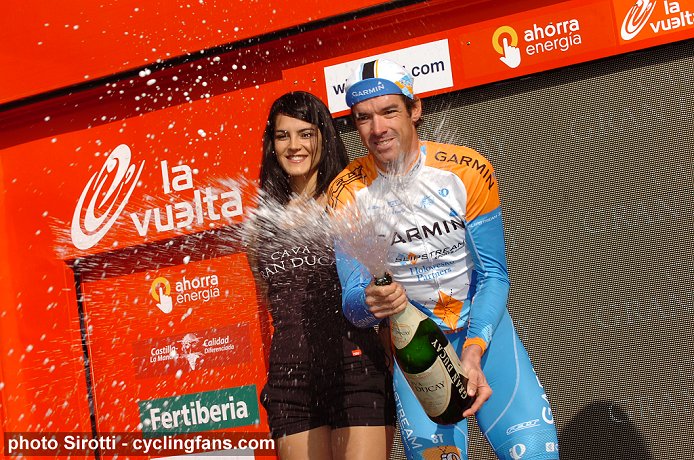 2009 Vuelta a Espana: Millar celebrates on the podium by spraying champagne.
- Click for high resolution -
photo Copyright © 2009 Fotoreporter Sirotti for cyclingfans.com
Notes: (latest notes always appear at the top, below sticky notes)

Follow cyclingfans on Twitter and never miss a race. Cyclingfans.com: The #1 source on the internet for live race coverage.

- Please help spread the word:
Tweet cyclingfans.com Thanks. -Pete

- Video: Vuelta Stage 21 final km here. (Sporza, 04:04)

- Vuelta LIVE via Eurosport Poland.

- Vuelta LIVE via Eurosport France.

- Vuelta a Espana LIVE via Universal Sports. Link at right.

- Vuelta Online Game: Last day to register for the game is September 27.

- Vuelta a Espana Stage 21 departs Rivas-Vaciamadrid at 14:16 CET (8:16am U.S. Eastern) and is expected at the finish in Madrid between 17:10 and 17:42 CET (11:10am and 11:42am U.S. Eastern). Vuelta a Espana live video on Universal Sports is scheduled to begin at 10:00am U.S. Eastern. Vuelta live coverage on Sporza is scheduled to begin at 16:00 CET (10:00am U.S. Eastern).


- For satellite TV viewers, MJ Ray has you covered in our cycling via satellite blog here.

- NEW! Vuelta a Espana Online game. Free to play. You get to play the directeur sportif. Create your cycling team, train it and compete against players from all over the world on the official stages of the 2009 Vuelta a Espana. Just like in the real Vuelta, one stage is simulated per day. Once you have signed up and set up your team, your race begins the following day with Stage 1. Click banner below or here for more info and to sign up.




- We recommend you open our Twitter feed in a separate window now. If ever we have a server outage, we will update on Twitter and direct you to a live coverage page on another server.

- Welcome to our live coverage guide for the 2009 Vuelta a Espana.

2009 Vuelta a Espana LIVE
August 29-September 20
Official Website
Start List

Stage 21 start: 14:16 CET
(2:16pm CET)
Finish: 17:10 to 17:42 CET
(5:10pm to 5:42pm CET)

Live video: 16:00 CET
(4:00pm CET)






Vuelta a Espana Online Game
(Be your own Team Director, train your riders, race the 2009 Vuelta stages.)

---


(10:00am U.S. Eastern)

TDP

TVE

rtve.es
(Spain, geo-restricted)


(Belgium only)
(16:00 CET (10:00am U.S. Eastern))


(Netherlands)

(more links to come)

(more video links to come if available)

Live audio streaming:

(English)
---
Deutsch - Español
Français - Italiano
Russian - Swedish
---
Check schedule

Live tickers:



(English)
Deutsch - Español
Français - Italiano




News and photos:


(cycling news)
Yahoo photo gallery (AP/AFP)

Copyright © 2009 www.cyclingfans.com
Submitted by admin on Sat, 09/19/2009 - 17:51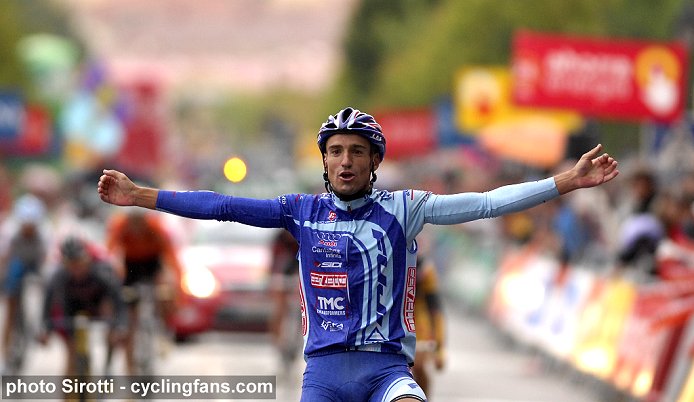 2009 Vuelta a Espana: Juan José Cobo (Fuji-Servetto) wins Stage 19.
- Click for high resolution -
photo Copyright © 2009 Fotoreporter Sirotti for cyclingfans.com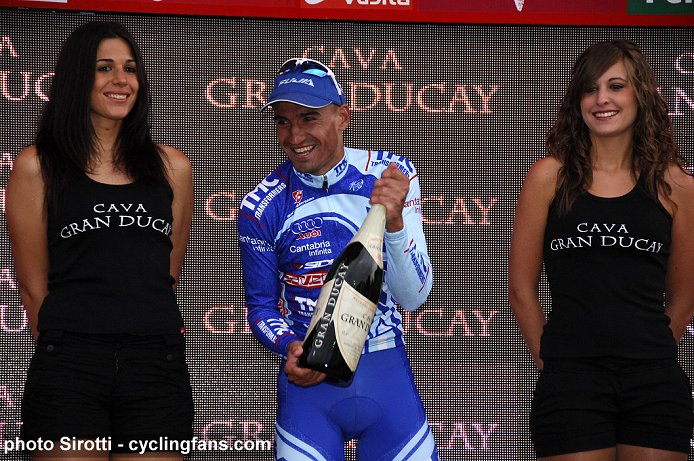 2009 Vuelta a Espana: Cobo celebrates on the podium.
- Click for high resolution -
photo Copyright © 2009 Fotoreporter Sirotti for cyclingfans.com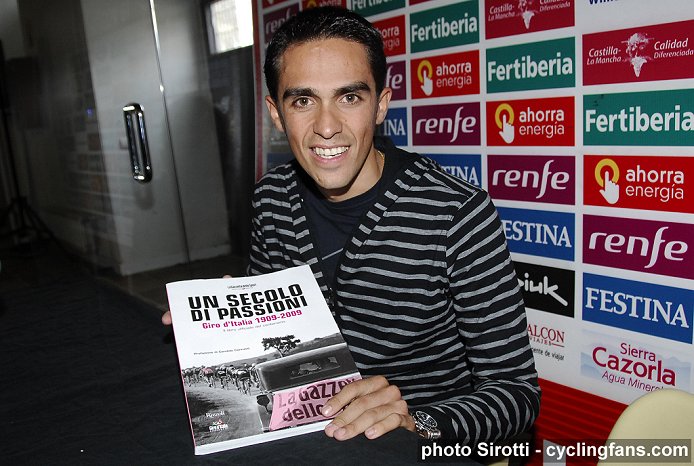 2009 Vuelta a Espana: 2009 Tour champion Alberto Contador (Astana), visiting the Vuelta,
shows a copy of the book, "A Century of Passion: Giro d'Italia 1909-2009".
- Click for high resolution -
photo Copyright © 2009 Fotoreporter Sirotti for cyclingfans.com
Notes: (latest notes always appear at the top, below sticky notes)

Follow cyclingfans on Twitter and never miss a race. Cyclingfans.com: The #1 source on the internet for live race coverage.

- Please help spread the word:
Tweet cyclingfans.com Thanks. -Pete

- Sunday's Vuelta a Espana Stage 21 departs Rivas-Vaciamadrid at 14:16 CET (8:16am U.S. Eastern) and is expected at the finish in Madrid between 17:10 and 17:42 CET (11:10am and 11:42am U.S. Eastern). Vuelta a Espana live video on Universal Sports is scheduled to begin at 10:00am U.S. Eastern. Vuelta live coverage on Sporza is scheduled to begin at 16:00 CET (10:00am U.S. Eastern).


- Vuelta a Espana LIVE via Eurosport.

- Vuelta LIVE via TDP.

- Vuelta a Espana LIVE via Universal Sports. Link at right.

- Vuelta a Espana Stage 20 Individual Time Trial (27.8km) in Toledo starts at 14:29 CET (8:29am U.S. Eastern) when the first rider, Damien Gaudin, departs. See link above for full start order and times. Vuelta a Espana live video on Universal Sports is scheduled to begin at 10:00am U.S. Eastern. Vuelta live coverage on Sporza is scheduled to begin at 16:00 CET (10:00am U.S. Eastern).


- For satellite TV viewers, MJ Ray has you covered in our cycling via satellite blog here.

- NEW! Vuelta a Espana Online game. Free to play. You get to play the directeur sportif. Create your cycling team, train it and compete against players from all over the world on the official stages of the 2009 Vuelta a Espana. Just like in the real Vuelta, one stage is simulated per day. Once you have signed up and set up your team, your race begins the following day with Stage 1. Click banner below or here for more info and to sign up.




- We recommend you open our Twitter feed in a separate window now. If ever we have a server outage, we will update on Twitter and direct you to a live coverage page on another server.

- Welcome to our live coverage guide for the 2009 Vuelta a Espana.

2009 Vuelta a Espana LIVE
August 29-September 20
Official Website
Start List

Stage 20 start: 14:29 CET
(2:29pm CET)


Live video: 16:00 CET
(4:00pm CET)






Vuelta a Espana Online Game
(Be your own Team Director, train your riders, race the 2009 Vuelta stages.)

---


(10:00am U.S. Eastern)

TDP

TVE

rtve.es
(Spain, geo-restricted)


(Belgium only)
(16:00 CET (10:00am U.S. Eastern))


(Netherlands)

(more links to come)

(more video links to come if available)

Live audio streaming:

(English)
---
Deutsch - Español
Français - Italiano
Russian - Swedish
---
Check schedule

Live tickers:



(English)
Deutsch - Español
Français - Italiano




News and photos:


(cycling news)
Yahoo photo gallery (AP/AFP)

Copyright © 2009 www.cyclingfans.com
Submitted by admin on Fri, 09/18/2009 - 09:47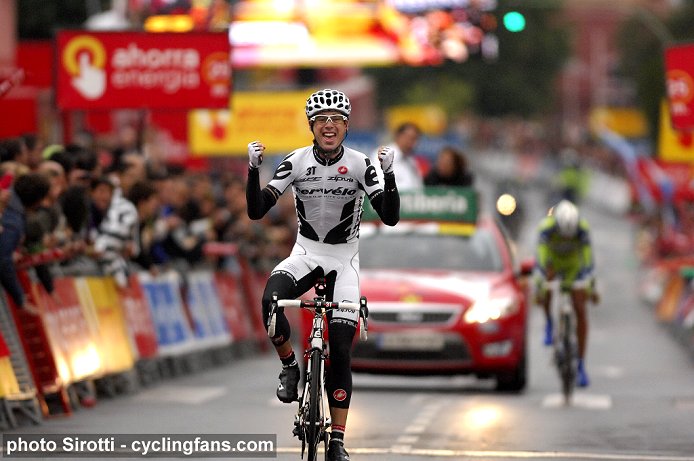 2009 Vuelta a Espana: Philip Deignan (Cervelo TestTeam) wins Stage 18 in Avila.
- Click for high resolution -
photo Copyright © 2009 Fotoreporter Sirotti for cyclingfans.com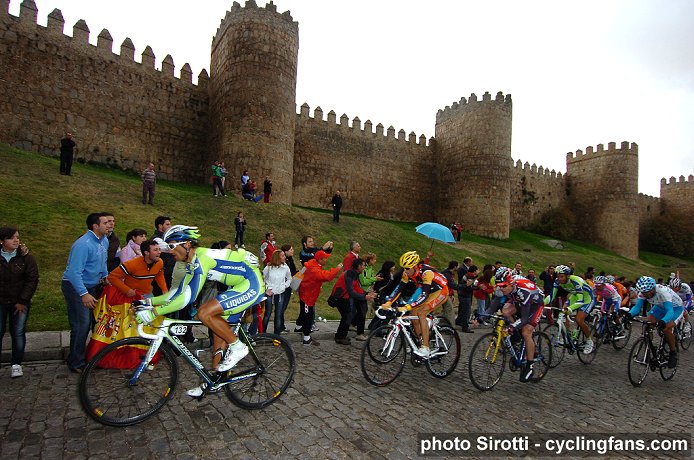 2009 Vuelta a Espana: A group containing race leader Alejandro Valverde along the walls of Avila.
- Click for high resolution -
photo Copyright © 2009 Fotoreporter Sirotti for cyclingfans.com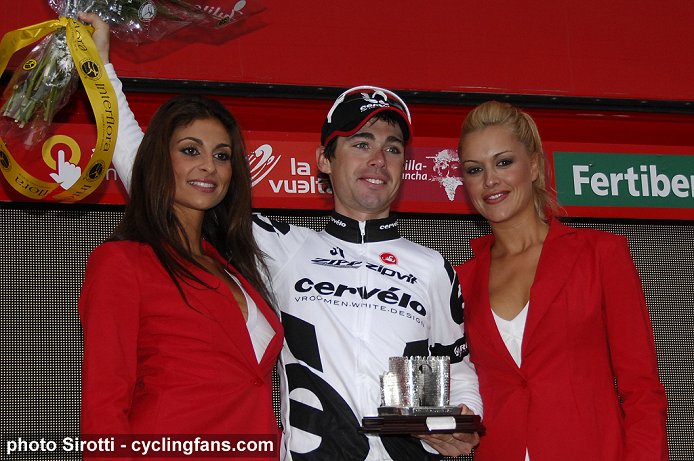 2009 Vuelta a Espana: Philip Deignan and podium girls.
- Click for high resolution -
photo Copyright © 2009 Fotoreporter Sirotti for cyclingfans.com
Notes: (latest notes always appear at the top, below sticky notes)

Follow cyclingfans on Twitter and never miss a race. Cyclingfans.com: The #1 source on the internet for live race coverage.

- Please help spread the word:
Tweet cyclingfans.com Thanks. -Pete

- Video: Vuelta Stage 19 final km here. (Sporza, 03:06)

- Vuelta LIVE via Eurosport and TDP.

- Vuelta a Espana LIVE via Universal Sports. Link at right.

- Vuelta a Espana Stage 19 departs Avila at 12:47 CET (6:47am U.S. Eastern) and is expected in La Granja Real Fabrica de Cristales between 17:16 and 17:46 CET (11:16am and 11:46am U.S. Eastern). Vuelta a Espana live video on Universal Sports is scheduled to begin at 10:00am U.S. Eastern. Vuelta live coverage on Sporza is scheduled to begin at 16:00 CET (10:00am U.S. Eastern).


- For satellite TV viewers, MJ Ray has you covered in our cycling via satellite blog here.

- NEW! Vuelta a Espana Online game. Free to play. You get to play the directeur sportif. Create your cycling team, train it and compete against players from all over the world on the official stages of the 2009 Vuelta a Espana. Just like in the real Vuelta, one stage is simulated per day. Once you have signed up and set up your team, your race begins the following day with Stage 1. Click banner below or here for more info and to sign up.




- We recommend you open our Twitter feed in a separate window now. If ever we have a server outage, we will update on Twitter and direct you to a live coverage page on another server.

- Welcome to our live coverage guide for the 2009 Vuelta a Espana.

2009 Vuelta a Espana LIVE
August 29-September 20
Official Website
Start List

Stage 19 start: 12:47 CET
(--)
Finish: 17:16 to 17:46 CET
(5:16pm to 5:46pm CET)

Live video: 16:00 CET
(4:00pm CET)






Vuelta a Espana Online Game
(Be your own Team Director, train your riders, race the 2009 Vuelta stages.)

---


(10:00am U.S. Eastern)

TDP

TVE

rtve.es
(Spain, geo-restricted)


(Belgium only)
(16:00 CET (10:00am U.S. Eastern))


(Netherlands)

(more links to come)

(more video links to come if available)

Live audio streaming:

(English)
---
Deutsch - Español
Français - Italiano
Russian - Swedish
---
Check schedule

Live tickers:



(English)
Deutsch - Español
Français - Italiano




News and photos:


(cycling news)
Yahoo photo gallery (AP/AFP)

Copyright © 2009 www.cyclingfans.com