Live race coverage
Submitted by admin on Sat, 09/05/2009 - 23:25
Sunday's Vuelta a Espana Stage 8 Profile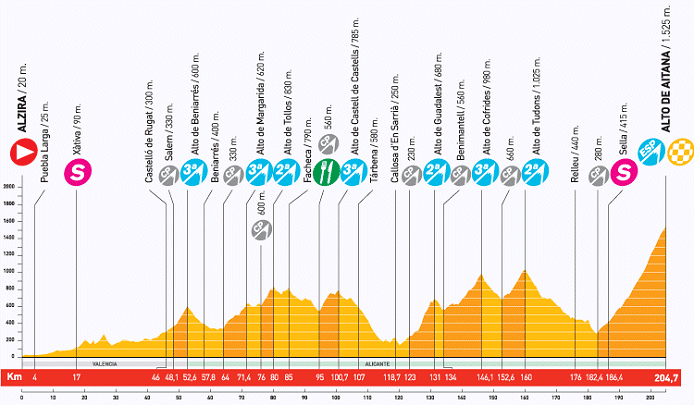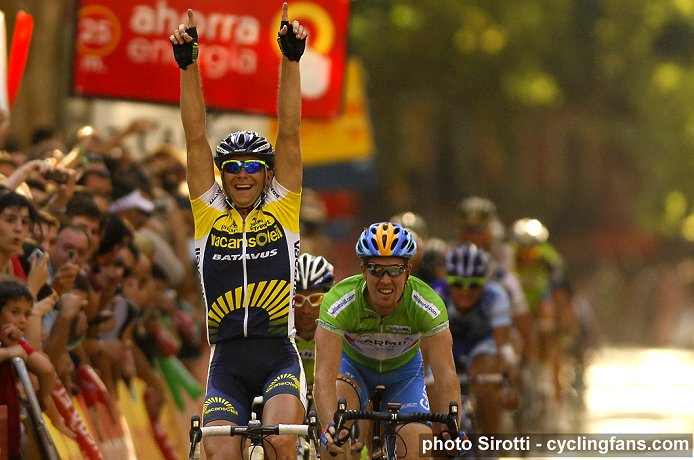 2009 Vuelta a Espana: Borut Bozic (Vacansoleil) wins Stage 6 ahead of
Tyler Farrar (Garmin-Slipstream) and Daniele Bennati (Liquigas).
- Click for high resolution -
photo Copyright © 2009 Fotoreporter Sirotti for cyclingfans.com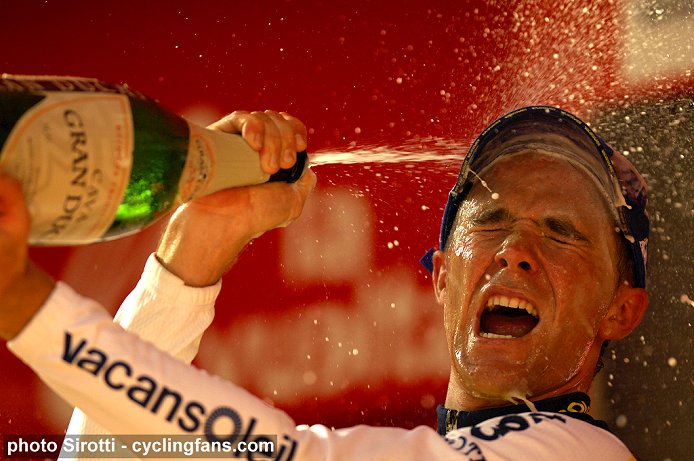 2009 Vuelta a Espana: Bozic celebrates his victory with champagne.
- Click for high resolution -
photo Copyright © 2009 Fotoreporter Sirotti for cyclingfans.com
Coming soon: This Beautiful Sport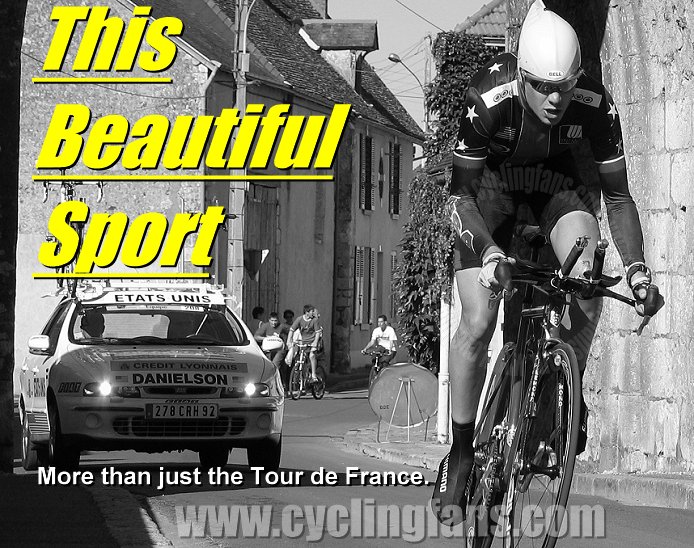 Flashback: 2003 Tour de l'Avenir: Tom Danielson (Team USA) in the prologue.
The 2009 Tour de l'Avenir starts today. And Danielson is competing in the Vuelta a Espana.
photo Copyright © Pete Geyer/www.cyclingfans.com

Notes: (latest notes always appear at the top, below sticky notes)

Follow cyclingfans on Twitter and never miss a race. Cyclingfans.com: The #1 source on the internet for live race coverage.

- Please help spread the word:
Tweet cyclingfans.com Thanks. -Pete

- Sunday's Vuelta a Espana Stage 8 departs Alzira at 11:49 CET (5:49am U.S. Eastern) and is expected at Alto de Aitana between 17:12 and 17:50 CET (11:12am and 11:50am U.S. Eastern). Vuelta a Espana live video on Universal Sports is scheduled to begin at 10:00am U.S. Eastern. Vuelta live coverage on Sporza is scheduled to begin at 16:00 CET (10:00am U.S. Eastern).

- Vuelta LIVE via Eurosport France and TDP.

- Vuelta a Espana LIVE.

- Next update as Stage 7 television coverage gets underway...

Starts today: Tour de l'Avenir
France, September 5-13


2009 Tour de l'Avenir Official Poster


2009 Tour de l'Avenir map

The 46th edition of the Tour de l'Avenir ("Tour of the future" or "Under-23 Tour de France") starts today and runs through September 13. A few years ago, the Tour de l'Avenir was open to Under-25 riders on trade teams as well as national teams; today it is reserved for Under-23 riders riding for national teams only. Might the move to national teams at the Tour de l'Avenir be followed by the same for the Tour de France in the years ahead? It has been under consideration. Jan Bakelants of Belgium won in 2008 while Americans Tejay Van Garderen (8th) and Peter Stetina (10th) finished in the top 10. The two Americans are back this year. Joining them on Team USA: Chris Barton, Kirk Carlsen, Daniel Holloway, and Alex Howes. Team manager: Noel Dejonckheere, who runs the Team USA program in Belgium.

Notable past winners include Felice Gimondi (1964), Joop Zoetemelk (1969), Greg LeMond (1982), Miguel Indurain (1986), Laurent Fignon (1988), Johan Bruyneel (1990), and Denis Menchov (2001).

-Pete

- Vuelta a Espana Stage 7 Individual Time Trial at Valencia starts at 13:24 CET (7:24am U.S. Eastern) when the first rider departs. Click here for the full Start Order and Times. Vuelta a Espana live video on Universal Sports is scheduled to begin at 10:00am U.S. Eastern. Vuelta live coverage on Sporza is scheduled to begin at 16:00 CET (10:00am U.S. Eastern).

- For satellite TV viewers, MJ Ray has you covered in our cycling via satellite blog here.

- NEW! Vuelta a Espana Online game. Free to play. You get to play the directeur sportif. Create your cycling team, train it and compete against players from all over the world on the official stages of the 2009 Vuelta a Espana. Just like in the real Vuelta, one stage is simulated per day. Once you have signed up and set up your team, your race begins the following day with Stage 1. Click banner below or here for more info and to sign up.




- We recommend you open our Twitter feed in a separate window now. If ever we have a server outage, we will update on Twitter and direct you to a live coverage page on another server.

- Welcome to our live coverage guide for the 2009 Vuelta a Espana.

2009 Vuelta a Espana LIVE
August 29-September 20
Official Website
Start List

Stage 7 start: 13:24 CET
(1:24pm CET)






Vuelta a Espana Online Game
(Be your own Team Director, train your riders, race the 2009 Vuelta stages.)

---


(10:00am U.S. Eastern)

TDP


rtve.es
(Spain, geo-restricted)


(Belgium only)
(16:00 CET (10:00am U.S. Eastern))


(Netherlands)

(more links to come)

(more video links to come if available)

Live audio streaming:

(English)
---
Deutsch - Español
Français - Italiano
Russian - Swedish
---
Check schedule

Live tickers:



(English)
Deutsch - Español
Français - Italiano




News and photos:


(cycling news)
Yahoo photo gallery (AP/AFP)

Copyright © 2009 www.cyclingfans.com
Submitted by admin on Fri, 09/04/2009 - 11:33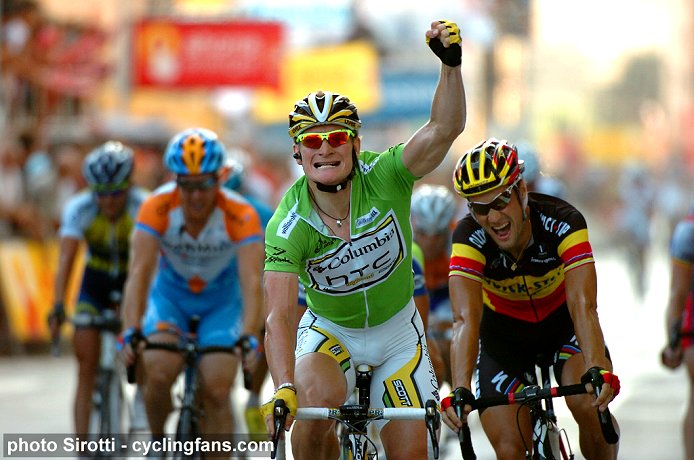 2009 Vuelta a Espana: Andre Greipel (Columbia-HTC) gets another win, Stage 5, ahead of
Tom Boonen (Quick Step) and Daniele Bennati (Liquigas). Greipel also took over the race lead.
- Click for high resolution -
photo Copyright © 2009 Fotoreporter Sirotti for cyclingfans.com
Notes: (latest notes always appear at the top, below sticky notes)

Follow cyclingfans on Twitter and never miss a race. Cyclingfans.com: The #1 source on the internet for live race coverage.

- Please help spread the word:
Tweet cyclingfans.com Thanks. -Pete

- Video: Vuelta Stage 6 highlights here. (Rtve, 03:14)


- Video: Vuelta Stage 6 final km here. (Sporza, 03:13)

- Vuelta LIVE on Eurosport and TDP.

- Vuelta a Espana LIVE.

- Vuelta a Espana Stage 6 departs Xativa at 13:12 CET (7:12am U.S. Eastern) and is expected back in Xativa between 17:18 and 17:44 CET (11:18am and 11:44am U.S. Eastern). Vuelta a Espana live video on Universal Sports is scheduled to begin at 10:00am U.S. Eastern. Vuelta live coverage on Sporza is scheduled to begin at 16:00 CET (10:00am U.S. Eastern).

- For satellite TV viewers, MJ Ray has you covered in our cycling via satellite blog here.

- NEW! Vuelta a Espana Online game. Free to play. You get to play the directeur sportif. Create your cycling team, train it and compete against players from all over the world on the official stages of the 2009 Vuelta a Espana. Just like in the real Vuelta, one stage is simulated per day. Once you have signed up and set up your team, your race begins the following day with Stage 1. Click banner below or here for more info and to sign up.




- We recommend you open our Twitter feed in a separate window now. If ever we have a server outage, we will update on Twitter and direct you to a live coverage page on another server.

- Welcome to our live coverage guide for the 2009 Vuelta a Espana.

2009 Vuelta a Espana LIVE
August 29-September 20
Official Website
Start List

Stage 6 start: 13:12 CET
(1:12pm CET)
Finish: 17:18 to 17:44 CET
(5:18pm to 5:44pm CET)





Vuelta a Espana Online Game
(Be your own Team Director, train your riders, race the 2009 Vuelta stages.)

---


(10:00am U.S. Eastern)

TDP


rtve.es
(Spain, geo-restricted)


(Belgium only)
(16:00 CET (10:00am U.S. Eastern))


(Netherlands)

(more links to come)

(more video links to come if available)

Live audio streaming:

(English)
---
Deutsch - Español
Français - Italiano
Russian - Swedish
---
Check schedule

Live tickers:



(English)
Deutsch - Español
Français - Italiano




News and photos:


(cycling news)
Yahoo photo gallery (AP/AFP)

Copyright © 2009 www.cyclingfans.com
Submitted by admin on Thu, 09/03/2009 - 19:26
Notes: (latest notes always appear at the top, below sticky notes)

Follow cyclingfans on Twitter and never miss a race. Cyclingfans.com: The #1 source on the internet for live race coverage.

- Please help spread the word:
Tweet cyclingfans.com Thanks. -Pete

- Friday's Vuelta a Espana Stage 6 departs Xativa at 13:12 CET (7:12am U.S. Eastern) and is expected back in Xativa between 17:18 and 17:44 CET (11:18am and 11:44am U.S. Eastern). Vuelta a Espana live video on Universal Sports is scheduled to begin at 10:00am U.S. Eastern. Vuelta live coverage on Sporza is scheduled to begin at 16:00 CET (10:00am U.S. Eastern).

- Video: Vuelta Stage 5 highlights here. (Eurosport, 01:05)


- Video: Vuelta Stage 5 highlights here. (Rtve, 03:34)


- Video: Vuelta Stage 5 final kilometer here. (Sporza, 03:25)

- Vuelta LIVE via Eurosport Poland and Eurosport France.

- Vuelta LIVE on TDP. (Spanish)

- Vuelta a Espana LIVE now.

- Vuelta Stage 4 photos in medium and high resolution here.

- Vuelta a Espana Stage 5 departs Tarragona at 13:22 CET (7:22am U.S. Eastern) and is expected in Vinaros between 17:19 CET and 17:43 CET (11:19am and 11:43am U.S. Eastern). Vuelta a Espana live video on Universal Sports is scheduled to begin at 10:00am U.S. Eastern. Vuelta live coverage on Sporza is scheduled to begin at 16:00 CET (10:00am U.S. Eastern).

- For satellite TV viewers, MJ Ray has you covered in our cycling via satellite blog here.

- NEW! Vuelta a Espana Online game. Free to play. You get to play the directeur sportif. Create your cycling team, train it and compete against players from all over the world on the official stages of the 2009 Vuelta a Espana. Just like in the real Vuelta, one stage is simulated per day. Once you have signed up and set up your team, your race begins the following day with Stage 1. Click banner below or here for more info and to sign up.




- We recommend you open our Twitter feed in a separate window now. If ever we have a server outage, we will update on Twitter and direct you to a live coverage page on another server.

- Welcome to our live coverage guide for the 2009 Vuelta a Espana.

2009 Vuelta a Espana LIVE
August 29-September 20
Official Website
Start List

Stage 5 start: 13:22 CET
(1:22pm CET)
Finish: 17:19 to 17:43 CET
(5:19pm to 5:43pm CET)





Vuelta a Espana Online Game
(Be your own Team Director, train your riders, race the 2009 Vuelta stages.)

---


(10:00am U.S. Eastern)


(Eurosport France)

TDP


rtve.es
(Spain, geo-restricted)


(Belgium only)
(16:00 CET (10:00am U.S. Eastern))


(Netherlands)

(more links to come)

(more video links to come if available)

Live audio streaming:

(English)
---
Deutsch - Español
Français - Italiano
Russian - Swedish
---
Check schedule

Live tickers:



(English)
Deutsch - Español
Français - Italiano




News and photos:


(cycling news)
Yahoo photo gallery (AP/AFP)

Copyright © 2009 www.cyclingfans.com
Submitted by admin on Tue, 09/01/2009 - 11:19
Notes: (latest notes always appear at the top, below sticky notes)

Follow cyclingfans on Twitter and never miss a race. Cyclingfans.com: The #1 source on the internet for live race coverage.

- Please help spread the word:
Tweet cyclingfans.com Thanks. -Pete

- Video: Final Kilometers of Stage 4 here. (Sporza, 08:37)

- Video: Jakob Fuglsang (Saxo Bank) crashes into back of tanker here. (Sporza, 00:24)

- Video: Massive crash near finish at Vuelta today here. (rtve.es, 01:19)

- Vuelta LIVE via Eurosport France. Link at right.

- Vuelta LIVE via TDP. (Spanish) Link at right.

- Vuelta a Espana LIVE.


Vuelta a Espana: Greg Henderson (Columbia-HTC)
celebrates his Stage 3 victory.
Copyright © 2009 Fotoreporter Sirotti for cyclingfans.com

- Vuelta Stage 3 photos in medium and high resolution here.

- Vuelta a Espana Stage 4 departs Venlo at 11:52 CET (5:52am U.S. Eastern) and is expected in Liége between 17:14 CET and 17:48 CET (11:14am and 11:48am U.S. Eastern). Vuelta a Espana live video on Universal Sports is scheduled to begin at 7:30am U.S. Eastern. Vuelta live coverage on Sporza is scheduled to begin at 13:35 CET (7:35am U.S. Eastern).

- For satellite TV viewers, MJ Ray has you covered in our cycling via satellite blog here.

- NEW! Vuelta a Espana Online game. Free to play. You get to play the directeur sportif. Create your cycling team, train it and compete against players from all over the world on the official stages of the 2009 Vuelta a Espana. Just like in the real Vuelta, one stage is simulated per day. Once you have signed up and set up your team, your race begins the following day with Stage 1. Click banner below or here for more info and to sign up.




- We recommend you open our Twitter feed in a separate window now. If ever we have a server outage, we will update on Twitter and direct you to a live coverage page on another server.

- Welcome to our live coverage guide for the 2009 Vuelta a Espana.

2009 Vuelta a Espana LIVE
August 29-September 20
Official Website
Start List

Stage 4 start: 11:52 CET
(--)
Finish: 17:14 to 17:48 CET
(5:14pm to 5:48pm CET)





Vuelta a Espana Online Game
(Be your own Team Director, train your riders, race the 2009 Vuelta stages.)

---


(7:30am U.S. Eastern)


(Eurosport France)

TDP


rtve.es
(Spain, geo-restricted)


(Belgium only)
(13:35 CET (7:35am U.S. Eastern))


(Netherlands)

(more links to come)

(more video links to come if available)

Live audio streaming:

(English)
---
Deutsch - Español
Français - Italiano
Russian - Swedish
---
Check schedule

Live tickers:



(English)
Deutsch - Español
Français - Italiano




News and photos:


(cycling news)
Yahoo photo gallery (AP/AFP)

Copyright © 2009 www.cyclingfans.com
Submitted by admin on Mon, 08/31/2009 - 11:15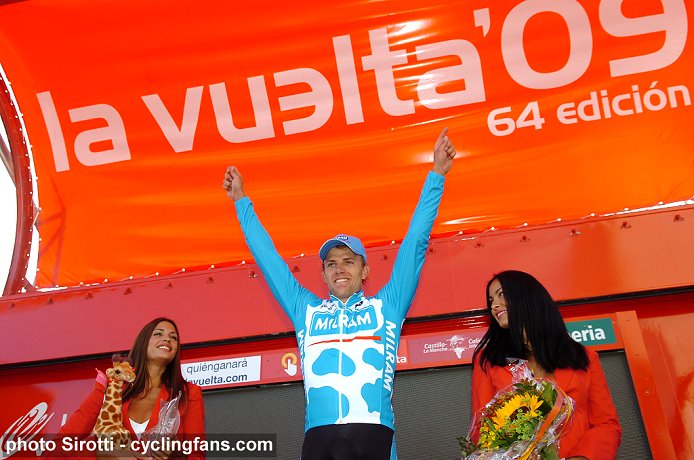 2009 Vuelta a Espana: Gerald Ciolek (Milram) celebrates his victory in yesterday's Stage 2.
- Click for high resolution - More Stage 2 photos
photo Copyright © 2009 Fotoreporter Sirotti for cyclingfans.com
Notes: (latest notes always appear at the top, below sticky notes)

Follow cyclingfans on Twitter and never miss a race. Cyclingfans.com: The #1 source on the internet for live race coverage.

- Please help spread the word:
Tweet cyclingfans.com Thanks. -Pete

- Tuesday's Vuelta a Espana Stage 4 departs Venlo at 11:52 CET (5:52am U.S. Eastern) and is expected in Liége between 17:14 CET and 17:48 CET (11:14am and 11:48am U.S. Eastern). Vuelta a Espana live video on Universal Sports is scheduled to begin at 7:30am U.S. Eastern. Vuelta live coverage on Sporza is scheduled to begin at 13:35 CET (7:35am U.S. Eastern).

- Video: Stage 3 highlights (Rtve, 03:52)

- Video: More Stage 3 highlights (Rtve, 01:06)

- Video: Stage 3 highlights (Eurosport, 01:10)

- Video: Watch Stage 3 final kilometer video here. (03:28)

- LIVE audio: Eurosport UK and Eurosport France audio feeds playing. Links in "Live audio streaming" section at right.

- Vuelta LIVE on Universal Sports. Link at right.

- Vuelta a Espana LIVE.

- They may be low resolution cell phone photos but we had most of them during the race and cycling fans on site in Greenville, South Carolina used mobile Twitter to provide live race commentary during yesterday's US Pro Championships, won by hometown favorite George Hincapie. Pics are here.

- Live coverage has begun via some Eurosport text tickers. Links in "Live tickers" section at right.

- First Vuelta LIVE feed expected at around 16:00 CET (10am U.S. Eastern).

- Vuelta a Espana Stage 3 departs Zutphen at 12:59 CET (6:59am U.S. Eastern) and is expected in Venlo between 17:17 CET and 17:43 CET (11:17am and 11:43am U.S. Eastern). Vuelta a Espana live video on Universal Sports is scheduled to begin at 10:00am U.S. Eastern. Vuelta live coverage on Sporza is scheduled to begin at 16:00 CET (10am U.S. Eastern).

- For satellite TV viewers, MJ Ray has you covered in our cycling via satellite blog here.


Please help support responsible
social networking. It could save a life.
Follow and/or Retweet @DontTwive on Twitter




- NEW! Vuelta a Espana Online game. Free to play. You get to play the directeur sportif. Create your cycling team, train it and compete against players from all over the world on the official stages of the 2009 Vuelta a Espana. Just like in the real Vuelta, one stage is simulated per day. Once you have signed up and set up your team, your race begins the following day with Stage 1. Click banner below or here for more info and to sign up.




- We recommend you open our Twitter feed in a separate window now. If ever we have a server outage, we will update on Twitter and direct you to a live coverage page on another server.

- Welcome to our live coverage guide for the 2009 Vuelta a Espana.

2009 Vuelta a Espana LIVE
August 29-September 20
Official Website
Start List

Stage 3 start: 12:59 CET
(--)
Finish: 17:17 to 17:43 CET
(5:17pm to 5:43pm CET)





Vuelta a Espana Online Game
(Be your own Team Director, train your riders, race the 2009 Vuelta stages.)

---

rtve.es
(Spain, geo-restricted)
(16:00 CET (10am U.S. Eastern))


(Belgium only)
(16:00 CET (10am U.S. Eastern))


(Netherlands)

(more links to come)

(more video links to come if available)

Live audio streaming:

(English)
---
Deutsch - Español
Français - Italiano
Russian - Swedish
---
Check schedule

Live tickers:



(English)
Deutsch - Español
Français - Italiano




News and photos:


(cycling news)
Yahoo photo gallery (AP/AFP)

Copyright © 2009 www.cyclingfans.com
Submitted by admin on Sun, 08/30/2009 - 19:22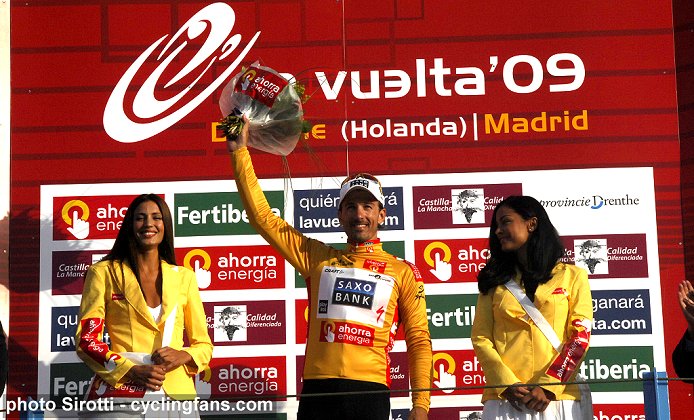 2009 Vuelta a Espana: Fabian Cancellara (Saxo Bank) is the first leader of the Vuelta
after winning yesterday's Stage 1 time trial.
- Click for high resolution - More Stage 1 photos
photo Copyright © 2009 Fotoreporter Sirotti for cyclingfans.com
Notes: (latest notes always appear at the top, below sticky notes)

Follow cyclingfans on Twitter and never miss a race. Cyclingfans.com: The #1 source on the internet for live race coverage.

- Please help spread the word:
Tweet cyclingfans.com Thanks. -Pete

- Monday's Vuelta a Espana Stage 3 departs Zutphen at 12:59 CET (6:59am U.S. Eastern) and is expected in Venlo between 17:17 CET and 17:43 CET (11:17am and 11:43am U.S. Eastern). Vuelta a Espana live video on Universal Sports is scheduled to begin at 10:00am U.S. Eastern. Vuelta live coverage on Sporza is scheduled to begin at 16:00 CET (10am U.S. Eastern).

- Video: A sprint win in Stage 2 here. (Eurosport, 01:15)

- Video: Vuelta Stage 2 highlights here. (rtve.es, 03:27)

- Video: A quick look at Stage 2 here. (rtve.es, 00:38)

- Video: Vuelta Stage 2 highlights here. (Sporza, 01:22)

- Vuelta LIVE on Universal Sports. (Updated link at right)

- Vuelta a Espana LIVE.

- For satellite TV viewers, MJ Ray has you covered in our cycling via satellite blog here.

- Vuelta a Espana Stage 2 departs Assen at 12:39 CET (6:39am U.S. Eastern) and is expected in Emmen between 17:16 CET and 17:44 CET (11:16am and 11:44am U.S. Eastern). Vuelta a Espana live video on Universal Sports is scheduled to begin at 9:50am U.S. Eastern. (Subject to change as Stage 1 coverage started over an hour later than originally scheduled.) Vuelta live coverage on Sporza is scheduled to begin at 16:00 CET (10am U.S. Eastern).


Please help support responsible
social networking. It could save a life.
Follow and/or Retweet @DontTwive on Twitter




- NEW! Vuelta a Espana Online game. Free to play. You get to play the directeur sportif. Create your cycling team, train it and compete against players from all over the world on the official stages of the 2009 Vuelta a Espana. Just like in the real Vuelta, one stage is simulated per day. Once you have signed up and set up your team, your race begins the following day with Stage 1. Click banner below or here for more info and to sign up.




- We recommend you open our Twitter feed in a separate window now. If ever we have a server outage, we will update on Twitter and direct you to a live coverage page on another server.

- Welcome to our live coverage guide for the 2009 Vuelta a Espana.

2009 Vuelta a Espana LIVE
August 29-September 20
Official Website
Start List

Stage 2 start: 12:39 CET
(--)
Finish: 17:16 to 17:44 CET
(5:16pm to 5:44pm CET)





Vuelta a Espana Online Game
(Be your own Team Director, train your riders, race the 2009 Vuelta stages.)

---


(9:50am U.S. Eastern)
(Link to come at race time)



(Eurosport)

rtve.es
(Spain, geo-restricted)
(16:00 CET (10am U.S. Eastern))


(Belgium only)
(16:00 CET (10am U.S. Eastern))


(Netherlands)

(more links to come)

(more video links to come if available)

Live audio streaming:

(English)
---
Deutsch - Español
Français - Italiano
Russian - Swedish
---
Check schedule

Live tickers:



(English)
Deutsch - Español
Français - Italiano




News and photos:


(cycling news)
Yahoo photo gallery (AP/AFP)

Copyright © 2009 www.cyclingfans.com
Submitted by admin on Sat, 08/29/2009 - 20:40
Notes: (latest notes always appear at the top, below sticky notes)

Follow cyclingfans on Twitter and never miss a race. Cyclingfans.com: The #1 source on the internet for live race coverage.

- Please help spread the word:
Tweet cyclingfans.com Thanks. -Pete

- Sunday's Vuelta a Espana Stage 2 departs Assen at 12:39 CET (6:39am U.S. Eastern) and is expected in Emmen between 17:16 CET and 17:44 CET (11:16am and 11:44am U.S. Eastern). Vuelta a Espana live video on Universal Sports is scheduled to begin at 9:50am U.S. Eastern. (Subject to change as Stage 1 coverage started over an hour later than originally scheduled.) Vuelta live coverage on Sporza is scheduled to begin at 16:00 CET (10am U.S. Eastern).

- Video: Watch more Vuelta Stage 1 video highlights here. Ambient sounds only, no commentary. (04:45)

- Video: Watch Vuelta a Espana Stage 1 video highlights here. (00:51)


Please help support responsible
social networking. It could save a life.
Follow and/or Retweet @DontTwive on Twitter

- Vuelta Time Trial Start Order and Times.

- Vuelta a Espana LIVE on Universal Sports. Link at right.

- Vuelta LIVE now.

- Eurosport live broadcast times are all over the place today, with Eurosport UK coverage scheduled to begin at 17:00 CET (11am U.S. Eastern) and Eurosport Germany not scheduled to begin until 18:25 CET (12:25pm U.S. Eastern). With schedule changes (Universal Sports) and/or delays (Eurosport France), it now looks like we may not have live video until 17:00 CET (11am U.S. Eastern).

- Eurosport France live coverage was scheduled to go live at 16:00 CET (10am U.S. Eastern) but is still with Formula 1 Grand Prix racing. Eurosport coverage in other markets not scheduled to start until later.

- Note: Universal Sports have changed their start time for live coverage to 11am U.S. Eastern.

- TT Start Order here. Note that the organizer changed the initial start time and it seems the official listed start times may be some 14 minutes behind the actual start time. So times listed are to be used with caution.

- Next update: Before the first rider departs. Direct video links and more to come before the stage start, then updated throughout the stage each day of the race.

- Vuelta Teams Presentation video clip and photos here.

- Vuelta Stage 1 TT recon photos here.

- Vuelta a Espana Stage 1, a 4.8km time trial in Assen, the Netherlands, gets underway at 15:26 CET (9:26am U.S. Eastern) when the first rider departs. Vuelta a Espana live coverage on Universal Sports is scheduled to begin at 9:50am U.S. Eastern. Vuelta live coverage on Eurosport is scheduled to begin at 16:00 CET (10am U.S. Eastern) or 17:00 CET (11am U.S. Eastern) depending on the market. More scheduled start times under the graphic buttons at right (full links to come).

- NEW! Vuelta a Espana Online game. Free to play. You get to play the directeur sportif. Create your cycling team, train it and compete against players from all over the world on the official stages of the 2009 Vuelta a Espana. Just like in the real Vuelta, one stage is simulated per day. Once you have signed up and set up your team, your race begins the following day with Stage 1. Click banner below or here for more info and to sign up.




- We recommend you open our Twitter feed in a separate window now. If ever we have a server outage, we will update on Twitter and direct you to a live coverage page on another server.

- Welcome to our live coverage guide for the 2009 Vuelta a Espana.

2009 Vuelta a Espana LIVE
August 29-September 20
Official Website
Start List

Stage 1 start: 15:26 CET
(3:26pm CET)






Vuelta a Espana Online Game
(Be your own Team Director, train your riders, race the 2009 Vuelta stages.)

---


(9:50am U.S. Eastern)
(11am U.S. Eastern)
(Link to come at race time)



(Eurosport France)
(16:00 CET (10am U.S. Eastern))

(Links to come at race time)

TVE
(17:00 CET (11am U.S. Eastern))


(Belgium only)
(16:00 CET (10am U.S. Eastern))


(Netherlands)
(16:00 CET (10am U.S. Eastern))

(more links to come)

(more video links to come if available)

Live audio streaming:

(English)
---
Deutsch - Español
Français - Italiano
Russian - Swedish
---
Check schedule

Live tickers:



(English)
Deutsch - Español
Français - Italiano




News and photos:


(cycling news)
Yahoo photo gallery (AP/AFP)

Copyright © 2009 www.cyclingfans.com
Submitted by admin on Fri, 08/28/2009 - 16:09

Follow cyclingfans on Twitter and never miss a race. Cyclingfans.com: The #1 destination on the internet for live race coverage.


2008 winner Alberto Contador is not back to defend his title but the race will once again
finish in Madrid (pictured), three weeks after starting in Assen, the Netherlands.
photo Copyright © 2008 Fotoreporter Sirotti for cyclingfans.com
The 2009 Vuelta a Espana starts tomorrow, Saturday, and of course there will be live streaming video. The race gets underway in Assen, the Netherlands, with a Stage 1 4.8km Individual Time Trial, or prologue. Stage preview here - Preliminary Start List - Time Trial Start Order and Times (when available)
There will be numerous sources of Vuelta live video or television coverage, including Eurosport, Universal Sports, Sporza and TVE, among others. We will of course post our complete Vuelta a Espana Live Online Coverage Guide before race time, complete with everything you need to follow the race on the internet: live video and audio feeds and live profiles, graphics and tickers.
Vuelta Stage 1 (prologue) starts at: 15:26 CET (9:26am U.S. Eastern)
Live coverage on Eurosport: 16:00 CET (10am U.S. Eastern) or
17:00 CET (11am U.S. Eastern) depending on markets
Live streaming video on Sporza: 16:00 CET (10am U.S. Eastern).
Live coverage on TVE: 17:00 CET (11am U.S. Eastern)
Live webcast on Universal sports: 10:00am U.S. Eastern
- more details to follow -
Submitted by admin on Wed, 08/26/2009 - 04:20
- Coming Friday: a first look at Vuelta a Espana live coverage...

Might Floyd Landis join Lance Armstrong's new Team RadioShack?
"I wouldn't rule anything out," Armstrong said. (Bloomberg)
Landis rode with Armstrong at USPS from 2002-2004. He won the
2006 Tour de France but was stripped of the title after failing anti-doping tests.
photo Copyright © 2004 Pete Geyer/www.cyclingfans.com
- On today: Tour du Poitou-Charentes. There will be LIVE video on France3.fr starting at 16:00 CET (10am U.S. Eastern), apparently only for the finish.
Submitted by admin on Tue, 08/25/2009 - 18:11
Tyler Farrar: This season and five years ago
photos by Pete Geyer and Fotoreporter Sirotti

Flashback: 2008 Paris-Roubaix: American Tyler Farrar (Slipstream-Chipotle) before the "Hell of the North".
We should see a lot of Farrar in the spring classics for years to come. 2009 has been a breakout season for Farrar.
photo Copyright © 2009 Pete Geyer/www.cyclingfans.com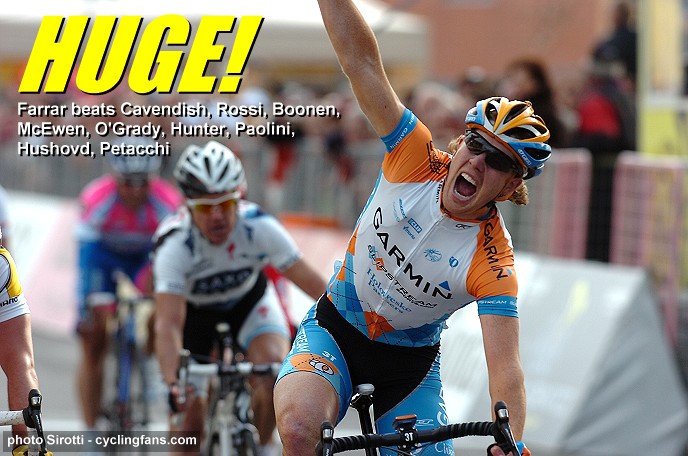 2009 Tirreno-Adriatico, Stage 3: In March, Farrar (Garmin-Slipstream) earned what at the time was the biggest win of his career, beating Mark Cavendish, Enrico Rossi, Tom Boonen, Robbie McEwen, Stuart O'Grady, Robert Hunter, Luca Paolini, Thor Hushovd and Alessandro Petacchi.
photo Copyright © 2009 Fotoreporter Sirotti for cyclingfans.com

2009 Vattenfall Cyclassics: In Hamburg earlier this month Farrar gets another career best.
photo Copyright © 2009 Fotoreporter Sirotti for cyclingfans.com

Flashback: 2004 Grand Prix des Nations: Farrar, 20, riding for Team U.S.A., signs in along the Seine river in Elbeuf-sur-Seine, before riding in the U23 time trial (27km). Farrar was part of an exciting class of young U.S. riders that included Saul Raisin whose promising pro career was ended by a serious injury less than two years later.
photo Copyright © 2009 Pete Geyer/www.cyclingfans.com

2004 Grand Prix des Nations: Farrar in action. This was the last edition of the GP des Nations with the introduction of the ProTour the following year.
photo Copyright © 2004 Pete Geyer/www.cyclingfans.com

2004 Grand Prix des Nations: Farrar would cross the line 3 seconds after the time shown at left above.
The time at upper right is the then best time of Peter Mazur (Polish National Team).
Only Dominique Cornu (Belgian National Team) would do better. Farrar finished a fine 5th.
photo Copyright © 2009 Pete Geyer/www.cyclingfans.com
Notes: (latest notes always appear at the top, below sticky notes)

Follow cyclingfans on Twitter and never miss a race. Cyclingfans.com: The #1 destination on the internet for live race coverage.

- Watch Eneco Tour Stage 7 highlights video here. (01:17)

- Eneco Tour LIVE and free on Cycling TV. Link at right.

- Also on today: Tour du Poitou-Charentes (Vaugrenard, Le Mevel, Pineau, Sorensen, Haddou, Hushovd, Haussler, Roche, Dessel, Casper, Engoulvent, Champion, ...) There will be LIVE video on France3.fr starting at 16:00 CET (10am U.S. Eastern), apparently only for the finish.

- Tyler Farrar (Garmin-Slipstream), second overall, has departed the Eneco Tour in order to prepare for the Vuelta a Espana and will not start today's final stage time trial. Bigger and better things ahead no doubt for the rising American star...

- Today's Eneco Tour Stage 7 13.1km Time Trial begins at 12:35 CET (6:35am U.S. Eastern) when the first rider, Bobbie Traksel, departs. Race leader Edvald Boasson Hagen will depart last. Full start order and times here.

- We recommend you open our Twitter feed in a separate window now. If ever we have a server outage, we will update on Twitter and direct you to a live coverage page on another server.

- Welcome to our live coverage guide for the 2009 Eneco Tour.

2009 Eneco Tour LIVE
The Netherlands and Belgium
August 18-25
Official Website
(Google-translated to English)
Start List

Stage 7 start: 12:35 CET
(--)






---


(14:30 CET (8:30am U.S. Eastern))


(RTBF, Europe only)
(14:30 CET (8:30am U.S. Eastern))



(Sporza, geo-restricted)
(14:30 CET (8:30am U.S. Eastern))

SportItalia
(--)
(May be delayed coverage)




(more video links to come if available)

Live audio streaming:

(--)



Live tickers:

sport.be
(google-translated)

(more tickers to come if available)


News and photos:


(cycling news)
Yahoo photo gallery (AP/AFP)

Copyright © 2009 www.cyclingfans.com