La Course by Le Tour de France: Leah Kirchmann and Optum Pro Cycling
Submitted by mary topping on Tue, 07/08/2014 - 09:29

Follow cyclingfans on Twitter and never miss a race. Cyclingfans.com: The #1 destination on the internet for live race coverage.
- La Course by Le Tour de France: Leah Kirchmann and Optum Pro Cycling presented by Kelly Benefit Strategies.
- See also: Tour de France LIVE
- There are 20 teams entered in the La Course by Le Tour de France, a race for the women that will be held in Paris on the final day of the men's Tour de France. There are 20 stages in the TDF before the final day. So each day of the men's TDF leading up to Paris, we will feature one women's team and rider for La Course.
Leah Kirchmann
Optum Pro Cycling presented by Kelly Benefit Strategies http://optumprocycling.com/
Twitter: @L_Kirch – Cyclist riding for Optum Pro Cycling p/b KBS| Time trial, Road and Criterium Canadian National Champion | Foodie
Instagram: @leahkirchmann
Strengths on the bike: sprinting, but I'm turning into more of an all-rounder
Age: 24
Nickname: Kirchmanator, Godzilla
Website: www.leahkirchmann.com/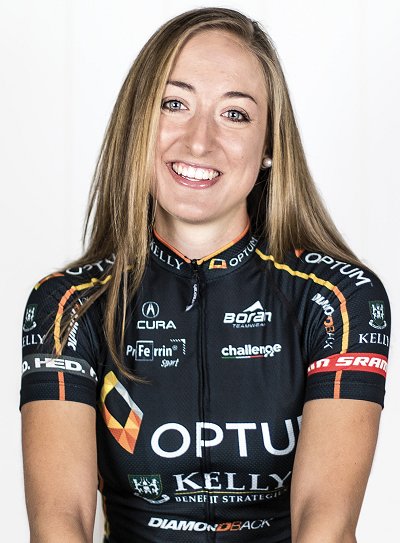 In June Leah Kirchmann received a very sweet collection of birthday presents – gold medals in the Canadian national criterium, road, and time trial championships. That hat-trick followed an already stellar season with stage wins in America, third overall at Redlands Bicycle Classic, and fourth at Omloop van Borsele – her best result to-date in Europe. As a girl she continued to chase medals in cross-country skiing when she picked up mountain biking at age 13. Racing bikes brought the extra bonus of besting the boys. Now Kirchmann, as an elite ambassador for Fast and Female, inspires girls to stick with sports. She's represented Canada at multiple international competitions while earning a bachelor's degree in public health nutrition. This is her third year with Optum Pro Cycling presented by Kelly Benefit Strategies.
Although young in experience Kirchmann has shown she can wrangle with the best in the women's peloton. Regarding La Course by Le Tour de France she says, "I'm looking forward to showing the world the excitement and athleticism that exists in women's racing!"
One of four American UCI-registered women's teams, Optum Pro Cycling presented by Kelly Benefit Strategies fields ten North American riders and one from New Zealand. These women gather results at home and abroad. The team ranked second in the 2013 US National Racing Calendar standings after only its second season. This year Lauren Hall celebrated victory at Gent-Wevelgem, Denise Ramsden won June's Grand Prix Cycliste de Gatineau, and the ladies left The Women's Tour as best team. While he's designated protected riders for La Course, Sports Director Kevin Field says the team typically approaches races "with a plan to try to win from two to three scenarios." Sponsor Optum operates in the healthcare market and Kelly Benefit Strategies in employee benefit services.
Self-description in three words: tenacious, driven, humble
Favorite activities off the bike: cross-country skiing, mountain biking, climbing, reading, cooking, baking with veggies
Gluten-free or pasta lover? I still love gluten! I have also mastered the art of gluten-free baking for my GF friends and teammates.
What's on my iPod: Metric, Alt-J, Calvin Harris, Arcade Fire, & Mumford & Sons are some of my favourite bands at the moment.
What's on my bucket list: go surfing in Australia, bike tour down the Pacific Coast highway, ski the Vasaloppet, hike in the Swiss Alps, compete in BC Bike race
Cycling career goals: I want to represent Canada at the 2016 Olympic Games in Rio.
Post pro cycling plans: I'm interested in pursuing a Master's degree in Public Health. I'm really interested in the role of nutrition in disease prevention, and the impact that our environment has on our eating habits. I also want to move to the West Coast to play in the mountains!

by Mary Topping
(photo courtesy Optum Pro Cycling)