La Course by Le Tour de France: Lauren Tamayo and Unitedhealthcare Pro Cycling Team
Submitted by mary topping on Sat, 07/05/2014 - 04:15

Follow cyclingfans on Twitter and never miss a race. Cyclingfans.com: The #1 destination on the internet for live race coverage.
- La Course by Le Tour de France: Lauren Tamayo and Unitedhealthcare Pro Cycling Team.
- See also: Tour de France LIVE
- There are 20 teams entered in the La Course by Le Tour de France, a race for the women that will be held in Paris on the final day of the men's Tour de France. There are 20 stages in the TDF before the final day. So each day of the men's TDF leading up to Paris, we will feature one women's team and rider for La Course.
Lauren Tamayo
UnitedHealthcare Pro Cycling Team www.uhcprocycling.com
Twitter: @laurentamayo – Just a woman racing a bike
Strengths on the bike: sprinting, team captain, domestique
Age: 30
Nickname: la diabla
Website: www.laurentamayo.com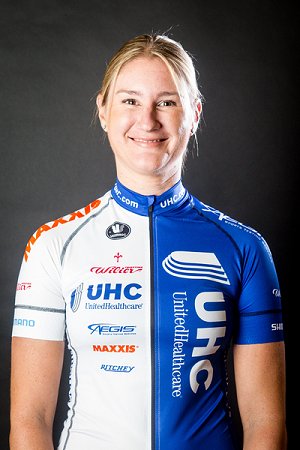 Consummate captain. Record-setter. Amazing on bikes with and without brakes. Lauren Tamayo has brought accolades to America with her prowess on the track. After the 2012 Olympic Games she carried a silver medal from the women's team pursuit home to Asheville, North Carolina. Tamayo and her teammates set a world record in the team pursuit at the 2010 Pan Am Continental Championships. She has also finished on the podium in multiple international stage races. As a long-time professional she plays the role of mentor on the road or track. When at home, she plays with a rescue dog she adopted two years ago.
Whether Tamayo or one of her teammates feature in the mix for the win at La Course, what's certain is this captain will focus her efforts on achieving the best result for the UnitedHealthcare Pro Cycling Team.
"There has been a huge push on the women's movement in the sport of cycling. I am looking forward to wearing the blue and white of UnitedHealthcare on the Champs Elysées and showing the world what women's cycling is about. As the team captain I will be proud to lead our team and continue to share my racing experience and knowledge with our girls."
The American-based UnitedHealthcare Pro Cycling Team launched a women's squad in 2014. Among its 13 members are three former Olympians, one of the world's best climbers in Mara Abbott, and Alison Powers who this year became the first American woman to own three simultaneous national championships. Riders from New Zealand and Great Britain add international spice to this predominantly American squad. Rachel Heal directs the team and also acts as director for the men's side of the "Blue Train."
· Self-description in three words: Intense, Driven, Fun
· Favorite activities off the bike: Taking my dog for a walk and hanging out with her. We rescued her 2 years ago and I always look forward to coming home and seeing her.
· Gluten-free or pasta lover? Not gluten free, but I have had enough pasta in my 13 year racing career that I could do without it for a while.
· What's on my iPod: I listen to lots of random things, depends on the mood. I am not particular when it comes to music.
· What's on my bucket list: a vacation to Bora Bora
· Cycling career goals: I have been in the sport for a long time and I have seen it grow so much. I have accomplished a lot personally as well as given my strengths to contribute to the win of teammates. Going to the Olympics was an amazing experience. I am focusing on Rio/2016 and the team pursuit.
· Post pro cycling plans: After I came home from London in 2012 I started a nonprofit foundation for a kids cycling program in Asheville, NC. After I retire I would like to dedicate more time to the program and helping kids in western North Carolina appreciate living a healthy lifestyle.
by Mary Topping
(photo courtesy Unitedhealthcare)