GP Impanis-Van Petegem LIVE
Submitted by admin on Sat, 09/15/2012 - 07:34

Follow cyclingfans on Twitter and never miss a race. Cyclingfans.com: The #1 destination on the internet for live race coverage.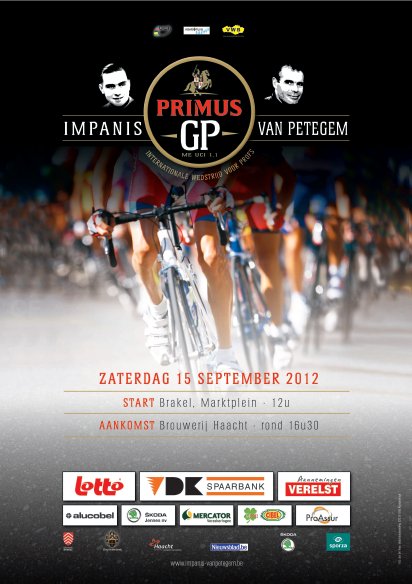 - Results: 2012 GP Impanis-Van Petegem Results
- Next update as live video coverage gets underway.
- This race begins at 12:00pm CET (6:00am U.S. Eastern) and is expected to finish at around 4:50pm CET (10:50am U.S. Eastern). GP Impanis live streaming should get underway at around 2:35pm CET (8:35am U.S. Eastern).
- This is the second edition of this race, named for Raymond Impanis and Peter Van Petegem. Riders expected on the start line include Greipel, Goss, Clarke, Kittel, Henderson, Voeckler, Vanendert x 2, Stybar, Velits, Slagter, Fuglsang, Haddou, Cornu, Eeckhout, ...
- The 2012 Grand Prix Impanis-Van Petegem is Saturday, September 15. There will be live streams. Official Website - Start List
Live streaming video: 2:35pm CET (8:35am U.S. Eastern)

LIVE video streaming