La Course by Le Tour de France: Giorgia Bronzini and Wiggle Honda Pro Cycling Team
Submitted by mary topping on Sat, 08/09/2014 - 14:26

Follow cyclingfans on Twitter and never miss a race. Cyclingfans.com: The #1 destination on the internet for live race coverage.
- La Course by Le Tour de France: Giorgia Bronzini and Wiggle Honda Pro Cycling Team.
- See also: Tour de France LIVE
- There are 20 teams entered in the La Course by Le Tour de France, a race for the women that will be held in Paris on the final day of the men's Tour de France. There are 20 stages in the TDF before the final day. So each day of the men's TDF leading up to Paris, we will feature one women's team and rider for La Course.
- This page was first published on July 26, 2014.
- August 9, 2014 update: Giorgia Bronzini won the 2014 RideLondon Grand Prix.
Giorgia Bronzini
Wiggle Honda Pro Cycling http://wigglehonda.com/
Twitter: @GiorgiaBronzini – The Power Of The Dreams, Team Wiggle Honda! I love my life
Strengths on the bike: I'm a sprinter but not a typical sprinter
Age: 30
Nickname: Gio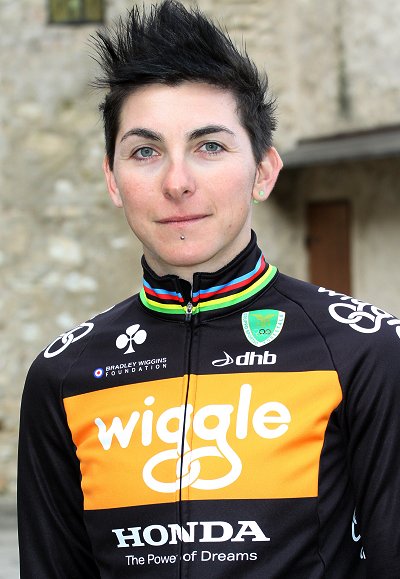 Meet a multi-talented doyenne of women's road racing. Giorgia Bronzini began her professional cycling career eleven years ago. This feisty Italian has earned the road race rainbow jersey twice while amassing over 70 wins on the road and continuing a successful run on the track where she's been a multiple-time national champion, a world champion, and World Cup prizewinner on many occasions. Stage victories at the Giro Donne and the tours of Zhoushan Island and Chongming Island recently padded her win tally. When she's ready to put her racing days in the rearview mirror, she'd like to share her expertise with young female cyclists.
While Bronzini downplays her chances at La Course – she believes the cobbles favor a heavier sprinter, that won't dampen her thirst for a win or the team's enthusiasm. "The significance of this event is incomprehensible," team managing director Rochelle Gilmore said, in a story on Wiggle Honda's website. "It will not be until our athletes line up on the Champs-Élysées that they realise the magnitude of this Tour de France event. This is history in the making…" The team decided to share the experience with Le Tour Entier founder Kathryn Bertine; she will be one of its starters in Paris.
Now in its second year Wiggle Honda Pro Cycling maintains a roster of sixteen packed with champions. Joanna Rowsell, Dani King and Laura Trott captured gold in the team pursuit at the 2012 Olympics. Trott holds the present British road title. Elinor Barker has won time trial and track world championships. Present Japanese road and time trial champion Mayuko Hagiwara and New Zealand's current national criterium and past time trial winners, Emily Collins and Linda Villumsen, ride for this British squad. Gilmore founded the team which now stands sixth in the UCI standings. Sponsor Wiggle is an online sports retailer. Honda manufactures autos, motor sport vehicles, and power products.
Self-description in three words: funny, strong in the head and a little crazy!
Favorite activities off the bike: stay with friends and have fun
Gluten-free or pasta lover? I'm Italian...pasta forever
What's on my iPod: commercial music and some romantic ones!
Cycling career goals: Olympic race gold
Post pro cycling plans: Teach cycling to the younger girls!

by Mary Topping
(photo courtesy Wiggle Honda Pro Cycling Team)