Cycling news
Submitted by admin on Fri, 07/31/2009 - 12:48
Allentown, PA (July 31, 2009) – The Univest Grand Prix, the finale of the USA Cycling Pro Tour, expands for 2009 with the addition of a team time trial stage in Allentown, Pennsylvania on Friday, September 11. The Univest Grand Prix will now become a two-day UCI 2.2 (Pro-Am stage race) consisting of the opening TTT and followed by the famed Univest Grand Prix road race with start and finish in Souderton, Pennsylvania.
Submitted by admin on Tue, 07/28/2009 - 11:50
Press Release --
Universal Sports Inks Four-Year Deal
to Broadcast the Vuelta a Espana
Network Now Home to Two of the Three Grand Tours of Road Cycling
LOS ANGELES (July 28, 2009) – Universal Sports announced today it has inked an exclusive four-year multimedia deal to broadcast the Vuelta a Espana (Tour of Spain), a three-week road cycling stage race that is one of the three Grand Tours of Europe and part of the UCI World Ranking calendar. Universal Sports will broadcast throughout next month's Vuelta, beginning with the start in Assen, Holland, on August 29, and ending in Madrid, Spain, on September 22.
Submitted by admin on Mon, 07/27/2009 - 02:54
- French sports daily L'Equipe is reporting that Andreas Kloden, Yaroslav Popovych, Gregory Rast and Haimar Zubeldia, currently all with Astana, will join Lance Armstrong at Team RadioShack next season. They assume that Levi Leipheimer and Chris Horner will also join RadioShack but do not have firm info on that. They also report that RadioShack is close to a deal with Andy Schleck, second overall in the 2009 Tour de France; however, negotiations have been slowed because RadioShack does not want to take Andy's brother Frank. (L'Equipe)
- More Tour de Cycling - Monday, including more Tour de France photos and videos, to come...

2009 Tour de France: In Paris, Alberto Contador (Astana) celebrates a second overall victory
in the Tour de France.
photo Copyright © 2009 Fotoreporter Sirotti for cyclingfans.com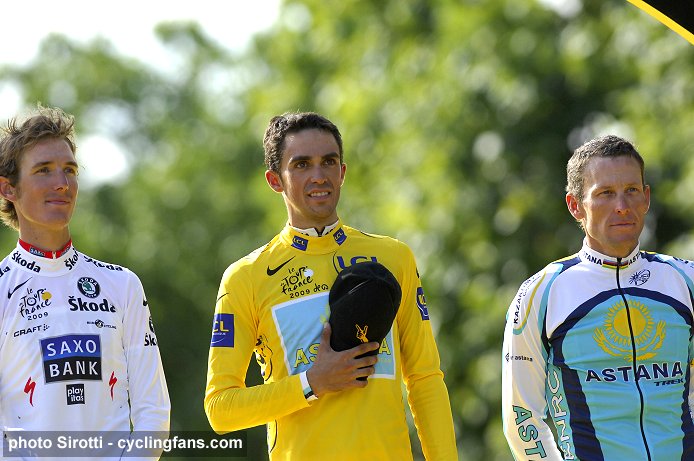 2009 Tour de France: Andy Schleck (second, Team Saxo Bank), Contador and Lance Armstrong (third overall) on the podium. Schleck and Contador should battle for years to come. Armstrong, in a comeback considered successful by most observers, has vowed to come back stronger in 2010, with his new team, RadioShack.
photo Copyright © 2009 Fotoreporter Sirotti for cyclingfans.com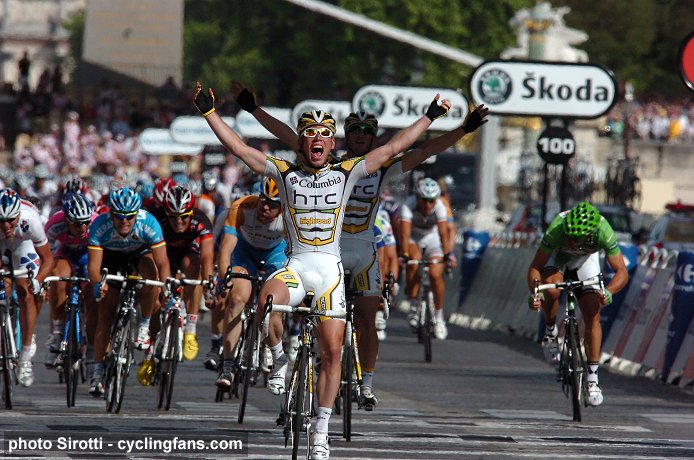 2009 Tour de France: Like a rocket, Mark Cavendish (Columbia-HTC) sprinted to a historic 6th stage win in this Tour and a stunning 10th in two Tours. No rider had ever before won 6 stage sprints in the same Tour.
photo Copyright © 2009 Fotoreporter Sirotti for cyclingfans.com
Submitted by admin on Sun, 07/26/2009 - 13:14
Tour de France Online Game
Deadline for signing up: 6pm U.S. Eastern TODAY (12 midnight CEST (Paris time))
Once you sign up (free), you become director for your team and the duration of the game is 3 weeks, just like in the real Tour. Your team will compete in simulated stages, the same stages in the real 2009 Tour de France starting with the Monaco Time Trial through the stage to Mont Ventoux and into Paris.
Signing up today means you compete in the simulated Stage 1 Monaco Time Trial tomorrow, Monday. Note: You set up your team strategy, etc. ahead of time, before each stage. You do NOT need to be at your computer when the simulation for each stage is run; you can check back anytime for stage results and to prepare your riders for the next day's stage.
Each day, you build your riders' skills, set the tactics for the next stage (for example, which riders to send into breakaways and when), make sure your riders get massages, etc.
You may sign up for multiple game plays (you direct multiple teams) but each registration requires a different email address.
The game can be played until August 20. Cash prizes will be determined after that date.
For more info and/or to sign up, click here.

Submitted by admin on Wed, 07/22/2009 - 23:49

Follow cyclingfans on Twitter and never miss a race. Cyclingfans.com: The #1 source on the internet for live race coverage.
Breaking news: Team Radio Shack to be Lance Armstrong's new team
- VIDEO: Lance Armstrong announces Team Radio Shack.
- Lance Armstrong's Team Radio Shack website now active.
- Team Radio Shack is now on Twitter.
- Team RadioShack press release.
- Announcement expected after Time Trial, possibly around 18:00 CET (12pm U.S. Eastern)
- Below, how we broke this story yesterday.
- More when available -
-----------------------------
Speculation is rampant regarding the name of the new American sponsor that Lance Armstrong has found for his team in 2010 and beyond. Armstrong is expected to announce the new partnership tomorrow, Thursday.
As we reported 9 days ago, Armstrong seemed to rule out the long-rumored Nike and Livestrong as title sponsors on French television, though they no doubt will be team partners in some capacity.
Among the other companies or brands thrown into the mix in the online world, some obviously in jest, some wishful thinking and with absolutely no supporting evidence: Oracle, Google, Apple, Twitter, FRS, Zappos/Amazon, Nutella. (I vote for Nutella!)
Now we can add another one to the list: Radio Shack
ESPN's Bonnie Ford posted the following message via Twitter late today France time (she is on site covering the Tour):
"Two words: Radio Shack."
Now, for all we know Bonnie Ford needed an adapter for her cell phone and found one at a Radio Shack in France and just wanted to give them a shout out. But consider this: Radio Shack headquarters are in Armstrong's home state of Texas (Fort Worth). They are a technology company, which is consistent with most of the other unsubstantiated rumors out there. They have retail stores in North America, Central America, South America, Europe and Africa. (Tandy/Radio Shack stores have bailed me out on a few occasions in France.) Radio Shack is a sponsor in NASCAR racing. Radio Shack has also been the official consumer electronics retailer of the National Basketball Association. So there is already an established relationship with professional sports.
And with the recent demise of Circuit City, perhaps Radio Shack wants to take a new run at challenging Best Buy and sees sponsoring Lance Armstrong's team as a start.
In a sport, cycling, that is increasingly relying on technology, and where the riders love their gadgets, from mp3 players to advanced cell phones, Radio Shack seems like a natural choice for a cycling team's title sponsor.
And perhaps an extra-sportive reason that Johan Bruyneel led the effort last week at the Tour de France to oppose the banning of race radios?
If Radio Shack is the team sponsor, Lance Armstrong fans will probably invade retail outlets within hours of an announcement.
Oracle, Radio Shack, Nutella. We should know tomorrow.
Update: Someone tweeted me their vote for Dell and a couple of people have tweeted the following link:
Update: It is definitely looking now like it is going to be:
Team Radio Shack
The domain, teamradioshack.com, is registered to CSE Cycling of Austin, Texas. This is Armstrong agent Bill Stapleton's sports agency that previously registered thepaceline.com. (Thanks Chris Capellini for this final bit of info that ties it all together!)

Latest Update: We note that the teamradioshack.com domain (which is not yet active) was registered just a couple of days ago, on July 20. The domain is currently reserved for just two years, to 2011.
-Pete