La Course by Le Tour de France: Chloe Hosking and Team Hitec Products
Submitted by mary topping on Mon, 07/07/2014 - 09:02

Follow cyclingfans on Twitter and never miss a race. Cyclingfans.com: The #1 destination on the internet for live race coverage.
- La Course by Le Tour de France: Chloe Hosking and Team Hitec Products.
- See also: Tour de France LIVE
- There are 20 teams entered in the La Course by Le Tour de France, a race for the women that will be held in Paris on the final day of the men's Tour de France. There are 20 stages in the TDF before the final day. So each day of the men's TDF leading up to Paris, we will feature one women's team and rider for La Course.
Chloe Hosking
Team Hitec Products http://teamhitecproducts.no/
Twitter: @chloe_hosking Chloe 2.0; Australian cyclist and Olympic, Commonwealth and World Championship representative
Strengths on the bike: I'm a road sprinter
Age: 23
Nickname: I'm usually just called Chloe but my Italian teammate Elisa Longo Borghini likes to call me Kangaroo.
Website: http://chloehosking.wordpress.com/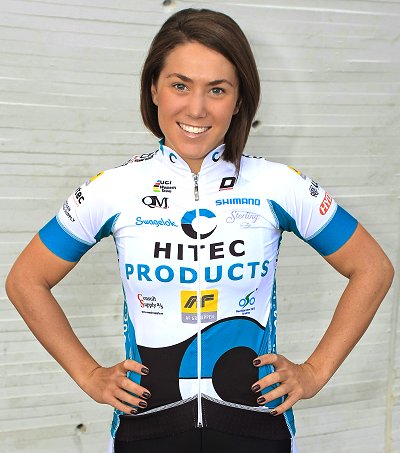 Chloe Hosking doesn't wait for something good to find her; she goes out and gets it. Even after a deflating cycling season at age 18 she left Canberra, Australia and flew alone to Holland to race with a club team. In her first European race, Omloop van Borsele, she finished fourth. A year later in 2010 Hosking earned a spot on HTC-Colombia; she joined Team Hitec Products in 2013. During those four years she competed in the Olympic Games, Commonwealth Games, and road world championships. Hosking placed third overall at the Ladies Tour of Qatar this year. Then she won Omloop van Borsele, after plowing through roadside grass to overtake a team blocking the road. Maybe listening to hip hop enhances her natural spunk.
As Hosking points out, there's more to anticipate about La Course by Le Tour de France than a potential win. "Where do I start? The crowds, the experience. It will be such a huge moment for women's cycling. I'm excited to be a part of it." Find the Australian among those taking calculated risks to animate the action at the front.
The thirteen Team Hitec Products cyclists possess diverse backgrounds and talents. Among them are chemical engineers, a former runner, ice hockey player, singer, junior rock climber (that's Hosking), and winter triathlete. Once racing exclusively in Norway, last year the Norwegian squad ranked fourth in the world. They recently won the Tour of Chongming Island World Cup team classification. Sports Director Marc Bracke guides four national champions: South Africa's Ashleigh Moolman-Pasio (road and time trial), Italy's Elisa Longo Borghini (time trial), Norway's Miriam Bjørnsrud (criterium), and Denmark's Julie Leth (time trial). Sponsor Hitec Products services the oil and gas industries.
Self-description in three words: Loud, smiley, opinionated
Favorite activities off the bike: Just hanging out with family and good friends, and traveling (without a bike!)
Gluten-free or pasta lover? Definitely not gluten-free but also not a pasta lover! I love good bread, fresh vegetables and good meat.
What's on my iPod: A lot of Aussie hip hop like Hilltop Hoods, Illy, 360º, The Herd. It reminds me of the Australian summer when I'm away from home for so long.
What's on my bucket list: Definitely more travel, anywhere and everywhere
Cycling career goals: To win the 2016 World Championships in Qatar
Post pro cycling plans: I'm studying a Bach of Communication (only two units away from finishing it!) so I would like to go into something that relates to that. I'm really interested in sports management or sports public relations.
by Mary Topping
(photo courtesy Team Hitec Products)