La Course by Le Tour de France: Charlotte Lenting and Netherlands Team
Submitted by mary topping on Wed, 07/23/2014 - 13:14

Follow cyclingfans on Twitter and never miss a race. Cyclingfans.com: The #1 destination on the internet for live race coverage.
- La Course by Le Tour de France: Charlotte Lenting and Netherlands Team.
- See also: Tour de France LIVE
- There are 20 teams entered in the La Course by Le Tour de France, a race for the women that will be held in Paris on the final day of the men's Tour de France. There are 20 stages in the TDF before the final day. So each day of the men's TDF leading up to Paris, we will feature one women's team and rider for La Course.
Charlotte Lenting
Dutch National Team http://www.knwu.nl/
Twitter: @CharlotteFietst – Nederlandse Selectie U23 | WV Breda - Manieu.nl | Student RU Nijmegen Geneeskunde | Sportmanagement: @FlowSportsNL
Strengths on the bike: time trialing and climbing
Age: 21
Nickname: Talenting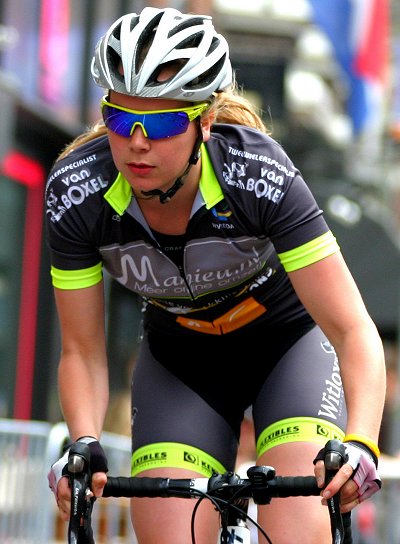 The ambitious Charlotte Lenting faces challenges with tenacity and purpose. Triathlons engaged her competitive spirit until age 17 when an injury steered her to cycling. Beginning with club races she quickly advanced to UCI events like the Energiewacht Tour. At the 2012 Giro Donne, just three years after switching to cycling, she finished at the back almost daily but held on through the final stage. She raced as a member of the U23 Dutch national team during 2013 until an injury cut her season short. But that setback didn't defeat her. She returned to competition this year, crossing the finish line ahead of women with twice as many years of racing in their legs. Now in her second season racing for the Dutch team, she balances the rigor of a medical education while aiming for a professional cycling career.
The excitement she felt upon learning she had been chosen to race La Course by Le Tour de France kept her awake into the night. She describes why: "Being selected to race 90 kilometers in the national jersey in front of lots of enthusiastic people in the heart of Paris on the Champs Élysées, what else can I wish?"
To say the Netherlands overflows with female road racing talent would be an understatement. For the past five years the country has ranked first in the UCI women's elite standings. Today's Dutch riders are carrying that streak forward with four currently among the world's top five. In addition to Lenting, the Netherlands brings to La Course a set of women who while very young have contested races alongside the planet's best riders. Kirsten Coppens and Ashlynn van Baarle are both prior U19 national road champions. Evy Kuijpers and Janine van der Meer know how to finish on top at criteriums and one day races, while Anouska Koster frequently touches the top five in the best young rider classification at stage races.
Self-description in three words: enthusiastic, strong and I never give up
Favorite activities off the bike: swimming, windsurfing and having fun with friends
Gluten-free or pasta lover? I am a real Dutch potato lover.
What's on my iPod: I do not have one.
What's on my bucket list: doing the Ironman Triathlon in Hawaii, become a doctor
Cycling career goals: become a professional cyclist in a professional team instead of my club team, improving my time trial and participate in big races
Post pro cycling plans: I study medicine in the Netherlands so I want to become a sports doctor or an intensive care doctor.

by Mary Topping
(photo by Lady's on Wheels Fotografie courtesy Charlotte Lenting)