La Course by Le Tour de France: Aude Biannic and France Team
Submitted by mary topping on Thu, 07/24/2014 - 15:27

Follow cyclingfans on Twitter and never miss a race. Cyclingfans.com: The #1 destination on the internet for live race coverage.
- La Course by Le Tour de France: Aude Biannic and France Team.
- See also: Tour de France LIVE
- There are 20 teams entered in the La Course by Le Tour de France, a race for the women that will be held in Paris on the final day of the men's Tour de France. There are 20 stages in the TDF before the final day. So each day of the men's TDF leading up to Paris, we will feature one women's team and rider for La Course.
Aude Biannic
French National Team http://www.ffc.fr/
Twitter: @1Aude
Strengths on the bike: rouleuse, grimpeuse (all-rounder, climber)
Age: 23
Nickname: Audy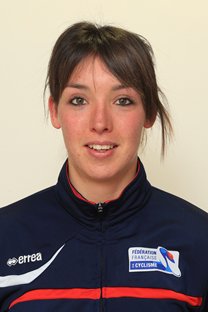 Aude Biannic from Brittany is on the verge of something big. This month she realized one of her best stage race general classifications with fourth at the Tour de Bretagne. Top time trial results in 2014 padded her already solid resume: a bronze medal in the time trial national championships and gold at the collegiate level. Third place in the 2013 road national championships brought her the best espoir rider title that year. Biannic has made France proud on the world stage on numerous occasions, including top ten road race finishes at the 2012 Olympics and 2011 world championships. In addition to chasing her best cycling results, one day she would like to visit an exotic country for an ultimate travel adventure.
She looks forward to taking in the atmosphere at La Course by Le Tour de France and all the infrastructure that supports this world-class event, including the attention the women's peloton will receive from the media. "J'attends de voir l'organisation avec toutes les infrastructures mises en place et les medias," the Bretonne says.
The Fédération Française de Cyclisme traces its roots back to 1881. Today the federation supports cycling at elite, cyclosportive, and recreational levels and provides a webpage dedicated to women's cycling. The FFC's regular newsletter keeps fans up-to-date on the progress of national teams racing around the world. A very strong squad will contest La Course for France. Mélodie Lesueur and Fanny Riberot finished second and third respectively at this year's national road championships. Sophie Creux brings years of experience in finding podiums on the road and track. Marion Sicot completed the 2014 la Coupe de France as best espoir rider. Also a young athlete, Eugénie Duval is a multi-time U19 national track champion. Five of these women will compete at la Route de France in August.
Self-description in three words: naturelle , optimiste , influençable (unpretentious, optimistic, easy-going)
Favorite activities off the bike: voyager , sortir avec mes amis (travel, going out with my friends)
Gluten-free or pasta lover? manger des pâtes (I'll take pasta.)
What's on my iPod: un peu de tous les styles de musiques (a bit of all kinds of music)
What's on my bucket list: Partir a l'aventure dans un pays comme l'Inde et vivre au jour le jour en profitant de tous les moments. (to head off on an adventure in a country like India and live day to day, enjoying every moment)
Cycling career goals: prendre du plaisir et atteindre mon meilleur niveau sans avoir des regrets quand j'arrêterai (to have fun and achieve my best level without having any regrets by the time I stop racing.)
Post pro cycling plans: exercer en tant que masseur-kinésithérapeute dans un cabinet et aire quelques déplacements auprès d'équipes de cyclisme. (work as a massage therapist – physiotherapist in an office and traveling with cycling teams)

by Mary Topping
(photo courtesy FFC)